Ready to make things easy in the meal planning department? Get this Month of Comfort Foods Meal Plans and let me do the work for you!
Snuggle up with some comfort foods!
Now that fall is officially here, it's time to get warm and cozy. Even here in San Diego, we've experienced a little sweater weather already this season. So lovely! And while there are many wonderful things about autumn, one of my favorite things is to snuggle at home with a bowl of something hot, comforting, and delicious.
I'll be honest, some days are just really hard. Like way hard. And while food certainly doesn't solve our problems, a nice dinner with people we love can make a hard day a little easier to handle.
This Month of Meals is built around the concept of comfort foods. I've taken the traditional categories of comfort foods and brought some of my favorite recipes to the table. You'll find old standards like pot pie and stew, but you'll also find some dishes that might be new to you, like Samosa Cups or Burning Love Mashed Potatoes or Carnitas Tostadas.
And while the term comfort foods does signal carbs to many people, rest assured that there is plenty of fresh fruit and veg in this curation of favorite recipes to keep your energy up and help you feel your best.
A Month of Comfort Foods Meal Plans
Here's what you'll get in this month's meal plan:
30 menus that are easy to prepare as well as deliciously comforting

Four weekly grocery lists to make your shopping quick and simple

A month-long grocery list to help you take advantage of grocery sales so you can buy in advance and know that you'll use those ingredients in a timely manner

Make-ahead tips and a prep list to allow you to delegate some of the meal prep and to make dinner come off smoothly

30 main dish recipes included to give you easy access

Homemade alternative ideas so that you can save more money and avoid processed foods

Easy appetizers and desserts that make any night dinners special
The meal plan is available at the special price of $9 for only a limited time. That's $2.25 a week to have someone else do the planning work for you. Heck! Hand the grocery list and the prep list to other members of the household, and you just might get off scot-free this month when it comes to cooking!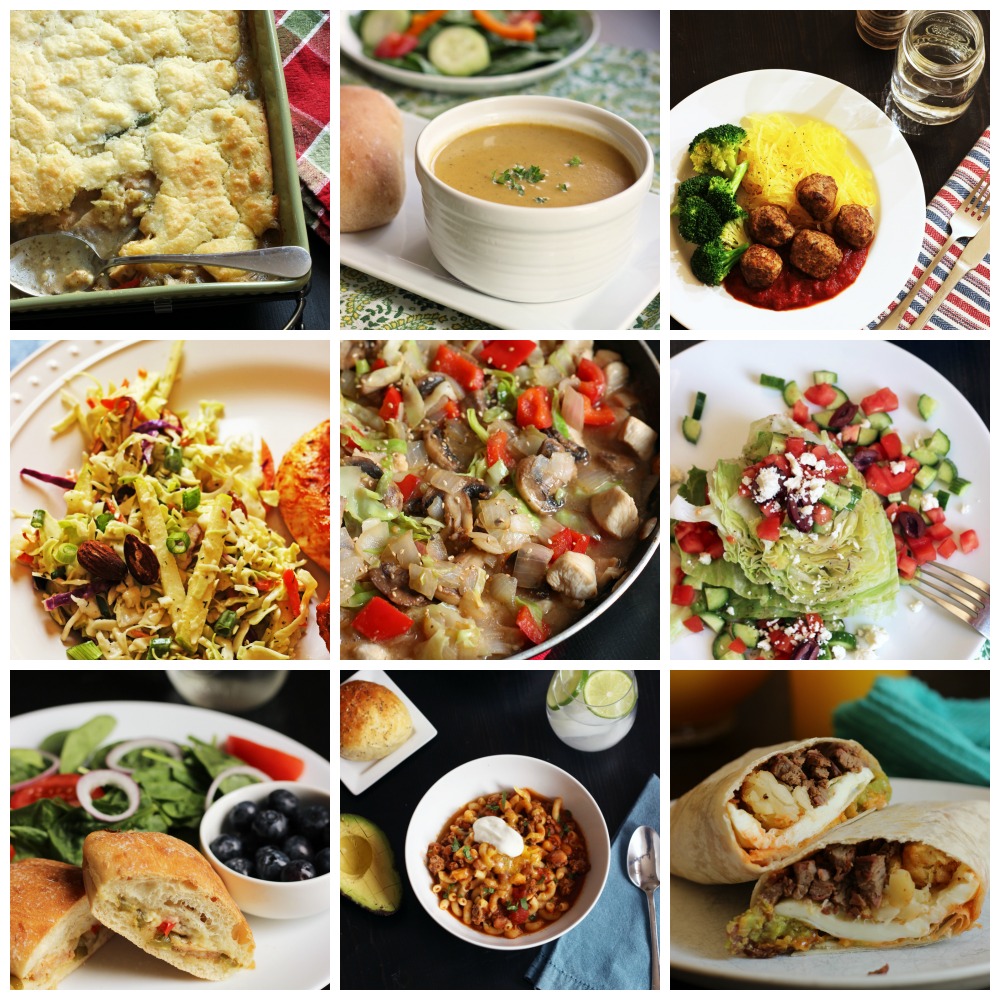 One of the things that I love about the Month of Meals series is that the meal plans provide direction for what to buy and prepare, but there is still plenty of room for you to tailor each meal to suit your family's tastes and dietary preferences. We do the crazy planning so you can enjoy more of the process.
Having a meal plan at the ready enables me to do several things:
avoid pricey (and often unhealthy) take-out

grocery shop quickly and easily

thaw frozen ingredients in a timely manner

prep ingredients in the morning or the day before when I have more time than right at dinner time

enlist family members to help with shopping and meal prep

save money because I am buying ingredients on purpose, not on impulse
You can, too, with this Month of Meals. Get A Month of Comfort Foods Meal Plans now so you can get cooking tonight!