This Carrot Ginger Dressing is a healthy and delicious way to top cooked meats, salads or rice bowls. It's full of great Asian-inspired flavors and tastes pretty amazing.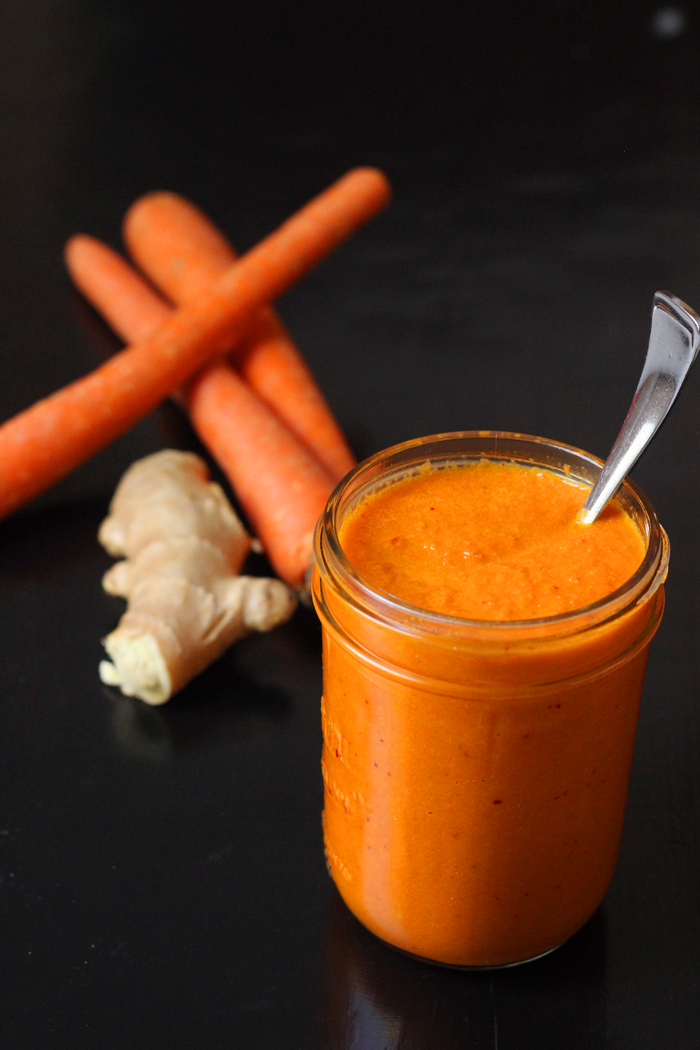 My friend Jessika and her friends stayed with us for almost a week this summer. We had a blast hanging out, watching movies, playing at the beach, cooking together, and, of course, eating. As you know Jess has been responsible for bringing some very amazing things into my life, including this, this, and this. Today's recipe is no different.
Now, I will admit, Jessika has always had more exotic tastes than I do. She was adding spinach to smoothies long before it was the hip thing to do. And I did raise my eyebrow when she made a version of Carrot Ginger Dressing to go on our rice bowls one night.
Admittedly, Carrot Ginger Dressing doesn't appear super photogenic. No slick fake food photography tricks here! It doesn't get completely smooth, but it might if you have a Vitamix. I don't.
Anywho, I have made this dressing about half a dozen times since Jess and the kids were here, and I've been tweaking it along the way, omitting sugar, adding in lime juice, reducing the soy, swapping red onion for shallot, and so on. I've landed on a concoction that I am absolutely smitten with.
Can you be in love with Carrot Ginger Dressing?
Yes, yes, I think you can.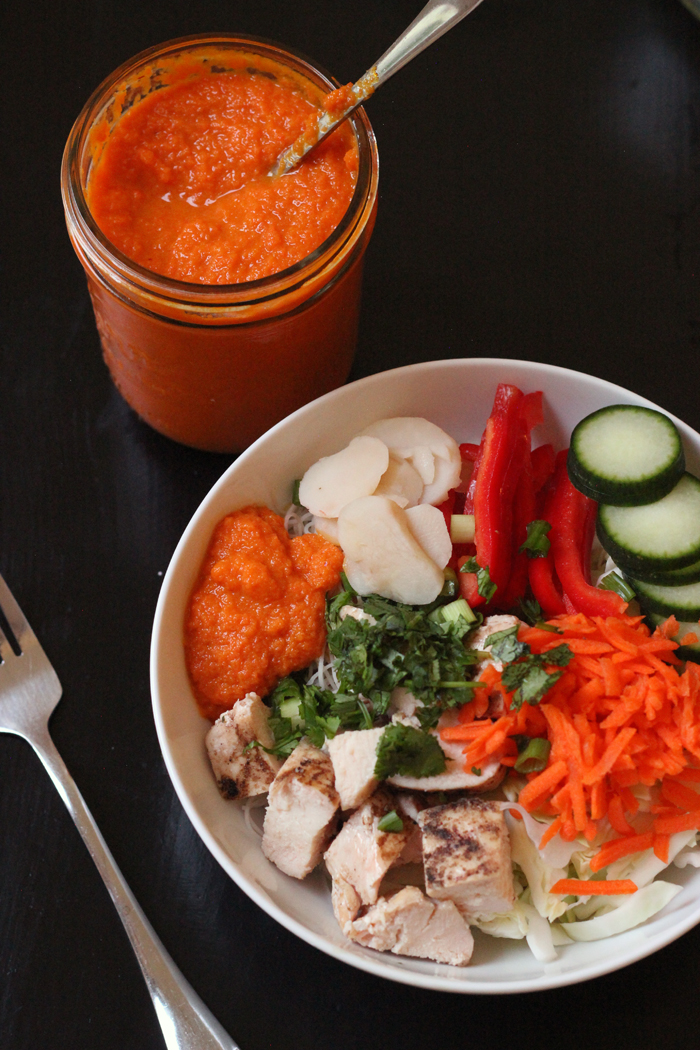 Asian Bowls are currently a regular on my weekly meal plan. Recipe coming next week. In the interim, all you need to know is that the younger teen boys grill up some chicken for me, and we slice, julienne, and chop a bunch of veggies, soften some maifun rice noodles, and mix up this dressing.
So, so SOOOOO good! I tell ya. This is so yummy.
This Carrot Ginger Dressing is delicious on grilled salmon, as a dip for veggies or bread, and of course to top salads and rice bowls. My husband's still afraid to try it, but I'm hoping to win him over. It's pretty darn amazing with a drizzle of sriracha to add a little kick. I shared it with my friend Rachel today and she said it was just like what you get at sushi restaurants. I've never been to a sushi restaurant, so I'll take her word for it. I just know I love it.
This recipe makes a little more than 2 cups and keeps for about a week in the fridge. I've included Whole 30 adaptations below in case you want to make it completely soy- and seed-free.
Whatever you do, just make it!
How to make this good and cheap:
Here are some of the strategies you can use to make this recipe more economical:
How I make this recipe easy:
This recipe really couldn't be easier than it is, but having the right kitchen tools can really make your time in the kitchen more enjoyable. Over time, I've honed my collection so that they are perfect for my needs.
Here are the tools that I use for this recipe. 
Carrot Ginger Dressing
This Carrot Ginger Dressing is a healthy and delicious way to top any salad or rice bowl. It's full of great Asian-inspired flavors.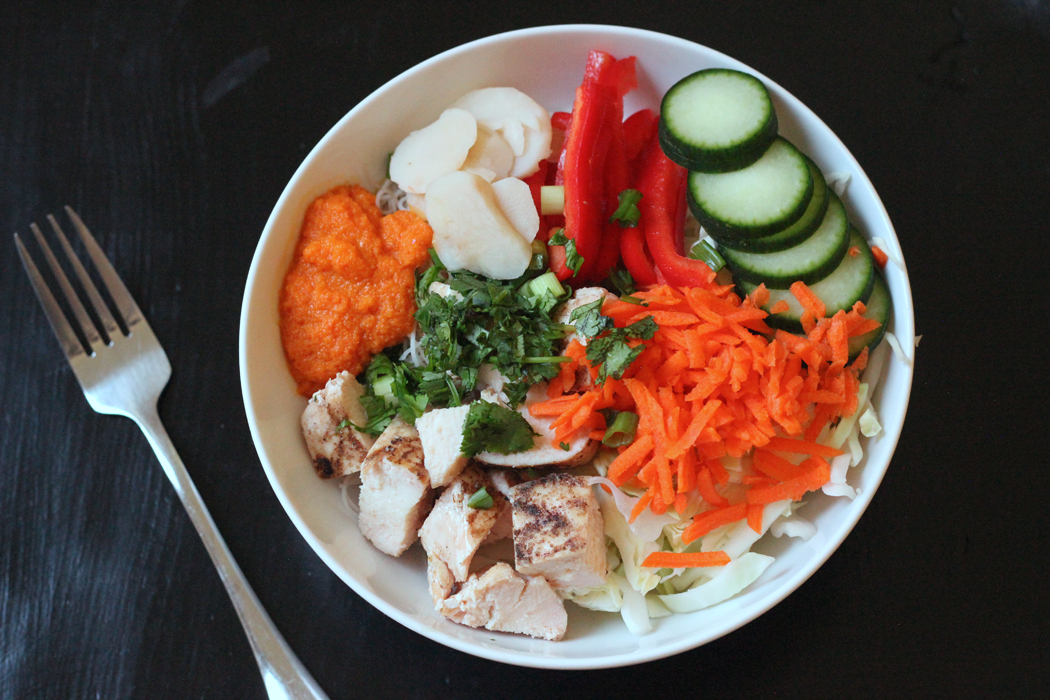 Preparation Time: 10 minutes
Cook time: 0 minutes
Total time: 10 minutes
2 cups dressing
Ingredients:
8 ounces shredded carrots

1/2 cup coarsely chopped red onion

3 cloves garlic

1 tablespoon ginger paste or fresh minced ginger

1/4 cup rice vinegar

1/4 cup lime juice

2 tablespoons soy sauce (or coconut aminos for Whole 30)

1/2 cup avocado or other neutral vegetable oil

1 teaspoon sesame oil (omit for Whole 30)
Instructions:

In the bowl of a food processor fitted with a metal blade, combine the carrots, onion, garlic, and ginger. Blend until very smooth, scraping down the sides. Add the vinegar, lime juice, and soy sauce and continue blending until the mixture is very smooth. Alternatively, you can process this mixture in a high speed blender.
Add the oils in a thin stream while the motor is running to form an emulsion. Serve immediately or refrigerate until ready to do so.