Brown bagging it will taste amazing when you pack up a Black Bean Taco Salad. These stay good for several days in the fridge, so make a bulk batch!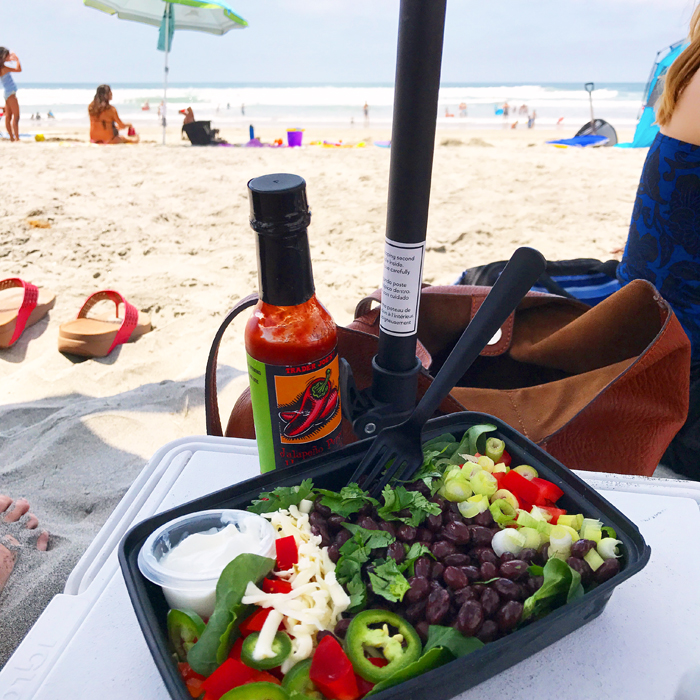 As some of you know already, my regular Sunday routine includes making lunches for the week. My husband takes lunch to work most days. (It only took me 20+ years of marriage to realize I could make many lunches at one time instead of trying to figure it out on the fly every single night.) While I'm at it, I make extras for myself, something we'll be ramping up even more as the school year gets under way.
Having lunches made and ready to go makes it so easy to eat cheaply during a school day, on a road trip, or for an afternoon at the beach. And yes, I really did pack the hot sauce in the cooler. Call me an HM, but I'm okay with that. 😉
This Black Bean Taco Salad is super filling and perfect for brown bagging. I made 8 of them on a Sunday night, and they were still delicious on Thursday at the beach. How's that for make-ahead?!
This salad is super delicious just the way the recipe is written, but what if you've got a special diet you're working with? Omit the cheese for dairy-free/vegan. Swap chicken for the cheese and beans for Whole 30/paleo. Yum, yum, yum.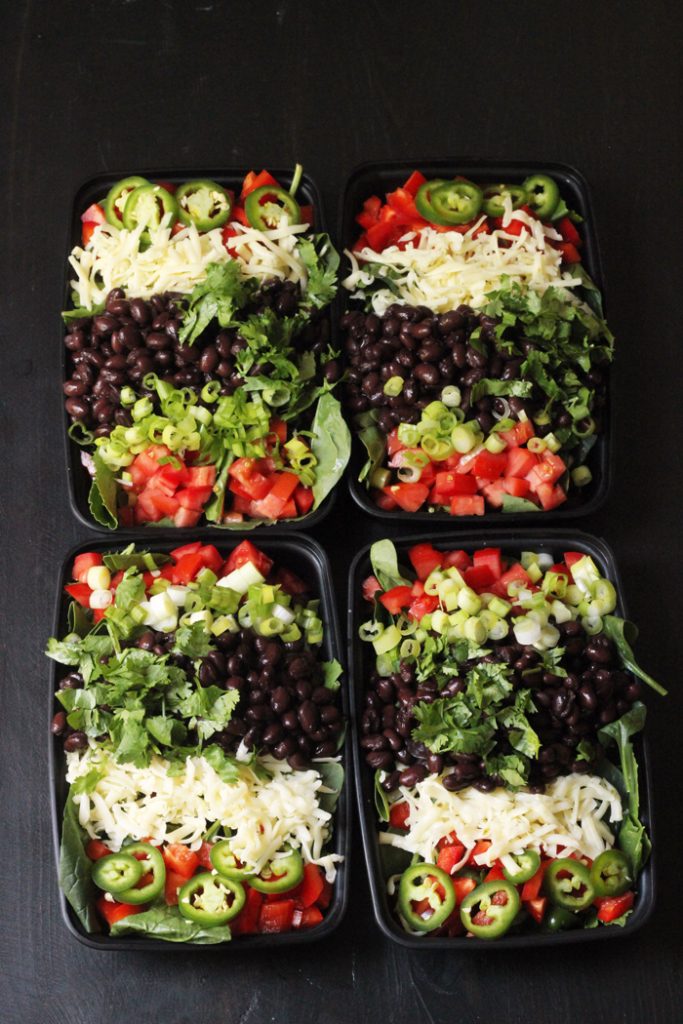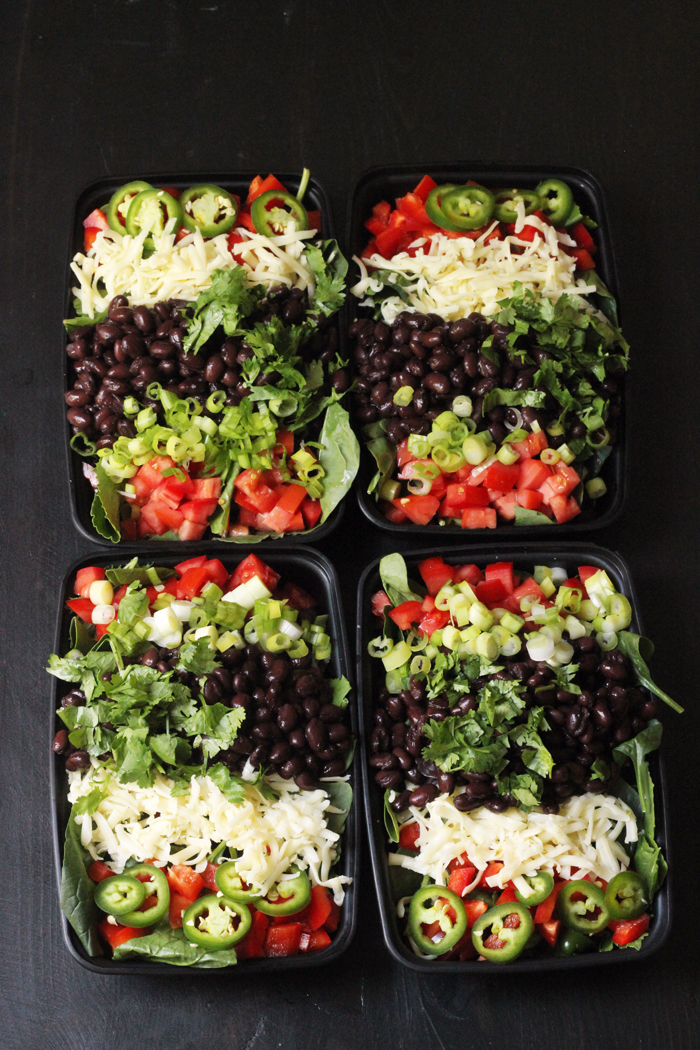 How to make this good and cheap:
Here are some of the strategies you can use to make this recipe more economical:
Stock up on ingredients when they are on sale. Cheese is your big ticket items here. Stock up when you see a good sale.
Cook your own beans. It's super cheap to cook beans at home.
Shop at ALDI. When I'm not of the mind to cook my own beans, I buy our canned beans by the case at ALDI. They are the cheapest deal in town and I love the convenience of opening a can. ALDI also has great prices on produce.
How I make this recipe easy:
This recipe really couldn't be easier than it is, but having the right kitchen tools can really make your time in the kitchen more enjoyable. Over time, I've honed my collection so that they are perfect for my needs.
Here are the tools that I use for this recipe:
Black Bean Taco Salad
Brown bagging it will taste amazing when you pack up a Black Bean Taco Salad. These stay good for several days in the fridge, so make a bulk batch!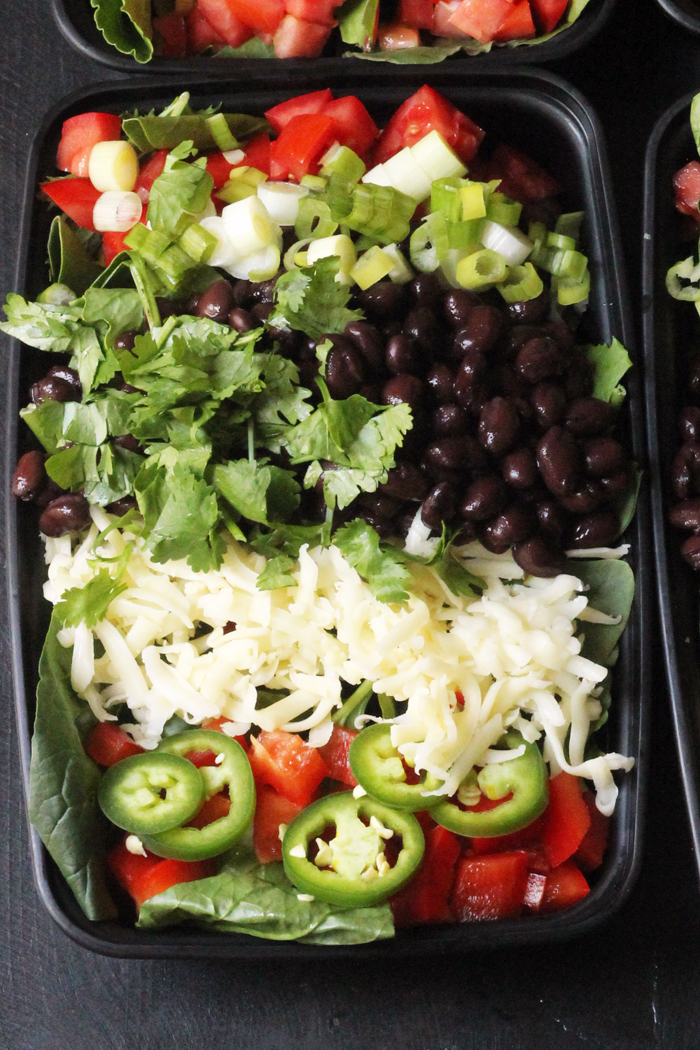 Preparation Time: 15 minutes
Cook time: 0 minutes
Total time: 15 minutes
4 servings
Ingredients:
6 ounces baby greens

two 15-ounce cans black beans, rinsed and drained

1 cup shredded cheddar or jack cheese

1 red or green bell pepper, cored, seeded, and chopped

2 large tomatoes, diced

2 jalapenos, sliced

1/4 cup chopped fresh cilantro

1/4 cup chopped scallions

salsa, hot sauce, and/or sour cream

4 cup tortilla chips
Instructions:

Divide the greens among four dinner plates or, if packing for take-away, dishes with lids. Divide the beans, cheese, peppers, tomatoes, jalapenos, cilantro, and scallions among the four dishes.
Divide the sour cream among the four dishes or, if packing for take-away, into four small containers with lids. Repeat with the salsa. Refrigerate the salads and sauces until ready to serve.
Serve the salads with the chips and sauces on the side.