Enjoy all the luscious summer fruits available by baking them into a Fruit Cobbler. This one with a luscious lemon biscuit topping is a winner!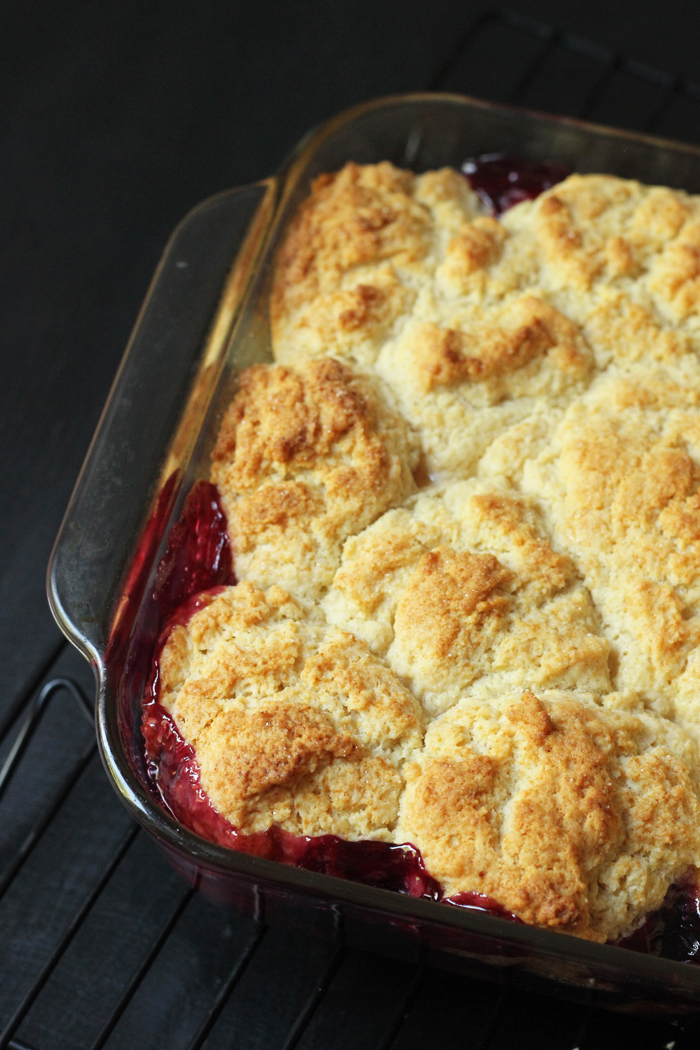 Despite the warm temps of summer, I love baking with summer fruit. Whether it's a pie, a batch of scones or a fruit cobbler, I'm a fan of turning on the oven when the results are luscious and delicious.
Pro tip: It helps to do your baking in the early morning or late evening when things have started to cool off.
One of the desserts we've been enjoying a lot this summer has been the simple fruit cobbler. 
Folks get all kinds of confused between cobblers, crisps, pies, and tarts, but never you worry. I'll be sharing each of them in all their glory over the next month. Starting with this quick and easy fruit cobbler.
A cobbler is a fruit-based dessert with a baked biscuit topping. The topping is often shaped in the form of cobblestones, thus its name, cobbler. When we were in England, we bought cobs at a bakery, rolls shaped like cobblestones as well. It's a thing.
And a tasty thing at that!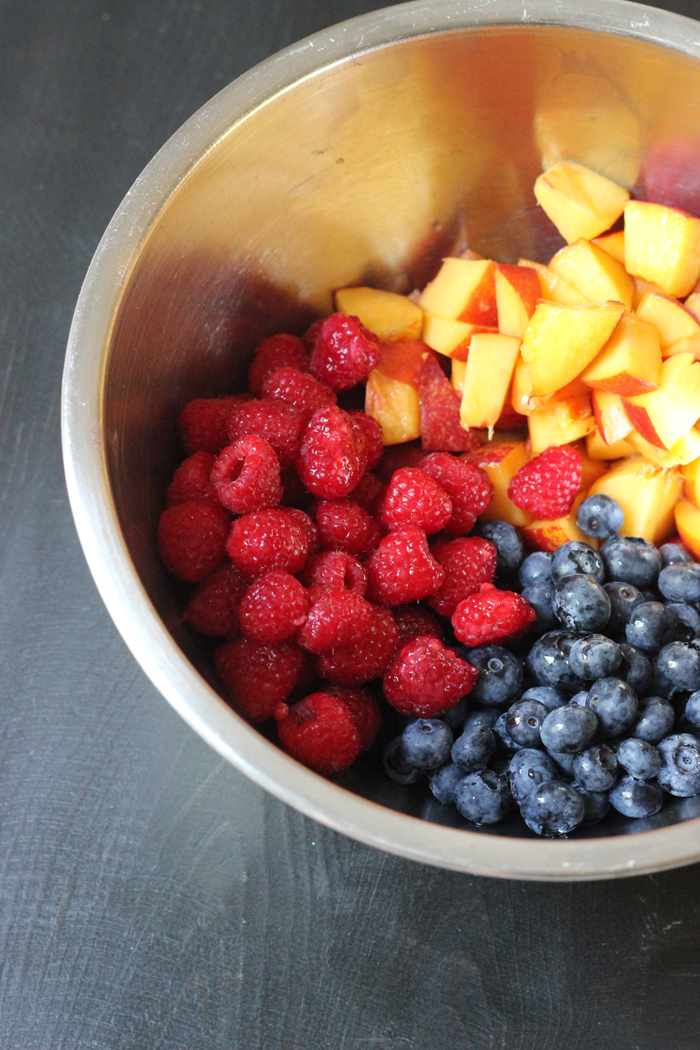 I've been doing some experimenting this summer, trying different combinations of summer fruit in my fruit cobbler. It's been awesome to find so much on sale! Blueberries are currently $1.88 for a huge container, while small containers of raspberries have been 99 cents. Stone fruit has been on sale for 99 cents per pound. Needless to say, I've stocked up whenever I see these great prices.
We've combined blueberries, raspberries, and nectarines as well as apricots, nectarines, and blueberries — all with outstanding success. I chose not to peel my stone fruit — too much of a hassle — and it worked out really well. Your mileage may vary.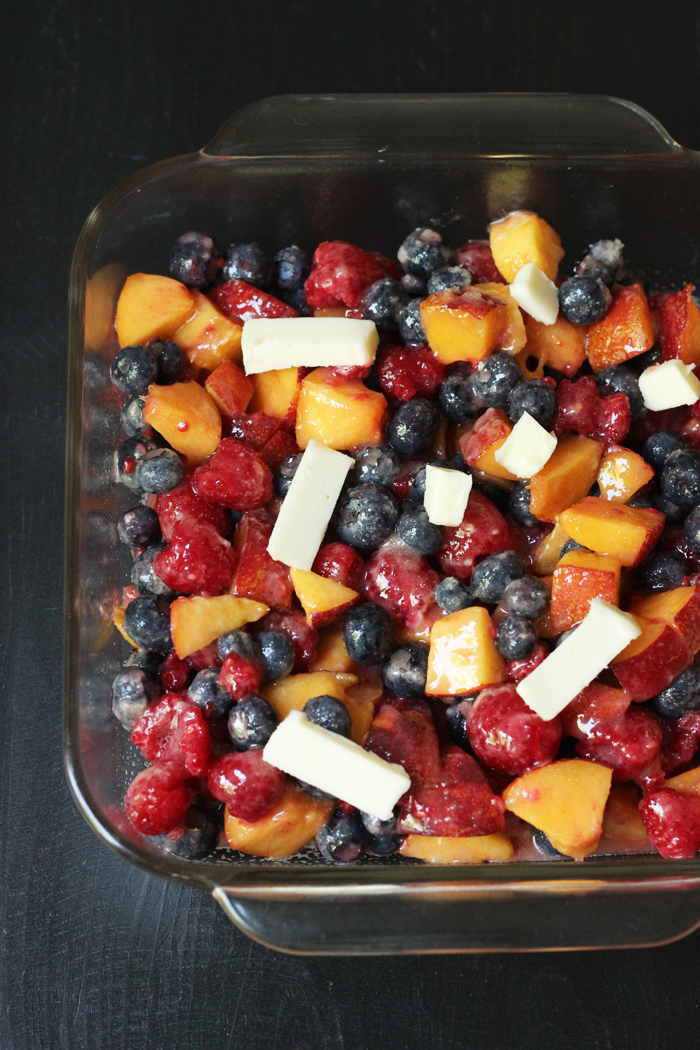 How I make this good and cheap:
Here are some of the strategies I use to make this recipe more economical:
Buy in bulk. I regularly buy baking ingredients in bulk from Costco or via mail order. I store in the freezer what I won't use soon; in this way, I can extend its shelf-life.
Shop the sales. Buy summer fruit when it's on sale to get the best value. I'm generally not too fussy about which fruits. I just choose what's on sale and looks good.
Tools I use to make this recipe easy:
Having the right kitchen tools can really make your time in the kitchen more enjoyable. Over time, I've honed my collection so that they are perfect for my needs. Here are the tools that I like to use in this recipe.
Summer Fruit Cobbler
Enjoy all the luscious summer fruits available by baking them into a Fruit Cobbler. This one with a luscious lemon biscuit topping is a winner!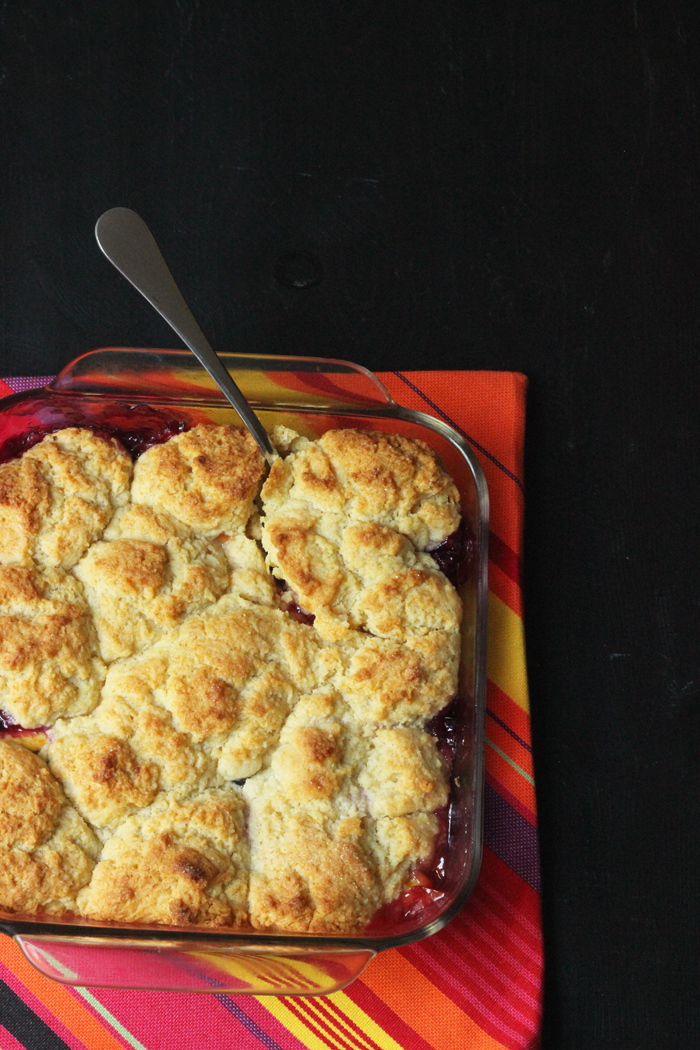 Preparation Time:10 minutes
Cook time:30 minutes
Total time:40 minutes
8 servings
Ingredients:
4 cups fruit, such as blueberries, raspberries, blackberries, pitted cherries, or chopped peaches, nectarines, or apricots

3/ 4 cup sugar plus 3 tablespoons

1 3/4 cups flour

1 tablespoon lemon juice

5 tablespoons butter

1 tablespoon baking powder

zest of 1 lemon

1 teaspoon salt

1 cup heavy cream
Instructions:

Preheat the oven to 400 degrees. Grease an 8-inch baking dish with nonstick cooking spray.
In a large mixing bowl, combine the fruit, 3/4 cup sugar, 1/4 cup flour, and the lemon juice. Toss gently to combine. Transfer the fruit to the prepared baking dish.
Cut 1 tablespoon butter into small cubes and distribute those over the fruit mixture.
In the bowl of a food processor fitted with a metal blade, combine the remaining 1 1/2 cups flour, 2 tablespoons sugar, the baking powder, lemon zest, and salt. Cube the remaining 4 tablespoons butter and add those to the bowl. Pulse until coarse crumbs are formed.
Alternatively, you can mix the flour and other ingredients in a mixing bowl, cutting in the butter with a pastry blender.
Stir in the heavy cream until a thick batter forms. Scoop the batter atop the fruit mixture evenly. It's okay if the topping doesn't perfectly cover the fruit. It will spread when baked. Sprinkle the remaining tablespoon of sugar over the top of the batter.
Bake the cobbler for 30 minutes until the fruit is thick and bubbly and the topping golden brown. Serve warm with whipped cream or ice cream.