Looking for easy meals that are gluten-free and dairy-free or even workable for paleo or Whole 30? Download this free weekly meal plan focused on protein power meals.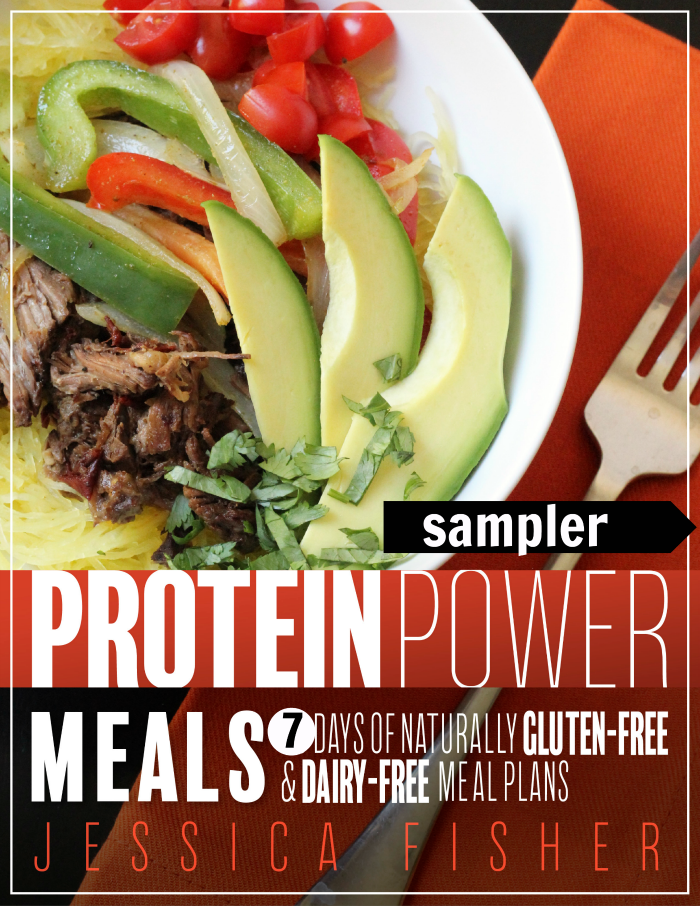 Ten years ago our family ate very differently than we do today. It's not that we ate unhealthfully all the way around; I still cooked quite a few items from scratch, served green salads on a regular basis, and didn't let my kids load up on candy.
But, I fed my own sugar habit with daily sodas and heaping tablespoons of sugar in my coffee each morning. I often served meals that consisted mainly of noodles, cheese, and bread with veggies and protein thrown in as an afterthought. In a lazy moment, I might forego the protein and the vegetables altogether.
(Truth be told: sometimes I still do this. Don't tell anyone.)
Over time I realized that this wasn't the best for me or my family. While I was hesitant to boost our proteins and produce since those can be the most expensive parts of a meal, I realized that it was better for us in the long run that I do so.
What I found was that we didn't break the bank after all!
We could focus on proteins and veggies and supplement with grains and cheese — and not rock the financial boat. At the same time, we added more nutrients to our diet and enjoyed great meals.
Who knew?
Earlier this year I released this deluxe, Month of Protein Power Meal Plans, a curation of some of our favorite "protein-powered" meals. While you can certainly serve these meals with grain-based side dishes or top certain dishes with a sprinkle of cheese, you won't need to. These dishes are packed with flavor all on their own, making this a perfect meal plan for folks eating gluten-free, dairy-free, paleo, or Whole 30 as well as those who just want to focus on protein and fresh vegetables.
Want to check it out? Get a FREE weekly meal plan, a sampler from Protein Power, to try out. It's available to subscribers of the Good Cheap Eats Newsletter. Click the image below to sign up!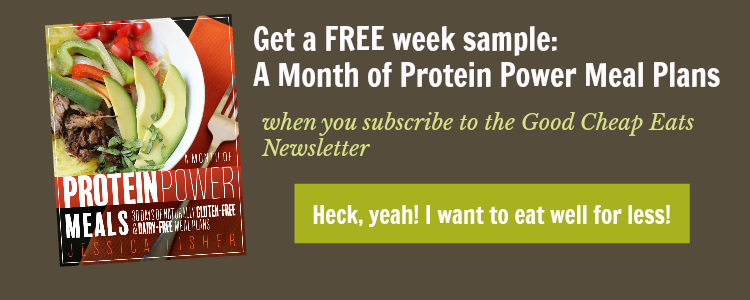 The newsletter is FREE, and you're welcome to unsubscribe at any time.
If you're already a subscriber, check your weekly newsletter each Sunday. I'll include the free weekly meal plan there, so you don't need to do anything. Thanks for the honor of chatting with you in your inbox each week.