Easy meals allow you to do so many great things: eat well, save money, and enjoy time pursuing other things that standing in a hot kitchen. Check out these easy meals for good cheap eats this month.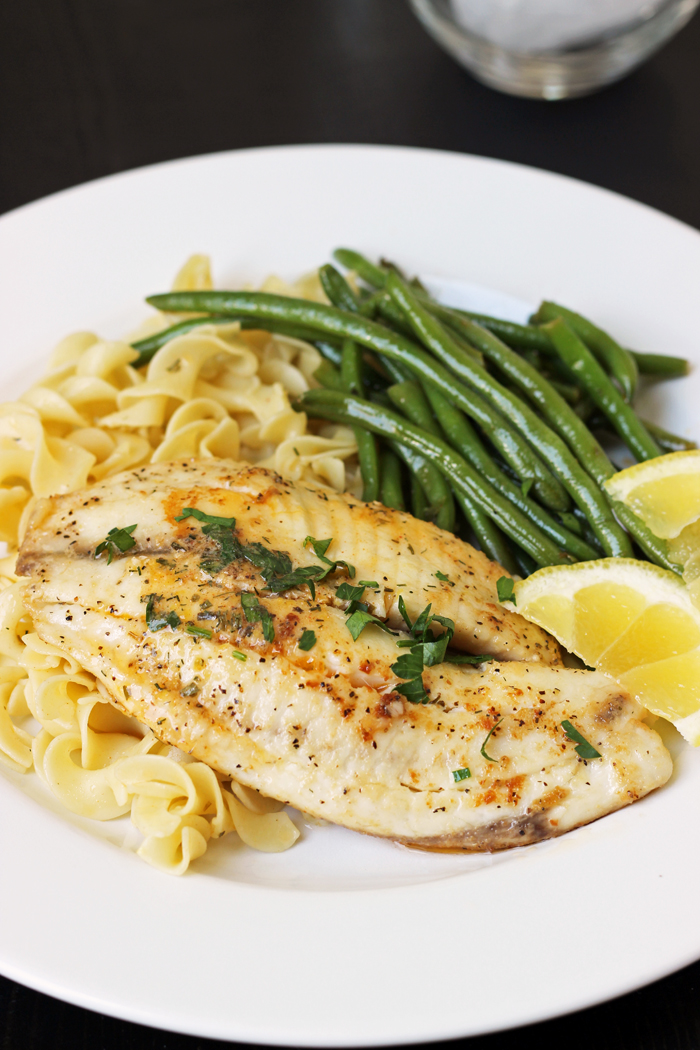 Once upon a time there was a girl who spent two hours preparing every meal she served her husband and friends. Apparently, she had all the time in the world — and spent half the day in the kitchen. But, one day, she realized the beauty of easy meals.
And you can, too.
If you haven't guessed already, that girl was me. I seriously used to spend A LOT OF TIME IN THE KITCHEN. I enjoyed it, but after so many long hauls, that kitchen work lost its luster.
While I still enjoy preparing great food, I've found that for everyday cooking, I invest my time better when I prepare easy meals.
Enchiladas, mac and cheese, salads bursting with protein, grilled fish with savory herbs and butters — these are the foods that taste every bite as good as a 3-hour feast but without a lot of hassle. The time savings allows me to enjoy other pursuits. It also makes me less likely to pay for pricier restaurant fare.
If I know that I can make something delicious, quickly and easily, why would I want to do anything else?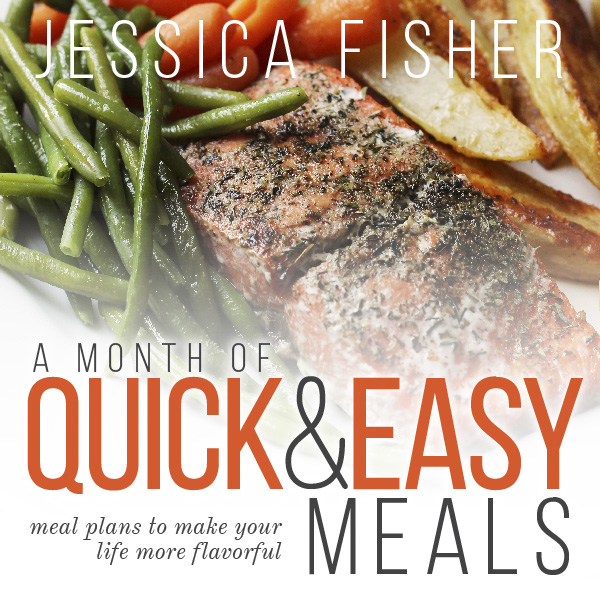 This month, I've got a great meal plan going. It's called A Month of Quick & Easy Meals, and it's a curation of 30 easy meals that will have you eating well without getting hot and bothered in the kitchen.
Get A Month of Quick & Easy Meals
Available through April 30, 2017.
A Month of Quick & Easy Meals provides all the meal plans and grocery lists for 30 quick and easy, budget-friendly, kid-approved, healthy dinners.
What you'll receive in the meal plan:
30 of the best quick and easy dinner recipes – click the table of contents below to see all that's included!
30 menu plans that feature quick & easy meals your whole family will love
four weeks of grocery lists
a monthlong grocery list so you can look out for sales and know you'll use things up
make-ahead tips and a prep list to make dinnertime easy-peasy
all the dinner recipes at your fingertips
homemade quick and easy breakfast and dessert ideas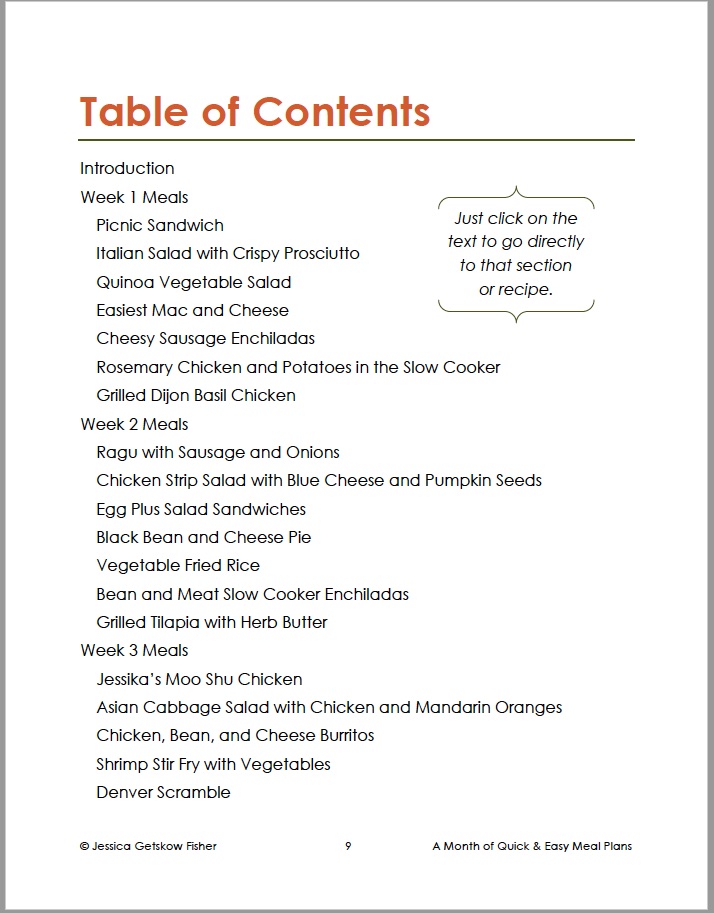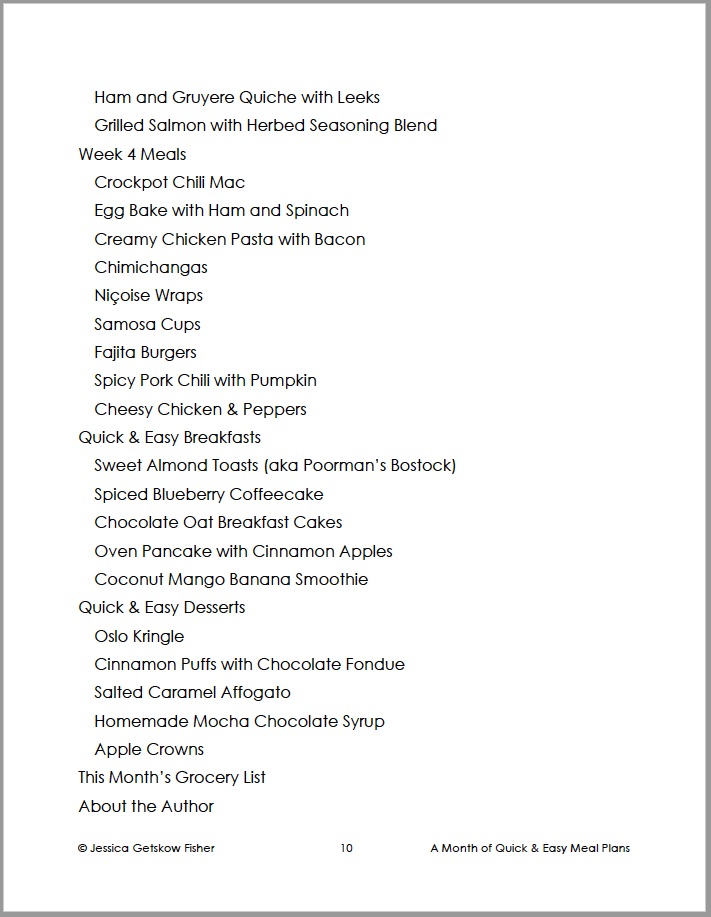 What are the benefits of A Month of Meals plan?
You don't have to think. The planning is all done for you and some days, you really need a break from thinking and planning, don't you?
You will save time. Not only is there no need for you to plan, but there's also less chance of your forgetting something at the grocery store because the list is already made. Plus, these meals are all quick and easy to prepare so you won't spend a lot of time in the kitchen!
You will eat well. These recipes are delicious, real food, easy meals that your whole family will love. You won't find any funky, expensive hard-to-find ingredients here. This is "normal people" food that tastes great!
You will save money. Having a meal plan is your first line of defense against costly restaurant fare or takeout. With the monthlong grocery list, you can plan ahead and stock up and save even more when you find necessary ingredients on sale.
You will waste less. Each week's meal plan provides Leftover Alerts to help you use up what's left and not let it go to waste.
Stay tuned for more Month of Meals plans. There's a new one every 4 to 6 weeks. You can always find the most current Month of Meals plan here.
What are YOUR favorite easy meals?