This month we're avoiding the grocery store and shopping the kitchen. Here's how we're eating. It's like reality TV, for food.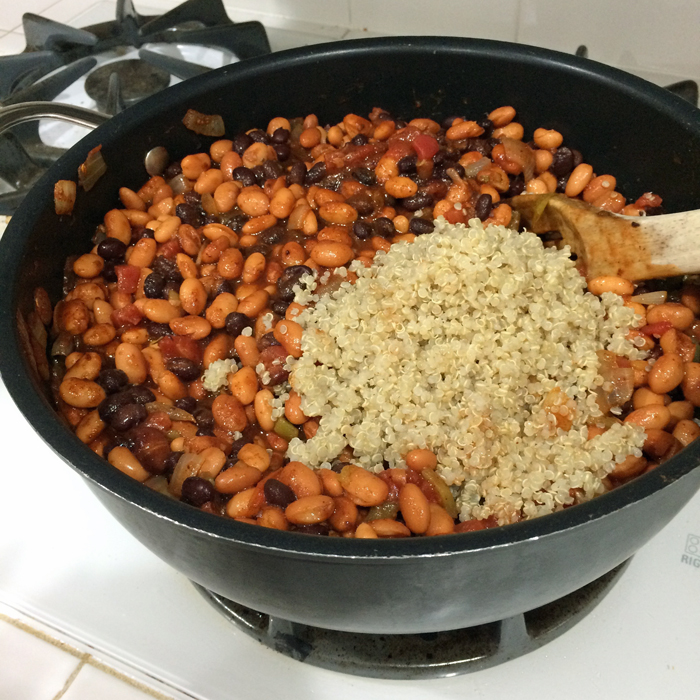 So, I need to be real with you. While I pride myself on responding to all comments and emails, I realized today that I simply won't be able to keep up with Challenge comments. Please forgive me? But, I think it might break me. As much as I want to respond to every single one, I know that it will take an incredible amount of time that I just don't have. Please know that I read every single one and am thrilled by your enthusiasm!
Maybe I'll include my reactions to different comments in my nightly posts? We'll see. Just know that I am tickled by your participation and your excitement for the Challenge.
As for food today….
Pantry Challenge Meals, Day 2
Breakfast: My husband and I had leftover Breakfast casserole from yesterday, the kids had Granola and Pineapple. Some of the boys made eggs as well.
Lunch: I made chili for lunch and stirred in leftover quinoa that needed to be used up. No one under 18 was the wiser. 😉 I served shredded cheese and tortilla chips with the chili and fresh veggies on the side.
Dinner: There was spaghetti squash to eat up, so I made this Spicy Turkey and Sausage Bolognese and roasted veggies.
Bonus: I also made 4 days of lunches for my husband to take to work and a couple loaves of Chocolate Chip Banana Bread.