This month we're avoiding the grocery store and shopping the kitchen. Here's how we're eating. It's like reality TV, for food.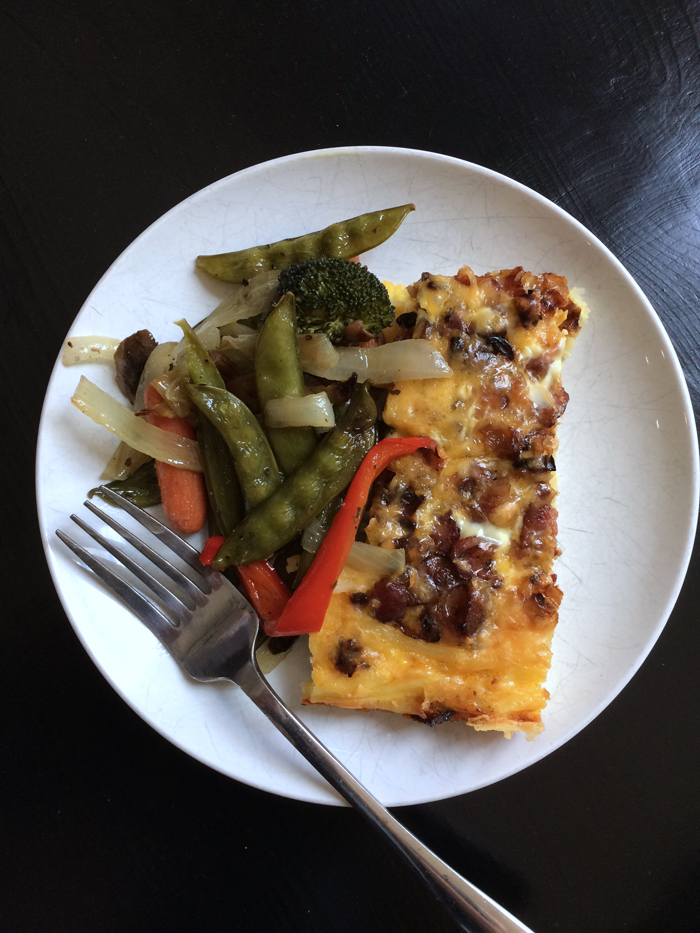 It has been a super busy day, so busy that I didn't take pictures except this quick random snap this morning of breakfast. Expect more of that. I will try for at least one image a day, but know that they probably won't be super fancy. The days are pretty busy.
First of all, though, let me say how EXCITED I am that so many of you are joining this year's Pantry Challenge. It was such a joy to read your comments and hear your enthusiasm come through the internets. I'm so honored by the Good Cheap Eats community and how you really support each other during these challenges. Thank you!
You are part of the reason I keep doing this, year after year. Did you know that?
So, for today's kitchen work, I didn't do a whole lot. I had planned more cooking and prepping for the week, but I went to the gym which takes about 90 minutes to 2 hours, all told, and then we watched Sherlock's season premiere tonight, another 90 minutes. I suppose I could cook while I watch TV, but tonight's episode really didn't allow for that.
Our meals were all really good, though, and I resisted the urge to go to the French bakery for baguette. I haven't taken an inventory yet since the freezer is so jam-packed and we have plenty to go on in the fridge for now.
Pantry Challenge Meals, Day 1
Breakfast: Hobbit Breakfast Casserole (frozen hashbrowns, bacon, onions, mushrooms, eggs, cheddar, and milk), pineapple for the kids while I ate some leftover roast vegetables.
Lunch: Snacky Lunch, Stuffed Mushrooms, Shrimp Cocktail, Veggies and Hummus, Pigs in Blankets – basically leftovers from NYE.
Dinner: Quinoa, Veggies, and Chicken for the parents; fried rice for the kids.
All in all it was a good day, but I know I'm going to need to get organized.
What did you eat today?