Are you looking to eat more healthfully this year? Check out January's month of meals: Protein Power! It will set you up for great new habits.
We're halfway into January, and you may feel like the newness has worn off. You didn't make any big changes yet, and you're feeling blue.
But it's never too late to start new habits, and it's never too late to make some healthier meals.
Here's just the thing to help you do both!
A Month of Protein Power Meals
January's meal plan is one that is kid-pleasing and budget-friendly while also being naturally gluten- and dairy-free.
Get A Month of Protein Power Meals here.
This meal plan is a great fit for folks following food programs like low-carb, paleo, or the Whole 30. It's great for families looking to avoid certain foods due to allergies and food sensitivities. It's a good fit for folks who simply want to focus on fresh and homemade without the heavy.
In this Month of Meals, you'll receive the following:
4 weeks of menus that are easy enough for weeknights and plenty healthy
4 weekly grocery lists
a monthly grocery list to help you make good use of sales
prep tips to make it all come together easily
appetizer ideas
sauce and spice mix recipes

Curious which recipes are included in this meal plan? Click the images below to see the table of contents.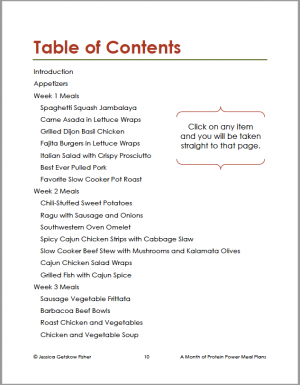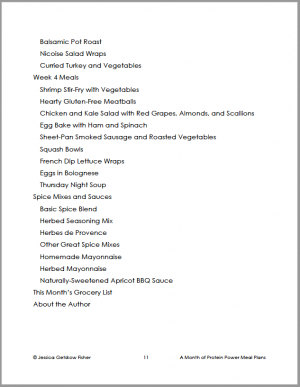 This meal plan will only be available through the end of January, so if you're interested in eating healthy meals without stressing over the planning, this is the thing for you!