Want a peek into our grocery cart? Here's how I'm grocery shopping and feeding eight people on the cheap.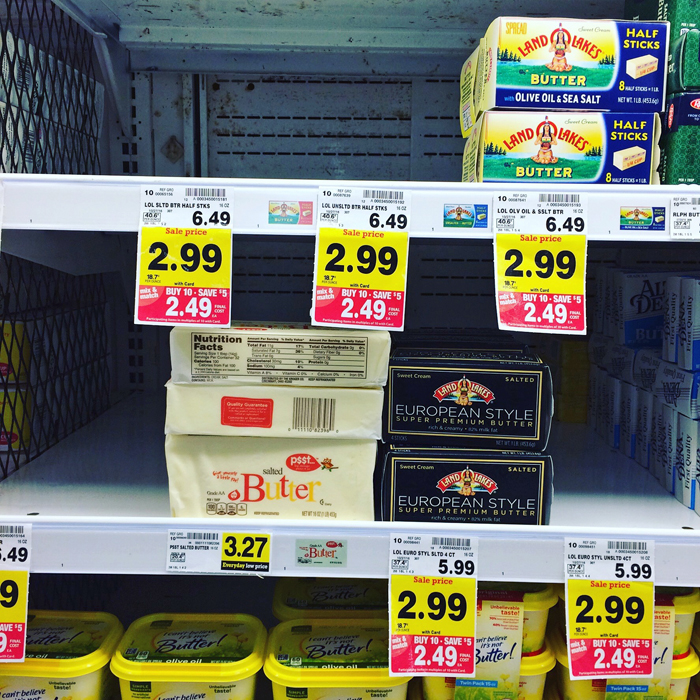 Contrary to popular belief, I did not fall off the face of the Earth, but time has been at a premium these days. The cold and dark makes me want to cuddle in bed instead of get up and work. Thus, my Grocery Geek post is a good ten days late. Better late than never, right?
On the grocery shopping front November was dominated by two birthdays and a holiday as well as numerous group functions requiring extra food. Plus, I found some great stock up sales for meat and other regular pantry items.
Note: I did not clear the butter shelves, but I was thrilled that the shelf clearers didn't notice that the fancy pants European Style butter was the same price as the regular. I did buy six pounds that we've already used up.
I love to squirrel away food in November and December and then eat it all up in January. Yes, there will be a Pantry Challenge again this year. 😉 I've had a great time stocking up this last month or so. Bring on the grocery sales!
Grocery Geek
Grocer Geek is my regular report of how I shopped for groceries, what deals I found, and my running total of how we're sticking to a budget for groceries.
Here's the rundown on my shopping this week. As you read, keep in mind who and how I'm shopping:
My grocery shopping profile
To update you on my grocery geekiness: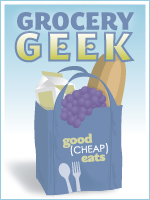 I'm feeding eight people, ages 53, 44, 19, 16, 14, 12, 10, and 8. Five of those people are males. They eat A LOT!
I'm shooting for a budget of $1200, per the USDA food cost reports the last time I added up for people of our demographics. I live in Southern California where produce is cheap, but meat and dairy are not.
I'm trying to feed us mostly unprocessed foods, with a few "healthier" convenience items thrown in and a junk food splurge* here and there.
I work at home and teach five of our kids, so I don't have as much time for fiddling in the kitchen as I would like.
I no longer use coupons on a regular basis, though I do love the coupons that Ralphs offers.
I have at least ten grocery stores within 5.5 miles of my house. It is easy (for better or for worse) to stop at several stores to get the best deals.
We mostly eat at home. My husband and college age son often pack lunch and breakfast to work, but sometime have lunch out. My husband and I enjoy a date once a week. FishPapa takes one child out to "dinner with dad" once a week. We eat out as a family on average once a week.
BEFORE YOU JUDGE ME FOR EXTRAVAGANCE, please read this post.
What we spent in November
Ralphs
Breyers ice cream $2.49 to $2.99 after coupons and sales 

(stocked up)

Cheerios FREE after coupon
crackers $1.49 to $2.50
taco shells $1.79
Fajita tortillas $3.99
butter $2.49 (stocked up)
sour cream $1.99 

(stocked up)

bag of lemons $3.99
cucumber $0.99
clementines $2.99
bell peppers $1.49
carrots FREE after coupon
pears $0.99/lb
apples $2.99/lb
mushrooms $1.99
sparkling apple cider $1.99 

(stocked up)

hot sauce $2.19
chuck roast $3.99/lb
pork shoulder $1.99/lb
uncured bacon $3.99 

(stocked up)

salami $6.99
hummus $1.25 to $1.99 (was eventually recalled)
spready cheese $6.49 (mismarked but too late to correct. Oops!)
sourdough bread $2.50
$5 off meat coupon
$2 off order coupon
$1 off produce coupon
$1 off bakery coupon
Total spent $153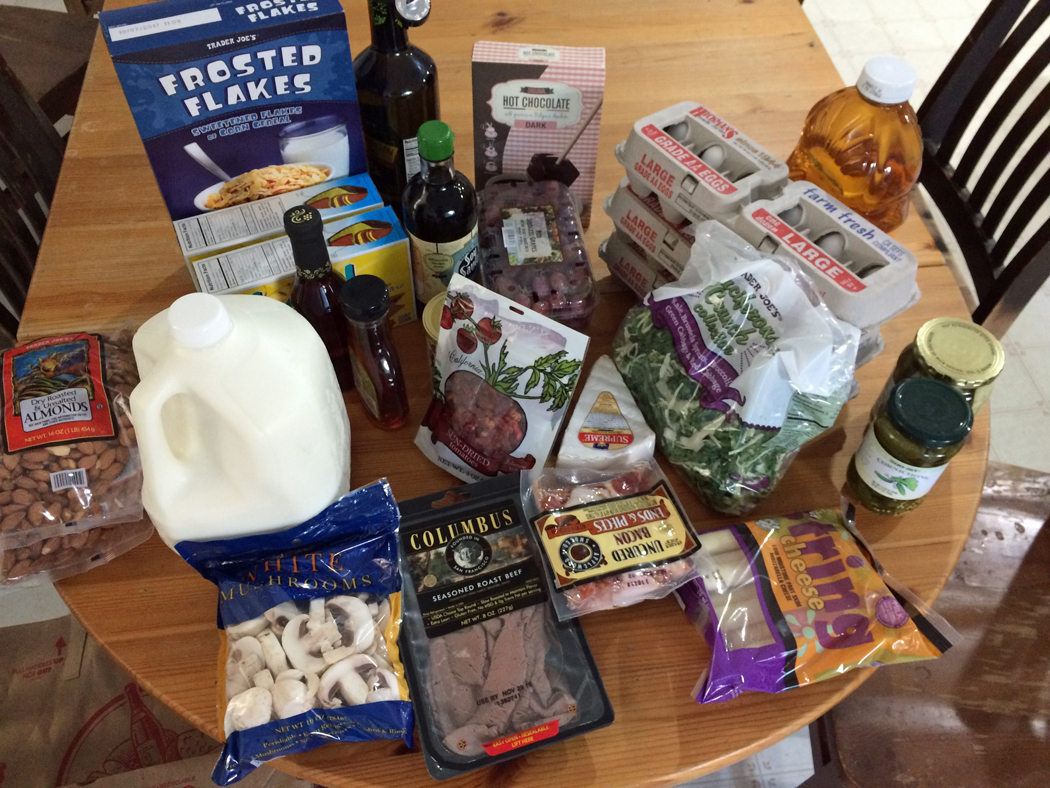 Trader Joe's
crackers $1.99
olive oil $7.99
sparkling water $0.99
eggs $1.29/doz
soy sauce $2.99
pickles $2.99
agave $3.29
red wine vinegar $1.99
almonds $5.99
roast beef $4.99
baking powder $1.49
sundried tomatoes $1.99
mushrooms $2.29
milk $2.89
cruciferous salad blend $1.99
red grapes $2.49
brie $5.59
string cheese $2.99
bacon ends and pieces $3.49
apple cider $2.99
Total spent $90
Ralphs
buttermilk $3.19
pineapple chunks $1.19
English muffins $3.99
cream cheese $2.19
mushrooms $1.12
uncured pepperoni $3.99
Total spent $16
Trader Joe's
tortilla chips $1.79
frozen raspberries $2.79
chicken tenders $7.49
cereal $1.99
celery $2.29
crackers $1.69
cucumbers $2.49
sunbutter $4.99
bell peppers $0.99
eggs $1.29
salami $4.99
breakfast sausage $2.99
chocolate chips $1.99
sliced turkey breast $4.99
tortillas $1.99
carrots $1.49
ham $3.49
salami $4.49
Total spent $73
Ralphs
beans $1.29 to $1.79
tortilla chips $0.50
cream of tartar $5.49
chips $2.49
Starbucks coffee $5.99 

(stocked up)

gf cake mix $3.99
cake mix $1.49
red grapes $1.48/lb
roma tomatoes $1.48/lb
hummus $1.99 (later recalled)
$5 off order coupon
Total spent $55
Sprouts
cilantro $0.50
green peppers $0.69
parsley $0.50
zucchini $0.98/lb
jalapenos $0.99/lb
apples $0.77/lb
lemons 3 for $1
chocolate chips $3.50
sparkling water $0.88
Fage $2.50
bread $2.59
Total spent $37
Costco
milk $4.39
Fage $6.39
Kirkland Greek yogurt $5.99
shredded mozzarella $10.99
popcorn $6.99
cream $9.89/half gallon
org eggs $6.99/2 doz
sharp Tillamook cheddar $8.99/2.5# block
mini babybel maxpack $10.99
Kirkland tuna $12.99
olive oil $11.99
avocado oil $9.49
organic romaine $3.49/6-pack
6-pack peppers $5.99
Total spent $139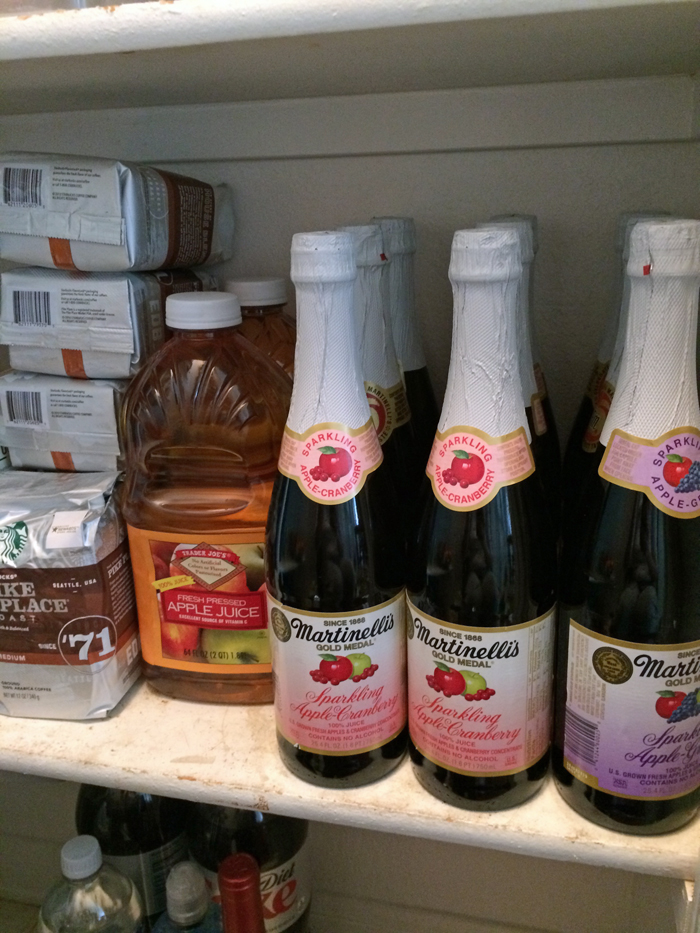 Ralphs
frozen vegetables $1.99 

(stocked up)

cream cheese $2.19
baking cocoa $2.99 

(stocked up)

oregano $2.17
chili powder $3.34
dried parsley $1.53
fruit snacks $2.49
canned beans $1.29 

(stocked up)

hominy $1.09
starbucks coffee $5.99 

(stocked up)

cilantro $0.69
green onions $0.99
avocado $3.49 (promised for an event – otherwise, no way at that price)
sparkling apple juice $1.99 

(stocked up)

organic eggs $2.79

pepperoni $2.99 

(stocked up)

$3 off order coupon
Total spent $110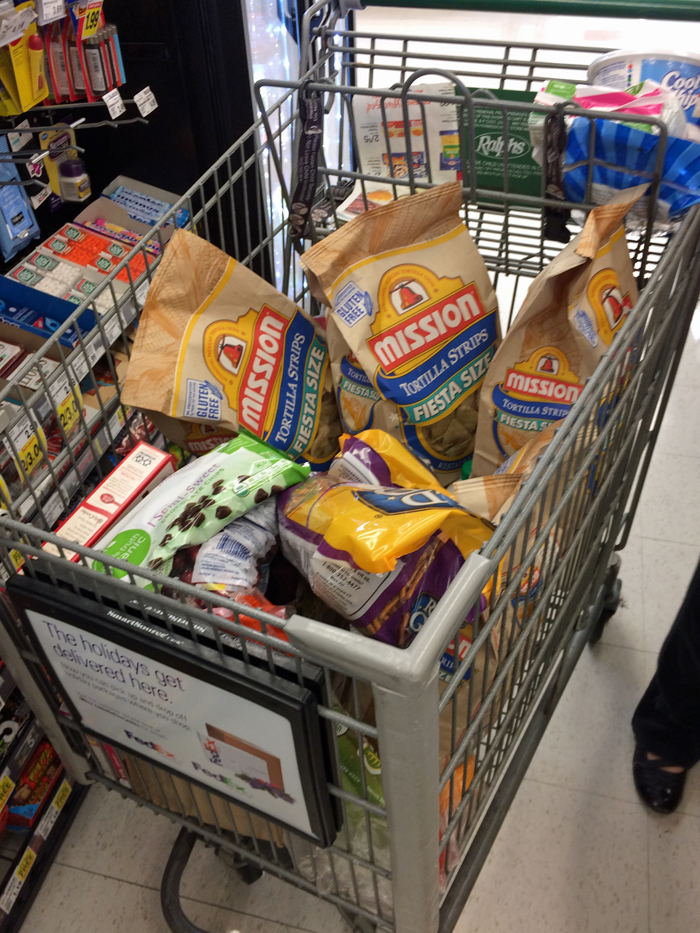 Ralphs
pasta shells $2.29
stuffing $2.59
tortilla chips $1.77 wyb4
sugar $1.99
cool whip $1.50
pretzels $2.50
jello $1.50
cream cheese $2.19
milk $2.69
org celery $1.99
oranges $0.99/lb
cranberries $2.50
mushrooms $1.69
frozen raspberries $3.49
steak $4.99/lb (for Christmas)
turkey necks $3.54
chicken legs $1.99/lb
$3 off meat coupon
Total spent $90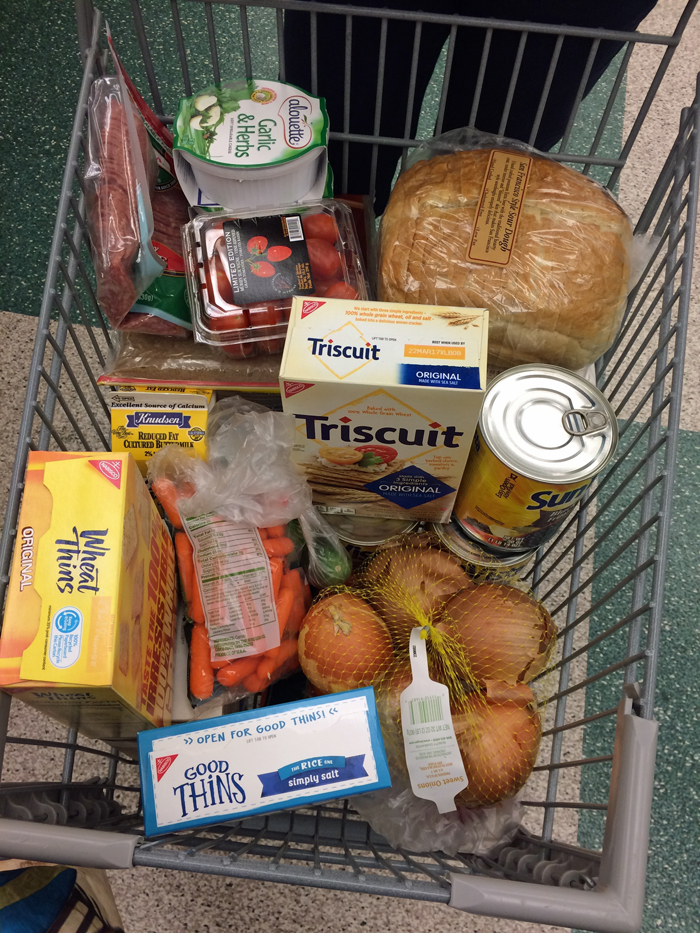 Ralphs
crackers $1.49
beans $1.79
buttermilk $2.99
brown sugar $2.49
flour $2.19
onions $1.99
carrots $1.19 to $1.59
cucumbers $0.99
apples $1.49/lb
grape tomatoes $1.99
double pack uncured lunch meat $6.49
salami $7.49
spready cheese $3.49
sourdough bread $2.50
Total spent $64
Trader Joe's
bottled water for traveling $3.99
cereal $2.99
brie $4.29
chicken tenders $7.49
kale salad $3.99
rice crackers $2.69
cereal bars $1.99
banana chips $1.29
yogurt smoothies $3.49
chocolate $1.79
apple cider $2.99
sunbutter $4.99
juice boxes $3.49
bananas $1.52
mushrooms $2.29
cucumbers $2.49
tomatoes $1.78
milk $2.89
Total spent $100
Ralphs
feta cheese $3.249
mushrooms $2.49
baby spinach $2.99
bell pepper $1.49
cilantro $0.69
Total spent $11
Trader Joe's
butter $2.69
sourdough bread $2.99
Total spent $14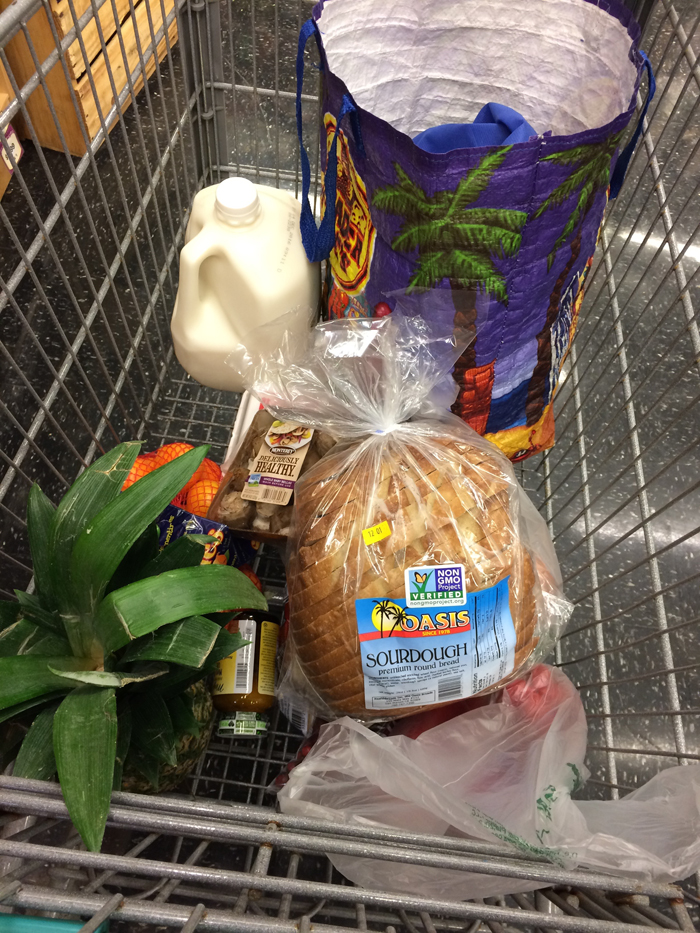 Sprouts
clementines $1.98
cranberries $2.00
pineapple $2.50
stuffed mushrooms $3.99
mushrooms $2.49
onions $0.77/lb
milk $2.99
eggs $2.89
sourdough bread $3.50
Total spent $29
Ralphs
cilantro $0.69
jalapenos $0.99/lb
stocking stuffers $1 to $1.19
Total spent $9
Costco
milk $4.29
avocado oil $9.49
agave $10.89
cream $9.89/half gallon
quinoa $11.49
eggs $6.99/2 dozen
tortillas $3.69
basmati rice (25 pounds) $13.99
olive oil $11.99
diced tomatoes $6.49
guacamole singles $10.99
hummus singles $6.49
pineapple juice $5.29
sparkling sider $5.50/4 bottles
sharp Tillamook cheddar $8.99
organic ground beef $19.99/4 pounds
sourdough bread $3.69
mini naan $4.99
torta sandwich rolls $6.49
Total spent $193
Total spent this month $1183
Here's how it's looking for the year to date:
January $669
February $1092
March $1206
April $1435
May $1500
June $1215
July $1221
August $1338
September $816
October $1238
November $1183
Total YTD: $12,916
That total divided by 11 months, brings our average to $1174.18/month which is UNDER our $1200 budget per month. I'm not really sure how it's working out that way, but it is. I'll take it.
There have been quite a few stock-up sales lately, particularly at my local Ralphs, so I'll be taking advantage of these through the end of the year.
I am reassured that if I was really on my grocery geek game, we could save even more.
How did YOUR grocery shopping go in November?