Want a peek into our grocery cart? Here's how I'm grocery shopping and feeding eight people on the cheap.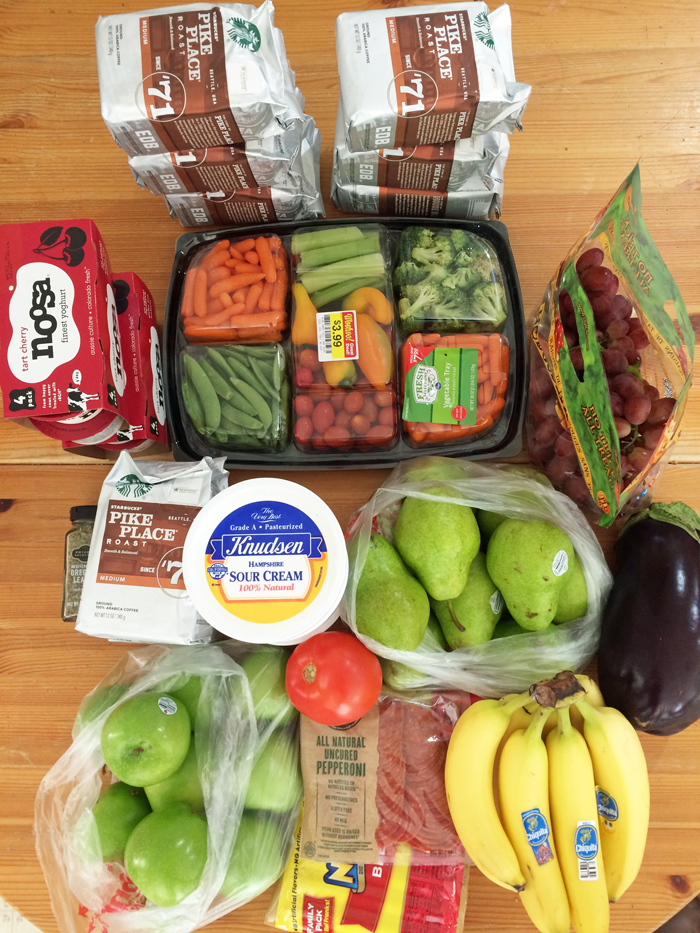 September and October are generally those months when I feel scattered. With the start of the homeschool year and all the new schedules, I tend to shift into some kind of survival mode. True to form, last month was weird. And so was this month.
This month it seems that all our increased activity has brought a whole lot of cooties into our home. As a result the kids have had at least two colds and one stomach bug. I'm hoping this means we've paid our dues, because I'm not sure my mental state or my grocery budget can handle more spontaneous shifts and changes.
This report is late because I spent 36 to 48 hours cleaning up after the aforementioned stomach bug. Sigh.
It's all good and well to have a meal plan, but when you have to throw out your plan due to someone's state of health and how it doesn't quite fit doctor's orders, well, it can cost a little more. I'm keeping this in mind going forward and looking to see where I can build more margin into our budget to allot for these unexpected situations.
That said, here's the grocery geek report!
Grocery Geek
Grocer Geek is my regular report of how I shopped for groceries, what deals I found, and my running total of how we're sticking to a budget for groceries.
Here's the rundown on my shopping this week. As you read, keep in mind who and how I'm shopping:
My grocery shopping profile
To update you on my grocery geekiness: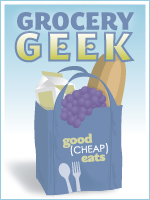 I'm feeding eight people, ages 53, 44, 19, 15, 14, 12, 9, and 8. Five of those people are males. They eat A LOT!
I'm shooting for a budget of $1200, per the USDA food cost reports the last time I added up for people of our demographics. I live in Southern California where produce is cheap, but meat and dairy are not.
I'm trying to feed us mostly unprocessed foods, with a few "healthier" convenience items thrown in and a junk food splurge* here and there.
I work at home and teach five of our kids, so I don't have as much time for fiddling in the kitchen as I would like.
I no longer use coupons on a regular basis, though I do love the coupons that Ralphs offers.
I have at least ten grocery stores within 5.5 miles of my house. It is easy (for better or for worse) to stop at several stores to get the best deals.
We mostly eat at home. My husband and college age son often pack lunch and breakfast to work, but sometime have lunch out. My husband and I enjoy a date once a week. FishPapa takes one child out to "dinner with dad" once a week. We eat out as a family on average once a week.
BEFORE YOU JUDGE ME FOR EXTRAVAGANCE, please read this post.
What we spent in October: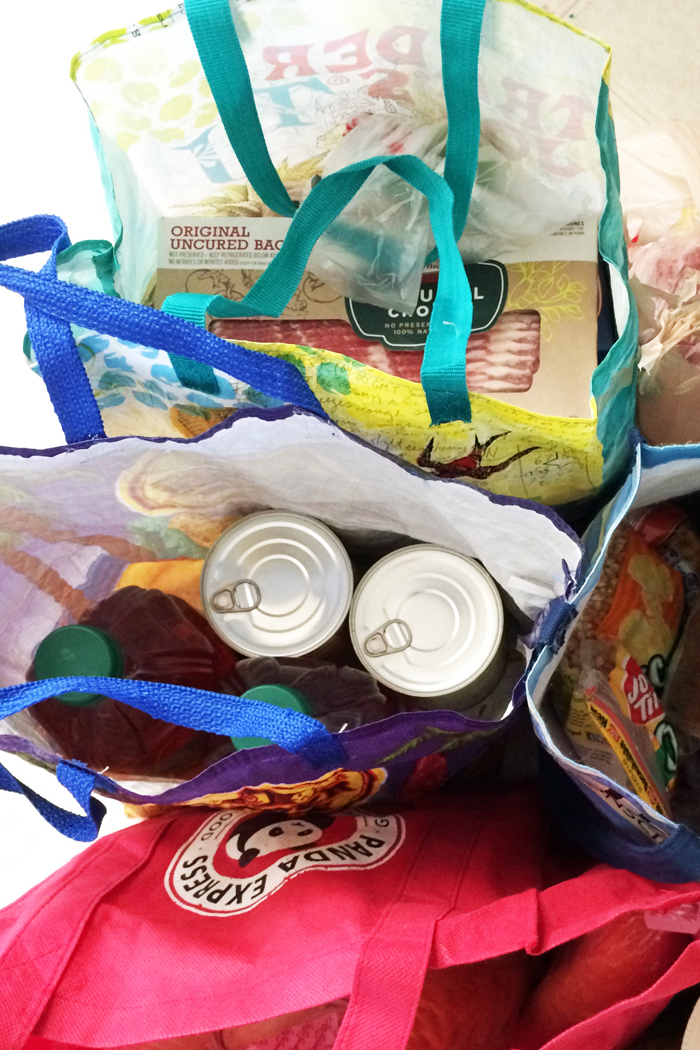 Ralphs
sandwich rolls $3.49
macaroni pasta $1.29 to $0.54 after digital coupons
shell pasta $2.79
popcorn $3.49
sour cream $1.99
Tillamook cheese brick $8.99
cranberry juice $3.99
canned pintos $1.99
cream cheese $1.69 

after digital coupons

shredded cheese $4.99
mushrooms $0.49 manager's clearance
green onions $0.99
roma tomatoes $1.29/lb
carrots $0.99
onions $2.49/3# bag
spaghetti squash $0.99/lb
apple juice $1.99
chuck roast $3.99/lb
applegate bacon $2.79 manager's clearance
uncured bacon $3.99 

after digital coupons

sourdough flute $0.99 manager's clearance
minus $5.00 coupon for meat department purchases
Total spent: $82
Ralphs
Doritos $3.99 (mom's stress food)
cucumbers $0.99
romaine $0.99
apples $0.99/lb
zucchini $1.49/lb
pepper $1.49
canned beans $1.00
deli roast beef $6.71
deli turkey $6.71
Total spent: $27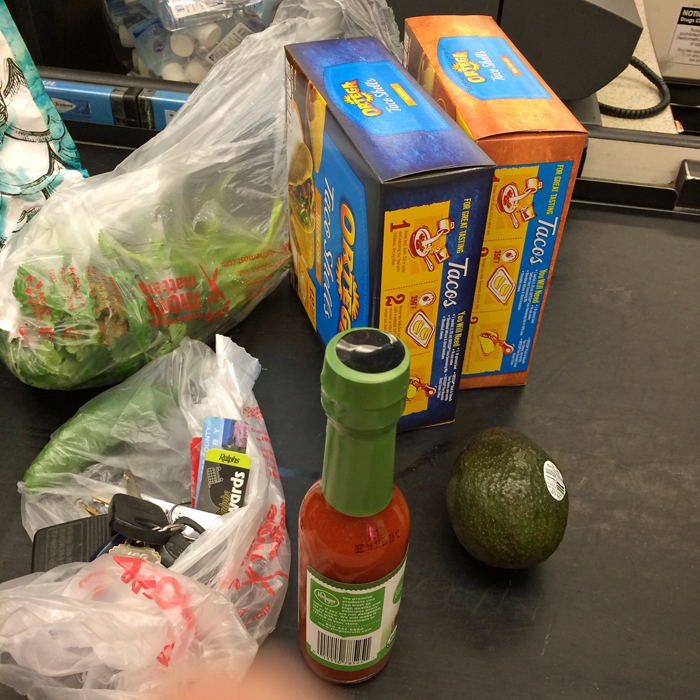 Ralphs
taco shells $1.50
avocado $1.50
jalapeno $0.99/lb
cilantro $0.69
hot sauce $2.19
Total spent: $7
Trader Joe's
bottled sparkling water $1.05/each
kale salad $4.98
garlic $1.29
pumpkin seeds $6.49
cashews $7.49
almonds $6.99
sunflower seeds $1.99
chocolate pretzels $3.29
Total spent: $47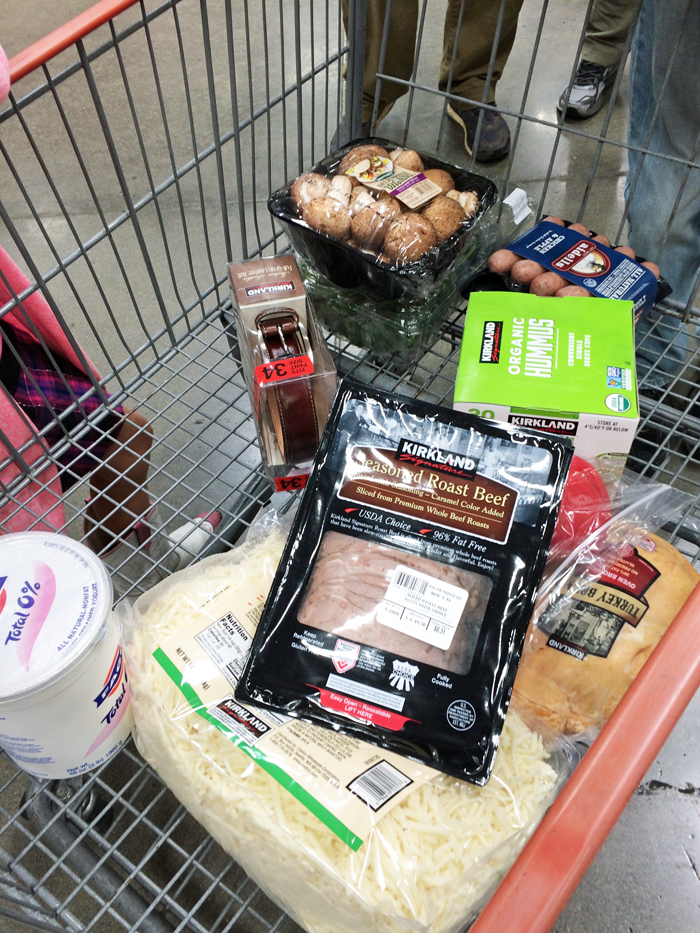 Costco
organic spinach $3.49
deli roast beef $8.31
deli turkey breast $14.04
Fage $6.39
mushrooms $5.79
shredded mozzarella $11.99
single hummus cups $6.49
red bell peppers 6-pack $5.99
Aidell's chicken sausage 3-pack $13.89
Total spent: $77
Sprouts
cilantro $0.33
green onions $0.33
XL large avocado $2.50 (for a picture)
limes 6/$1
Total spent: $7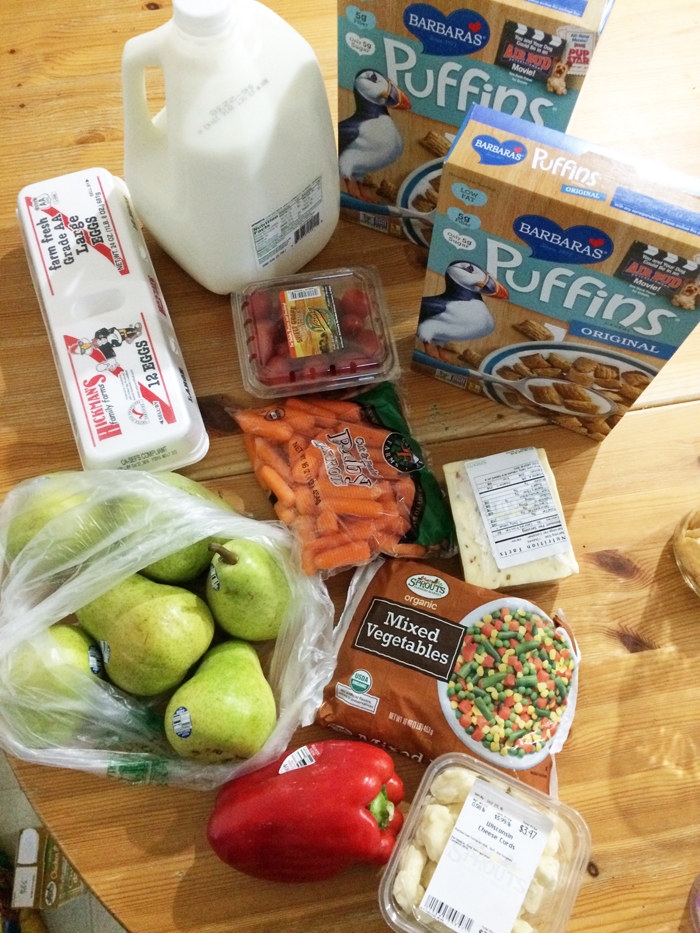 Sprouts
baby carrots $0.98
pears $0.88/lb
grape tomatoes $2
red bell pepper $1.29
organic chicken broth $1.99
penne $1.19
puffins cereal $1.99
milk $2.99
eggs $1.99
cheese curds $3.49 (for poutine)
pepper jack $3.11
frozen french fries 

(for poutine)

frozen veggies $2.00
Total spent: $34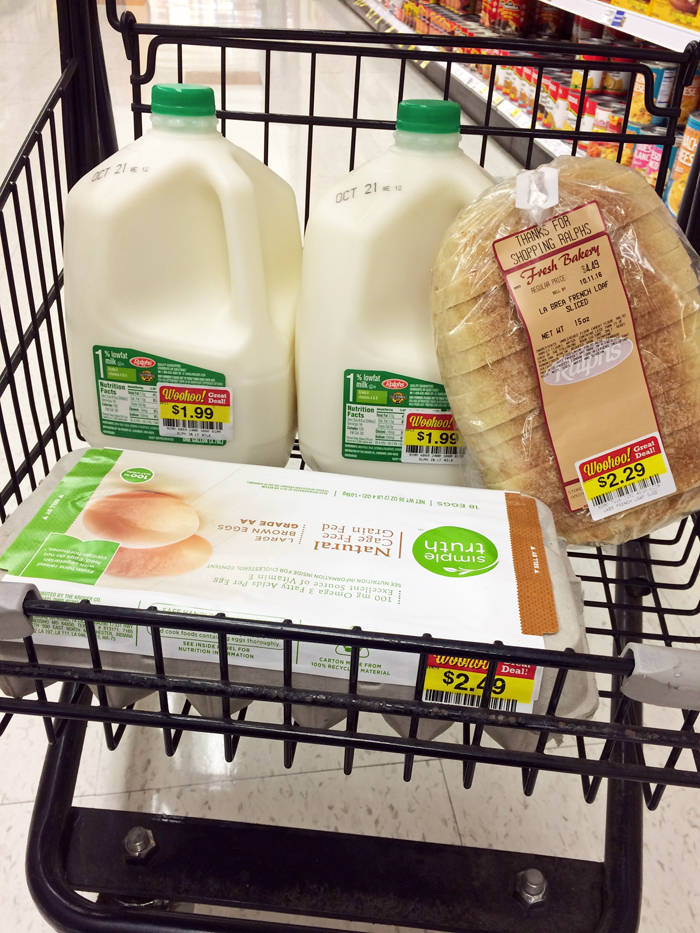 Ralphs
milk $1.99
taco shells $1.69
hashbrowns $1.99
eggs $2.49
bread $2.29
Total spent $13
Costco
chicken stock $11.59
fage $6.39
pasta 6 pack $8.49
red bell peppers 6-pack $5.99
organic eggs 2-dozen $6.99
frozen salmon $23.99
red potatoes 10# $5.79
milk 2-gal $4.49
baking potatoes 20# $7.99
grape tomatoes $4.99
broccoli florets $4.49
mahi mahi $22.99
hard salami $7.29
shredded mozzarella $11.99
frozen berries $9.99
Tillamook sharp $8.99
organic ground beef 4# $19.99
deli turkey $11.92
deli roast beef $8.11
organic brown mushrooms $5.79
hamburger buns $2.19
bread 2-loaves $4.59
hot dog buns $2.19
sourdough bread 2# $3.69
Total spent $260
Ralphs
starbucks coffee $5.77 (mega savings event)
sour cream $1.99
oregano $3.49
canned beans $1.49
veggie tray $3.99 (manager's clearance)
tomatoes $2.99/lb
bananas $0.69/lb
red grapes $0.99/lb
eggplant $0.99
apples $0.99/lb
pears $0.99/lb
Noosa yoghurt $2.99 

(mega savings event)

pepperoni $3.99
bulk pack hot dogs $13.99
spicy sausage$5.49
Total spent $115
Ralphs
whipping cream $4.99
cooking sherry $3.19
cream cheese $2.19
tortilla chips $2.99
Doritos $1.99 after sale
onions $2.49/3# bag
jalapenos $0.99/lb
mushrooms $2.99
spaghetti squash $0.99/lb
eggs $2.77
ground turkey $2.67/lb (I bought 8 pounds!)
sparkling water $4.59
Total spent $68
Ralphs
fruit only spread $3.99
applesiace $2.29
yogurt $3.79
grape juice $4.49
flour $3.19
mushrooms $3.99/lb
romaine $0.99
pork shoulder $1.99/lb
hersheys bar FREE after coupon
Total spent $39
Ralphs
cloves $4.01
milk $2.69
red grapes $0.99/lb
tomatoes $2.49/lb
pears $0.99/lb
bananas $0.69/lb
apples $2.49/lb
salami $6.99
deli turkey $9.08
sourdough bread $2.50
Total spent $46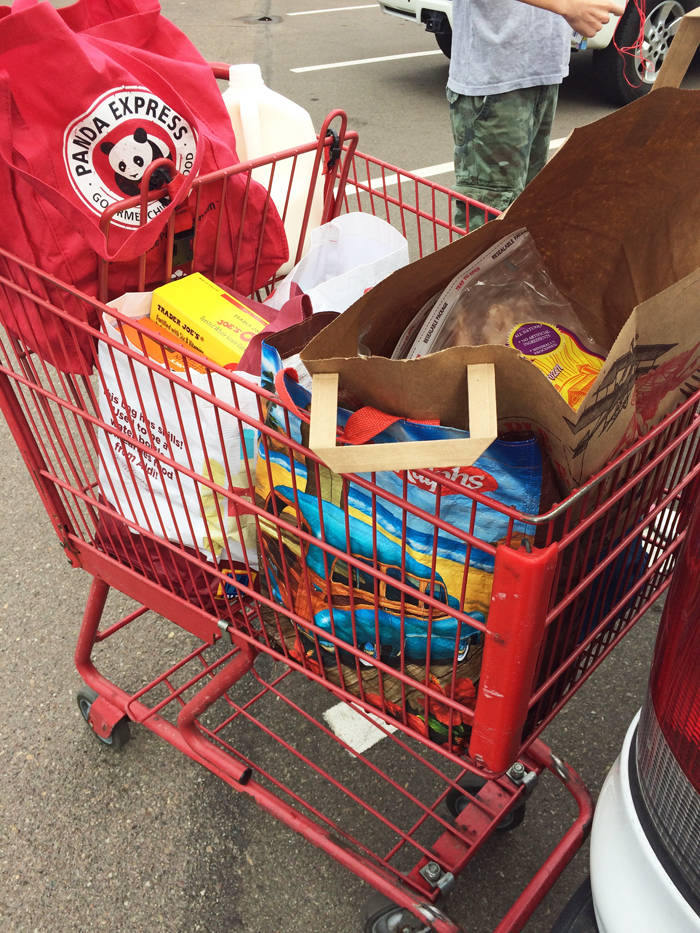 Trader Joe's
mushrooms $1.79
green onions $0.99
org romaine hearts $2.49
kale salad $2.49
kale blend $1.99
cereal $1.99 to $2.99
carrots $0.79
smoothies $3.49
milk $2.89
string cheese $2.99
bell peppers 2-pack $3.29
Brie $4.70
truffle cheese $5.64
pepperoni $2.99
org celery hearts $2.29
pasta $0.99
rice crackers $2.69
coconut oil $5.49
garbanzo beans $0.79
whipping cream $1.29
almonds $6.99
apple juice $2.99
eggs $1.29/doz
toffee $1.49
green salsa $2.79
bacon ends $3.49
tilapia $5.14
chicken tenders $7.49
ginger paste $1.99
Total spent $122
Ralphs
recipe testing 😉
cream cheese $2.19
baking cocoa $4.99
cranberry sauce $1.99
sugar $2.99
fresh cranberries $2.99
Total spent $15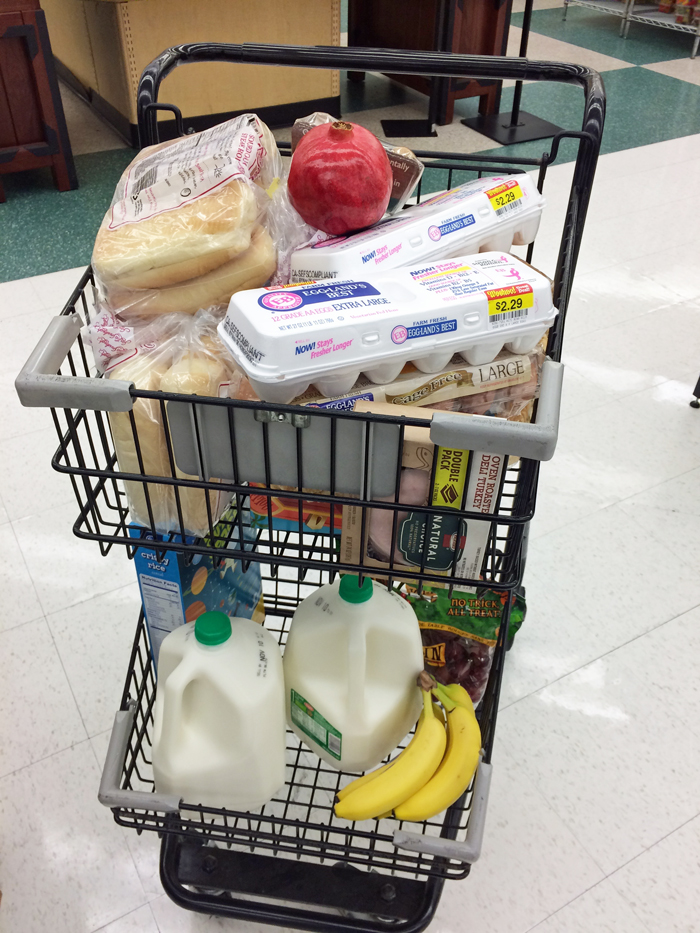 Ralphs
eggs $2.29 to $2.39 (manager's clearance)
sandwich rolls $3.99
saltines $1.49
club soda $0.89
milk $2.69
pomegranate $2.50
mushrooms $2.99
bananas $0.69/lb
red grapes $1.89/lb
deli turkey $5.99
sourdough bread $2.50
Total spent $49
Costco
milk 2-gallons $4.49
rotisserie chickens $4.99
chicken stock $11.59
craisins $8.89
deli roast beef $8.89
fruit leathers $11.99
canned tuna $12.99
fage $6.39
onion flakes $3.59
chili powder $5.49
red bell peppers 6-pack $5.99
deli turkey $15.52
sourdough $3.69
romaine $2.99
heavy cream $9.89
bread $4.59
shredded mozzarella $10.99
org gr beef 4# $19.99
org brown mushrooms $5.79
sourdough bread $3.69
Tillamook sharp cheddar $8.99
English cucumbers $3.99
tortillas $3.69
frozen french fries $6.59
Total spent $230
Total spent this month $1238
Here's how it's looking for the year to date:
January $669
February $1092
March $1206
April $1435
May $1500
June $1215
July $1221
August $1338
September $816
October $1238
Total YTD: $11,733
That total divided by 10 months, brings our average to $1173.30/month which is UNDER our $1200 budget per month. ?
Quite honestly, I'm shocked. This month's grocery shopping was very much flying by the seat of my pants, meal prep was haphazard, and there were lots of little stops at the store which should have burned me. But, they didn't. That's two months in a row like that. Surely my luck will run out.
The pantry is pretty full as are the freezers, so I'm hoping I can focus on what we have instead of buying more. I'm constantly doing the Healthy Eating Two-Step, wanting to eat well but then sometimes caving, as evidenced by Doritos, candy, and chocolate pretzels showing up a little more often than they normally do. Ahem.
Altogether, I'm encouraged by our progress. Shopping at Costco a little more often than we were is paying off, especially since we go through so much milk, yogurt, bread, and deli meat, things I rely on for my kids to fend for themselves when my schedule is busy and I'm not doing big recipe development.
How did YOUR grocery shopping go this month?