Want a peek into our grocery cart? Here's how I'm grocery shopping and feeding eight people on the cheap.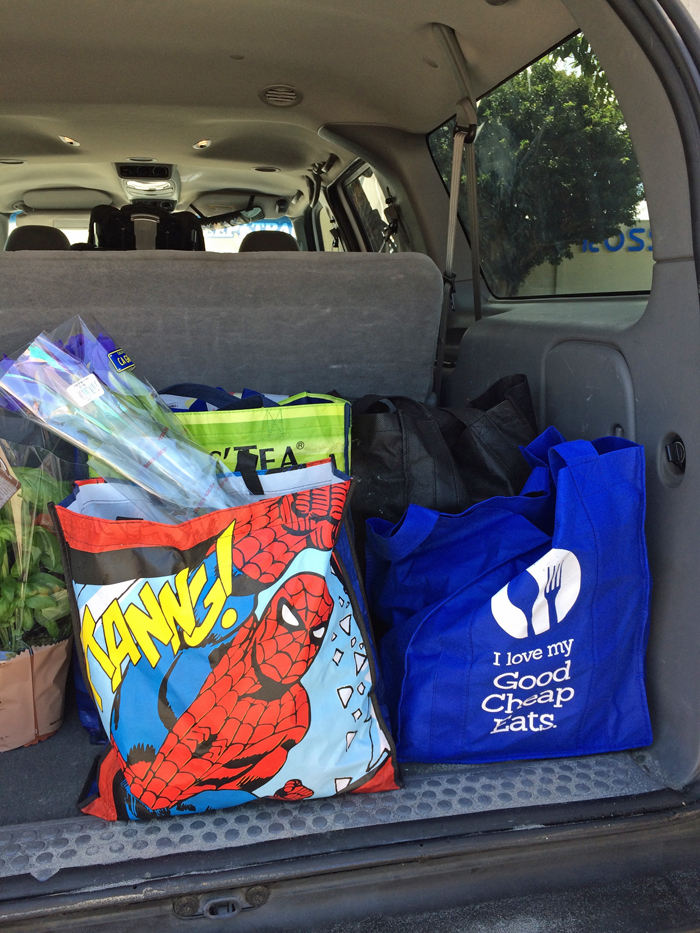 This month was a weird one. We started several outside classes that require the kids and I to be on the go in the mornings, not something typical for us. FishPapa also had a medical procedure that required him to be on a special diet for a week, thus prompting me to make some purchases I wouldn't normally make. Yes, I could have made homemade pudding instead of buying pudding cups, but in light of our busier schedule, it was just easier to buy him the comfort food of his childhood.
However, amid all this, we were amazingly under budget! I guess I was so overwhelmed by everything else, I ended up shopping the pantry more often than not. That's kinda cool.
My apologies for the lack of photos. It was a crazy month!
Grocery Geek
Grocer Geek is my regular report of how I shopped for groceries, what deals I found, and my running total of how we're sticking to a budget for groceries.
Here's the rundown on my shopping this week. As you read, keep in mind who and how I'm shopping:
My grocery shopping profile
To update you on my grocery geekiness: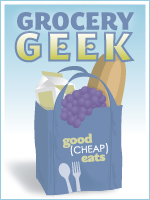 I'm feeding eight people, ages 53, 44, 19, 15, 14, 12, 9, and 8. Five of those people are males. They eat A LOT!
I'm shooting for a budget of $1200, per the USDA food cost reports the last time I added up for people of our demographics. I live in Southern California where produce is cheap, but meat and dairy are not.
I'm trying to feed us mostly unprocessed foods, with a few "healthier" convenience items thrown in and a junk food splurge* here and there.
I work at home and teach five of our kids, so I don't have as much time for fiddling in the kitchen as I would like.
I no longer use coupons on a regular basis, though I do love the coupons that Ralphs offers.
I have at least ten grocery stores within 5.5 miles of my house. It is easy (for better or for worse) to stop at several stores to get the best deals.
We mostly eat at home. My husband and college age son often pack lunch and breakfast to work, but sometime have lunch out. My husband and I enjoy a date once a week. FishPapa takes one child out to "dinner with dad" once a week. We eat out as a family on average once a week.
BEFORE YOU JUDGE ME FOR EXTRAVAGANCE, please read this post.
What We Spent in September: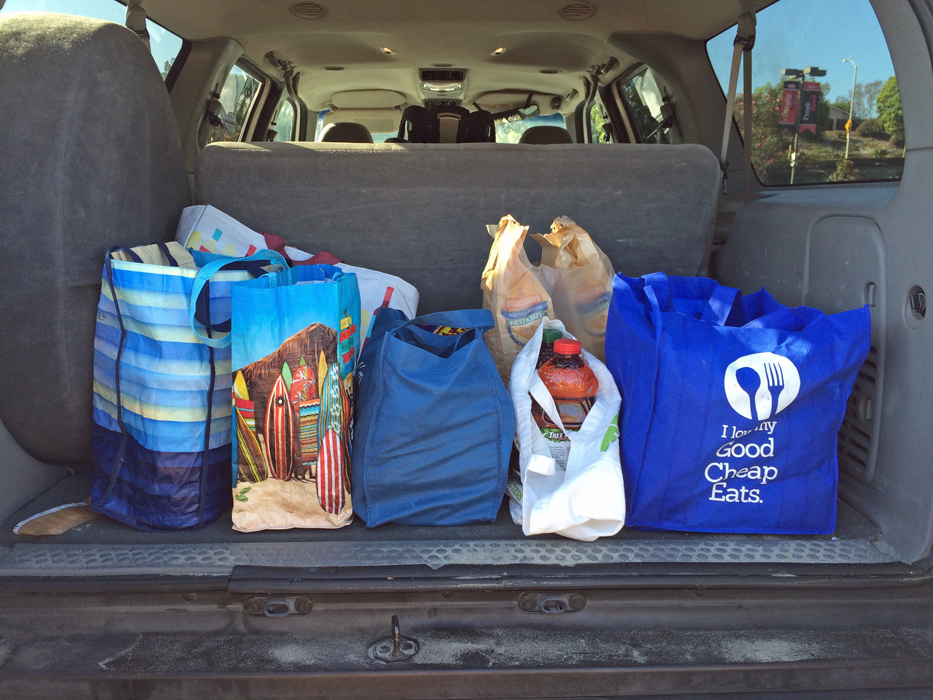 Ralphs
There were several items in this trip that I stockpiled such as the tortilla chips and English muffins. We're not going to eat that massive quantity in one week, but the price is a great way to stock up on items that we will eventually enjoy.
English muffins $2.49 after mega sales event
sugar $2.49
apple juice $1.49

after mega sales event

maple flavoring $2.99
unbleached flour $3.19
canned tomatoes $0.89
hot dog buns $2.29
tortilla chips $1.77 to 1.94 after sales and coupons
oats $3.49
grapes $0.99/lb
green onions 2/$0.99
roma tomatoes 

$0.99/lb

mushrooms $3.99/lb
avocado $0.99
cilantro $0.69
serrano chiles 

$1.69/lb

pears 

$0.99/lb

hot dogs $2.97
brats $2.99 after sales and coupons
minus $5.00 meat coupon
Total spent $67
Ralphs
This was a snacky dinner stop, a lazy Sunday alternative to going out to eat. The items were higher priced than I would like to pay, but altogether much cheaper than a meal out or spending the gas to gather the items at a cheaper store.
fancy cheese $6.75
fancy cheese $5.99
salami $7.99
large loaf bread $4.49
smaller loaf bread $1.49
Total spent $27
Sprouts
broccoli crowns $0.98/lb
cauliflower 

$0.98/lb

apples 

$0.98/lb

green peppers $0.48 each
jalapenos 

$0.99/lb

oranges 

$0.98/lb

lemons 2/$1
red onions 

$0.48/lb

yellow onions 

$0.48/lb

yogurt $3.69
pita bread $4.99
Total spent $29
Trader Joe's
pasta $0.99
frozen strawberries $1.99
sunbutter $4.99
Total spent $18
Sprouts
XL avocado $2.49
milk $2.99
eggs $1.99/dozen
Total spent $9
Costco
salt $2.79
Tillamook $8.99
feta $6.89
Fage $6.39
Pirate's booty $4
cereal bars $9.29
avocado oil $9.49
olive oil $11.99
sourdough bread $3.69
deli roast beef $8
whole grain bread $4.59
milk $4.79/2 gallons
uncured ham $11.99 (2-pack)
shredded mozzarella $10.99
4# butter $10.49
guacamole singles $8.79
2 dozen organic eggs $6.99
romaine $2.99
Total spent $143
Ralphs
pasta $1.60
mushrooms $1.89
roma tomatoes 

$0.99/lb

Italian parsley $1.49
peaches $0.99/lb
pepperoni $5.99
Total spent $15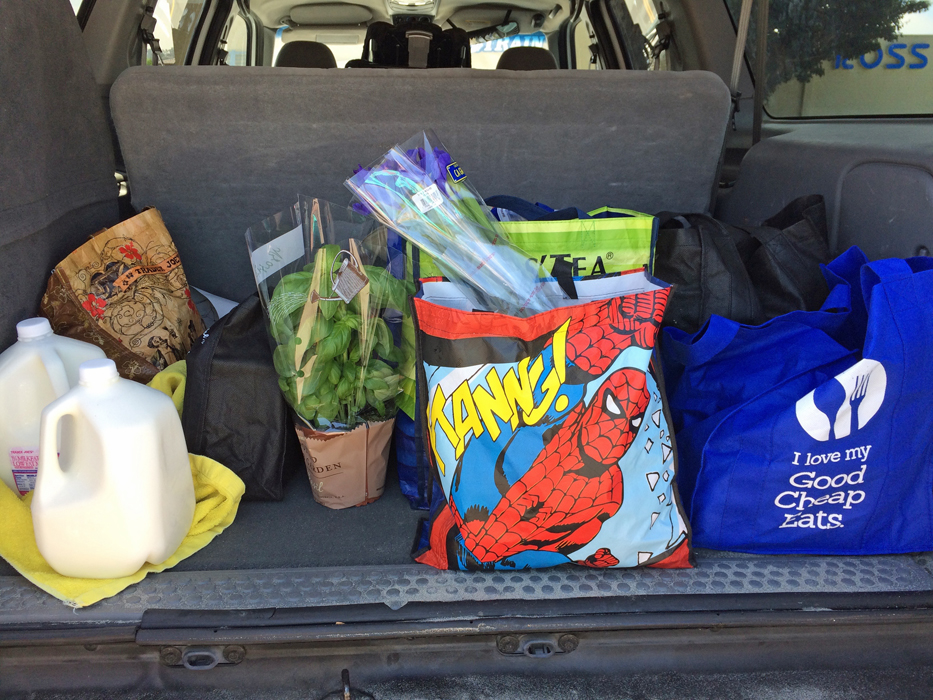 Trader Joe's
tater tots $2.29
shredded hashbrowns $1.69
green tea $2.49
hashbrown patties $1.99
baby zucchini $2.29
chicken tenders $7.49
string cheese $2.99
Brie $4.60
salami $4.49
pepperoni $2.99
broccoli $2.29
Ak-mak $1.99
2# organic apples $2.99
almonds $6.99
3# potatoes $1.69
drinking yogurts $3.49
sour cream $1.49
cottage cheese $1.69
cereal $1.99 to $2.99
milk $2.89
rice crackers $2.69
coconut milk $1.29
red wine vinegar $1.99
spice $1.99
garbanzo beans $$0.79
basil plant $3.49
eggs $1.29/dozen
Total spent $140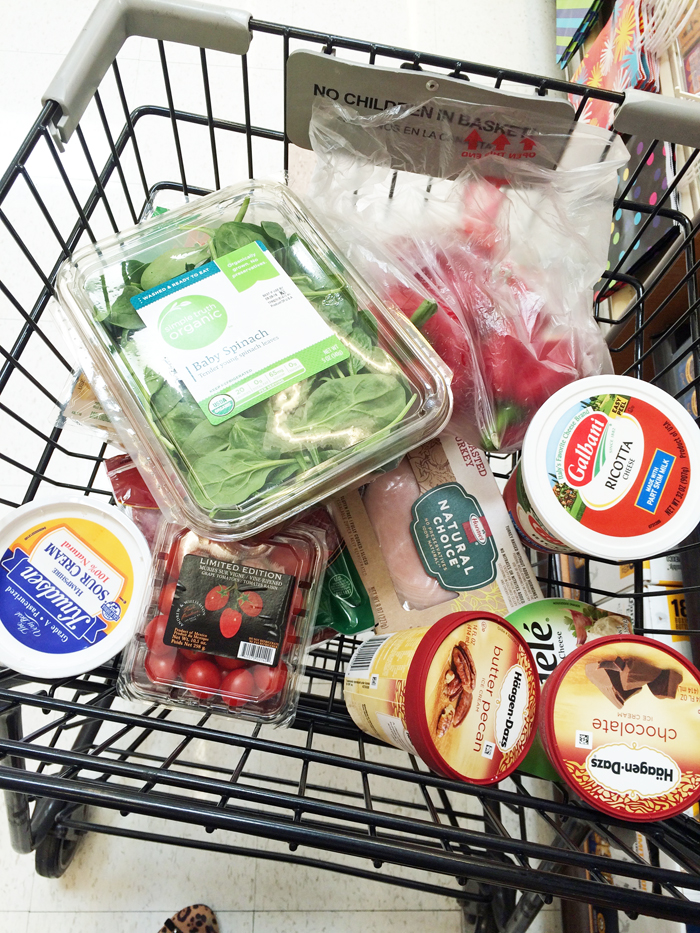 Ralphs
Haagen-Dazs Butter Pecan is my best friend.
French bread $0.99
fresh tortellini $5.99 after mega savings event
sour cream $2.49
ricotta cheese $2.99 

after mega savings event

Haagen Dazs $2.99 

after mega savings event

baby spinach  $2.39
peppers $1.49 each
grape tomatoes $1.99
deli turkey $3.04 after coupons
salami $6.99
fancy cheese $4.99
Total spent $42
Sprouts
The melon ended up being rotten which is a bummer. I'm not one to take back rotten produce, though it certainly is tempting!
melon 

$0.98

bananas $0.69/lb
Fage $3.49
large eggs $1.99
Total spent $8
Trader Joe's
chicken tenders $7.49
3# potatoes $1.69
frozen green beans $1.99
eggs $1.29/dozen
cereal $1.99
grape juice $3.99
milk $2.89
drinking yogurts $3.49
whipping cream $1.29
cereal bars $1.99
string cheese $2.99
applesauce $1.99
pasta $0.99
2# organic apples $2.99
olive oil $3.99
Total spent $70
Ralphs
The aforementioned pudding cups. If it helps, I bought the natural kind. 😉
pudding cups $3.49
broth $1.29 to $1.99
eggs $2.89
bread $2.99
noodles $2.00
rolls $3.49 to $3.99
whipping cream $4.99
mushrooms $3.99/lb
Total spent $37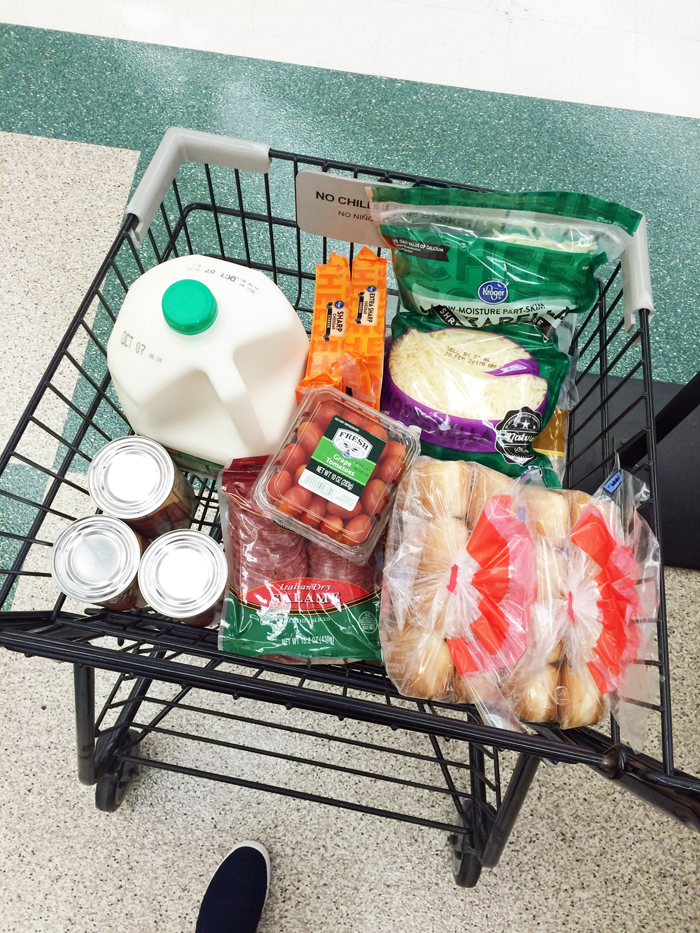 Ralphs
Ralphs is my go-to stop of the regular grocery stores. I can buy things that I can't find elsewhere and it's a big, roomy store that makes a quick stop for odds and ends go really quickly. I don't have to fight any crowds.
cheese $2.99
milk $2.59
canned tomatoes  $0.88
hot dog buns $1.29
shredded mozzarella $7.99
tortillas $2.50
grape tomatoes $1.99
salami $6.99
fancy cheese $5.49
corn syrup $2.19
cilantro $0.69
Total spent $44
Trader Joe's
Trader Joe's is on our way home from our homeschool class day, so it makes for an easy stop. You can tell I have some regular go-to items at Trader Joe's. Let me know if you'd be interested in a post about these items.
bread $2.49 to $2.99
drinking yogurts $3.49
buttermilk $1.99
tuna $1.69
brats $3.99
swiss cheese $3.99
uncured deli meats $3.49 to $4.99
organic romaine hearts $2.49
cereal $1.99 to 2.99
mushrooms $1.79
broccoli $1.79
3# bag potatoes $1.69
garbanzo beans $0.79
sunbutter $4.99
cilantro $0.99
frozen green beans $1.99
potato salad $3.99
2# organic onions $2.49
chicken tenders $7.49
2# organic apples $2.99
corn tortillas $0.99
flour tortillas $1.99
carrots $0.79
eggs $1.29/dozen
cottage cheese $1.69
Akmak $1.99
rice crackers $2.69
garlic $1.69
pickles $2.99
sunflower oil $3.99
milk $2.89
Total spent $144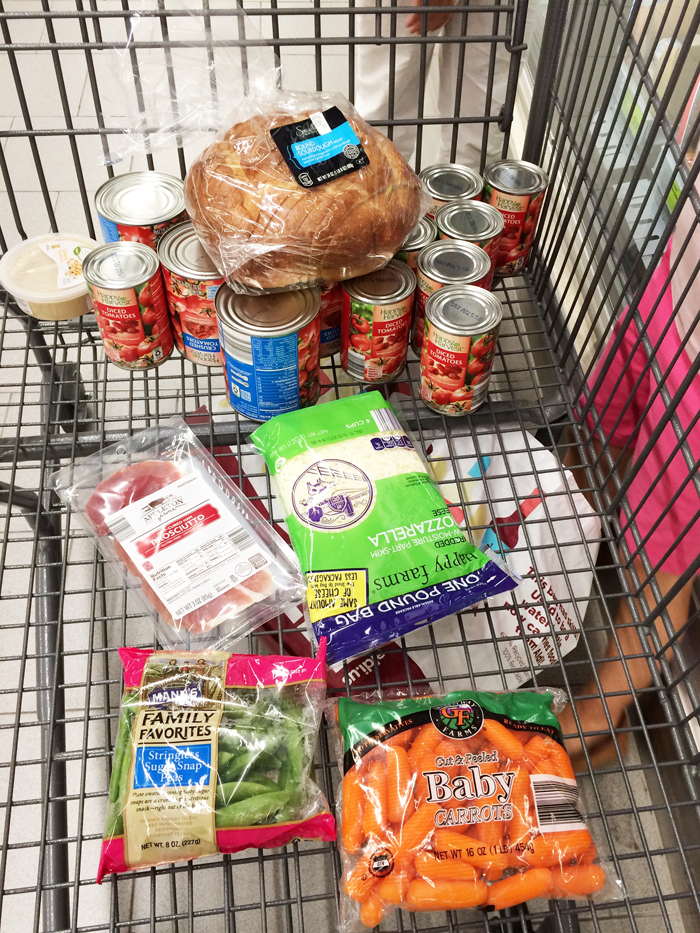 ALDI
ALDI is proving to have the best prices on tomato products, something we go through a lot of. However, it's so far from home, it's not worth stopping unless I'm in the area which hasn't been very often lately. The girls and I were in the neighborhood last night, so we stopped.
crushed tomatoes $0.79
diced tomatoes $0.49
sourdough bread $2.29
prosciutto $2.99
mozzarella cheese $3.29
carrots $0.89
sugar snap peas $2.19
hummus $2.19
Total spent $23
Total spent this month $816
Here's how it's looking for the year to date:
January $669
February $1092
March $1206
April $1435
May $1500
June $1215
July $1221
August $1338
September $816
Total YTD: $10495
That total divided by 9 months, brings our average to $1166.11/month which is UNDER our $1200 budget per month. 🙂