Want a peek into our grocery cart? Here's how I'm grocery shopping and feeding eight people on the cheap.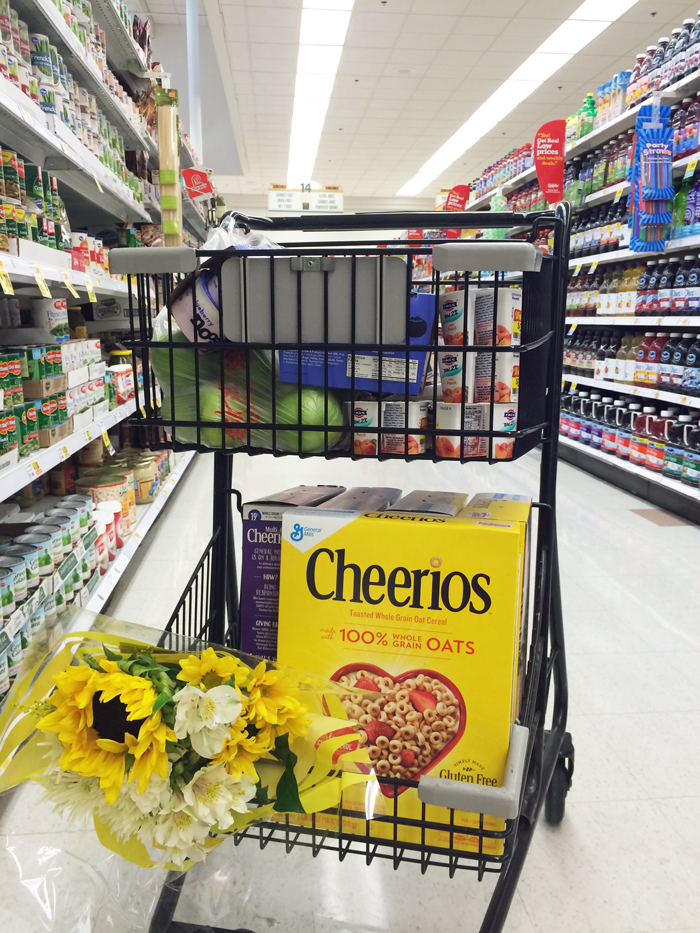 This was a busy month. I cannot believe all that we squeezed into it. We hosted my nieces for a week, my sister and mom for a few days. We celebrated a birthday party, tried to keep to our summer's healthier eating resolution, and started school.
I'll be honest, I didn't keep a running tally as I shopped this month. The sales were really good, I'm behind on my bookkeeping, and I was just happy to get food on the table.
So, you'll see that I went over our monthly budget of $1200. When I compare what we did spent — you'll see in a bit — to the latest food cost reports, we're not that far off. The feds say it costs $1318.80 to feed my family. Though we did eat a few meals out, we also fed extra people — and have the freezer and fridge stuffed to the gills.
We're going into September fully stocked, so my guess is that next month will even it all out.
I feel like I've been scrambling all month, so I'm looking forward to the long weekend to hopefully get my bearings and do a little freezer cooking. I know that will help me make use of all the great things I found on sale or stocked up on.
I took your advice and made Costco more of a regular stop on the things we were buying, particularly that basmati rice. I think I have rice to last us through Christmas!
I also discovered Google Express. I partnered with them over on Life as Mom, and have kinda gotten hooked on their service — overnight shipping. They'll even deliver from Costco! I had a credit, so I had some non-perishables delivered to the house. So nice! Check it out to see if they are available in your area.
Typing this all up in one sitting has yet, again, been so illuminating. I noticed some new trends that will be helpful in trimming down next month.
1. I make several shops at Ralphs. Ahem. I do love Ralphs. I particularly love their mark downs and sales, but I know that staying OUT of the grocery store can also help me save money, so I need to limit my trips.
2. We go through a lot of canned beans. Though I'm not in the mood to get back to cooking my own beans, it's probably time. I may just teach the kids how to do it and/or work it into my weekly meal prep. I'm not sure if we'll save a ton, but we can trim back some that way.
3. I'm so glad there are no birthdays between now and November!
Grocery Geek
Grocer Geek is my regular report of how I shopped for groceries, what deals I found, and my running total of how we're sticking to a budget for groceries.
Here's the rundown on my shopping this week. As you read, keep in mind who and how I'm shopping:
My grocery shopping profile
To update you on my grocery geekiness: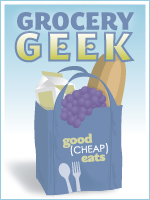 I'm feeding eight people, ages 53, 44, 19, 15, 14, 12, 9, and 8. Five of those people are males. They eat A LOT!
I'm shooting for a budget of $1200, per the USDA food cost reports the last time I added up for people of our demographics. I live in Southern California where produce is cheap, but meat and dairy are not.
I'm trying to feed us mostly unprocessed foods, with a few "healthier" convenience items thrown in and a junk food splurge* here and there.
I work at home and teach five of our kids, so I don't have as much time for fiddling in the kitchen as I would like.
I no longer use coupons on a regular basis, though I do love the coupons that Ralphs offers.
I have at least ten grocery stores within 5.5 miles of my house. It is easy (for better or for worse) to stop at several stores to get the best deals.
We mostly eat at home. My husband and college age son often pack lunch and breakfast to work, but sometime have lunch out. My husband and I enjoy a date once a week. FishPapa takes one child out to "dinner with dad" once a week. We eat out as a family on average once a week.
BEFORE YOU JUDGE ME FOR EXTRAVAGANCE, please read this post.
What We Spent in August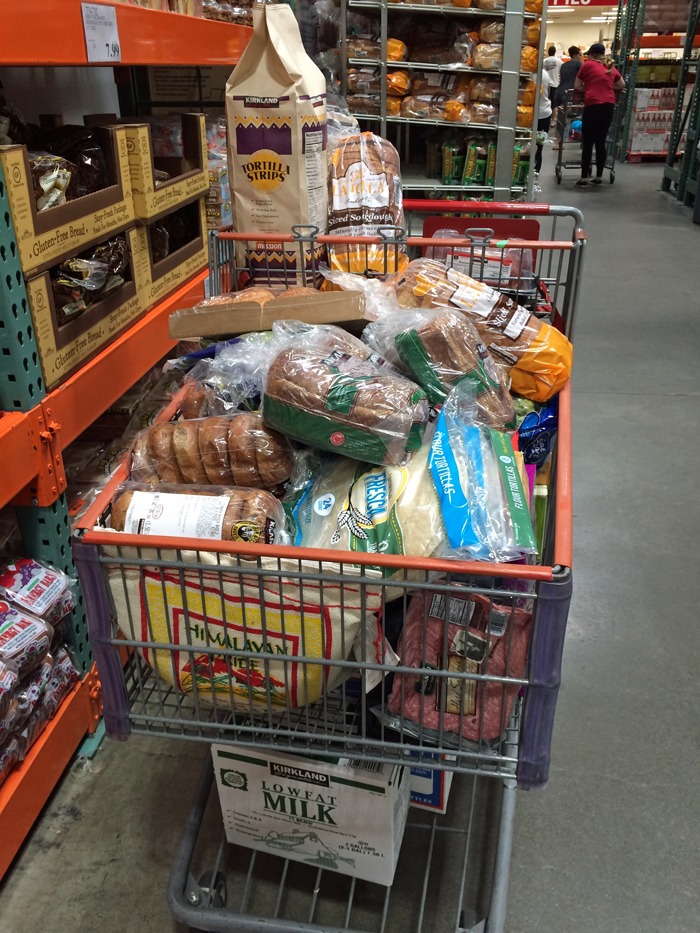 Costco
As you'll see this was obviously the Cousins Week splurge shopping trip. My sister was stunned when I texted her this picture.
Since we were keeping two of my nieces for a full week, plus my sister for several days, I wanted to focus on fun and not cooking. I bought lots of snacks and easy fixes I wouldn't normally have done. We had such a fun week!
bagels $5.49/dozen
bread $4.59/2 loaves
tortilla chips $3.49
2# sourdough bread $3.69
croissants $5.99
3 packs breakfast sausage $7.99
tortillas $3.69
milk $3.99/2 gallons
ginormous vat of refried beans $4.49
tomato puree $3.19
basmati rice $13.69
juice boxes $11.89
mandarin cups $7.89
6-pack peppers $6.79
organic fruit strips 8.99
organic triscuits $8.99
dill pickles $6.89/2 jars
nutella snack packs $11.99
apple sauce $9.99
ginger lemon cookies $4.59
uncured ham $11.99
deli roast beef $9.00
salami $7.29
mushrooms $5.79
romaine $2.99/6 heads
snap peas $5.79
baby carrots $4.59
cream $9.99
Tillamook $9.29
fage $6.39
organic eggs $6.99/2 dozen
butter $10.49/4 pounds
broccoli $3.99
olive oil $11.99
apple cider vinegar $6.69
canned tuna $12.99
Total spent: $335
Sprouts
Sprouts has had great prices on raspberries and red peppers this summer. I've stocked up every chance I get.
canteloupe $0.50 each
cilantro 

$0.50 each

limes 4/$1
organic celerty $1.99
bell peppers 

$0.50 each (I bought A LOT!)

grapes $1.88/lb
jack cheese $1.99/lb
ground sirloin $3.99/lb
hawaiian dinner rolls $3.29
frozen raspberries $1.50/bag
Total spent $46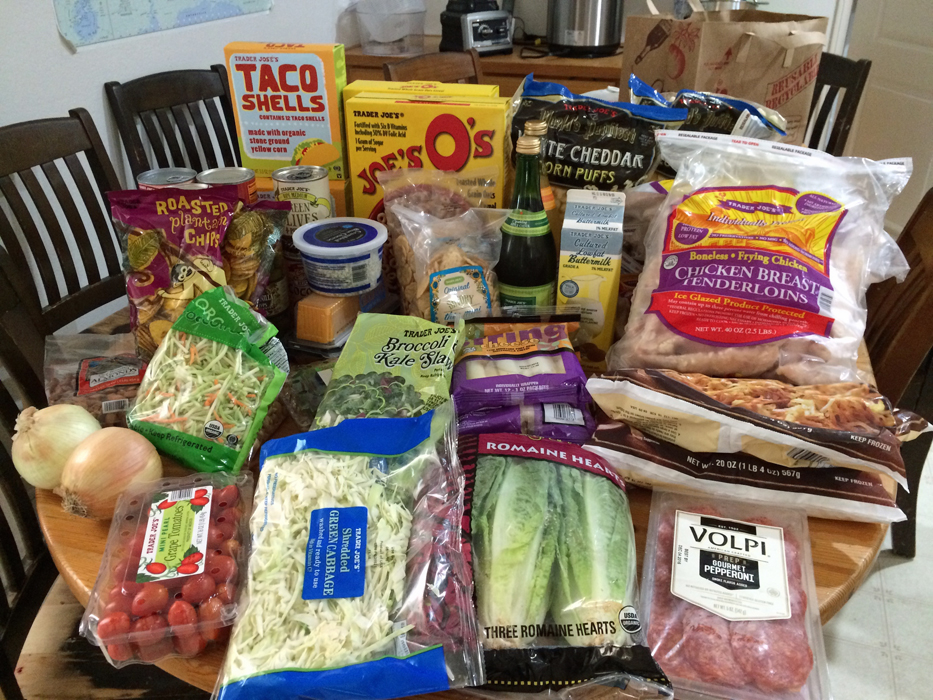 Trader Joe's
Again, this was a pre-cousin stop. So, there's some extra fun food involved. Also, my husband has been packing lunch 4 days a week, so we've been experimenting with different dishes that are easily packable. The kale salad is one he can keep in the office as a back-up meal.
cheddar puffs $1.99
apple cider $2.49
kale salad $2.49
string cheese $2.99
blue cheese $3.49
cereal $1.99
shredded cabbage $1.29
broccoli slaw $1.69
organic romaine hearts $1.99
rice crackers $2.69
chicken tenders $7.49
plantain chips $1.69
hashbrowns $1.69
buttermilk $1.99
cheddar cuts $4.29
pepperoni $2.99
grape tomatoes $2.49
organic cucumbers $2.49
cashews $7.49
almonds $6.99
taco shells $1.99
olives $1.99 to $2.29
tomato sauce $1.49
coconut milk $1.29
garbanzo beans $0.79
Total spent $140
Walmart
broccoli $2.38
tomato sauce $0.92
black beans $1.34
Total spent $7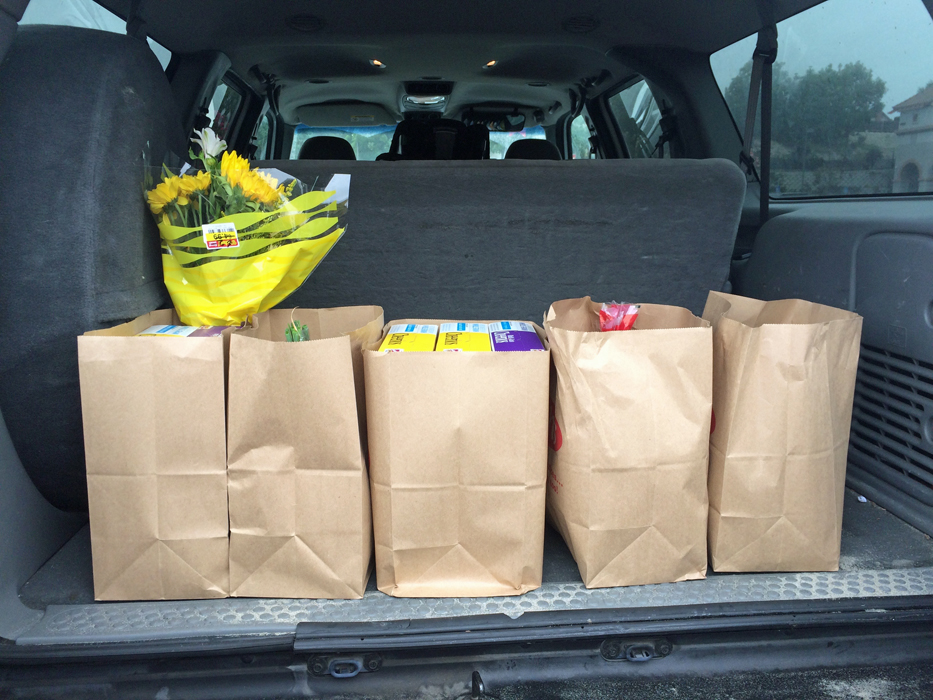 Ralphs
It's not often that I forget my reusable grocery bags, but when I do? I choose paper. 😉
garbanzo beans $0.89
whole wheat tortillas $2.99
Cheerios $0.99 to $1.99 after

mega sales event

and coupons
Haagen Daas and Talenti ice cream $2.88 after

mega sales event

and coupons
apples $0.99/lb
green onions 

$0.50 each

noosa yogurt 4-packs $1.79 marked down
fage $0.49 marked down
organic sandwich bread $1.99 marked down
organic breakfast sausage $1.49 marked down
organic bacon $2.49 marked down
Total spent $68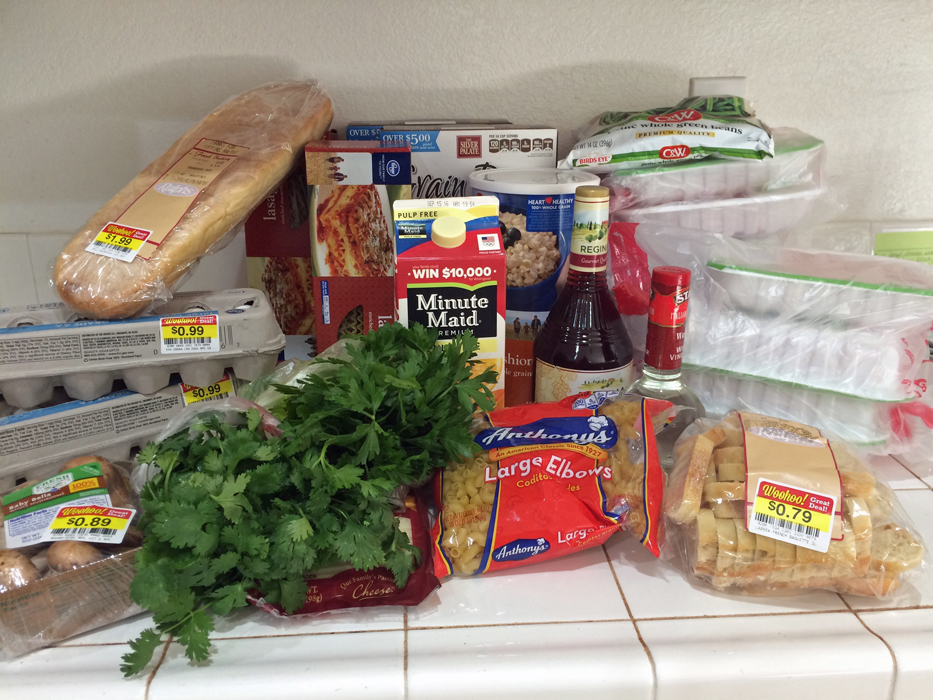 Ralphs
cereal $0.99 mega sales event
eggs $0.99 marked down
rolled oats $3.49
frozen veg $1.49 

mega sales event

macaroni $1.29
cheese $2.99 

mega sales event

lasagna noodles $1.50
vinegar $3.59
milk $2.39
orange juice $1.99 

mega sales event

organic parsley (because they didn't have the other kind) $1.49
cilantro $0.69
portabellas $0.89 marked down
simple truth ground turkey $1.77 after sales and coupons
sourdough bread $0.79 to $1.99 marked down
chuck roast $3.77/lb
pepperoni $4.99
crackers free after coupons
hominy $0.99
Total spent $76
Costco
milk $4.29/2 gallons
uncured bacon $10.49
snap peas $5.79
sliced roast beef $9.09
organic eggs $6.99/2 dozen
sourdough $3.69
Tillamook $9.29
babybel $8.29
uncured ham $11.99
hummus singles $6.49
Total spent $84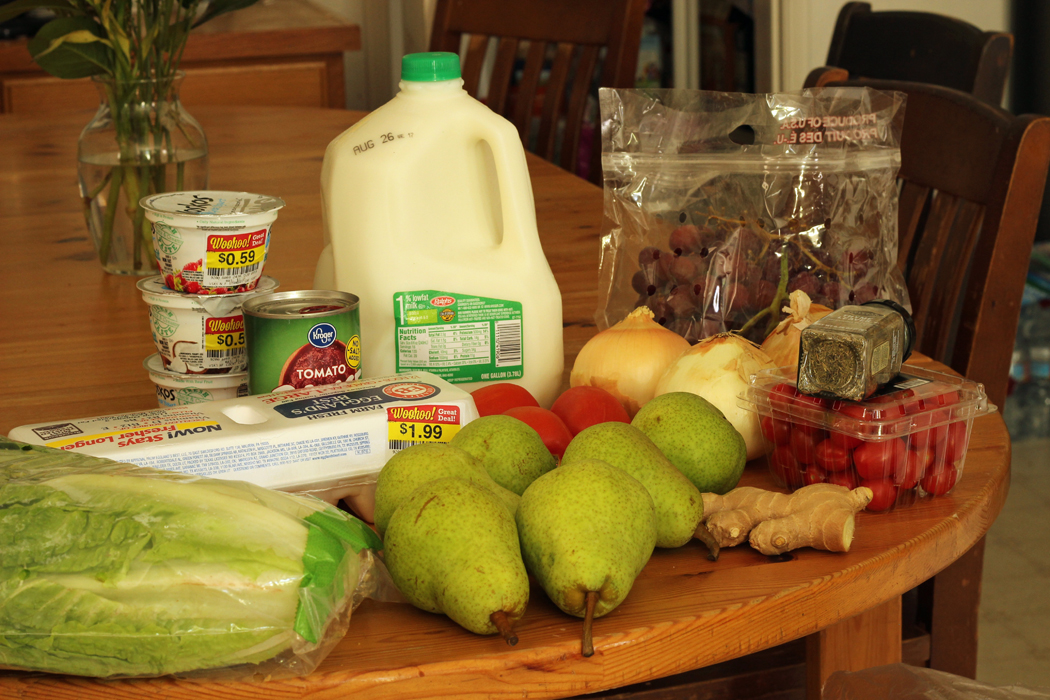 Ralphs
milk $2.39
eggs $1.99 marked down
tomato sauce $0.89
dried herbs $3.49
onions $0.99/lb
grapes 

$0.99/lb

organic romaine hearts $3.79
pears 

$0.99/lb

ginger root $1.99/lb
romas 

$0.99/lb

yogurt $0.59 marked down
chuck roast $3.77/lb
Total spent $39
Sprouts
cucumbers $0.50/each
milk $2.99
frozen raspberries $2.00
Total spent $8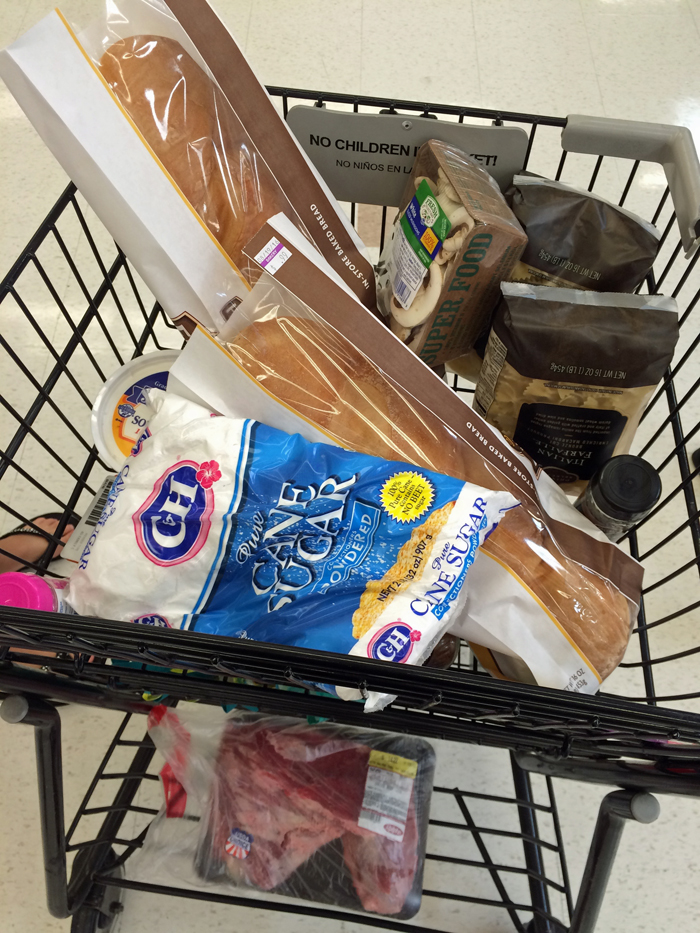 Ralphs
powdered sugar $2.69
marshmallows $1.59
cake flour $3.99
masa $2.89
cheese $2.99
sour cream $2.49
spices $3.49
pasta $1.49
sugar $1.79
mushrooms $1.50
tri-tip $4.99 (summer splurge)
french bread $0.99
Total spent $45
Ralphs
shredded mozzarella $7.99
hashbrowns $1.59 to 1.99
green chiles $1.00 (I know!)
sour cream $2.49
mayonnaise free after coupon
onions $1.99/3 pound bag
cilantro $0.69
limes 3/$1
mushrooms $1.04
Total spent $23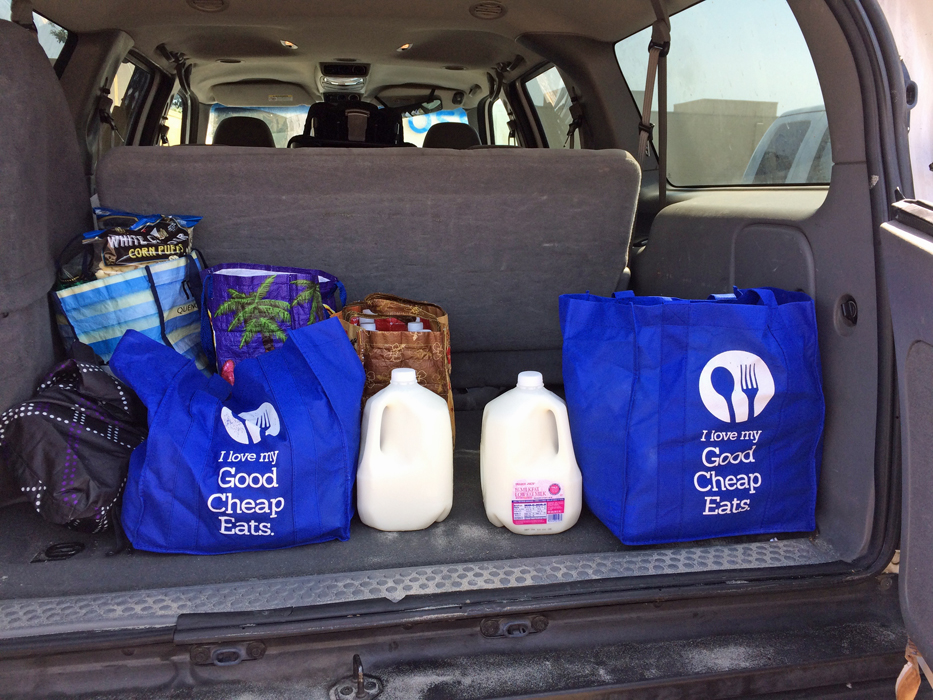 This was my birthday girl's treats shop. A few more extras. Ahem.
Trader Joe's cheddar puffs $1.99
chimichurri rice $2.99
chicken tenders $7.49
sparkling juice $2.99
green beans $1.99
organic celery $2.9
eggs $1.29/dozen
buttermilk $1.99
organic green peppers $2.49
plantain chips $1.69
rice crackers $2.69
hummus $2.99
sweet potatoes $1.79
lemon $0.39
feta $2.99
brie $5.39
string cheese $2.99
baby zucchini $2.29
organic baby spinach $1.99
mushrooms $1.79
whole wheat couscous $1.99
Ak-mak $1.99
milk $2.69
canned beans $0.79
cereal bars $1.99
baking powder $1.49
sandwich pickles $2.99
sunflower butter $4.99
almond butter $7.99
salsa verde $1.99 to $2.79
pepperoni $2.99
Total spent $138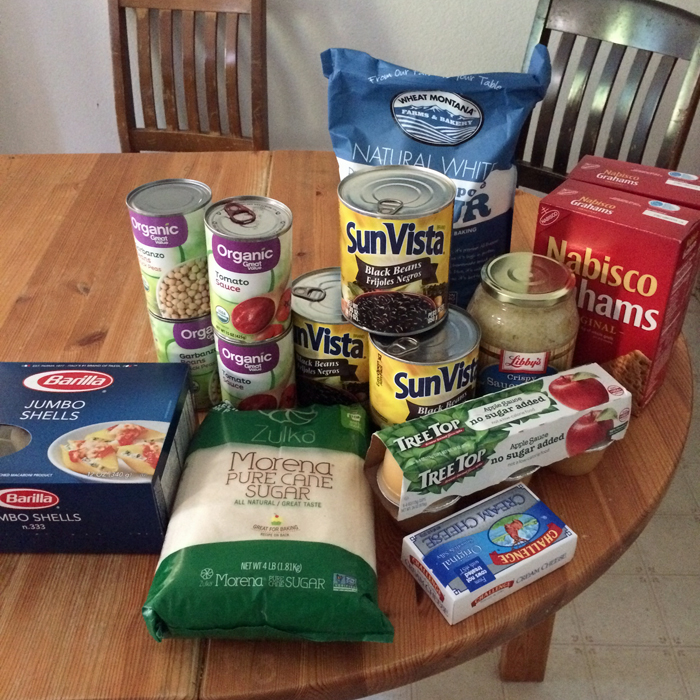 Walmart
canned beans $0.92 to $1.34
unbleached flour $3.76
crackers $3
pasta shells $1.98
tomato sauce $0.92
sugar $2.68
applesauce $1.75
cream cheese $2.04
sauerkraut $1.88
Total spent $28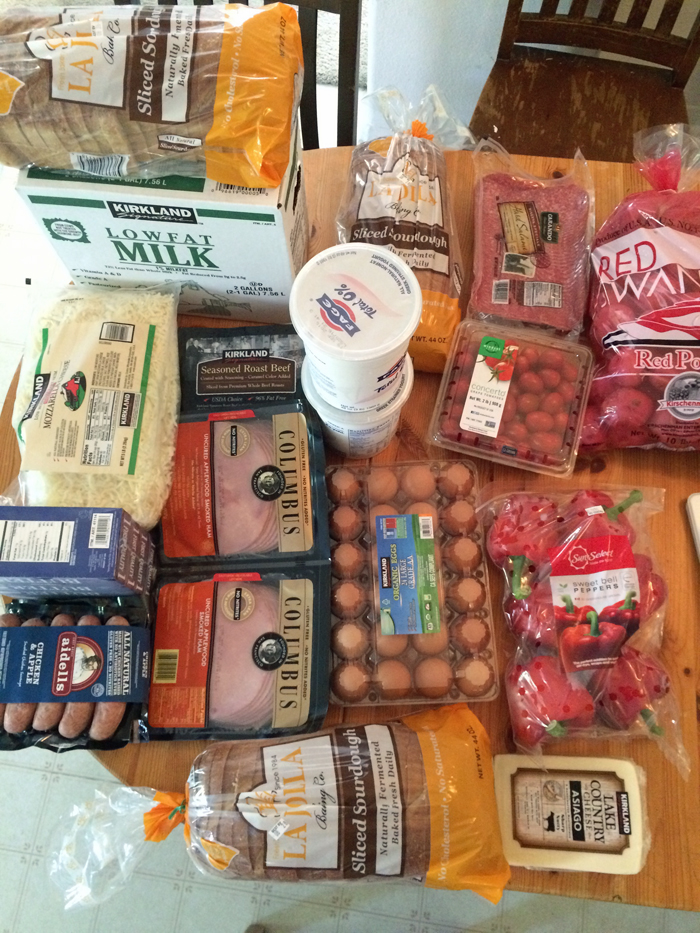 Costco
red potatoes $5.49
milk $4.29/2 gallons
chicken sausage $13.89
butter $10.49/4 pounds
organic eggs $6.99/2 dozen
grape tomatoes $4.99
uncured ham $11.99
shredded mozzarella $10.99
6 red peppers $5.99
hard salami $7.29
sliced roast beef $8.50
asiago cheese $9.22
sourdough $3.69
fage $6.39
Total spent $124
ALDI
I finally was in the neighborhood of ALDI and had a chance to do some price comparisons. As you can see, I stocked up on beans, tomato sauce, and green chiles, things I'd spent a substantial amount more on earlier in the month. We also tried a few frozen entrees for emergency meals to see if we liked them.
ciabatta rolls $2.49 – these were great when we bought them a few months ago, but not as good this time around
canned beans $0.59
frozen strawberries $1.89
frozen entrees $2.49 to $4.99
shredded cheese $2.59
organic tomato sauce $0.69
corn tortillas $2.49
sweetened condensed milk $1.65
diced green chiles $0.55
crushed tomatoes $0.99
milk $2.15
salami $5.99
fresh raspberries $1.89
cookies $1.69
eggs $0.87/dozen
pineapple $0.99
taco shells $0.89
Total spent $58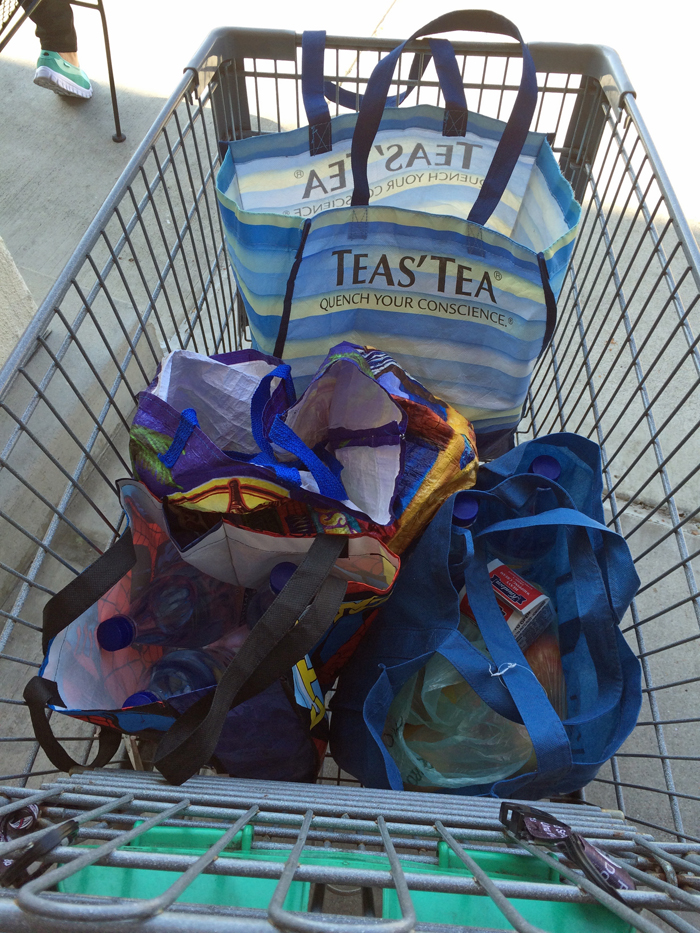 Sprouts
cucumbers $0.50 each
zucchini $0.98/lb
organic baby spinach $3.89
organic pink lady apples $1.48/lb
buttermilk $2.69
whipping cream $2.69
Total spent $20
Ralphs
milk $2.39
rice noodles $3.79
Starbucks coffee $4.99 (bought TEN packs!)
Simple Truth ground turkey $2.99/lb
ice cream $2.49
Total spent $65
Costco
cream $9.99
Tillamook $9.29
snap peas $5.79
baby carrots $4.79
milk $3.99/2 gallons
Total spent $34
Total spent this month $1338
Here's how it's looking for the year to date:
January $669
February $1092
March $1206
April $1435
May $1500
June $1215
July $1221
August 1338
Total YTD: $9679
That total divided by 8 months, brings our average to $1209.50/month which is CLOSE to our $1200 budget per month. 😉