What you spend on groceries can be one of the most flexible line items in your budget. How do you decide just how much you should spend?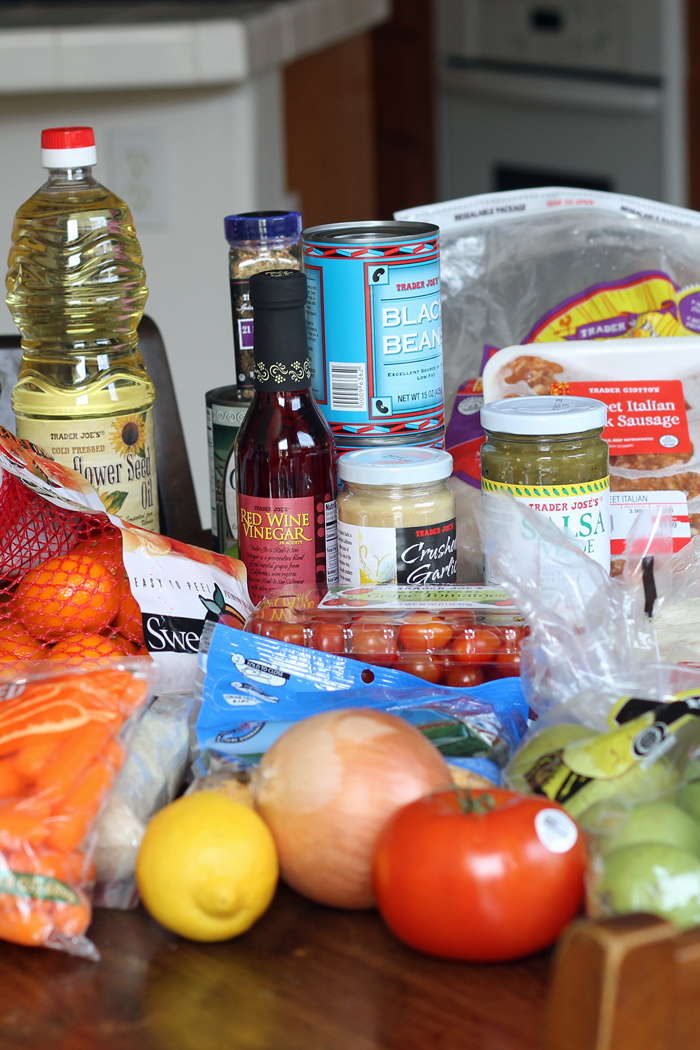 A few weeks ago when I was cleaning out our family library, I came across my accounting book from my junior year in France. I kept track of every centime and franc that I spent in 1993, including what I spent on groceries during those months I lived alone and did my grocery geeking in another country.
Apparently, tracking what I spend on groceries has been a lifelong endeavor. When we were newlyweds I didn't do a great job curbing that spending, but once we decided to live on one income, I paid better attention. I remember when cans of chiles and olives cost a quarter! It's curious to look back and see how much prices have changed.
I remember when I could regularly buy meat for less than $1/pound….
Eventually, creating a firm grocery budget helped us get out of debt. Since groceries are one of the most flexible line items in your monthly spending, it's good to consider if you're on track, if you can cut back, or if you have some flexibility to splurge. It could make a big impact on your bigger financial picture.
Just How Much Should You Spend on Groceries?
Obviously, this is going to be dependent on a particular household's size, income, dietary needs, and food preferences. There really isn't a one-size-fits all answer, but there are some general things to consider.
It's helpful to compare notes with others, particularly those who live in the same region and/or enjoy a similar diet, so that you can see if you're on track. I think that's part of why the Grocery Geek feature is so popular here on Good Cheap Eats.
Consider these questions to figure out your own budget for groceries: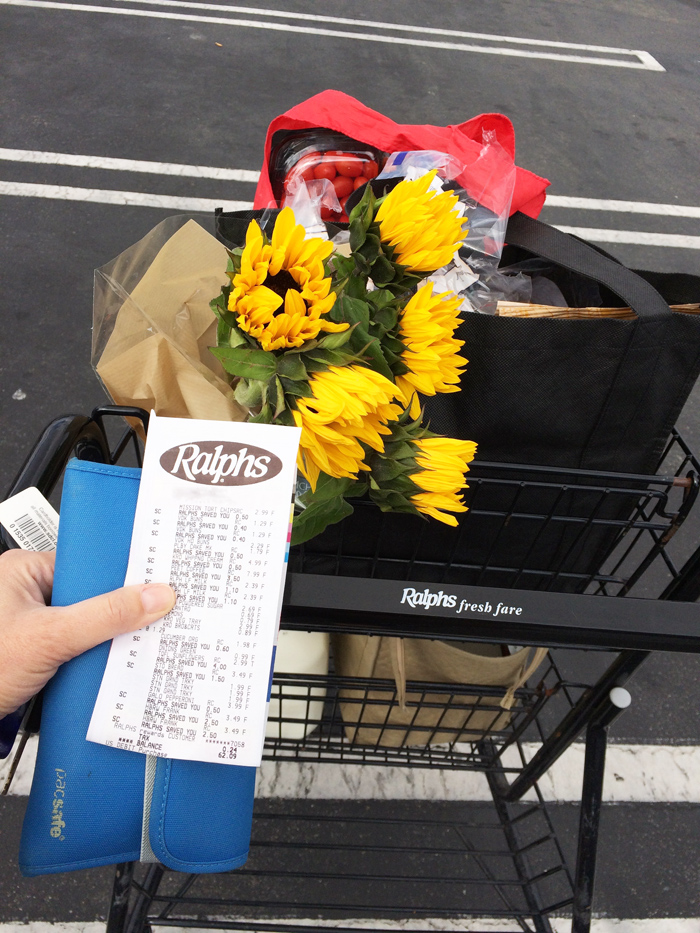 What are you spending now?
If you're new to setting a grocery budget, it might be hard to know where to start, especially if you're also getting out of debt or trying to save for the first time. How much curbing is necessary?
Knowing what you spend currently will at least give you a starting place for budgeting. Keep track of receipts for a month or two so you know. Also, track all that eating out. That is still part of your general budget and needs to be accounted for. Cooking more at home can reduce your take-out spending multi-fold.
What can you afford?
Obviously, the money you have at your disposal will dictate what you should spend. Once you pay for housing, utilities, and other inflexible bills, you've (hopefully) got discretionary funds to spend on food, clothing, etc. To stay in the black, you have to give up certain luxuries somewhere.
For us, we're happy to go without cable, new cars, and fancy clothes, in order to spend money in other areas, like ample groceries, dinners out, or family trips.
What does the government say about food costs for your type of household?
Not that the government is the authority on all things grocery related, but our tax dollars do pay for someone to track food costs nationwide. This is a good reference point to compare to. The last I heard the thrifty plan is considered "a food stamp budget." Check out the USDA Food Cost reports to see how your household adds up.
According to the May 2016 report, it should cost me $1325.80 to feed my family all our meals at home along the lowest-price point, the thrifty plan. That means we're right on track with our current $1200/month groceries budget.
(In years previous, I've been able to stay several hundred dollars under the thrifty plan, but as you'll see later, times have changed around here.)
How can you make all these numbers jive?
You've got three numbers: what food costs, what you're spending, what you can afford. In a perfect world, these numbers should all match up. You should be spending only what you can afford and you should be able to afford what food costs.
Unfortunately, things do not always match up. For years Mr. Stark, the dad of a friend, prepared our taxes for free, in part because he couldn't understand how we were able to feed everyone on how little we made. Those were scary times, and he was scared for us.
Thankfully, it is possible to make some tweaks to help the numbers jive better. Auditing your grocery spending is a great place to start.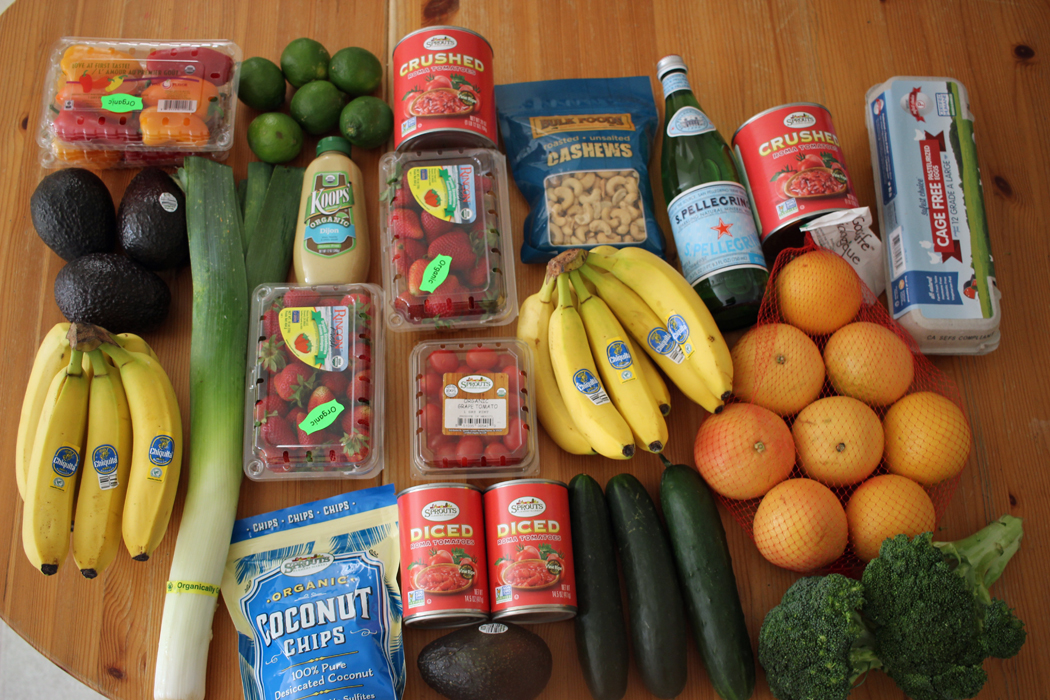 Groceries in the Good Cheap Eats Kitchen
Every once in awhile, someone will write via comment or email to tell me that I should spend less on our groceries or that they're appalled that we spend so much. I'll be honest, it's hard not to get defensive. Somedays I feel like I'm operating at maximum capacity and barely surviving. To add the challenge of lowering our grocery bill seems like it just might break me.
I totally get Crystal's hesitancy to share how they doubled what they were spending on groceries because it's such a subjective thing. One person's "cheap" is another's extravagance. Despite raising our grocery budget over the years, my husband assures me that I still haven't lost my cheapness. Ha!
That said, there is a method to my madness. I have reasons why our grocery budget is currently set at $1200, whether or not everyone else thinks they're valid ones. 😉
How my spending on groceries has evolved since 2008

Eight years ago when I entered the world of blogging, we were deep in debt. This blog grew out of our efforts to make ends meet and still eat well.

In order to get out of debt, we cut back as far as we possibly could. At the time we had five children; I was pregnant with our sixth. Our grocery budget was $400/month. We were able to make that grocery budget work because I spent 10 to 12 hours a week couponing. At one point, we figured I was earning $25/hour by collecting, clipping, and organizing coupons as well as by planning my shopping trips to make the most of those coupons. I had more time than money.

Once we moved to California, coupons didn't reap as big a reward. Grocery stores had different coupon rules and higher prices than they had in Kansas. I also found that my schedule didn't allow me to devote 12 hours of my week to the pursuit of groceries and hot deals.

My grocery spending today

Homeschooling, writing, and recipe development now take more of my attention. Thanks to getting out of debt and living very frugally in other areas, we have been able to enlarge our budget for groceries, first to $600, $800, $1000, and now $1200/month — for most of our meals eaten at home.

Today I shop to feed our family of 8 a healthy, mostly homemade diet. Though I still call my babies "littles", no one is really little any longer. They pretty much all eat like adults, five of our party eat like male adults. It's not the same as feeding six little kids with finicky appetites. At least three of us currently have health issues that have to be accommodated for in the food we buy.

I also shop with recipe development in mind. With few exceptions, the groceries that I report each month include ingredient purchases that go toward experimentation. Some experiments are worthy; some are not. If I had a different profession, I could probably lower our bill dramatically. But, that's not the life we've chosen.
Regardless, I think a regular grocery audit is a good thing. Sometimes you find out that your time is more valuable than running all over town for the best deals. Other times you realize that baking your own bread can reap you a much needed $10/week in savings.
In the coming weeks, I'll be sharing my grocery audit as well as if and how we can cut back this school year.
More food for thought:
Here are some of the books that have helped me think better about groceries, finances, and better budgeting:
How do YOU decide what to spend on groceries?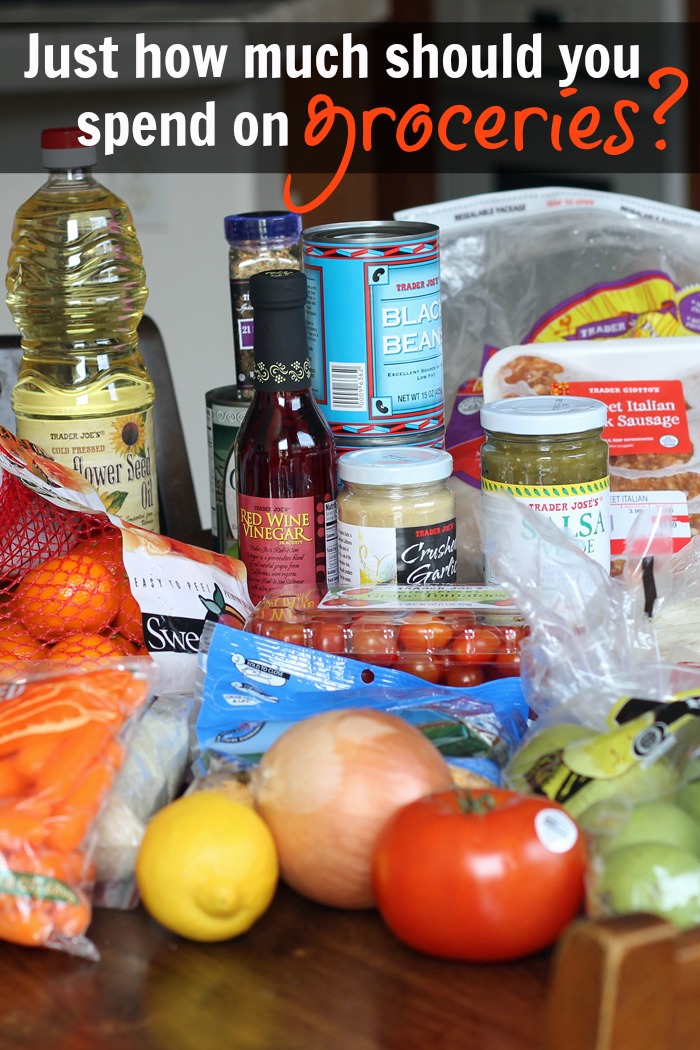 Are you looking for more good cheap eats?