Want a peek into our grocery cart? Here's how I'm grocery shopping and feeding eight people on the cheap.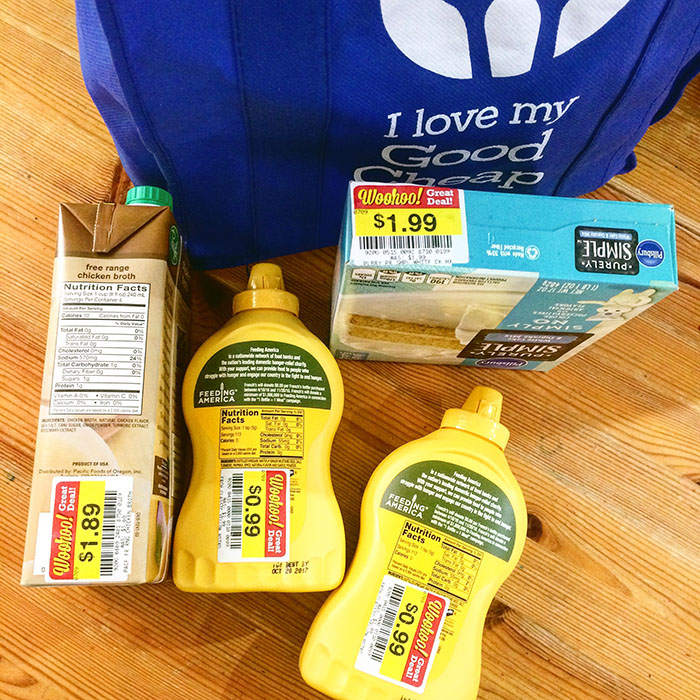 July was a different kind of month in the Grocery Geek department. The most obvious difference is that this is my only Grocery Geek report for July. When I looked at the month and all the business it held, I decided that a monthly round up might suffice. After all, we're all pretty busy smack in the middle of summer, correct?
Typing up all my grocery receipts in one go and looking at them all in one place was actually pretty eye-opening. It's pretty clear when you scan these lists that our July meals focused on many of the same ingredients, often purchased at different stores. Seeing them at one glance reminds me that some stores are better than others for me to shop at for many of our groceries. Costco, I'm looking at you.
We go through quite a bit of Greek yogurt, romaine lettuce, snap peas, carrots, cheese, deli meats, and bread. And for those items Costco is the place to be. I also noticed this month that my Costco produce purchases stayed fresh much longer than those same items purchased at other stores.
The thing is I don't love going to Costco. I think I need to change that.
In late June we bought a new refrigerator. It's actually the Samsung I was dreaming of last year, nabbed at a great sale. One of the great things about this fridge is that you can change the settings so that 3/4 of the appliance is fridge with just 1/4 as freezer. Since I already have a deep-freeze, this is perfect for me! I'm still working out how to maximize my storage — it took me several weeks to figure out how to store 4 gallons of milk at once — so that I can fit in all the things and not have to go to Costco too often.
A different kind of month
This past five weeks or so, my husband and I have also been working on eating more protein, vegetables, and whole grains. That means no more filling up on potatoes and white bread as we had been doing in the spring. A family doctor recommended the South Beach Diet. Gah! While we're not embracing it whole hog — I don't like all the fake food that the diet endorses — we are looking at sugar (natural or not) in a whole new way. I realize that just going sugar cane-free isn't enough, something I didn't understand when we did our sugar fast.
This turn away from empty carbs makes grocery shopping a little more complex. And expensive if I don't shop right. Interestingly enough, I was able to stay very close to budget this month WITHOUT taking a weekly tally or even using the envelope system. I just held my breath a lot. Haha.
Next month may be a different story as we will be feeding my nieces for a full week, have a few other social events planned, and are starting back to school. But, we'll see.
Grocery Geek
Grocer Geek is my regular report of how I shopped for groceries, what deals I found, and my running total of how we're sticking to a budget for groceries.
Here's the rundown on my shopping this week. As you read, keep in mind who and how I'm shopping:
My grocery shopping profile
To update you on my grocery geekiness:
I'm feeding eight people, ages 53, 44, 19, 15, 14, 12, 9, and 7. Five of those people are males. They eat A LOT!
I'm shooting for a budget of $1200, per the USDA food cost reports the last time I added up for people of our demographics. I live in Southern California where produce is cheap, but meat and dairy are not.
I'm trying to feed us mostly unprocessed foods, with a few "healthier" convenience items thrown in and a junk food splurge* here and there.
I work at home and teach five of our kids, so I don't have as much time for fiddling in the kitchen as I would like.
I no longer use coupons on a regular basis, though I do love the coupons that Ralphs offers.
I have at least ten grocery stores within 5.5 miles of my house. It is easy (for better or for worse) to stop at several stores to get the best deals.
We mostly eat at home. My husband and college age son often pack lunch and breakfast to work, but sometime have lunch out. My husband and I enjoy a date once a week. FishPapa takes one child out to "dinner with dad" once a week. We eat out as a family on average once a week.
BEFORE YOU JUDGE ME FOR EXTRAVAGANCE, please read this post.

Trader Joe's
Trader Joe's is probably my favorite store. It's not the cheapest, but there are so many items they offer that we really, really love, like frozen chicken tenders, Hatch Valley salsa, and ground turkey. They also have the best prices on some of our favorite items, like plantain chips, sunflower butter, and rice crackers.
I'm a little picky about some items because I have to be. For instance, I only buy nuts at Trader Joe's since (currently) their almonds aren't processed in a facility with other nuts my daughter is allergic to. This issue of cross-contamination greatly effects what I buy and where.
frozen chicken tenders $7.49/2.5 pounds
eggs $1.29/dozen
milk $2.49/gallon
hummus $1.99
Fage $3.59
sugar snap peas $2.49
broccoli florets $2.29
organic power greens $1.99
organic romaine hearts $2.49
almonds $6.99
flatbread $1.99
cashews $7.49
organic coconut milk $1.69
garbanzo beans $0.79
organic tomato sauce $1.49
sunflower seed butter $4.99
crunchy almond butter $7.99 AN AMAZING SPLURGE – SO GOOD!
hatch chili salsa $2.79
mineral water plus CRV $1.09
cereal $1.99
organic persian cucumbers $2.49
bell peppers $0.99 each
tea $2.29 to $2.49
feta cheese $2.99
hummus $2.99
small garlic olive oil to take to work $3.99
Total spent: $167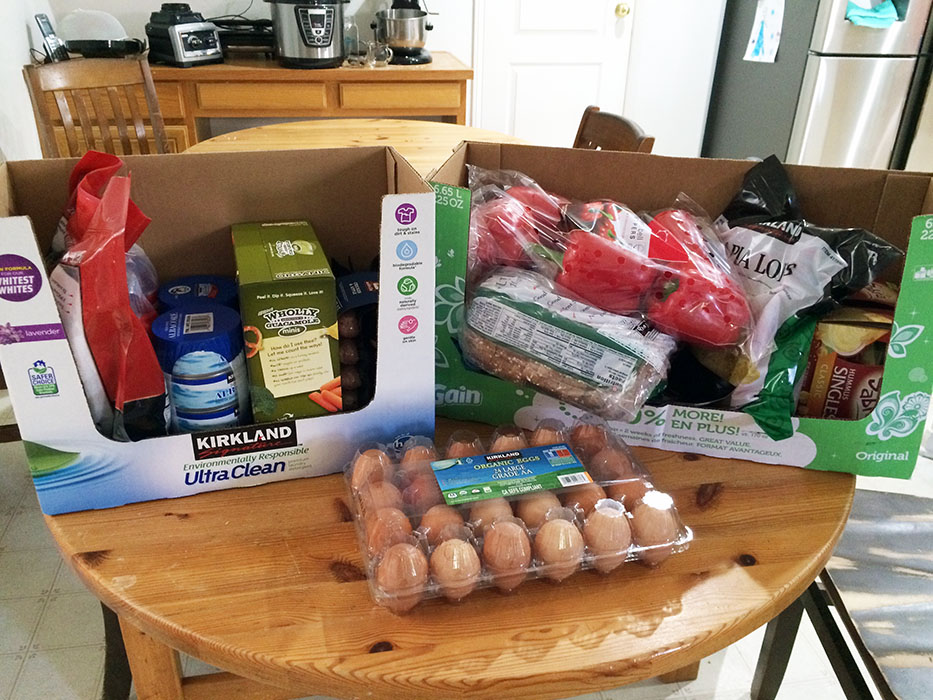 Costco
While Costco isn't my favorite place to shop, it is my favorite for great deals. My husband is happy to shop for me, but I do often change my meal plans when a price doesn't jive with the price book in my head. Lately, I've hauled one or more teen boy with me so that he/they can push the cart and load the car. I've thrown my back out more than once lugging Costco-size packages around.
frozen mahi mahi $19.99
frozen tilapia $13.99
frozen salmon $26.99
whole grain bread $4.59
6 pack red bell peppers $5.99
Aidells chicken apple sausage 3-pack $13.89
canned tuna $12.99
hummus singles $5.99
2 dozen organic eggs $6.99
guacamole singles $10.99
Total spent $122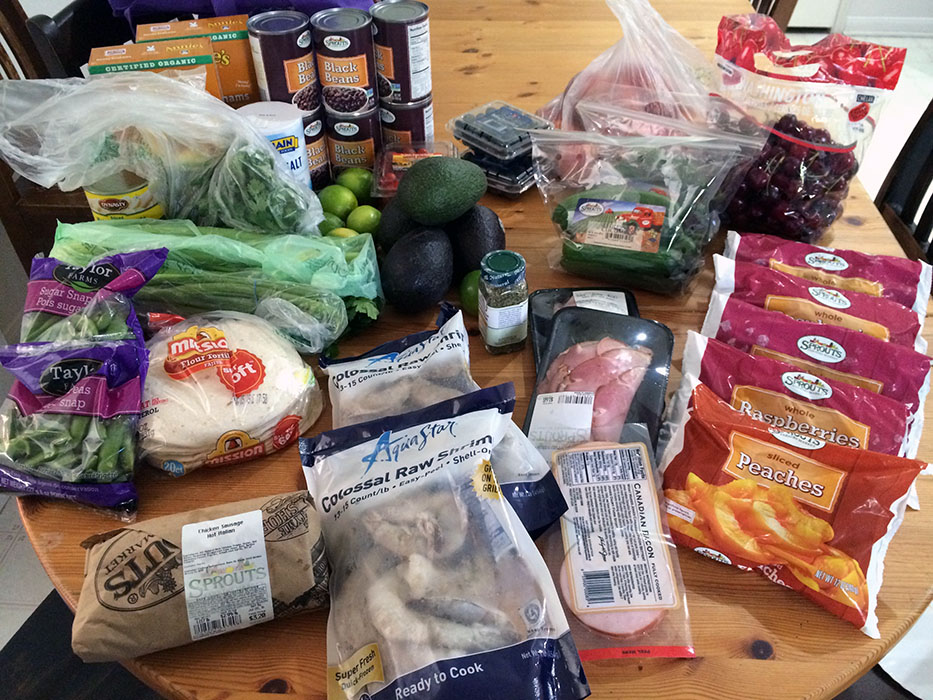 Sprouts
Sprouts is a "health food store" of sorts. It has pretty great sales on produce and seafood. Their sausage is great, but the rest of their meat department is pretty sad, particularly the chicken. Crunchy chicken? No thanks. I buy a lot of vitamins and essential oils here if I can't find great prices on Amazon.
That said, their sale produce has been looking pretty sad lately and doesn't stay fresh super long once you take it home. Kinda subtracts from the value, if you know what I mean.
baby cucumbers $2.50/bag
cilantro $0.50
grape tomatoes $1.50
green onions 

$0.50

blueberries $0.88/half pt
XL avocados (about the size of three smalls) $1.77
limes 3/$1
nectarines 

$0.50/lb

organic celery stalk $1.99
snap peas $1.99
cherries $1.88/lb
garbanzo bean flour $2.79
marjoram $3.99
organic graham crackers $1.99
sea salt $2.49
canned black beans $0.79
water chestnuts $0.99
ham off the bone $2.99/lb
canadian bacon $4.49
Italian Chicken Sausage $2.99/lb
shrimp $6.99
flour tortillas $3.79
frozen raspberries and peaches $1.50/bag
minus bag credit
Total spent $90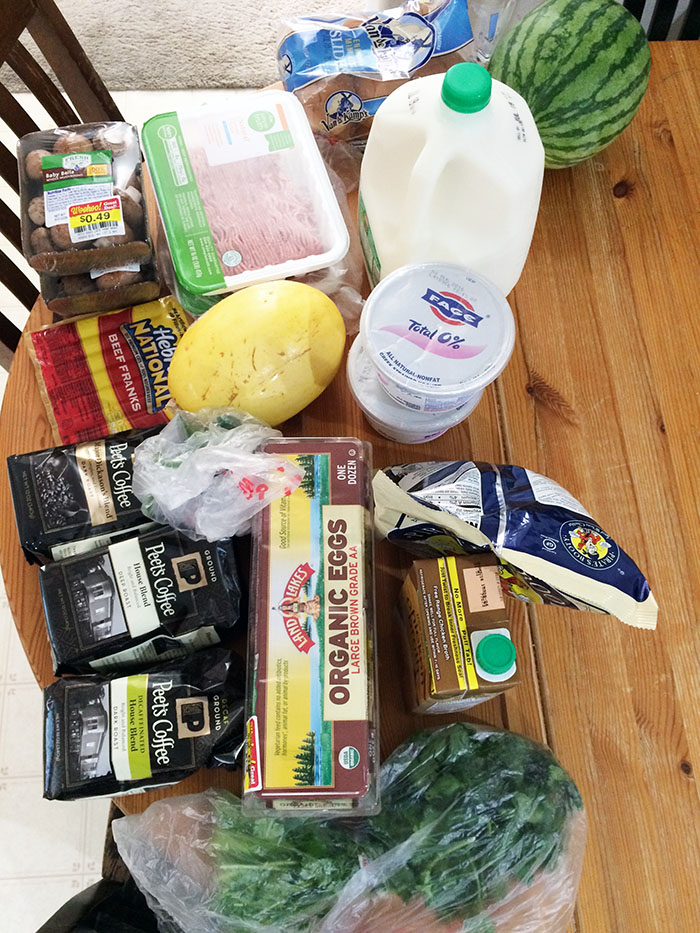 Ralphs
Ralphs is my favorite of the traditional grocery stores. They have a great customer loyalty program and stellar markdowns. Sales are often good on those things I can't find elsewhere, like Peets coffee. They also carry a ground turkey (Simple Truth) that is pretty comparable to Trader Joe's, but often at a lower price.
slider buns on clearance $0.69
milk $2.19 gallon
sparkling water $4.39 after CRV
Peets coffee $7.99
eggs $2.69
portabellas on clearance $0.49
jalapenos $0.99/lb
cilantro $0.69
spaghetti squash $2.52
personal watermelon $1.47
chicken broth on clearance $1.89
fage $3.00
pirate's booty $2.49
ground turkey $4.99 (not on sale, but we "needed" it for 4th of july – my 15yo planned the menu, can't begrudge the boy sliders when he says he'll cook)
hot dogs $2.97
minus bag credits and $3 coupon
Total spent $63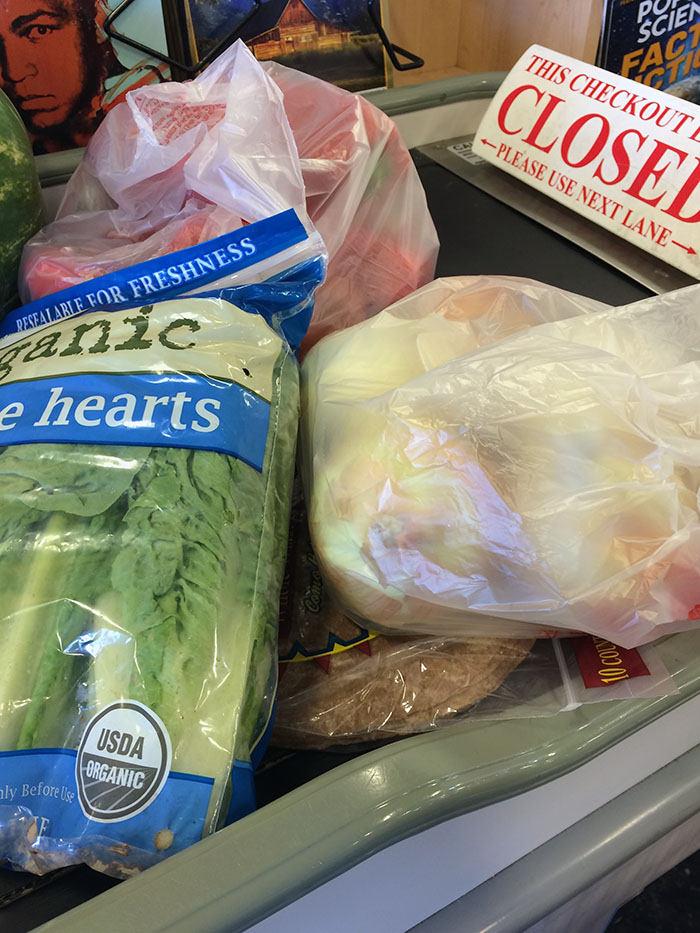 Sprouts
organic romaine hearts $2.99
red bell peppers $0.88 each
yellow onions $0.50/lb
whole wheat tortillas $3.39
minus bag credit
Total spent $15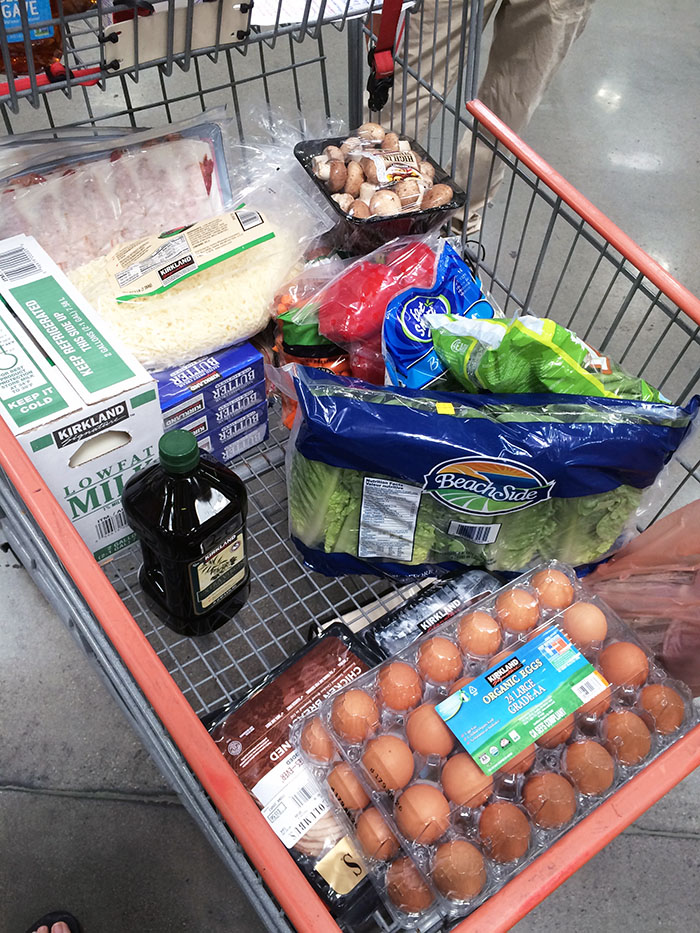 Costco
precooked bacon $10.89 (mama ain't got time to fry bacon)
Tillamook $9.95
organic eggs $6.99/2 doz
shredded mozzarella $9.29/5#
6 romaine hearts $2.99
snap peas $5.79
deli roast beef $9.30
deli roast chicken $10.56
deli ham $11.99
olive oil $11.99
organic carrots $4.49/5#
6 red peppers $5.99
4 pork tenderloin $21.83
broccoli florets $3.99
crimini mushrooms $4.79
4 lbs butter $10.49
jarlsberg slices $8.99
hummus singles $5.99 (we waste less with the little packs and control portions)
milk $2.00/gallon
2 loaves whole grain bread $4.59
2 large bottles agave nectar $10.89 – such a great deal compared to small bottles at ALDI and TJs
large container fage $6.39
Total spent $200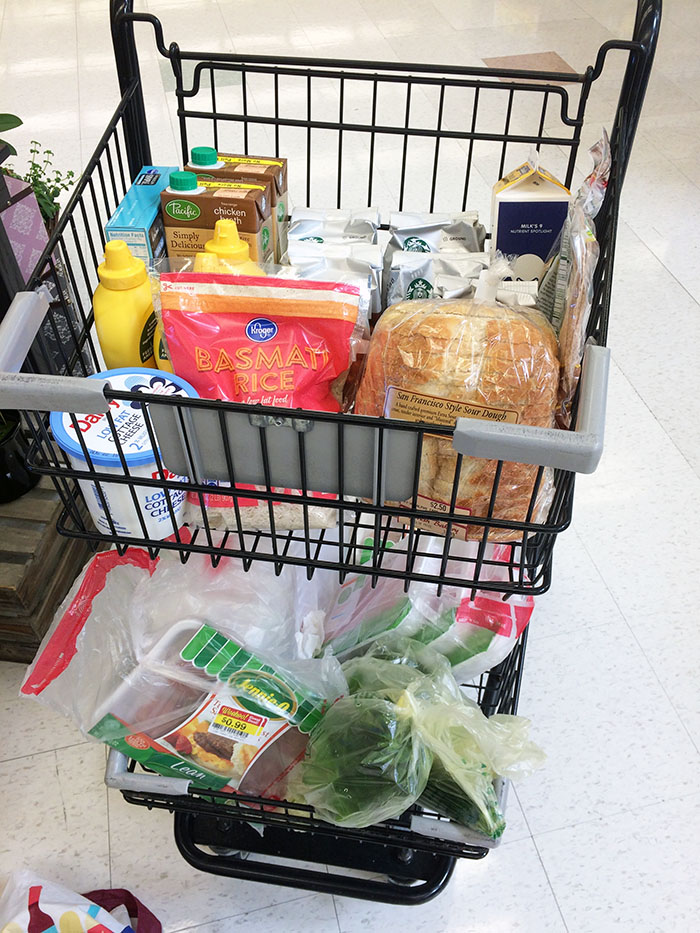 Ralphs
basmati rice $4.49 – we go through a lot of this, so I need to settle on a good bulk source that is easily accesible.
mustard $0.99 on clearance
starbucks coffee $1.99, 3.99, and $5.99 after coupons
cottage cheese $3.99
peppermint extract $2.99
cake mix $1.99 on clearance
whole wheat tortillas $3.79
buttermilk $2.99
fresh mint $1.29
zucchini $0.99/lb
cilantro $0.69
broth $1.89 on clearance
ground turkey $1.77 after coupon and sales
ground turkey $2.77 on sale
turkey sausage $0.99 on clearance
bread $2.50
minus $5 meat coupon
minus $3 store coupon
minus $1.50 store coupon
Total spent $79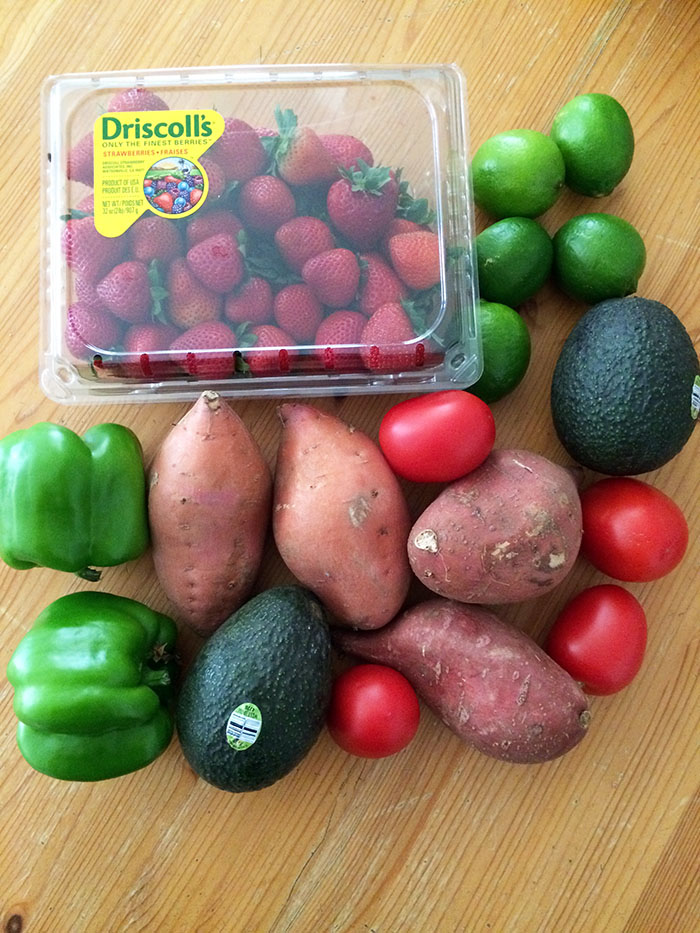 Sprouts
strawberries $0.99/lb
green bell peppers $0.68ea
XL avocados $2ea
limes 5/$1
red sweet potatoes $0.88/lb
roma tomatoes $0.98/lb
wasa crispbread $2.99
sesame seeds $3.99
shredded coconut $2.99
poppy seeds $4.99
mineral water $1.39 including CRV
spices $3.99
quinoa $10.49 (on huge sale! This is normally about $15/bag)
bread $2.99
minus bag credits
Total spent $71
Sprouts
cucumbers $0.49/ea
red bell peppers $0.98
milk $2.49
Total spent $10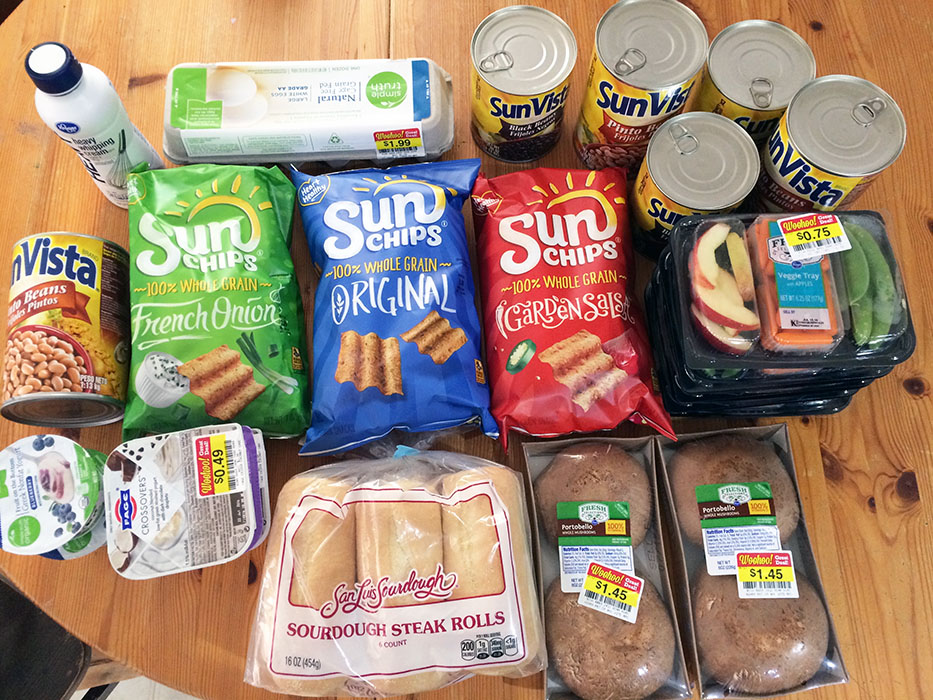 Ralphs
sunchips $1.99 WYB3 – a beach day splurge
rolls $3.59 – ditto
whipping cream $3.59
yogurts $0.49 to 0.69 on clearance
beans $1.79 to $1.99
veggie trays $0.75 on clearance
portabello mushrooms $1.45 on clearance
eggs $1.99
Total spent $36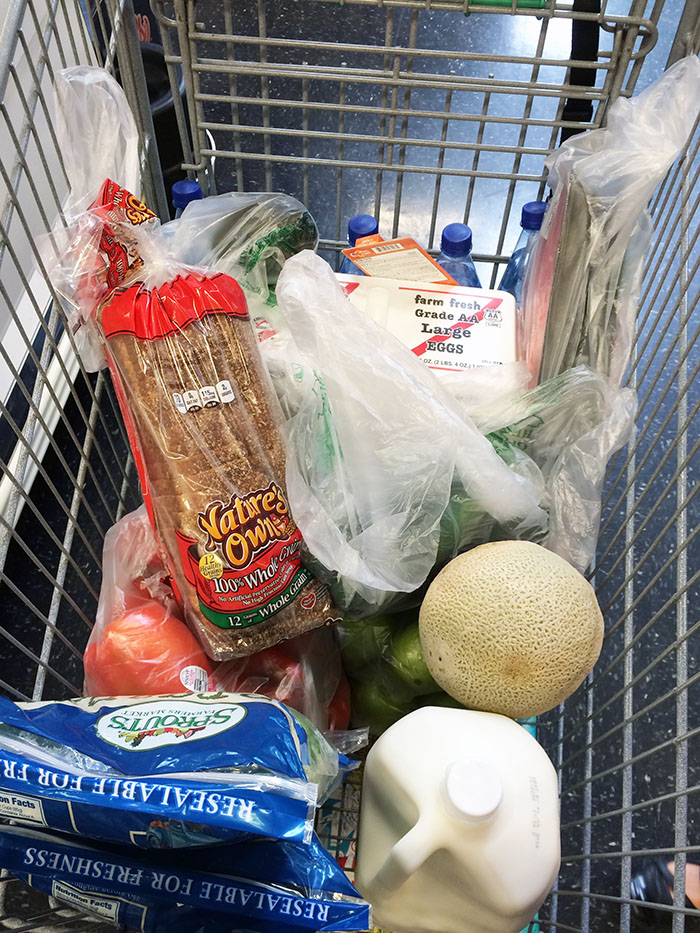 Sprouts
pears $0.98/lb
melons $0.98ea
cucumbers $0.49ea
apples $0.88/lb
grape tomatoes $1.50
green peppers $0.50ea
XL avocados $2
organic romaine hearts $1.98
red bell peppers 

$0.50ea – I bought TEN!

wasa crispbread $2.99
ginger $1.39
mineral waters $1.39 after CRV
beans $0.89
crushed tomatoes $1.69
milk $2.49
cottage cheese $3.99
greek yogurt $2.50
eggs $2.89
london broil $2.99/lb
whole grain bread $2.59
minus bag credits
Total spent $71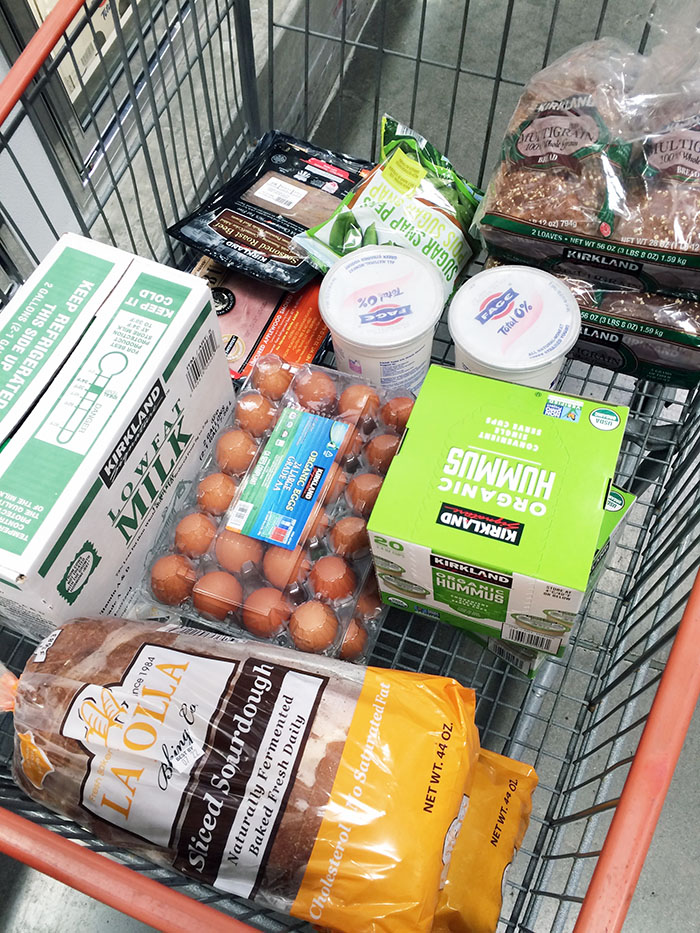 Costco
avocado oil $9.49
hummus singles $6.49
sourdough $3.69
milk $2.00/gallon
snap peas $5.49
organic eggs $3.50/dozen
XL Fage $6.39
deli roast beef $9.51
deli ham $11.99
Tillamook $9.29
whole grain bread $4.59/2 loaves
Total spent $121
Walmart
I don't love to grocery shop at Walmart. I'm not sure why that is since they often have good prices. But, I find that the prices are generally okay, but sales elsewhere are better. I have been using their savings catcher this year and so far have accrued $15 in price matching cash back, so that's something.
I no longer shop at Target, so I find that shopping Walmart and not enjoying it too much is actually saving me a lot of money. I get in and out as quickly as possible. Ha!
L can black beans $1.34
XL can pinto beans $1.64
XL juice $4.97
Total spent $11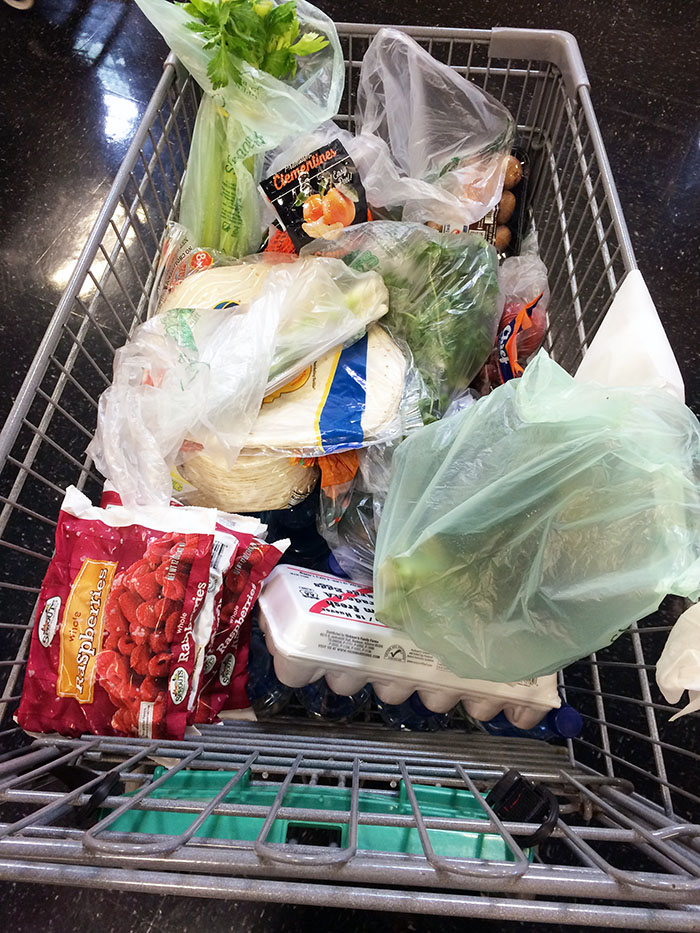 Sprouts
strawberries $0.98lb
clementines $2.98/2#
cucumbers $0.49
green onions $0.50
XL avocados $2.00

cilantro $0.50

mini watermelon $0.98each
organic broccoli $0.98/lb
organic celery $1.99
red bell peppers $1.50 (no sale that day!)
grapes $0.98/lb
mushrooms $2.49
coconut milk $1.79
mineral water $1.10 after CRV
milk $2.49
cottage cheese $3.99
buttermilk $2.69
eggs $2.89
whipping cream $3.69
shrimp $6.99/lb
flour tortillas $3.29
corn tortillas $2.99
frozen raspberries $2.50
minus bag credits
Total spent $83
Bob's Red Mill
I have loved Bob's Red Mill products for a long time. Bob's Red Mill offered a free shipping code at the beginning of the month which I took advantage of. Since we're trying to focus on whole grains, I wanted to make sure I had what we needed for home baking. The prices averaged out to be better than what I can find at the store, so it was worth it to stock up.
I just got an email yesterday that Bob's Red Mill is now offering free shipping on all orders of $50 or more!
4 bags whole wheat flour (20#) $15.39
4 bags white whole wheat flour (20#) $28.79
4 bags whole wheat pastry flour 

(20#) $15.39

semolina flour $3.09
Total spent $63
Amazon
I have our toilet paper delivered every month via Amazon Subscribe and Save. We never run out that way. Occasionally I also order some dry goods if the price is good. This month I ordered flours to build my baking pantry.
Total spent $19
Total spent this month $1221
Here's how it's looking for the year to date:
January $669
February $1092
March $1206
April $1435
May $1500
June $1215
July $1221
Total YTD: $8338
That total divided by 7 months, brings our average to $1191/month which is just under our $1200 budget per month. 😉 I'm still squeaking by.