Want a peek into our grocery cart? Here's how I'm grocery shopping and feeding eight people on the cheap.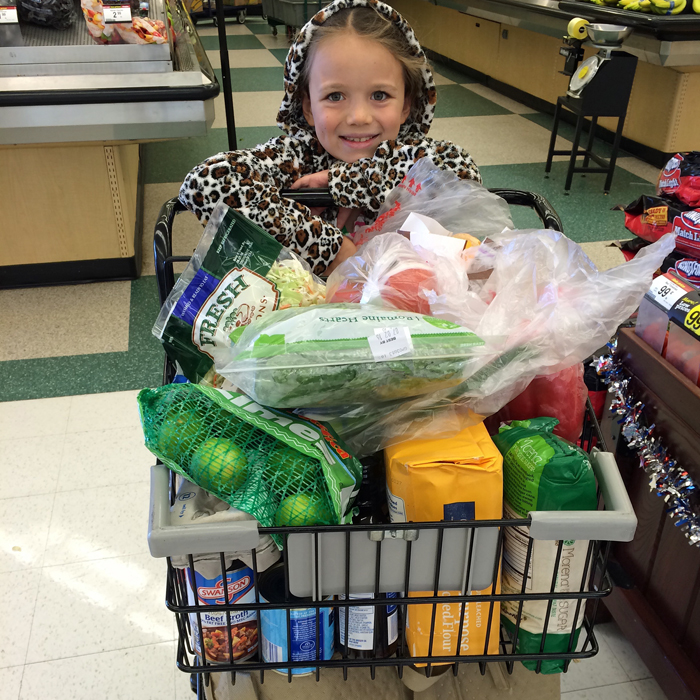 Whew. The month is over. June feels like it was so busy and full, and yet it was summer vacation. I guess that makes it official: I'm an adult! I had fewer responsibilities this month since there was no school, and yet the days were just packed and raced by me.
I love a new month, though, and a refreshed grocery budget. Our finances are in a state at the moment where we have a little wiggle room, so you don't see me getting too nervous when we go over some. We don't use credit, but there's money to cover extra expenses. I'm thankful for that, very thankful.
We're looking at some overall diet changes. My daughter's practicing for Kids Baking Championship has not been gentle to everyone's waistline. Ahem. I'm not sure what that will do to our grocery budget, but I'm not going to freak. Just try to shop smarter.
This month we did go over a tad bit. You'll see the total at the end. Here's the play by play:
Grocery Geek
Grocer Geek is my weekly report of how I shopped for groceries, what deals I found, and my running total of how we're sticking to a budget for groceries.
Here's the rundown on my shopping this week. As you read, keep in mind who and how I'm shopping:
My grocery shopping profile
To update you on my grocery geekiness:
I'm feeding eight people, ages 53, 43, 18, 15, 13, 11, 9, and 7. Five of those people are males. They eat A LOT!
I'm shooting for a budget of $1200, per the USDA food cost reports the last time I added up for people of our demographics. I live in Southern California where produce is cheap, but meat and dairy are not.
I'm trying to feed us mostly unprocessed foods, with a few "healthier" convenience items thrown in and a junk food splurge* here and there.
I work at home and teach five of our kids, so I don't have as much time for fiddling in the kitchen as I would like.
I no longer use coupons on a regular basis, though I do love the coupons that Ralphs offers.
I have at least ten grocery stores within 5.5 miles of my house. It is easy (for better or for worse) to stop at several stores to get the best deals.
We mostly eat at home. My husband and college age son often pack lunch and breakfast to work, but sometime have lunch out. My husband and I enjoy a date once a week. FishPapa takes one child out to "dinner with dad" once a week. We eat out as a family on average once a week.
Here are our final June shops: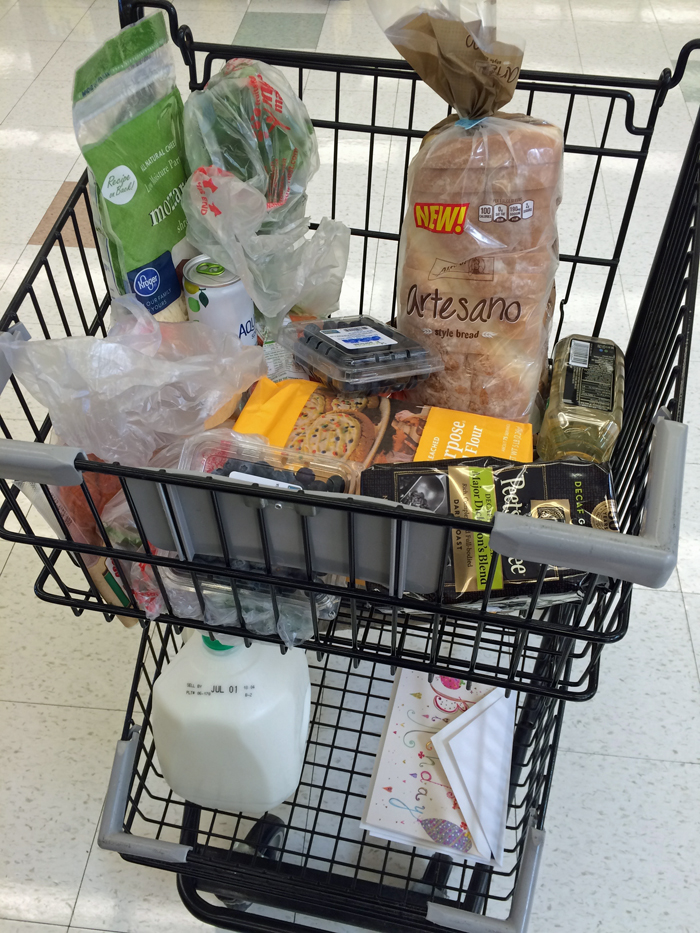 Ralphs
I've got two Ralphs' locations within a few miles of my house. Since I love their digital coupons, their markdowns, and their variety of options, it's a regular stop of mine. I can't get everything I want at any one store, so I mix things up pretty often. This trip was a pre-Father's Day stop. I made Sweet Almond Toasts for our breakfast that morning; the Artesano bread is perfect for that and is usually really cheap at Ralphs.
green tea FREE after coupon
Artesano bread $2.49
Peets $7.99
flour $2.29
Aquafina 

FREE after coupon

shredded mozzarella $7.99
milk $2.19
blueberries $0.99
cilantro $0.69
carrots $1.59
mushrooms $1.12
jalapenos $$0.24
uncured pepperoni $3.99
Total spent: $35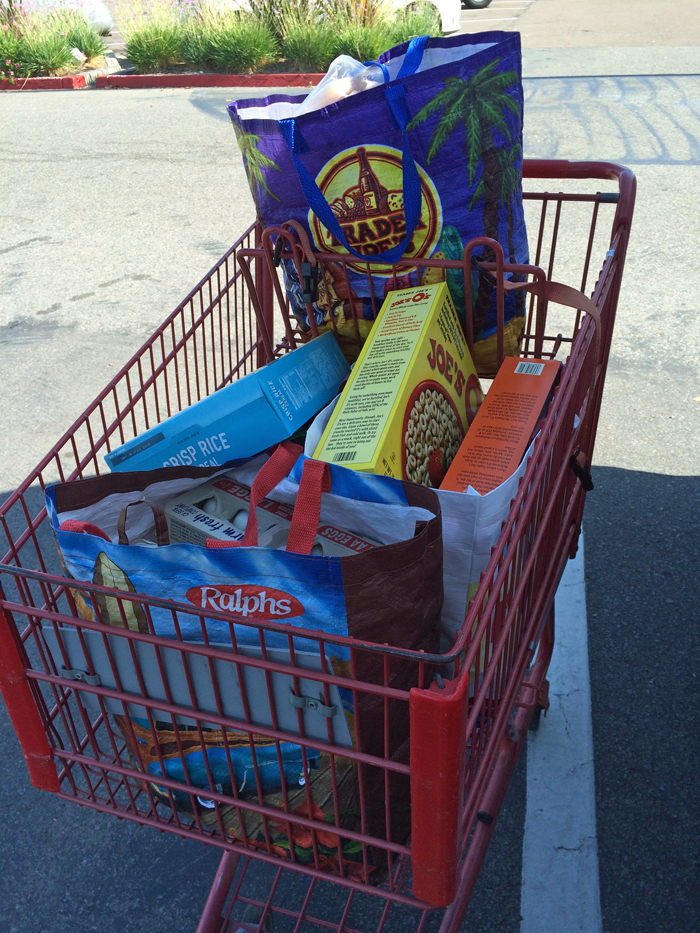 Trader Joe's
I love a lot about Trader Joe's. Over the last few years, I've found some products that our family really likes. While I miss the low-low prices that TJ's had 20 years ago, it's still a really good value, especially when I know it's food we love.
You know that this is my go-to place for chicken these days. I've compared the ingredients of their frozen chicken tenders with other stores, and TJ's comes out on top with up to 2% water added and nothing else. I've checked a few other stores and their equivalent product includes up to 15% water, broth, and other ingredients.
frozen chicken tenders $7.49
mahi mahi $7.99/lb
salmon $8.99/lb
tilapia $5.99/lb
frozen green beans $1.99
cottage cheese $1.69/pt
plantain chips $1.69
shredded mozzarella $3.79
pepperoni $2.99
green onions $0.99
organic romaine hearts $2.49
broccoli florets $2.29
large Fage $3.59
eggs $1.29/dozen
evoo $7.99
baking powder (aluminum-free) $1.49
sunflower seed butter $4.99
organic coconut milk $1.69
red wine vinegar $1.99
almonds $6.99
cashews $7.49
rice crackers $2.69
brown mushrooms $1.79
sugar snap peas $2.49
baby zucchini $2.29
organic celery hearts $2.29
minced garlic $1.69
organic Persian cucumbers $2.49
bell peppers $1.98
bay leaves $3.99
spices $1.99
cereals $1.99 to $@.99
Total spent: $179
Ralphs again (pictured top)
sugar $2.49
lettuce hearts $3.79
beef broth $1.29
mandarin oranges $0.89
limes $2.99
flour $2.29
French bread $0.99
cole slaw mix $1.25
goat cheese $4.99
hoisin sauce $2.49
red peppers $1.49
eggs $0.99
green onions $0.99
tomatoes $1.23
Total spent: $29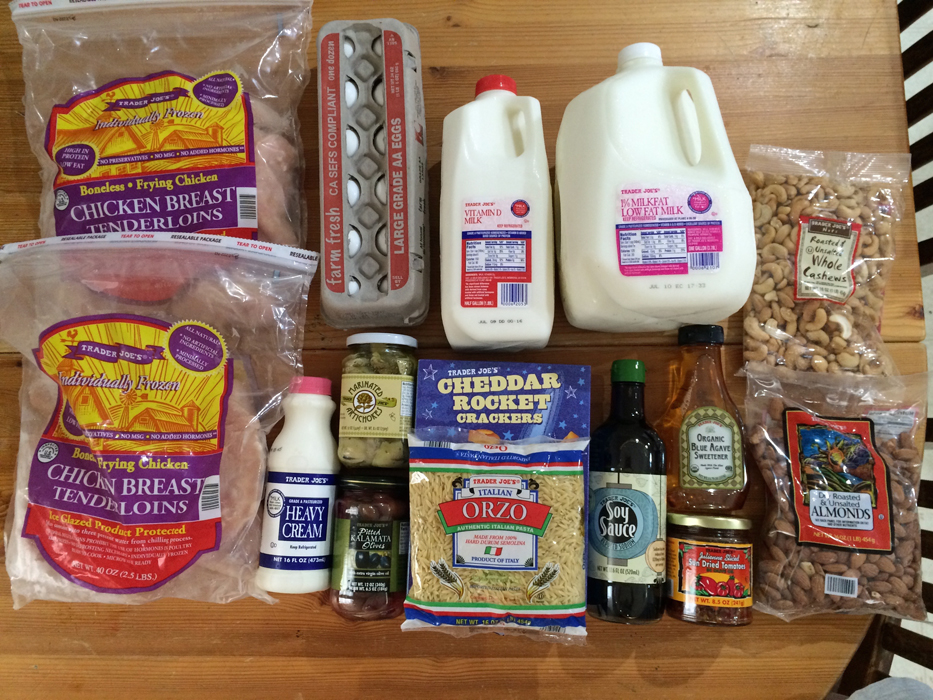 Trader Joe's again
frozen chicken tenders $7.49
sparkling water $1.09 after CRV
cheddar rockets $2.49
whole milk $1.79
eggs $1.29
cream $3.29
milk $2.49
sundried tomatoes $3.29
artichoke hearts $2.69
almonds $6.99
soy sauce $2.99
kalamata olives $2.99
agave $3.29
orzo $0.99
cashews $7.49
Total spent: $63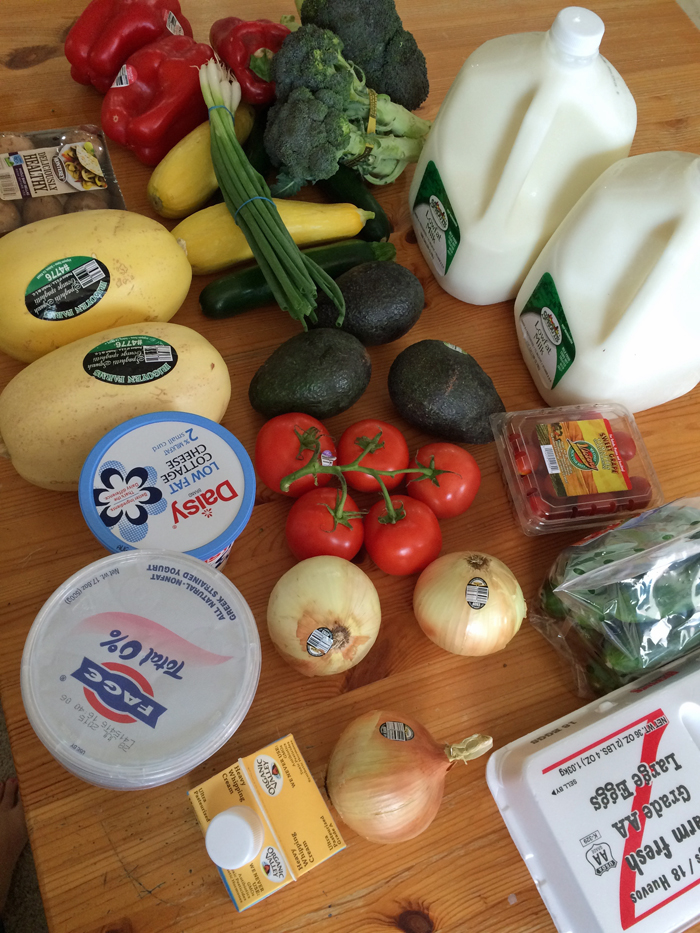 Sprouts
baby cucumbers $2.50
tomatoes $1.45
grape tomatoes $1.50/carton
green onions $0.50/bunch
xl avocados $1.66 each
Italian squash $1.29/lb
org broccoli $1.69/lb
red peppers $0.99 each
spaghetti squash $0.99/lb
mushrooms $2.49
onions $0.88/lb
milk $2.49/gallon
cottage cheese $3.99
fage $3.49 each
eggs $2.49
org whipping cream $3.49
Total spent: $50
First half total $859
Second half total $356
Total for June: $1215
So, we're a mite over budget for the month, but doing okay. We've still got food, so that's good. Here's how it's looking for the year to date:
January $669
February $1092
March $1206
April $1435
May $1500
June $1215
Total YTD: $7117
That divided by 6 months, we're averaging $1186/month which is just under our $1200 budget per month. Not too much wiggle room left!
Several folks have asked if I'm going to be doing a Pantry Challenge in July. The answer is no. My husband and I are both seeing that we need to make some changes in how we eat, so eating up all the pasta in the house really isn't the answer. Haha!