Want a peek into our grocery cart? Here's how I'm grocery shopping and feeding eight people on the cheap.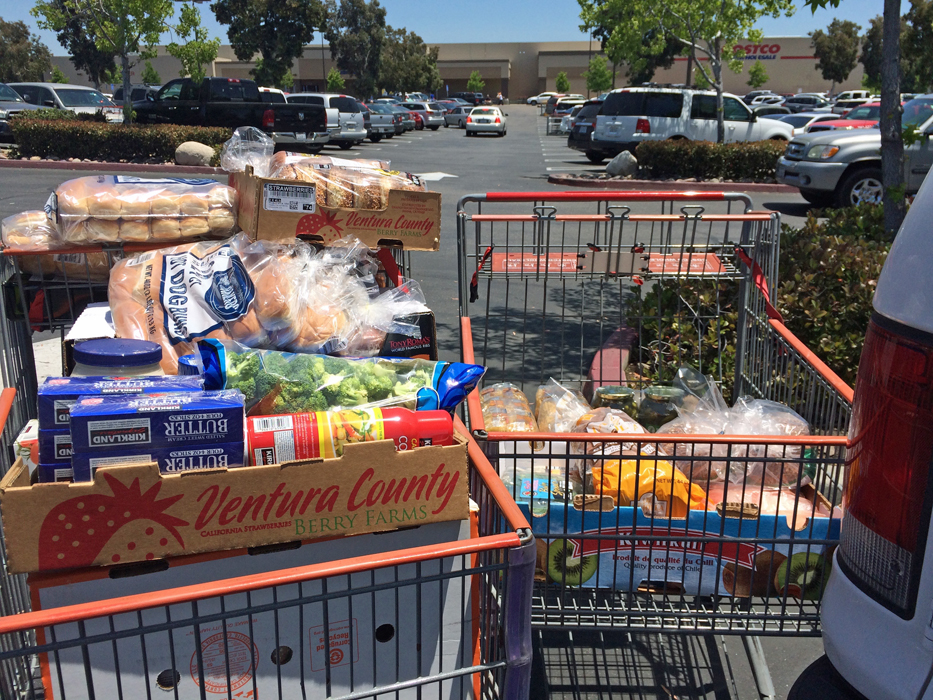 Wow! The month is half over. Where did it go?! I already have a sense that back to school supplies are waiting in the recesses of the stores, ready to be stocked. How can that be? School just ended. But, time flies, faster than I would like it to. Groceries, too.
I was thinking yesterday about how different grocery shopping is now from when I first started posting my Grocery Geek updates EIGHT YEARS ago. My children were mostly itty-bitty, all under 11; I was pregnant with my sixth child; we were DEEP in debt, and our grocery budget was $400/month. Out of necessity.
I'm super thankful that we've got so many mouths to feed and that we are no longer in debt. But, I'll admit that my pride has taken a little beating that I spend 3x that amount now.
I know it's with good reason: I've got 3, almost 4 TEEN boys, food costs have increased dramatically, and we're working to eat better. While I know "better" can look different for different people, for us, it means more protein and veg which are a lot more expensive than the cheap white breads that I filled my Costco cart with this month.
It sure looks like a lot when you buy a month's worth at once!
Nancy sent me a snapshot from her recent edition of All Recipes magazine that presented some information about how much Americans are spending on groceries per month. I can't find the article online, but it broke down like this: $989/family of 4; $625/couple; $284/single. Taking that into consideration makes me feel so much better. By their data, our family could presumably be spending close to $2k each month to feed us all, but we're not. Whew.
Still in the back of my mind, I'm simmering strategies to get our costs down a little bit more while still feeding my family well.
Grocery Geek
Grocer Geek is my weekly report of how I shopped for groceries, what deals I found, and my running total of how we're sticking to a budget for groceries.
Here's the rundown on my shopping this week. As you read, keep in mind who and how I'm shopping:
My grocery shopping profile
To update you on my grocery geekiness:
I'm feeding eight people, ages 53, 43, 18, 15, 13, 11, 9, and 7. Five of those people are males. They eat A LOT!
I'm shooting for a budget of $1200, per the USDA food cost reports the last time I added up for people of our demographics. I live in Southern California where produce is cheap, but meat and dairy are not.
I'm trying to feed us mostly unprocessed foods, with a few "healthier" convenience items thrown in and a junk food splurge* here and there.
I work at home and teach five of our kids, so I don't have as much time for fiddling in the kitchen as I would like.
I no longer use coupons on a regular basis, though I do love the coupons that Ralphs offers.
I have at least ten grocery stores within 5.5 miles of my house. It is easy (for better or for worse) to stop at several stores to get the best deals.
We mostly eat at home. My husband and college age son often pack lunch and breakfast to work, but sometime have lunch out. My husband and I enjoy a date once a week. FishPapa takes one child out to "dinner with dad" once a week. We eat out as a family on average once a week.
Here's our shopping for June so far: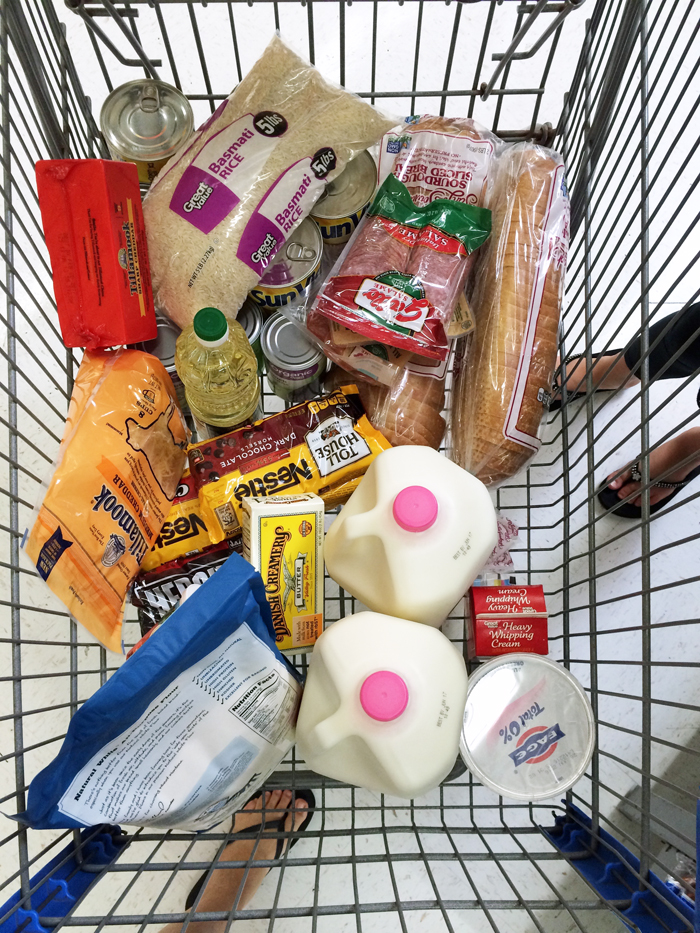 Walmart
Walmart is one of my go-to spots for basics that are on the cheaper side. Costco is cheaper on most of these things, but Walmart is super close to home; I could walk if I had one of those French lady rolling baskets! Early in the month, we needed baking supplies for FishChick9's baking practice. Here's what we bought:
Tillamook loaf $10.92
salame $6.52
whipping cream $2.34
butter $3.97
milk $2.95
rice $7.74
flour $3.76
sourdough bread $3.98
ricotta $2.47
yogurt $6.48
shredded Tillamook $10.56
sunflower oil $3.98
chocolate chips $2.38 to $2.58
black beans $0.92
pinto beans $1.64
uncured pepperoni $3.86
Total spent: $106
Costco (pictured at top)
FishBoy15 went with me to Costco the first week of June so we could restock some basics and return the listeria-ridden green beans that were part of the recent recall. I've told the teen boys that their mid-day snacks could be sandwiches since I know they do better if they aren't hangry. We stocked up on breads to store in the freezer for this purpose.
megajar mayonnaise $6.99
avocado oil $9.49
fruit leather $10.59
sourdough bread $3.69
mandarin cups $7.89
broccoli florets $3.99
fill pickles $6.89
organic pasta $8.49
hot dog buns $2.19
hamburger buns $2.19
bagels $5.49/dozen
baby carrots $4.49
heavy cream $9.99
shredded mozzarella $9.89
beef franks $8.99/4-pack
fage $6.39
maple syrup $9.99
sour cream $3.99
potstickers $10.69
mochi ice cream $9.89 (for my cart pusher and unloader)
chicken sausage $13.89
butter $9.49
bottled water $3.89 plus CRV
milk $3.99/2 gallons
mondo cans diced tomatoes $2.79 each
bacon $11.89
organic spinach $3.49
hummus single packs $5.99
mini babybel $10.99
org frozen pineapple $6.99
organic frozen berries $9.99
asiago cheese $8.31
sharp Tillamook $9.29
large deli turkey breast $14.96
English muffins $6.79
organic eggs $6.99/2 dozen
tortillas $2.99 to $3.69
whole grain bread $4.59
diced tomatoes $6.49
tuna $12.99/8 cans
cooking spray $4.99
red potatoes $4.59/10#
ground beef $3.99/pound
chuck roast $3.99/lb
Total spent: $472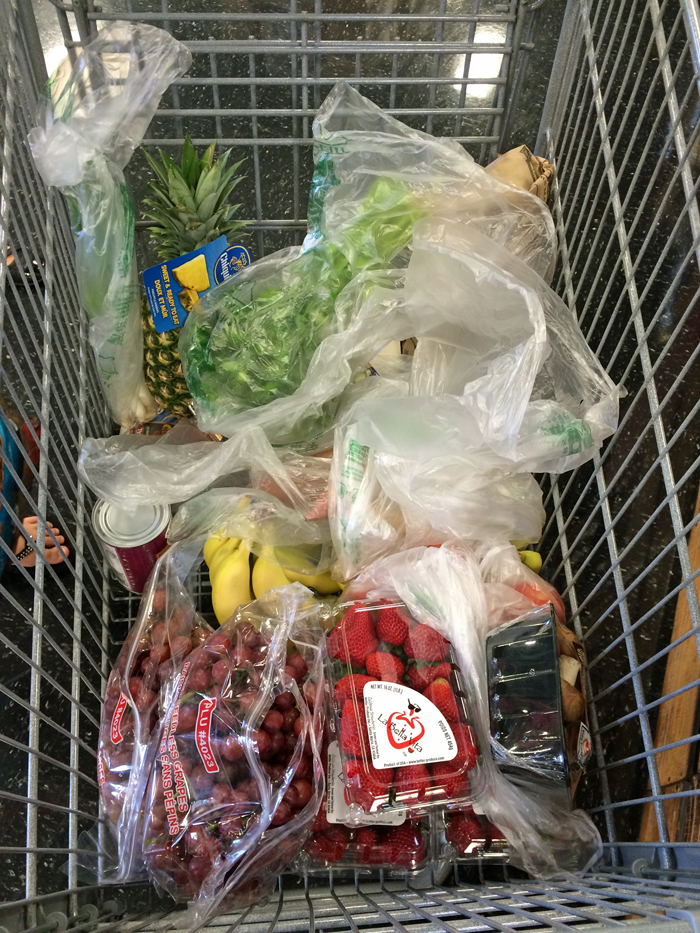 Sprouts
Typically Sprouts is my go-to for fresh produce. Again, it's close to home and easy to make a quick run. I've flopped back and forth between buying organic and conventional. It seems currently that organic prices just aren't within a reasonable margin for upgrading. I figure there are seasons for everything.
strawberries $1.50
pineapple $2.50
garlic 3/$1
ginger root $2.99/lb
green onions 2/$1
xlrg avocados $1.88 (these prove their value due to size and quality)
parsley $0.50
zucchini $0.98/lb
grapes $0.88/lb
sweet potatoes $1.29/lb
roma tomatoes $0.50/lb
mushrooms $2.49
bananas $0.69/lb
coconut milk $1.79
shrimp $11.98
Total spent: $42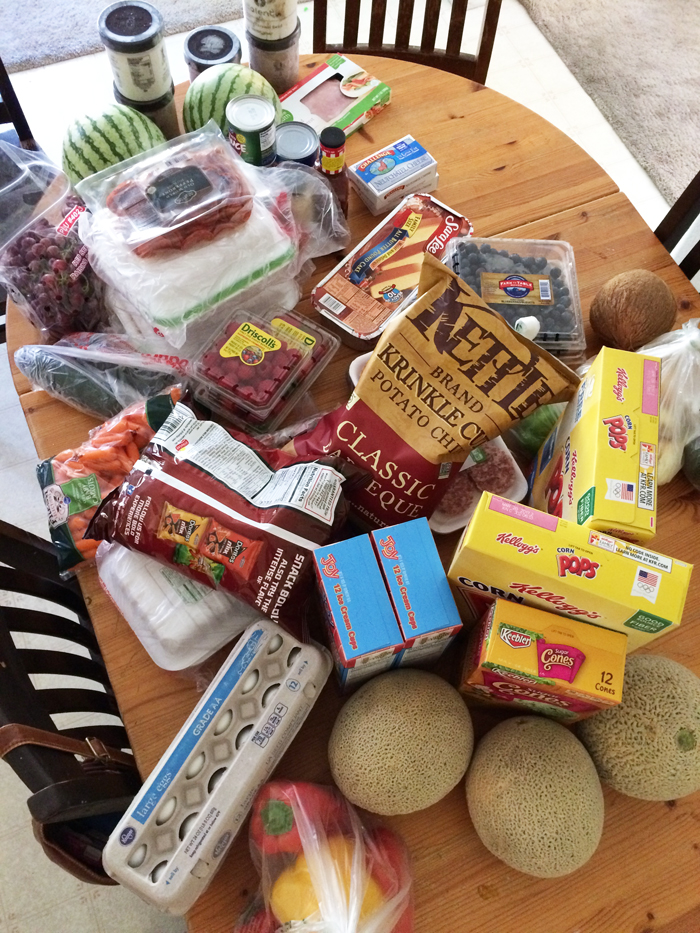 Ralphs
Ralphs tends to be where I get suckered into junk food. On this particular trip FishBoy19 was with me so he could pick out birthday snacks. I blame most of the junk food on him. Haha. Which is really ironic, since he's the healthiest eater in the house! Usually the guy is eating all kinds of weird things, but on his birthday, his heart belongs to Corn Pops.
ice cream cones $1.49 to $2.29
pound cake $5.99
gelato $2.99
cream cheese $2.19
chips $1.99
beef broth $1.29
tomato sauce $0.49
eggs $1.99
corn pops $1.49
BBQ sauce $3.49
carrots $1.59
cucumbers 2/$0.99
raspberries $2.50
strawberries $2.50
grapes $0.99/lb
watermelon $1.88
mustard $1.79
ground turkey $2.77/lb
London Broil $3.99/lb
uncured ham $3.99
pepperoni $6.99
deli meat $12.00
Total spent: $123
Sprouts
Also in the preceding picture is a short stop at Sprouts.
blueberries $1.98/large pack
cantaloupe $0.98 each
coconut $1.99
bell peppers $0.68 to $0.88
sweet onions $0.50/lb
Total spent: $25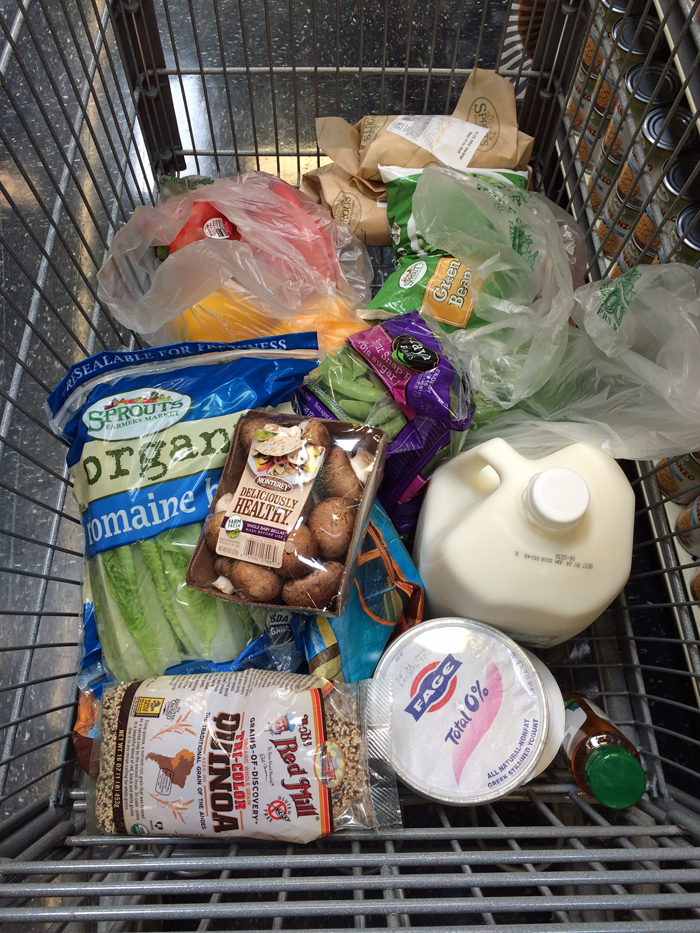 Sprouts
After taking a few months off making lunches for FishPapa, I got back into the swing this week, stocking up on the fixings for Easy Chicken Quinoa Bowls. I made enough for us both to have a yummy, healthy lunch. I find that when I buy veggies and have them ready to go, everyone — kids and husbands included — will eat them up.
bell peppers $0.68 to $0.88
organic romaine hearts $2.99
snap peas $1.99
romas $0.88/lb
mushrooms $2.49
agave nectar $5.29
quinoa $8.99
milk $2.49
Fage $3.49
cottage cheese $2.49
sausage $4.67
shrimp $6.15
green beans $1.99
Total spent: $54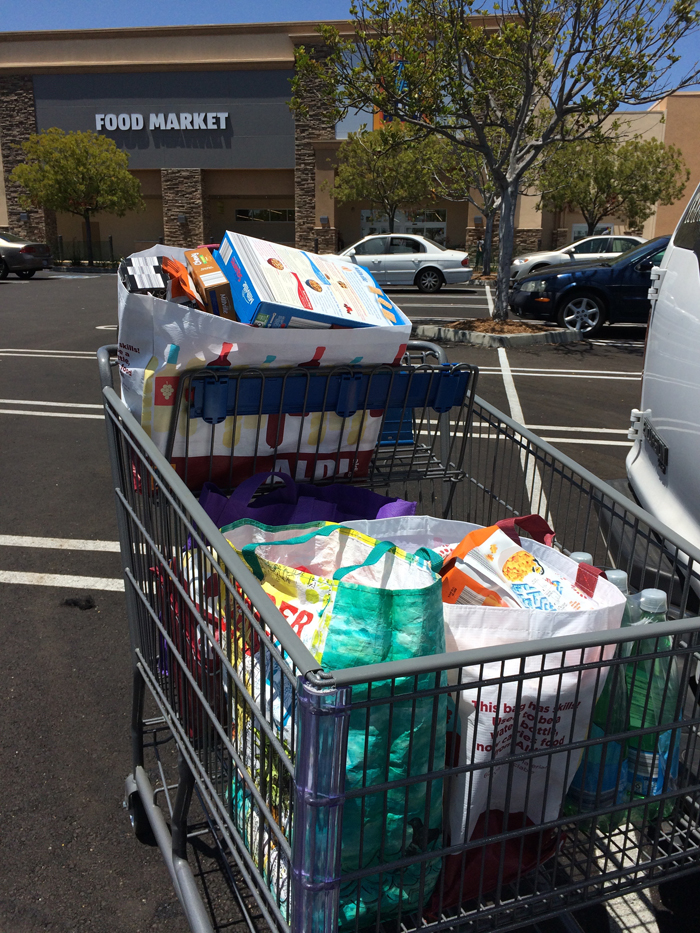 ALDI
I know that ALDI could be a great place for me to trim down our grocery bill, but it is the farthest store from our house, a good 30-minutes round-trip. I'm working up a list of their products that I know we like and that are the best price so we can easily do a monthly stock-up. The kids and I stopped there today while we were in the neighborhood.
quick oats $2.29
butter cookies $1.69
penguin crackers $1.39
raspberries $1.89
org strawberries $2.69
hummus $1.99
speculoos $1.89
pearl couscous $1.29
steel cut oats $2.29
Italian sparkling water $5.99 plus CRV
rice squares cereal $2.29
rice crisp cereal $1.39
wheat crackers $1.49
canned peaches $0.89
milk $2.19
whipping cream $1.99
crushed tomatoes $0.99
coconut oil $3.99
orange juice $3.39
frozen chicken tenders $5.79
cream cheese $1.29
granola bars $1.49
eggs $0.89
Total spent: $70
Total spent in June MTD: $892
So, we're not quite where I'd like to be for the month's midway point. In my defense, I did the big Costco stock up before I'd consulted with my family about eating preferences. Several of us want to eat more protein and fewer carbs, so we probably could have done with fewer cheese and pasta purchases. I'm not sure what to do about that. I could return some things to Costco, but that seems silly since we will use them eventually, just not at the rate I had anticipated when I first went shopping.
FishChick9 has also been baking a ton in anticipation of being chosen to compete on Kids Baking Championship. Thus the reason that us older folks need to eat fewer carbs the rest of the time!
I'm going to do my best not to go over budget again this month, but it will be a tight squeeze, I think. With careful planning, I think we should have most of the proteins we need as well as the carbs, of course. Will need to get more fresh produce in the next two weeks for sure.
How has YOUR grocery shopping gone this month?