Take a load off this summer with simple salad meals. Better yet, let me do your meal planning for you with A Month of Meals: Salad's On!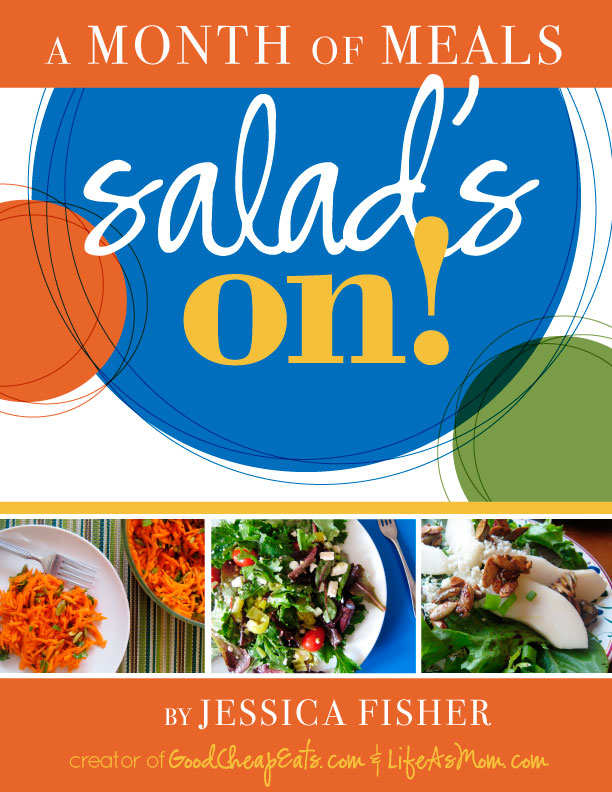 Summer is the perfect time to enjoy delicious salads piled with protein, flavor, and texture. Salads are easily made-ahead and can travel well — provided you keep the dressing on the side.
Be salad-centric this month with this Month of Meals – Salad's On! It's a curation of 30 of my favorite salad recipes, meal planning ideas, and meal prep tips to make summer eats good and cheap, not to mention easy.
NEW: A Month of Meals – Salad's On!
Here's what you'll find in this Month of Meals:
30 menu plans that feature a salad of some sort (green, pasta, rice, quinoa)
four weeks of grocery lists
a monthlong grocery list so you can look out for sales and know you'll use things up
make-ahead tips and a prep list to make dinnertime easy-peasy
all the salad recipes at your fingertips
homemade breads and no-bake dessert ideas
BONUS salad toppings and salad dressing recipes
With a printout of the ebook or the pdf loaded to your tablet or computer, dinners will come together quickly and easily — and under budget. Get the works for $9.
This meal plan will be available for a limited time, so if you're ready to rock your summer salads, this is the resource for you!