Want a peek into our grocery cart? Here's how I'm grocery shopping and feeding eight people (mostly) on the cheap.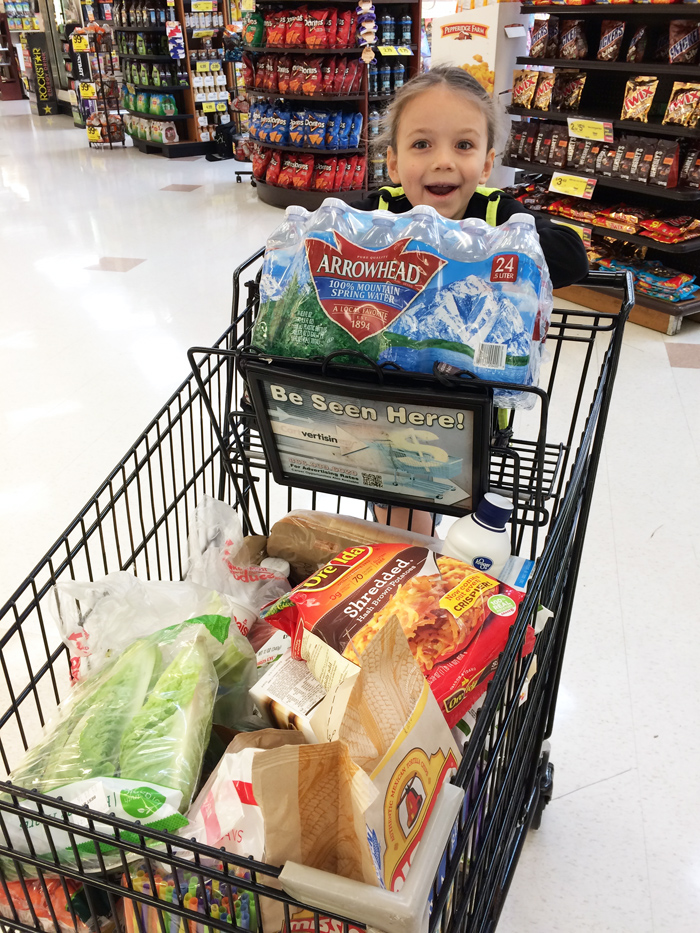 The FishMama Trifecta is in full swing! On Sunday, we celebrated Mother's Day with a day at the beach. This weekend, my husband and I are celebrating our 22nd anniversary with a day at the beach. 😉
Next week, FishBoy11-almost-12 will be celebrating his birthday, and the week after that is my birthday. Whew! It's a big month for us.
I've always loved May!
As such, I haven't felt too bad that we're also celebrating with food. We don't get out much, we drive old cars, and our debts are paid. 
Grocery Geek
Grocer Geek is my weekly report of how I shopped for groceries, what deals I found, and my running total of how we're sticking to a budget for groceries.
Here's the rundown on my shopping this week. As you read, keep in mind who and how I'm shopping:
My grocery shopping profile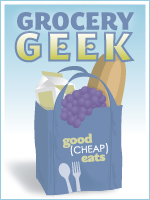 To update you on my grocery geekiness:
I'm feeding eight people, ages 53, 43, 18, 15, 13, 11, 9, and 7. Five of those people are males. They eat A LOT!
I'm shooting for a budget of $1200, per the USDA food cost reports the last time I added up for people of our demographics. I live in Southern California where produce is cheap, but meat and dairy are not.
I'm trying to feed us mostly unprocessed foods, with a few "healthier" convenience items thrown in and a junk food splurge* here and there.
I work at home and teach five of our kids, so I don't have as much time for fiddling in the kitchen as I would like.
I no longer use coupons on a regular basis, though I do love the coupons that Ralphs offers.
I have at least ten grocery stores within 5.5 miles of my house. It is easy (for better or for worse) to stop at several stores to get the best deals.
We mostly eat at home. My husband and college age son often pack lunch and breakfast to work, but sometime have lunch out. My husband and I enjoy a date once a week. FishPapa takes one child out to "dinner with dad" once a week. We eat out as a family on average once a week.
Obviously, your mileage may vary. But, I'm constantly amazed at how well we eat without spending a crazy amount of money.
Here's how the shopping went down this past week: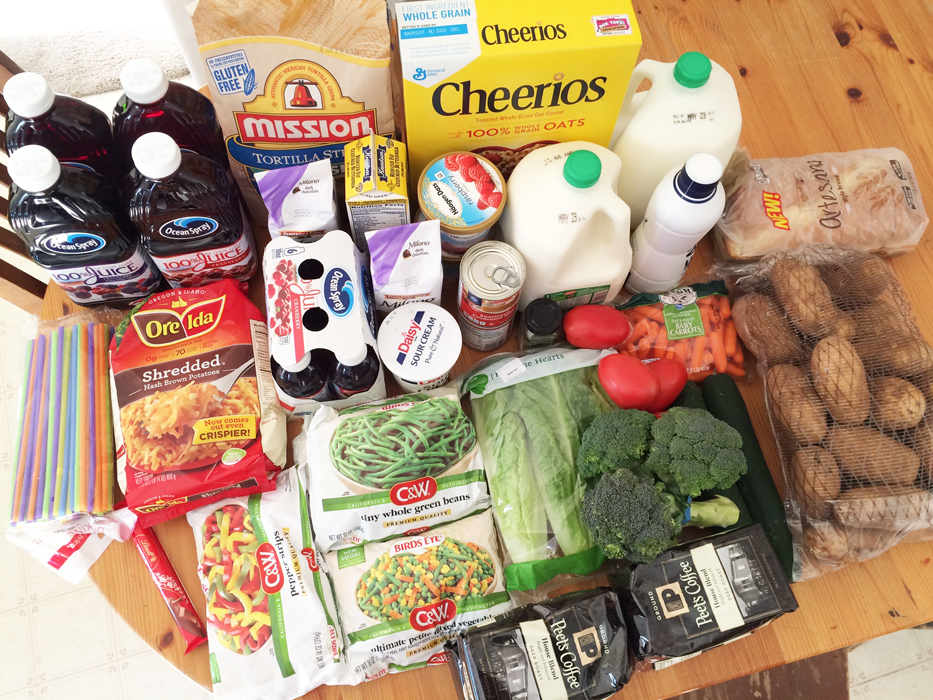 Ralphs
On Sunday morning FishChick7 and I went to the store. It was just for a few things, like bottled water and juices to take to the beach, but it kinda morphed into a few more things. I'm a sucker for Ralphs grocery sales.
You'll notice a handful of FREE items as well as high dollar coupons, thanks to Ralphs customer loyalty programs.
hashbrowns $2.99
frozen vegetables $1.49 (hopefully these won't get recalled!)
Milano cookies $1.99 (for a recipe)
bottled water $5.19 after CRV
sorbet $1.99 to $2.99 after sales and coupon
whipping cream $4.99
sour cream $2.49
tortillas chips $1.99
Peets coffee $4.49 to $6.99 after sales and coupons
bread FREE
tarragon $3.49
Cheerios FREE
sweetened condensed milk $1.59
cranberry juice 6 pack $4.29 (for the beach)
bottled juices $2.49
buttermilk $2.99
milk $2.29
cucumbers 2/$1
broccoli $0.99/lb
romaine hearts $3.79
baby carrots FREE
potatoes $3.99/10#
romas $0.99/lb
Lindt truffle bar FREE
-$10 off $100 order
-$2 off $10 produce
Total spent: $87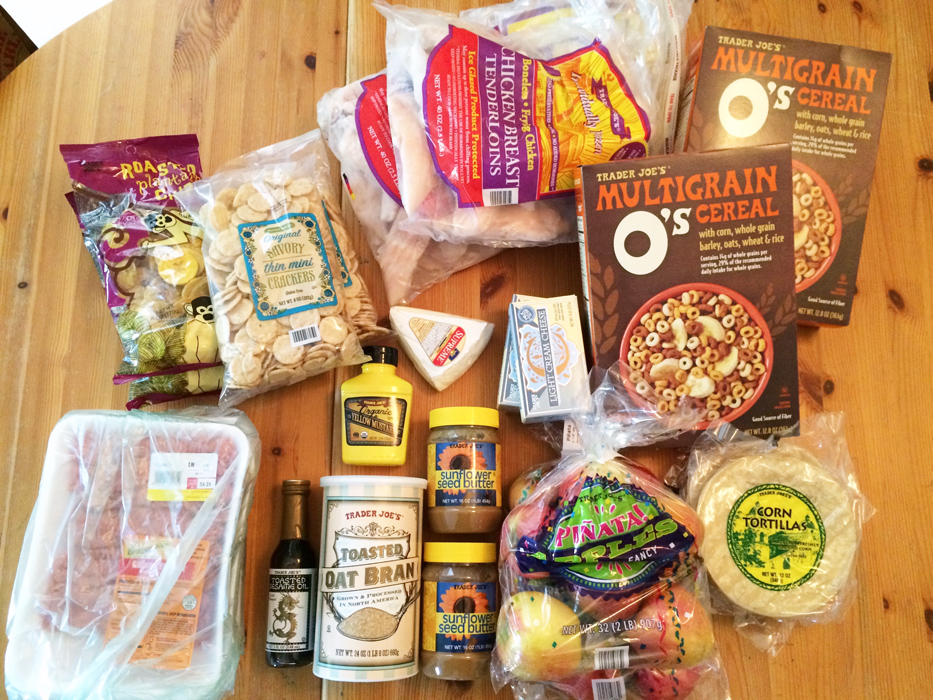 Trader Joe's
Some things are just a better value at Trader Joe's. So on our way home from the beach we stopped to top off my list.
cereal $2.99
sparkling water $0.99
frozen chicken tenders $7.49
plantain chips $1.69
mustard $1.69
rice crackers $2.69
corn tortillas $0.99
cream cheese $1.69
apples $2.69/2#
sunflower butter $4.99
Brie $4.30
sesame oil $2.69
oat bran $2.79
ground turkey $2.99/#
Total spent: $91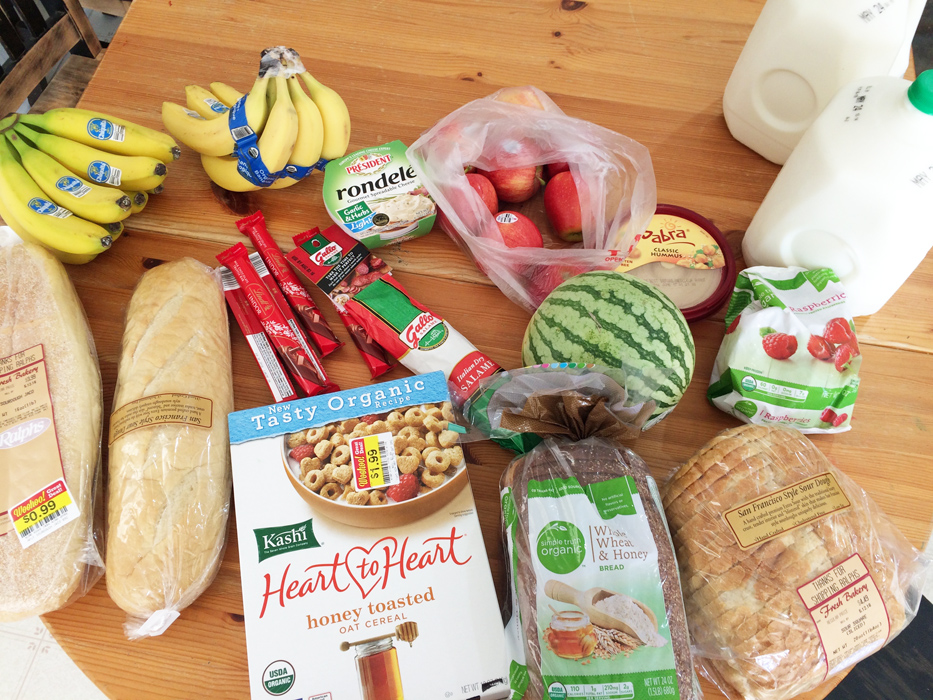 Ralphs
It wouldn't be a normal week without a return trip to Ralphs. This time I scored on some markdowns.
milk $2.19
gala apples $0.99/#
personal watermelon $1.88
bananas $0.69 to $0.89 (conventional and organic)
kashi cereal $1.99 clearance
organic frozen berries $3.49
organic bread $1.99 

clearance

salami $5.49
rondele cheese $4.99
hummus $2.49

clearance bread $0.99

truffle bars $1.00
Total spent: $41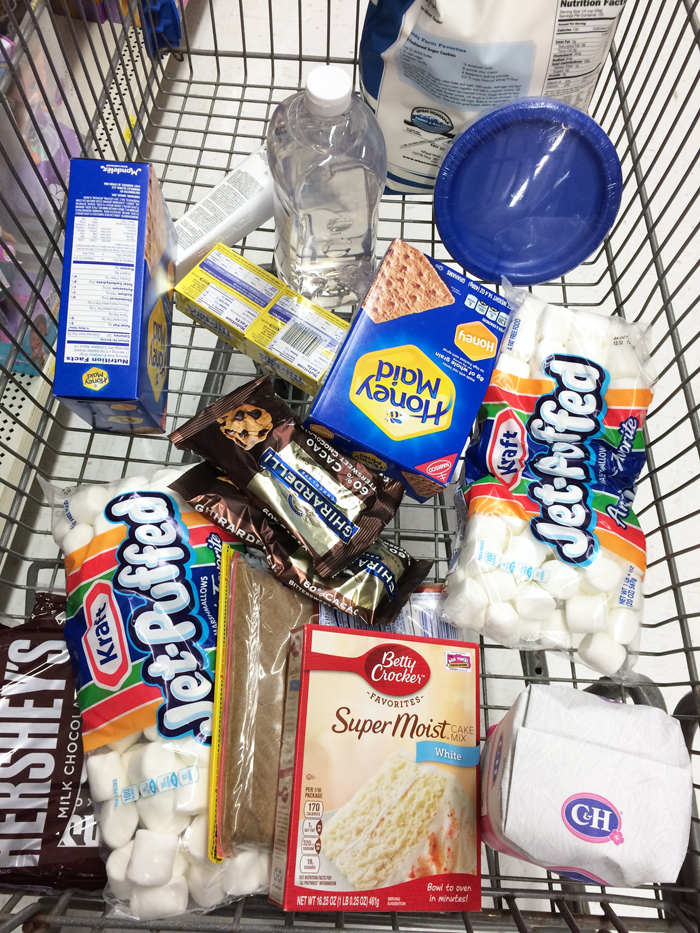 Walmart
I don't shop at Walmart too often these days. It seems like a black hole to me. I get lost and buy too much, but we needed to replenish some baking supplies, and that's the best place for that when there aren't sales.
I did stock up on smores supplies, too. It's almost summer!
chocolate bars $3
brown sugar $1.98
chocolate chips $2.98
sure jell $4.44 (making jam next week!)
cake mix $1.17
marshmallows $1.96
sugar $2.38
graham crackers $3
flour $5.98
Total spent: $39
Total spent this week: $258
Total spent this month to date: $705
So, we're halfway through the month and we've spent over half our groceries. With so many celebrations, we may go over, or not. I did some freezer cooking this week and have an extra 4 meals in the freezer. Not a ton, but I tripled dinner two nights this week and that makes a difference. I also have the stuff to make another four freezer meals, but I ran out of time this week.
I'm thinking we'll be okay.
How did YOUR grocery geeking go this week?