Want a peek into our grocery cart? Here's how I'm grocery shopping and feeding eight people on the cheap.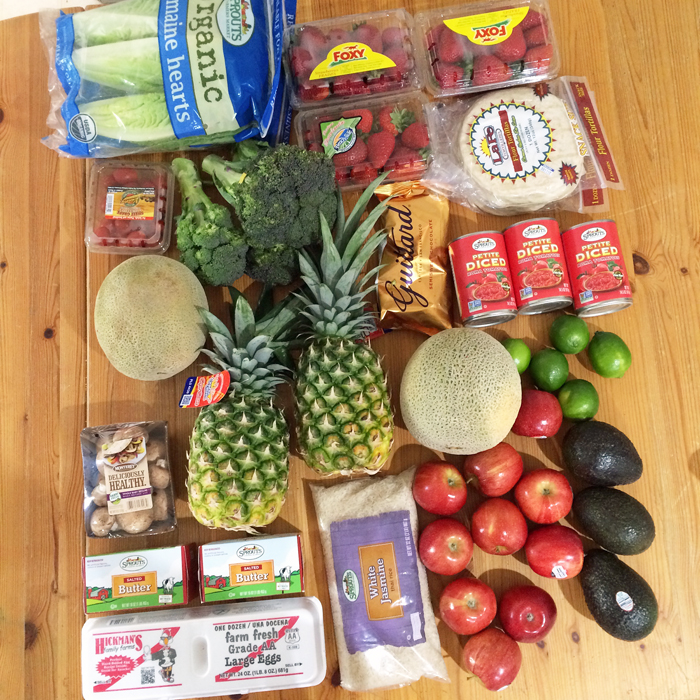 My May Grocery Geek updates fell off the radar mid-month. The month was just so crazy with birthdays, not feeling well, company, and the like. We ended up going over budget more than I thought, with our final total reaching $1500. That said, compared to the rest of the year, we're still doing okay.
January $669
February $1092
March $1206
April $1435
May $1500
Total YTD: $5902 divided by 5 = $1180.40
So, we're under our budget over all, but just barely. Obviously, I need to do some things that are different going forward. I know that the kids are eating a lot more in terms of quantity. That's not something I want to scrimp on because I see a distinct difference in my teen boys' attitudes when they are hungry v. when they are satiated.
However, I need to get creative this next month to see what we can do to increase food on hand without increasing our expenses. I've used up all the equity I had from our big pantry challenge at the start of the year, and there honestly, isn't a ton of excess around here to do another challenge.
Grocery Geek
Grocer Geek is my weekly report of how I shopped for groceries, what deals I found, and my running total of how we're sticking to a budget for groceries.
Here's the rundown on my shopping this week. As you read, keep in mind who and how I'm shopping:
My grocery shopping profile
To update you on my grocery geekiness:
I'm feeding eight people, ages 53, 43, 18, 15, 13, 11, 9, and 7. Five of those people are males. They eat A LOT!
I'm shooting for a budget of $1200, per the USDA food cost reports the last time I added up for people of our demographics. I live in Southern California where produce is cheap, but meat and dairy are not.
I'm trying to feed us mostly unprocessed foods, with a few "healthier" convenience items thrown in and a junk food splurge* here and there.
I work at home and teach five of our kids, so I don't have as much time for fiddling in the kitchen as I would like.
I no longer use coupons on a regular basis, though I do love the coupons that Ralphs offers.
I have at least ten grocery stores within 5.5 miles of my house. It is easy (for better or for worse) to stop at several stores to get the best deals.
We mostly eat at home. My husband and college age son often pack lunch and breakfast to work, but sometime have lunch out. My husband and I enjoy a date once a week. FishPapa takes one child out to "dinner with dad" once a week. We eat out as a family on average once a week.
I'll be sharing our grocery updates about every ten days in June, and working to do fewer shops while still staying under budget. At least that's my plan!