These Sweet Potato Fries are super simple make, and they taste great! Bake up a batch in about 30 minutes with no fuss or hassle. No waiting in lines, either.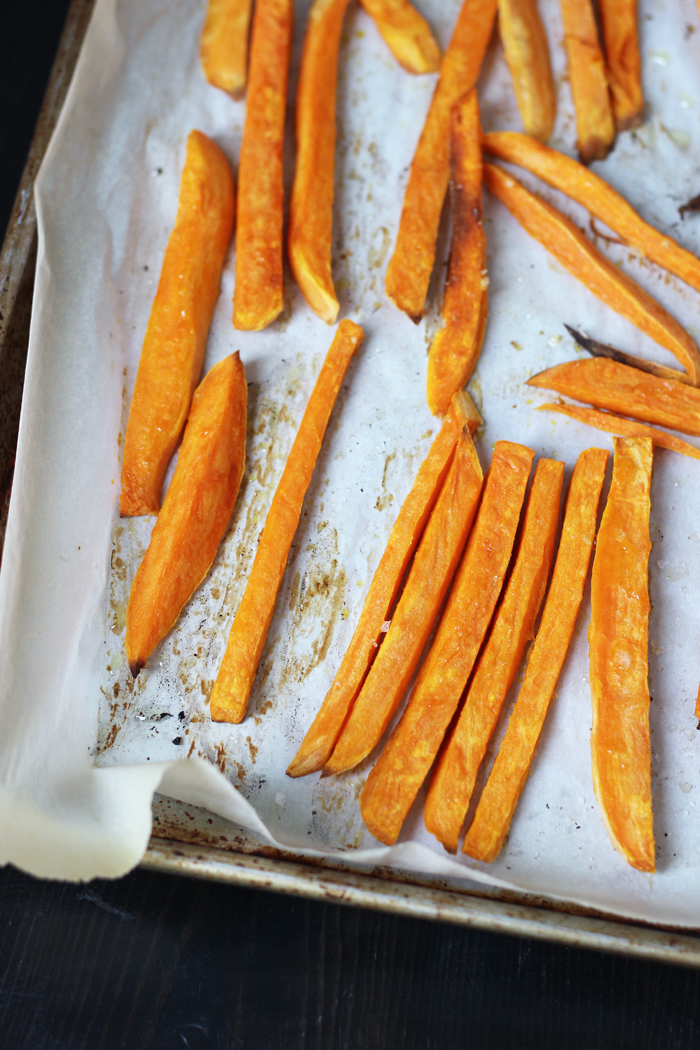 Sweet potato fries are practically ubiquitous in burger restaurants these days — at least in my neck of the woods. I can think of any number of burger joints that offer sweet potato fries as an alternative to traditional french fries.
Over the last three years, I've developed an affection for sweet potato fries that surprised even me. We weren't always on good terms, sweet potatoes and me. But we are now. Doing a Whole 30 kinda forces your hand in that way.
Sweet potatoes, while still a starch, are healthier for you than white potatoes, and they are super yummy!
If you haven't tried making your own sweet potato fries, today's the day! This recipe is so quick, simple, and easy, you'll be noshing on healthy fries in no time. Without waiting in line!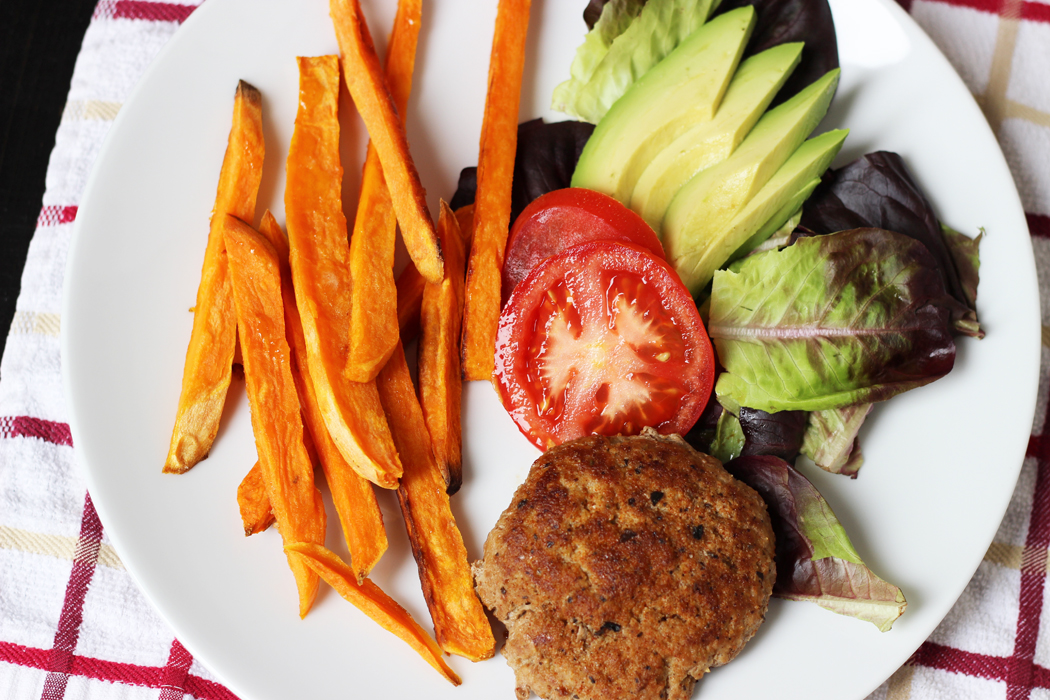 My 18-year old son started eating sweet potatoes with gusto a couple years ago when he began to do some serious exercise and nutrition. He loves these heavily seasoned with cayenne, cumin, and other spices. I'd like to say I can handle the heat, but sometimes his sweet potato fries set my mouth on fire!
These sweet potato fries are plain and simple: a dousing of olive oil, generous shakes of salt and pepper, and a spell in a hot oven. They are delicious fresh from the oven, but they reheat decently the next day, too.
Serve these fries as a tasty and good-for-you appetizer or side dish. I particularly like dipping them in homemade mayonnaise. Yum!
Tools I use to make this EASY:
If you make a purchase from one of these Amazon affiliate links, I am paid a small amount in advertising fees. Thanks for supporting this site.
Sweet Potato Fries
These Sweet Potato Fries are super simple make, and they taste great! Bake up a batch in about 30 minutes with no fuss or hassle.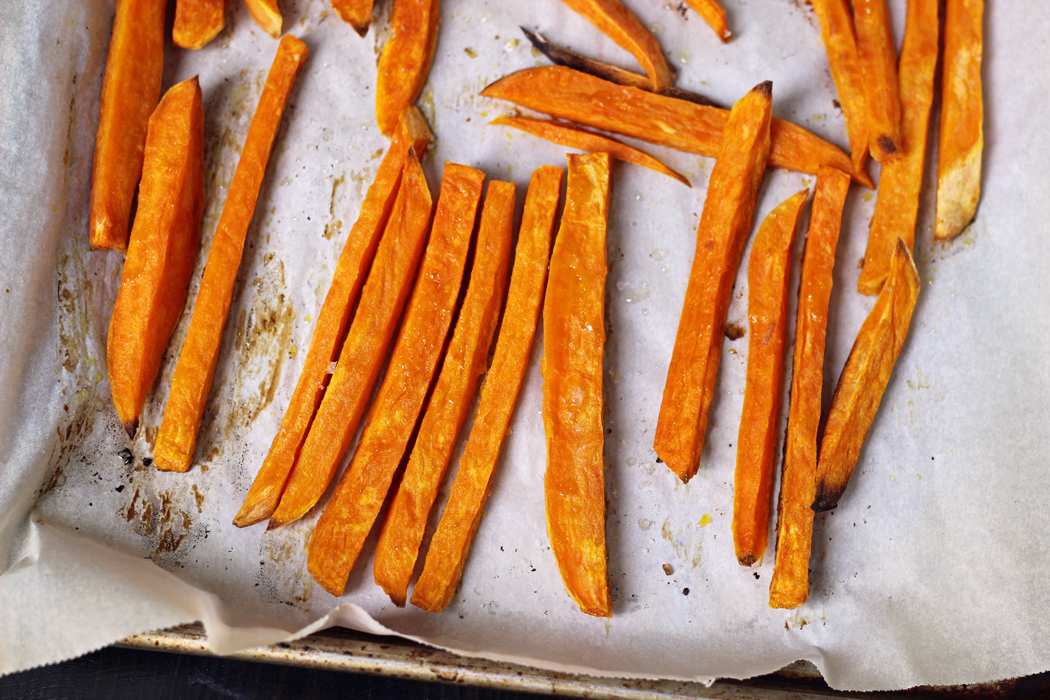 Preparation Time: 10 minutes
Cook time: 25 minutes
Total time: 35 minutes
4 servings
Ingredients:
2 large sweet potatoes (about 1/2 pounds), peeled

2 tablespoons olive oil

1 teaspoon fine sea salt

freshly ground black pepper
Instructions:

Preheat the oven to 400 degrees. Line a sheet pan with parchment paper.
Slice the sweet potatoes into 1/2-inch planks. Slice the planks into 1/2-wide sticks. Place the potato pieces into a large mixing bowl. Douse with the oil and toss to combine.
Lay out the fries in a single layer on the prepared baking sheet. Season with the salt and pepper. Bake for 20 to 30 minutes or until desired doneness. Serve hot.
Other favorite sweet potato recipes: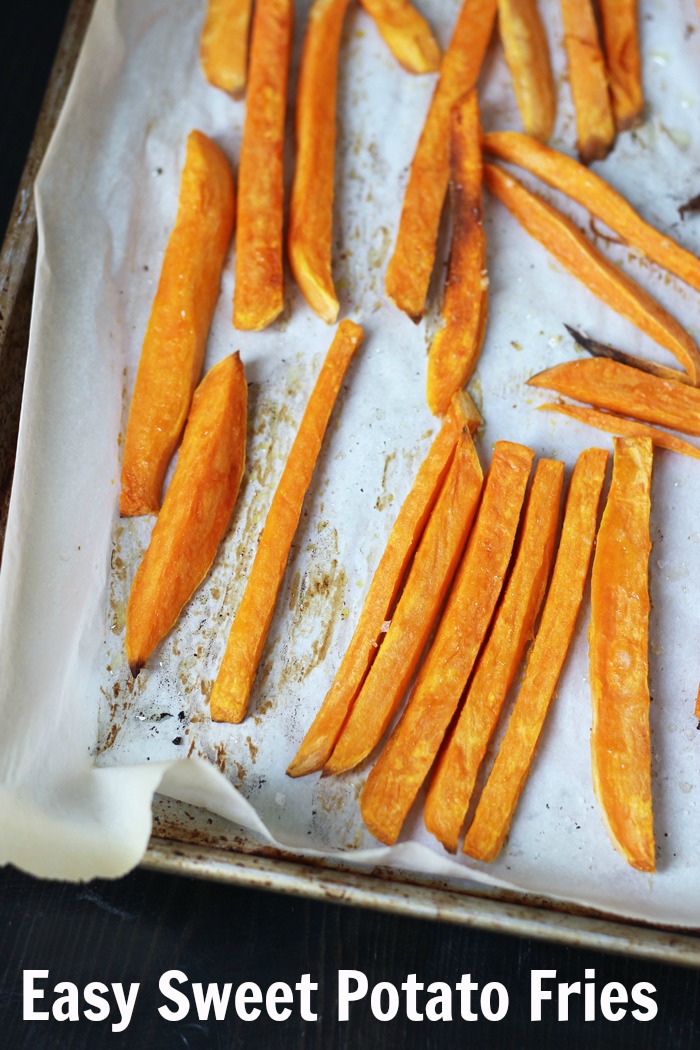 Are you looking for more good cheap eats?