Want a peek into our grocery cart? Here's how I'm grocery shopping and feeding eight people on the cheap. 
As you know this month is an anomaly for me in the grocery department. Not only am I recovering from the Great Pantry Challenge of 2016 (aka When-We-Ate-Almost-All-the-Food-in-the-House-for-a-Termite-Fumigation), but I'm also doing a Whole 30 challenge.
I'm more than halfway through the latter, but it's taken a little toll on my grocery bill. That's to be expected when you are cooking for two different kinds of meal plans. It'll all average out in the end as we spend what we saved the first few months of the year.
Also wondering if we'll need to expand our grocery budget. Our kids are getting older and eating MORE. As we address certain issues around nutrition and eating habits, I really want to make sure that they are getting what they need. I've computed our estimated costs according to government numbers for March and it looks like our family is hitting the $1300 mark for the thrifty plan and then up again to $1325 when the May and June birthdays roll around. Whew.
Better than doctor's bills, right?
Grocery Geek
Grocer Geek is my weekly report of how I shopped for groceries, what deals I found, and my running total of how we're sticking to a budget for groceries.
Here's the rundown on my shopping this week. As you read, keep in mind who and how I'm shopping:
My grocery shopping profile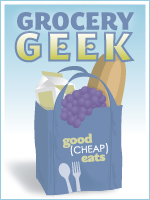 To update you on my grocery geekiness:
I'm feeding eight people, ages 53, 43, 18, 15, 13, 11, 9, and 7. Five of those people are males. They eat A LOT!
I'm shooting for a budget of $1200, per the USDA food cost reports the last time I added up for people of our demographics. I live in Southern California where produce is cheap, but meat and dairy are not.
I'm trying to feed us mostly unprocessed foods, with a few "healthier" convenience items thrown in and a junk food splurge* here and there.
I work at home and teach five of our kids, so I don't have as much time for fiddling in the kitchen as I would like.
I no longer use coupons on a regular basis, though I do love the coupons that Ralphs offers.
I have at least ten grocery stores within 5.5 miles of my house. It is easy (for better or for worse) to stop at several stores to get the best deals.
We mostly eat at home. My husband and college age son often pack lunch and breakfast to work, but sometime have lunch out. My husband and I enjoy a date once a week. FishPapa takes one child out to "dinner with dad" once a week. We eat out as a family on average once a week.
Obviously, your mileage may vary. But, I'm constantly amazed at how well we eat without spending a crazy amount of money.
Here's how the shopping went down these past couple weeks:
Trader Joe's
I did go a little overboard on snack food at TJs. It was obviously a low moment on the Whole 30. Also, the littles played a game of Chopped on Sunday afternoon so there are some sweets in there that they used in the game.
potato chips (for the kids) $2.99
veggie chips (for me) $2.99
frozen churros (for Chopped) $3.99
frozen chicken tenders $7.49/2.5 pounds
2# pink lady apples $2.49
pita crackers $2.49
cereal $1.99
taco shells 

$1.99

plantain chips $1.69
flour tortillas $1.99
milk $2.79
kefir $2.99
whipped cream $3.99
organic pickles $2.99
organic applesauce $2.79
black beans $0.79
eggs $1.69/dozen
organic chocolate syrup (organic is all they sell) $3.49
coconut cream $1.49
cashews $8.49
almonds $6.99
string cheese $2.99
sliced deli turkey $4.99
shredded cheddar $3.49
ground turkey $2.99/lb
basil plant $3.49
organic persian cukes $2.49
organic red peppers $1.50 each
organic power greens 

$1.99

brussels sprouts $2.29
dried mandarins $2.69
zucchini 

$1.99
Total spent: $121
Ralphs
Ralphs had that "buy 10 get $5 off" deal, and those are hard for me to resist. Those items are indicated by an asterisk.* I'm stashing some away for upcoming birthdays and special occasions.
triscuit $2.49*
Doritos $2.49*
Sunchips $2.29*
pinto beans $1.99
Special K 

$2.49*

small flour tortillas $2.99
milk $2.29
seltzer water $3.09 after CRV
romaine lettuce $0.99
serrano pepper $0.20
organic bananas (because they weren't green like the others) $0.89/#
hot Italian sausage $3.49*
Total spent: $42
Sprouts
(pictured at the top)
In other news, I'm trying to wean my kids from dessert twice a day. I loaded up on fruits and veg so that desserts and snacks can take on a new look.
cantaloupe $0.88 each
2# cuties $1.88/bag
cucumbers $0.50 each
xlarge avocados $1.25 each
large box organic baby spinach $3.98
organic golden delicious $0.88/lb
organic sweet mini peppers $1.98/box
red bell peppers $0.98 each
red seedless grapes $0.88/lb
bananas $0.69/lb
fage $2.50 each
Total spent: $38
Spent this week: $201
Spent this month to date: $1312
So, not too horrible. Looks like we won't completely ruin the year's average after all. My local ALDI doesn't open until late May, but I'm really looking forward to seeing how it will change my grocery spending.
How was YOUR grocery geeking?