Want a peek into our grocery cart? Here's how I'm grocery shopping and feeding eight people on the cheap. 
So, this week I've been eating all Whole 30, so that means I'm running out of vegetables. That sounds like such a weird thing to say. Normally, it's milk, cheese, and bread that we run out of, but not this month. Also, I should probably look into stocking more frozen vegetables, but thinking about the sales cycles, I may have missed my window.
Anywho, the Whole 30 means that I am often making two meals 3x a day. I'm going to feed my family what they like and not subject them to unnecessary dietary restrictions. Plus, in some instances my food is the more expensive.
….And yes, our Costcos do sell alcohol — I didn't buy any — and they are this empty if you go at 7 or 8 on a weeknight.
Grocery Geek
Grocer Geek is my weekly report of how I shopped for groceries, what deals I found, and my running total of how we're sticking to a budget for groceries.
Here's the rundown on my shopping this week. As you read, keep in mind who and how I'm shopping:
My grocery shopping profile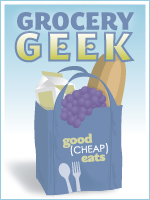 To update you on my grocery geekiness:
I'm feeding eight people, ages 53, 43, 18, 15, 13, 11, 9, and 7. Five of those people are males. They eat A LOT!
I'm shooting for a budget of $1200, per the USDA food cost reports the last time I added up for people of our demographics. I live in Southern California where produce is cheap, but meat and dairy are not.
I'm trying to feed us mostly unprocessed foods, with a few "healthier" convenience items thrown in and a junk food splurge* here and there.
I work at home and teach five of our kids, so I don't have as much time for fiddling in the kitchen as I would like.
I no longer use coupons on a regular basis, though I do love the coupons that Ralphs offers.
I have at least ten grocery stores within 5.5 miles of my house. It is easy (for better or for worse) to stop at several stores to get the best deals.
We mostly eat at home. My husband and college age son often pack lunch and breakfast to work, but sometime have lunch out. My husband and I enjoy a date once a week. FishPapa takes one child out to "dinner with dad" once a week. We eat out as a family on average once a week.
Obviously, your mileage may vary. But, I'm constantly amazed at how well we eat without spending a crazy amount of money.
Here's how the shopping went down these past couple weeks: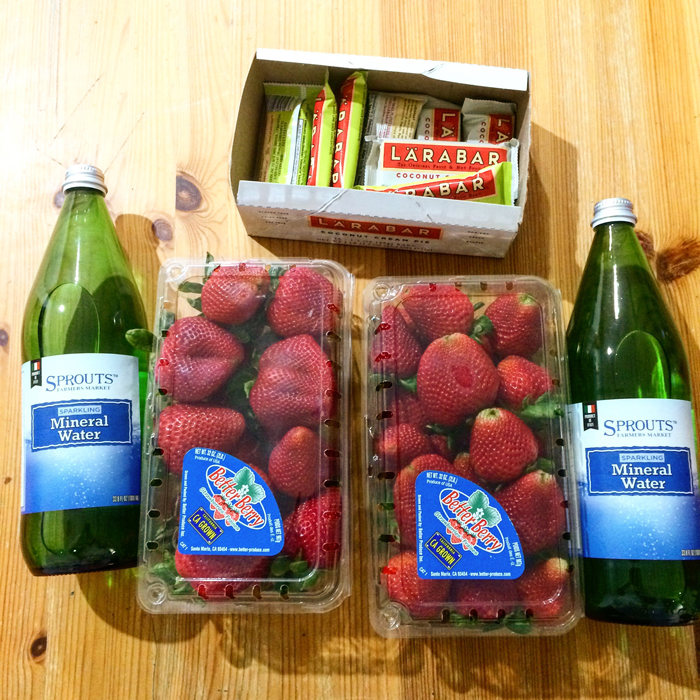 Sprouts
Last weekend I ran into Sprouts for cocktails (sparkling mineral water) and snacks (larabars). While I was there, I found a screaming deal on dessert (strawberries). The Whole 30 made me do it.
sparkling water $1.39 with CRV
strawberries 2# packs for $1.98 each
Larabars 4 for $5
2 gal milk (unpictured) $2.49/gallon
Total spent: $22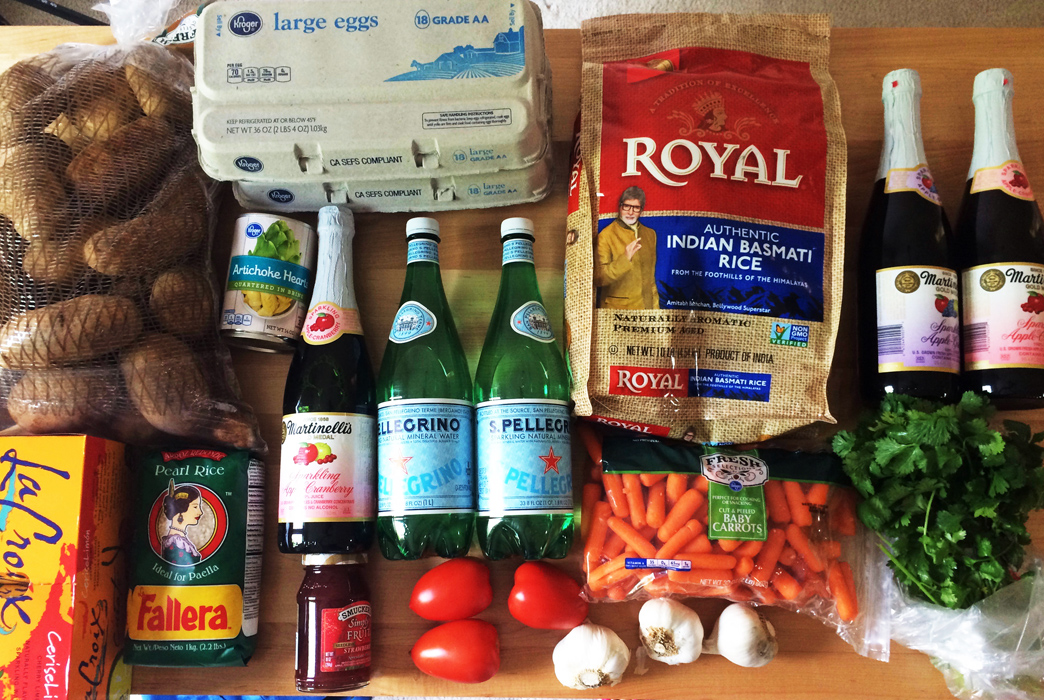 Ralphs
I headed to Ralphs with a short list, but honestly, I tend to get carried away in there. I didn't go too far off plan, though.
potatoes
eggs $3.79/18
artichoke hearts $3.69
sparkling juice $3.09 with CRV
sparkling water $2.09 with CRV
basmati rice $14.99
pearl rice $2.99
carrots $2.99/2#
tomatoes $1.49/lb
garlic 2/$1
cilantro $0.69
fruit sweetened jam $3.99
La Croix flavored waters $4.59 with CRV
Total spent: $62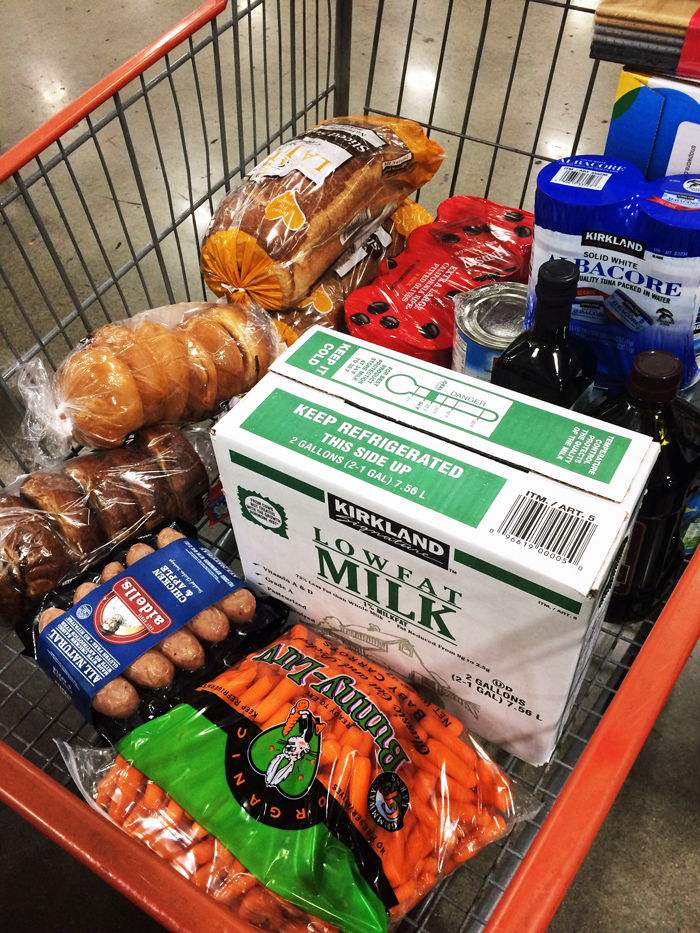 Costco
We returned a mangled package of tuna to Costco on date night — because that's how we roll — and I picked up a few things we were already running low on. The tuna doesn't count toward my total because it was in the last report. Also, I keep forgetting what I have and end up buying duplicates. Carrots, anyone?
carrots $4.49/5#
Aidells sausage $13.89
milk $2.09/gallon
bagels $4.99
sourdough bread $3.69
avocado oil $9.49
olive oil $13.99
olives $9.59
pineapple juice $5.29/3 pack
ground beef $2.99/lb (I bought 6+ pounds)
babybel $8.29
Total spent: $100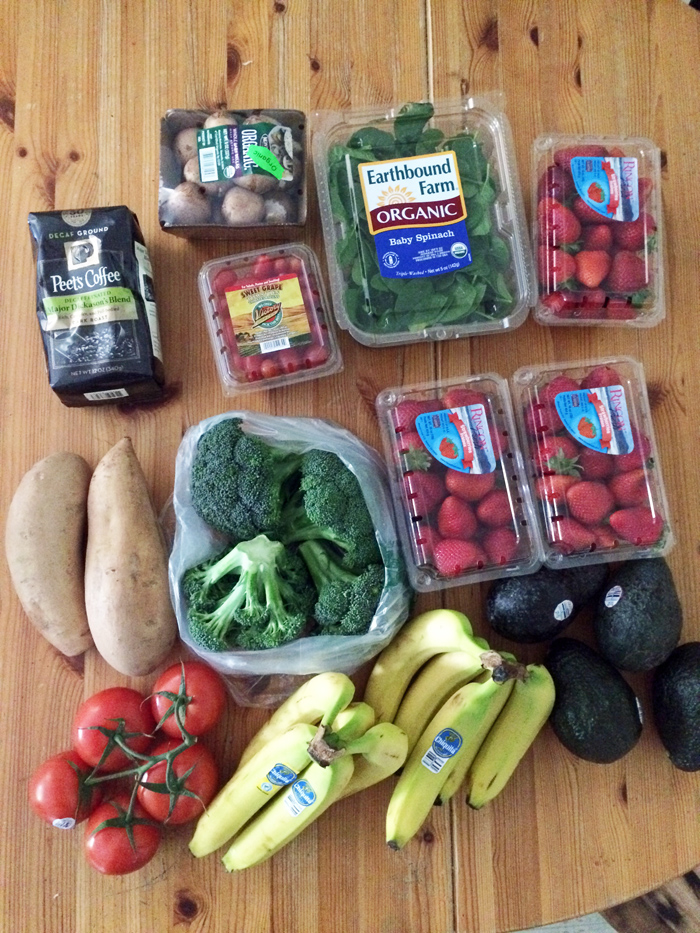 Sprouts
My husband ran errands with the girls on Friday so they added Sprouts to their stops. Yay for awesome husbands!
broccoli crowns $0.98/lb
tomatoes 

$0.98/lb

grape tomatoes $1.98
organic spinach $3.49/box
strawberries $0.98/lb
bananas $0.69/lb
xlrg avocados 4/$5
org mushrooms $2.99
sweet potatoes – the clerk charged him for apples at $0.99/lb, so who knows?
decaf coffee $9.99
Total spent: $33
Spent this week: $217
Spent this month to date: $1111
Next week, I'll be dipping into our grocery savings from the Pantry Challenge, but I'm sure our average for the year will still work out.