Want a peek into our grocery cart? Here's how I'm grocery shopping and feeding eight people on the cheap.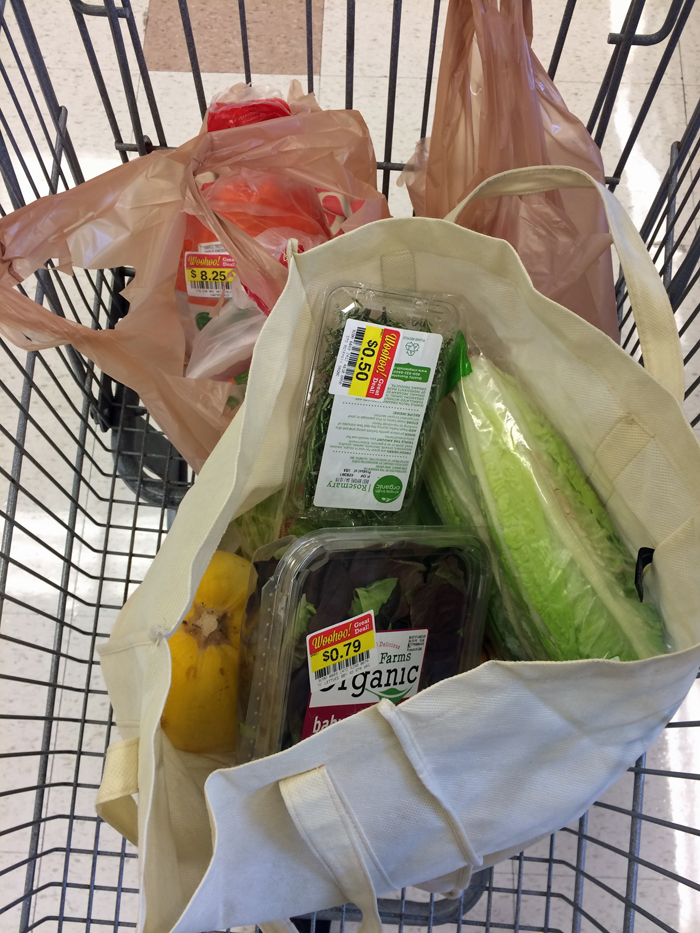 I'll be honest. I've put off writing this post because I know the final tally is going to make some people drop their jaws. Sigh. But, in the efforts of full disclosure, I'm writing it.
When last I reported on our grocery shopping, we had finished off our March spending right on budget, give or take $10. I shopped "differently" the entire first quarter of the year since we were getting ready for a home fumigation; I didn't want to bag up a lot of food, so we did a pantry challenge for the first three months of the year.
That left me with empty freezers, empty cupboards, and empty fridge. While I could have slowly restocked, I decided to take the savings from our Q1 and apply it toward restocking everything. I spent more at Costco than I think I ever have before. If not, it was close.
I also did a lot of freezer cooking for our family, for my brother's family (as his wife starts chemo), and to take to my inlaws since we stayed with them earlier this week and didn't want to impose on them and their grocery budget.
(I'll be sharing my freezer cooking over on Life as Mom next week.)
Additionally, I'm doing a Whole 30 this month, so I'm cooking two meals in many cases.
What you'll see today IS an anomaly. For those who are new here, you can browse through the Grocery Geek archives to see what is typical. This last ten days or so has not been typical, but I have a fair amount of food to get us through the month of April.
Grocery Geek
Grocer Geek is my weekly report of how I shopped for groceries, what deals I found, and my running total of how we're sticking to a budget for groceries.
Here's the rundown on my shopping this week. As you read, keep in mind who and how I'm shopping:
My grocery shopping profile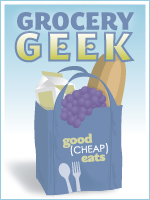 To update you on my grocery geekiness:
I'm feeding eight people, ages 53, 43, 18, 15, 13, 11, 9, and 7. Five of those people are males. They eat A LOT!
I'm shooting for a budget of $1200, per the USDA food cost reports the last time I added up for people of our demographics. I live in Southern California where produce is cheap, but meat and dairy are not.
I'm trying to feed us mostly unprocessed foods, with a few "healthier" convenience items thrown in and a junk food splurge* here and there.
I work at home and teach five of our kids, so I don't have as much time for fiddling in the kitchen as I would like.
I no longer use coupons on a regular basis, though I do love the coupons that Ralphs offers.
I have at least ten grocery stores within 5.5 miles of my house. It is easy (for better or for worse) to stop at several stores to get the best deals.
We mostly eat at home. My husband and college age son often pack lunch and breakfast to work, but sometime have lunch out. My husband and I enjoy a date once a week. FishPapa takes one child out to "dinner with dad" once a week. We eat out as a family on average once a week.
Obviously, your mileage may vary. But, I'm constantly amazed at how well we eat without spending a crazy amount of money.
Here's how the shopping went down these past couple weeks:
Again, keep in mind that I had a $633 credit on my YTD grocery budget, meaning I can go over that much this month without breaking any "rules".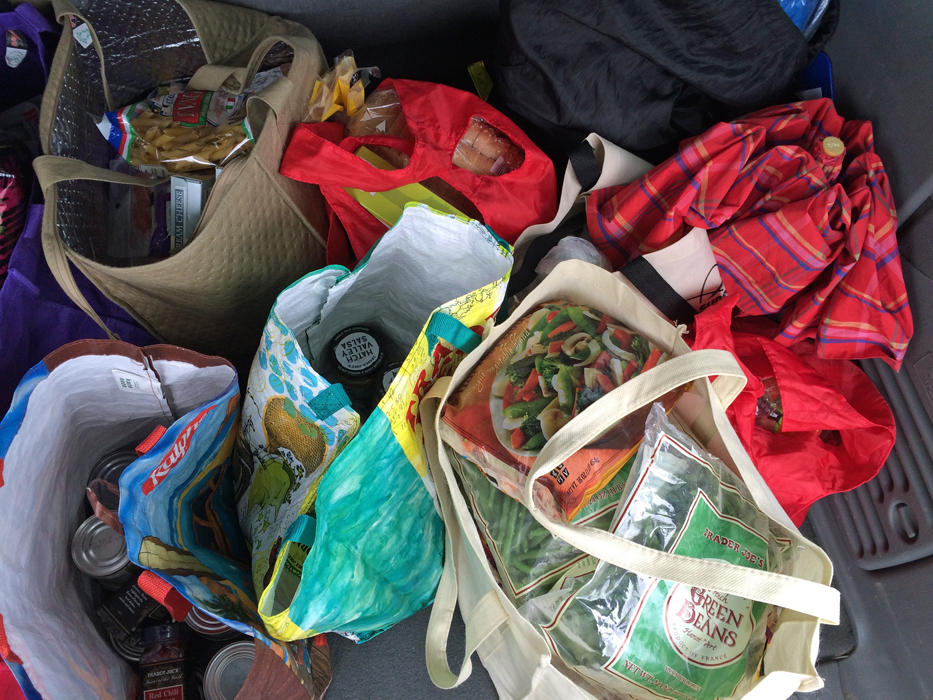 Trader Joe's
frozen tilapia $5.99/lb
frozen chicken tenders $7.49 (for 2.5 lbs)
cauliflower rice $1.99 (to see how it compares with homemade)
frozen organic spinach $1.99
frozen green beans $1.99
frozen vegetables $1.99
hatch chile salsa verde $2.79
corn tortillas $0.99
bagels $1.99
eggs $1.99
organic sandwich bread $2.99
green chiles $0.89
refried beans $0.99
cereal $1.99 to $2.99
taco shells $1.99
organic tomato sauce $1.49
black beans $0.79
crushed red pepper flakes $1.99
thyme $1.99
hot pepper sauce $2.29
pasta $0.99
crackers $1.99 to $2.69
onion $0.59
ground turkey $3.99/lb
organic pickles $2.99
coconut oil $5.99
shredded cheddar $3.49
sweet potatoes $1.79 for 2#
lasagna noodles $2.29
organic peppers $1.33 each
canned tuna $1.69
organic romaine hearts $2.49
pepperoni $2.99
string cheese $2.99
brie $4.70
organic persian cucumbers $2.49
brown mushrooms $1.79
baby carrots $1.49/1.5 pounds
milk $2.99
fish sauce $4.49
evoo $7.99
kefir $2.99
Total spent: $270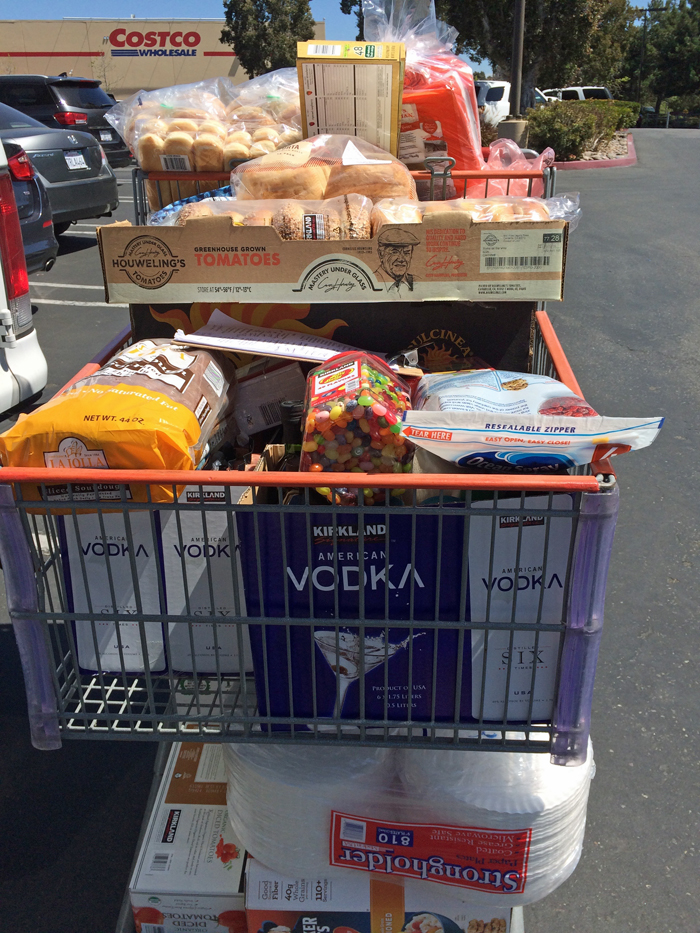 Costco
Just for the record, I didn't buy any Vodka at Costco. Or any booze for that matter. Whole 30, right? But they packed it in those boxes. I swear….
I did buy a lot of breads. I know it's cheaper to make my own, but with cooking for different diets, I need a little help.
yeast $4.39
honey $13.59 (the 3 bears)
garlic powder $4.99
avocado oil $9.49
evoo $13.99
onion powder $4.59
salt $2.79
organic maple syrup $9.99
sockeye salmon $26.99
potstickers $10.69
organic green beans $6.29
mahi mahi $19.99
organic yogurt tubes $8.99
butter $9.49/10 pounds
Hebrew National hotdogs $11.99
organic blueberries $10.69
heavy cream $9.99
shrimp $13.99
shredded mozzarella $9.99 for 5#
Aidells chicken sausage $13.89
deli turkey breast $3.99/lb
Tillamook sharp cheddar $9.29
Asiago cheese $9.91
babybel cheese $10.99
quaker oats $8.39
pineapple $9.69
diced toms $6.49
milk $4.19 (2 gallons)
black olives $9.59
organic chicken broth $11.59
diced tomatoes in #10 can $2.79
organic tomato paste $6.79
fruit leathers $10.59
ground beef $3.99/lb
sandwich rolls $5.99
bagels $4.99/dozen
hummus single packs $5.99
mild sausage $13.99/4#
pork tenderloins $3.99/lb
hot dog buns $2.19
hamburger buns $2.29
tortillas $3.69
sourdough bread $3.69
rice rollers $6.99
sandwich bread $4.59 for 2 loaves
dried blueberries $7.59
King's Hawaiian rolls $4.99
craisins $8.89
Total spent: $520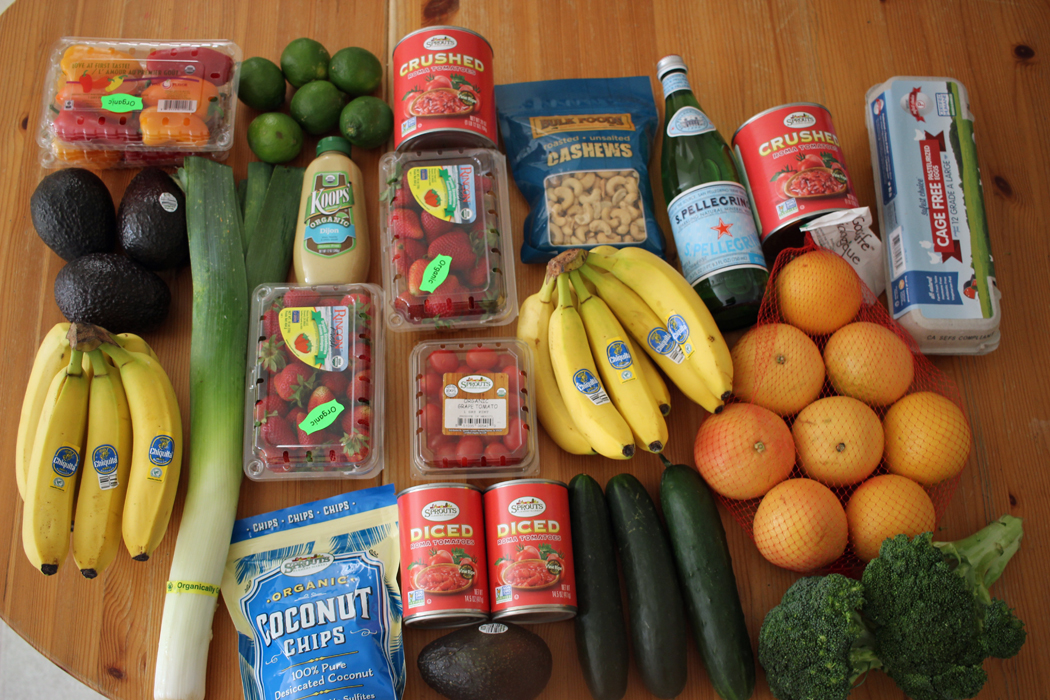 Sprouts
You can see my scope of my Sprouts haul here.
cucumbers $0.50 each
xlarge avocados $1.25
limes $0.33
organic broccoli $0.98/lb
org grape tomatoes $3.49
organic grapefruit $2.98/4#
organic strawberries $2.50
organic sweet mini peppers $1.98
organic leeks $1.20
bananas $0.48/lb

organic 

coconut chips $2.99

organic 

Koops Dijon mustard $2.69
crushed tomatoes $1.69
diced tomatoes (because I forgot I had bought a ton at Costco) $0.99
sparkling water $1.39 to $1.60 (including CRV)
milk $2.49
safe eggs $3.99
cashews $7.99
Total spent: $68
Ralphs
organic fresh rosemary $0.50 on clearance
baby potatoes $3.99
cabbage $0.79/lb
red onion

$0.99/lb

lemon $0.79
spaghetti squash 

$0.99/lb

organic romaine hearts $3.79 for 3
organic baby butter lettuce $0.79 on clearance
organic whole chickens on clearance $8 each
ground turkey $4.99
Total spent: $36
Total spent so far this month: $894
Subtract what I saved in January and February…. and you see that I'm not doing as bad as one might think. Honestly, we've got so much food on hand that aside from veggies and dairy, I think we've got food for the whole month. So, we'll see.
How did your grocery geeking go?