Want a peek into our grocery cart? Here's how I'm grocery shopping and feeding eight people on the cheap. 
Well, I can't say we made it through the month with flying colors, but we made it through the month. We saved a lot of grocery money in January and February doing our pre-termite fumigation pantry challenge. We spent some of that money this month.
This Whole 30 is expensive. I can't just eat a bowl of oatmeal and call it a meal. I'm ready for it to be done. 7 more days. Amen. Hallelujah.
Though we did go over budget for the month, we're still on track for the year, so it works out.
Grocery Geek
Grocer Geek is my weekly report of how I shopped for groceries, what deals I found, and my running total of how we're sticking to a budget for groceries.
Here's the rundown on my shopping this week. As you read, keep in mind who and how I'm shopping:
My grocery shopping profile
To update you on my grocery geekiness:
I'm feeding eight people, ages 53, 43, 18, 15, 13, 11, 9, and 7. Five of those people are males. They eat A LOT!
I'm shooting for a budget of $1200, per the USDA food cost reports the last time I added up for people of our demographics. I live in Southern California where produce is cheap, but meat and dairy are not.
I'm trying to feed us mostly unprocessed foods, with a few "healthier" convenience items thrown in and a junk food splurge* here and there.
I work at home and teach five of our kids, so I don't have as much time for fiddling in the kitchen as I would like.
I no longer use coupons on a regular basis, though I do love the coupons that Ralphs offers.
I have at least ten grocery stores within 5.5 miles of my house. It is easy (for better or for worse) to stop at several stores to get the best deals.
We mostly eat at home. My husband and college age son often pack lunch and breakfast to work, but sometime have lunch out. My husband and I enjoy a date once a week. FishPapa takes one child out to "dinner with dad" once a week. We eat out as a family on average once a week.
Obviously, your mileage may vary. But, I'm constantly amazed at how well we eat without spending a crazy amount of money.
Here's how the shopping went down this past week: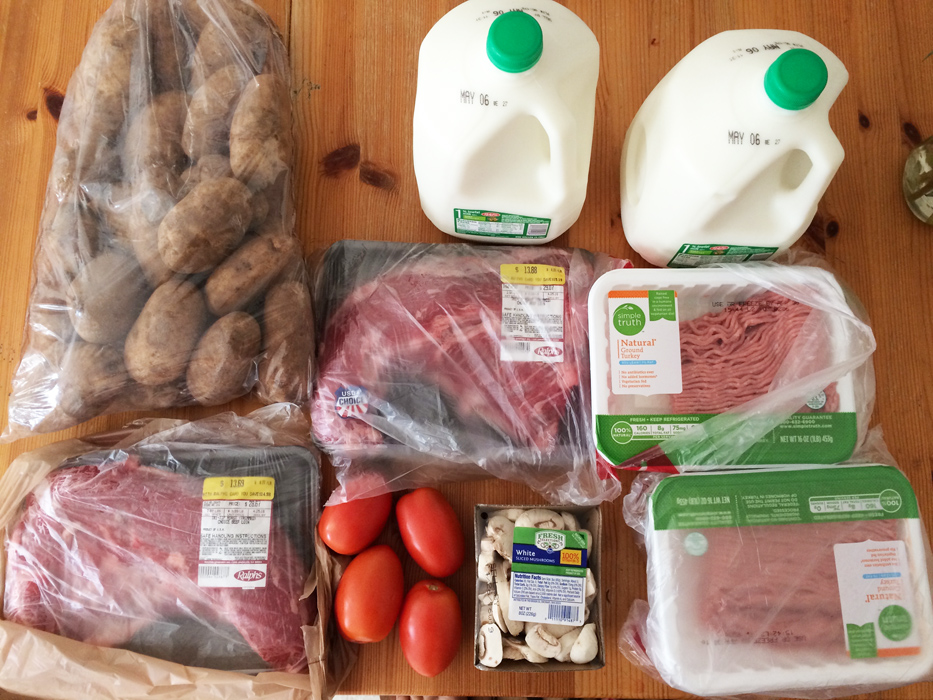 Ralphs 1
Over the weekend I stopped in at Ralphs for a few things:
tri-tip @$4.77/# trimmed
milk $2.39/gallon
potatoes $3.99/10#
mushrooms $2.29
tomatoes $0.99/#
ground turkey $2.77/#
Total spent $51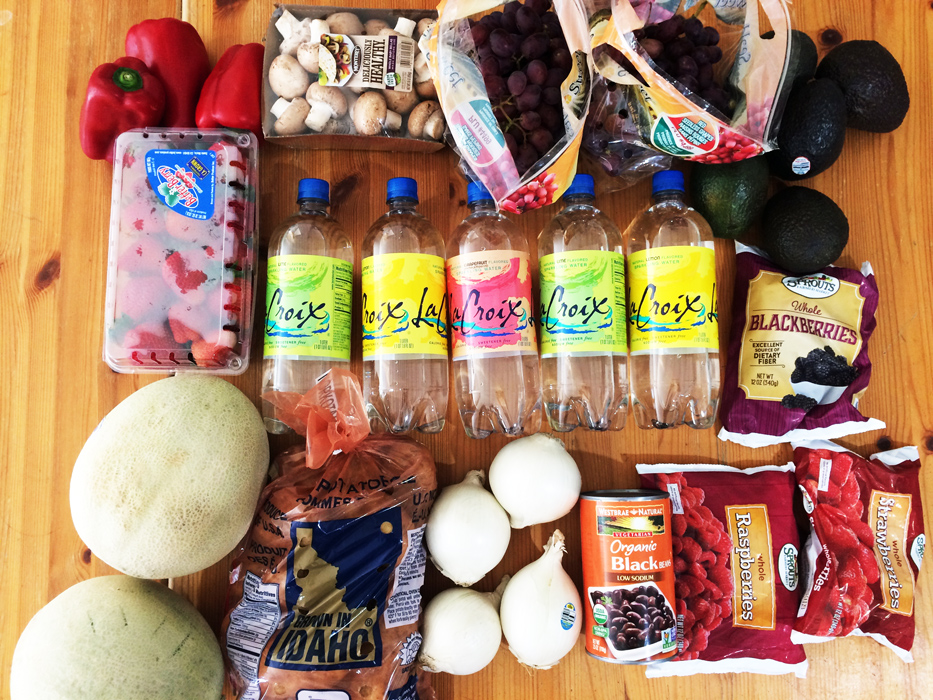 Sprouts
Sprouts is where I typically load up on produce and a few random health food items.
strawberries $3.98/2#
grapes $0.88/#
melon $0.88/ea
xlarge avocados $1.50 each
potatoes $1.50/5#
mushrooms $3.49
red bell peppers $0.98 ea
white onions $0.99/#
black beans large can $2.99
La Croix $1.39 after CRV
frozen berries $2.50/bag
Total spent $45
[Sorry, no photo. Mama was just too tired.]
Ralphs 2
Because I didn't want to miss out on that tri-tip sale, I went back and bought steaks for one night of my Whole30 when I just couldn't face another chicken tender, sausage, or piece of fish. And yes, I paid $2 more for the cheese by not going to Costco, but I spent a lots less by not going to Costco. Ahem.
tri-tip steaks @$4.77/# trimmed
milk $2.39/gallon
broccoli $0.99/#
Tillamook cheddar cheese $11.19 for a large block
Total spent $31
Total spent this week: $127
Total spent in April: $1435
Here's how that compares with the rest of our year's grocery spending:
January $669
February $1092
March $1206
April $1435
Total YTD: $4402
This averages out to be $1100/month, so we're doing okay after all. Whew. Now to get back track in May, maybe? Not sure how that will go down; I've got one more week of Whole 30, followed by the FishMama Trifecta (Mother's Day, our anniversary, and my birthday fall within a 19-day period this year), as well as the birthday of FishBoy11. Those will all take a bite of May's grocery budget, so we will see.
How did YOUR grocery geeking go this week?