Want to get A Month of Good Enough for Company Meal Plans? Here's your chance!
This meal plan and the Ultimate Homemaking Bundle are no longer available. Check my estore to see the meal plan of the month.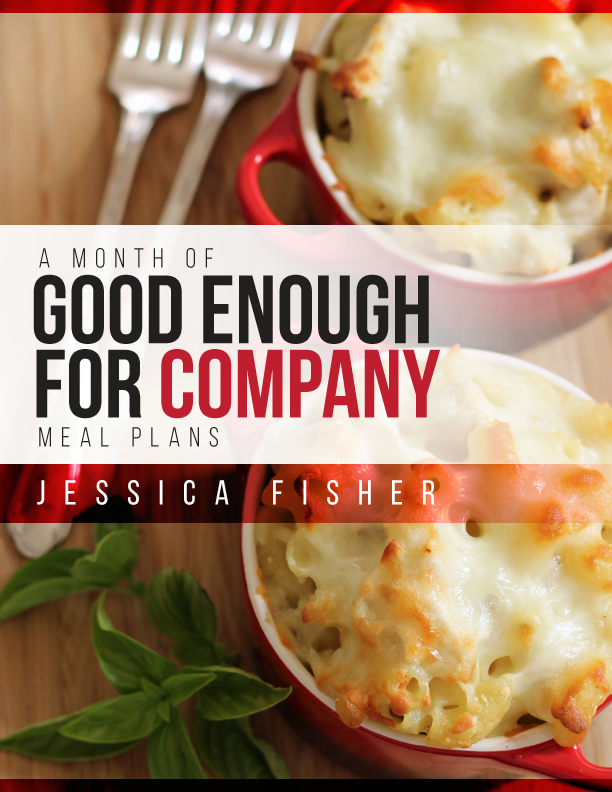 This meal plan, A Month of Good Enough for Company Meal Plans, is one that I developed last fall. It's really yummy. The meals were chosen to be family favorites that the kids will devour, but also recipes that are "good enough" to serve to company. No boxed mac and cheese with chicken fingers here!
Consider weeks of yumminess — Chicken and Bowties, Chicken Smothered in Onions, Not Soggy Nachos, Vegetable Beef Minestrone, Supreme Pizza, and Alfredo Mac and Cheese. These are just some of the recipes included in the meal plan.
Packed in this digital resource, you'll also find:
4 weeks of menus that are easy enough for weeknights, but "good enough" for company
4 weeks of grocery lists
a monthly grocery list to help you make good use of sales
suggestions for appetizers and desserts
everything you need to make feeding company easy and delicious!
A Month of Good Enough for Company Meal Plans, retail value of $9, is no longer available in the FishMama shop. And there are no plans this year to bring it back.
But, you can still get it for a very short time!
Ultimate Homemaking Bundle FLASH SALE is June 1 and 2!
When you buy the Ultimate Homemaking Bundle – a fresh selection of 93 resources designed to simplify and enhance life at home, in the kitchen, and beyond — you'll also get A Month of Good Enough for Company Meal Plans.
I've been sharing over the last couple days some of the different resources that I think make the bundle really worth your investment. If you're interested, you can browse these posts:
The Ultimate Homemaking Bundle is available only for a short time. The sale begins on Wednesday and ends on Thursday at midnight, so if you're inclined to make life a little easier, tastier, more fun, I suggest you step on it.
As an extra thank you….
I'm also giving a free ebook to the first 100 readers who buy the bundle through my link. If there's an ebook or a meal plan you've had your eye on, you can get it for FREE. (I'll send out coupon codes next week to all those who meet the requirement and fill out this form.)
There is a GINORMOUS number of resources carefully curated in this bundle to help make your life easier and more fun. Don't dawdle. The sale only lasts Wednesday to Thursday. (6/1-6/2)