Shepherd's Pie is a hearty, filling dish featuring meat, vegetables, and gravy under a fluffy bed of mashed potatoes. Bake this up for some ultimate comfort food.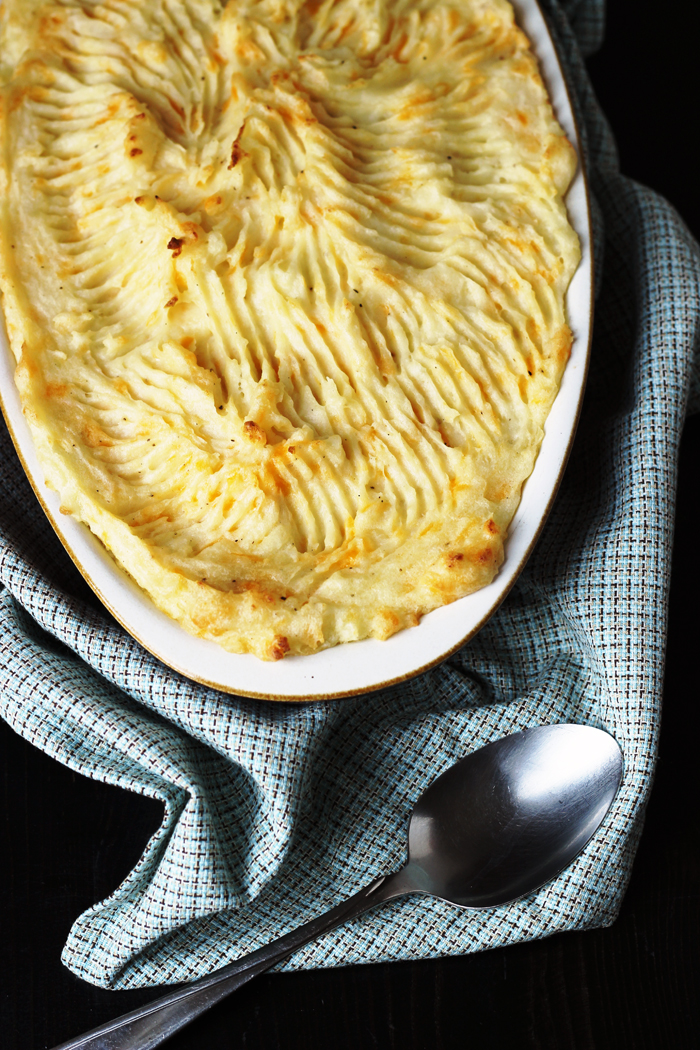 I've been dreaming about this Shepherd's Pie all week — especially since I didn't get to eat any of it when I made one last Sunday. I went to take a quick shower and when I got back, there was none left!
It's that good. Yes, ma'am.
This pie comes together so easily and is freezer friendly, so it's totally worth your while to make at least a double batch. Which is what I shoulda done last weekend.
Shepherd's Pie is rustic, hearty comfort food. Sure, you can spoon the mashed potatoes into a piping bag to make the topping all fancy, but really, it's not necessary.
Shepherd's Pie with Cheddar Mash
This is comfort food at its finest. And it's perfect for St Patrick's Day if you're looking for something more authentic than green eggs and ham or the ever-American corned beef.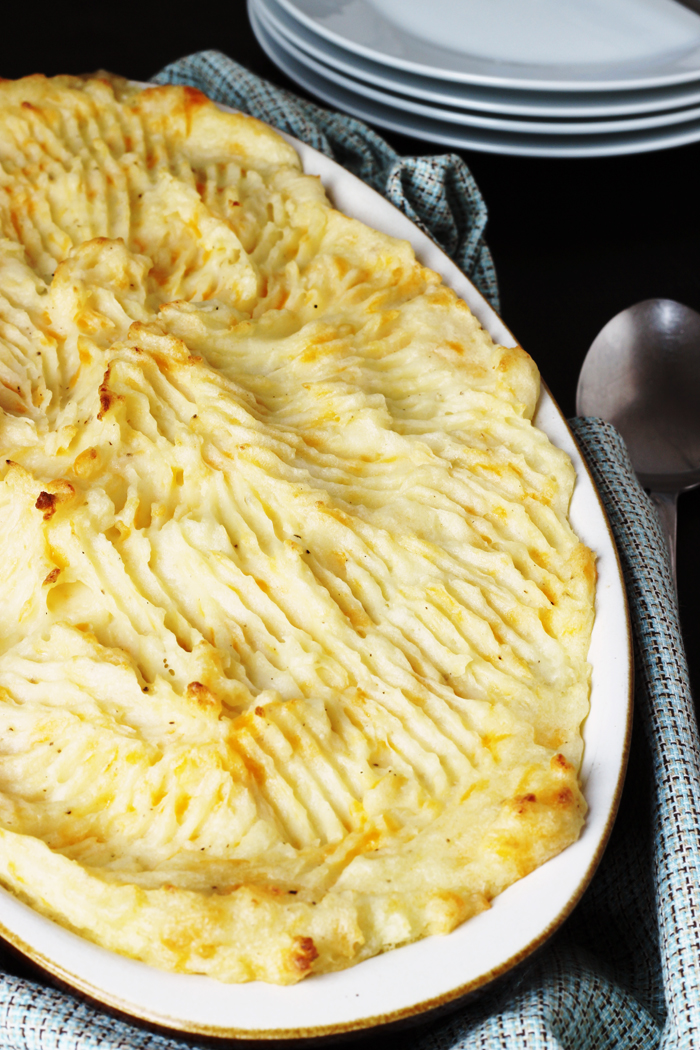 You can use any kind of meat that you like in a shepherd's pie, but ground beef, lamb, turkey, or pork are easiest for this particular recipe. And to up the versatility factor, you can include any vegetables you have on hand, though my family obviously prefers mushrooms, onions, carrots, and green beans.
I still can't believe they didn't save me some….
Shepherd's Pie is a great dish to use up leftovers from a big holiday meal, so feel free to use poetic license when preparing this recipe. It's basically cooked meat, a savory gravy, cooked veggies and a topping of mashed potatoes. Feel free to get creative by adding sour cream and chives into your mash if you like. With this recipe I stuck with a few handfuls of cheddar cheese. Yum-O!
Here are some of the tools you'll want to have on hand in order to make this recipe quick and easy:
Tools I use to make it EASY
Shepherd's Pie with Cheddar Mash
Shepherd's Pie is a hearty, filling dish featuring meat, vegetables, and gravy under a fluffy bed of mashed potatoes. Bake this up for some ultimate comfort food.



Preparation Time:20 minutes
Cook time:30 minutes
Total time:50 minutes
8 servings
Ingredients:
6 large russet potatoes, peeled and chopped

1 tablespoon olive oil

1 pound ground beef

1 cup chopped onion

1 cup chopped carrots

1 cup sliced mushrooms

1/4 cup unbleached, all-purpose flour

2 cups beef or chicken broth

1/2 teaspoon fine sea salt plus more to taste

1/2 teaspoon dried thyme

1/2 teaspoon rubbed sage

1/4 teaspoon ground black pepper plus more to taste

1 cup green beans or peas

1/2 cup butter

1 cup milk

1 cup shredded cheddar cheese
Instructions:

Preheat the oven to 350 degrees. Grease a 2-quart baking dish with nonstick cooking spray.
In a large pot of salted water, boil the potatoes until very tender.
Meanwhile, heat the oil in a large nonstick skillet. Add the beef, onion, carrots, and mushrooms and cook until the beef is browned and the onion is translucent. Add the flour and stir until the drippings have completely absorbed the flour. Stir in the broth and spices. Simmer until thickened. Stir in the green beans or peas. Spoon this mixture into the prepared baking dish.
Once the potatoes are cooked, drain them and return them to the pot. Mash the potatoes until very fine. Add the butter and continue mashing, until the butter is melted and incorporated into the potatoes. Stir in the milk and cheddar cheese. Season to taste with salt and pepper.
Spoon the mashed potatoes over the meat mixture, taking care to seal the mashed potato topping all the way to the edges of the pan.
At this point you can chill the pie and refrigerate to bake later or chill, cover and freeze up to 2 months. Before baking, thaw the pie in the refrigerator .
Bake the pie for 30 minutes or until the filling is bubbly and the top is golden brown. If the pie is very cold, you may need to increase the baking time up to an hour.
Are you looking for more good cheap eats?