Want a peek into our grocery cart? Here's how I'm grocery shopping and feeding eight people on the cheap.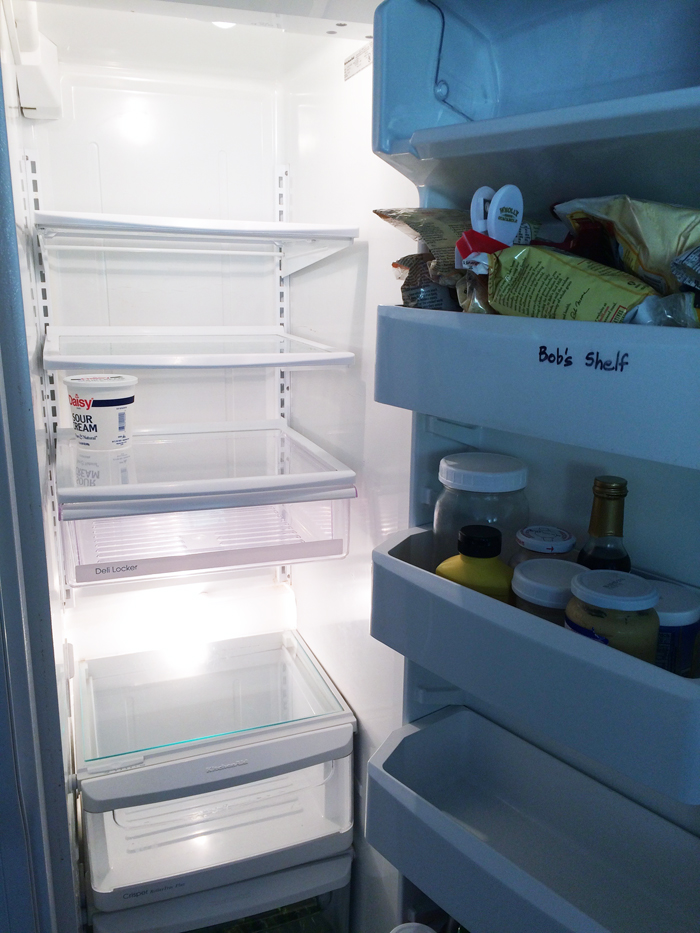 Sorry for leaving y'all hanging last week with no Grocery Geek update! We were actually doing the whole termite tent thing. That means
I was a crazy person, trying to get everything packed, secured, evacuated.
I didn't buy much for groceries.
My fridge looked like this once we got home and settled.
I bought a ton this week, trying to find some semblance of normal.
I decided that I'm just gonna give myself a pass for March since we've been so under budget this last two months. April we'll try to find a new normal. (I'm thinking of doing a Whole 30, so I'm not sure how normal I will be, but whatevs.)
Grocery Geek
Grocer Geek is my weekly report of how I shopped for groceries, what deals I found, and my running total of how we're sticking to a budget for groceries.
Here's the rundown on my shopping this week. As you read, keep in mind who and how I'm shopping:
My grocery shopping profile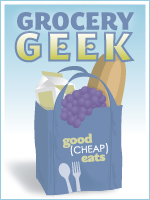 To update you on my grocery geekiness:
I'm feeding eight people, ages 53, 43, 18, 15, 13, 11, 9, and 7. Five of those people are males. They eat A LOT!
I'm shooting for a budget of $1200, per the USDA food cost reports the last time I added up for people of our demographics. I live in Southern California where produce is cheap, but meat and dairy are not.
I'm trying to feed us mostly unprocessed foods, with a few "healthier" convenience items thrown in and a junk food splurge* here and there.
I work at home and teach five of our kids, so I don't have as much time for fiddling in the kitchen as I would like.
I no longer use coupons on a regular basis, though I do love the coupons that Ralphs offers.
I have at least ten grocery stores within 5.5 miles of my house. It is easy (for better or for worse) to stop at several stores to get the best deals.
We mostly eat at home. My husband and college age son often pack lunch and breakfast to work, but sometime have lunch out. My husband and I enjoy a date once a week. FishPapa takes one child out to "dinner with dad" once a week. We eat out as a family on average once a week.
Obviously, your mileage may vary. But, I'm constantly amazed at how well we eat without spending a crazy amount of money.
Here's how the shopping went down these past couple weeks:
I'll confess that I've been all out of sorts with this termite thing, packing up my kitchen, evacuating for four days, and then trying to get back in a routine. I've got nine grocery receipts in front of me. NINE. #embarrassing
In the name of full disclosure, here goes: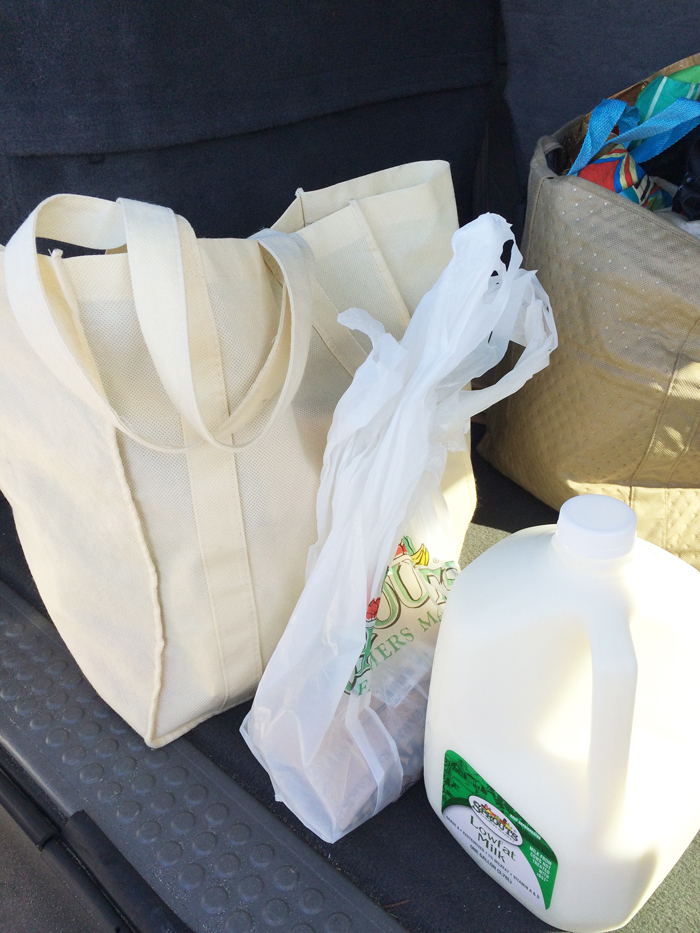 Sprouts
To get us through to the tent….
clementines 2# bags $2.50 each
organic baby carrots $1.49/lb
org romaine lettuce $0.98
crackers $2
gallon milk $2.49
breakfast sausage $4.39
Total spent $20

Walmart
Did I mention that one child came down with the stomach flu/food poisoning the night before we had to evacuate? Good times.
saltines $2.56
sandwich bread $3.98
ginger ale $3.04 after CRV
gatorade $1.10 after CRV
fage $1.37
Total spent $9
Trader Joe's
To eat while we were away from home….we let each of the kids spend $5 on whatever they wanted, so there was some randomness in here that I would not normally buy.
grape juice $3.99
cereal $1.99 to $3.99
Ak-mak $1.79
pita chips $1.99
orangina $2.49
salsa $1.99
cookies $1.99
precooked bacon $4.99
chicken tenders $7.49
tortillas $0.99 – $2.99
org cut romaine $1.99
baguette $2.49
shredded cheddar $3.49
jelly beans $3.99
roast beef $4.99
turkey $4.99
salami $4.49
green beans $1.99
white rice $2.99
almonds $6.99
pineapple spears $3.49
pasta $0.99
marinara $1.99
apples 2# bag $2.69
freeze dried strawberries $3.49
bagels $1.99 to $2.49
romano $5.84
hummus $2.99
cliff bar $0.99
brie $4.50
larabar $1.29
milk $2.99
Italian sausage $3.99
Total spent $150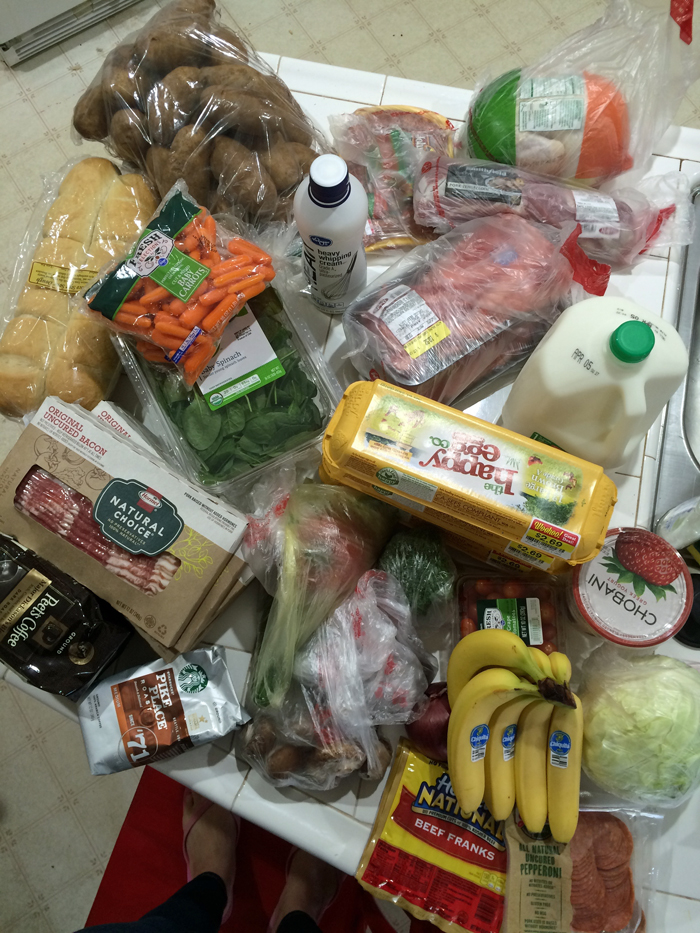 Ralphs
Initial shop upon being HOME when I forgot to buy much for breakfasts and lunches
eggs on clearance $2.69
whipping cream $4.99
milk $2.29
yogurt $5.69
coffee after sales and coupons $6.99
grape tomatoes $1.99
baby spinach $4.99
cabbage head on sale $0.33/lb
bananas $0.69/lb
avocados $0.69/each
mushrooms $3.99/lb
red onion $1.49/lb
broccoli crowns $1.69/lb
bell pepper $1.49 each
cucumbers $0.99 each
baby carrots $0.99/lb
10# russets $3.99
pork tenderloin $3.99/lb
whole chicken $1.99/lb
tri-tip roast $4.77/lb
uncured bacon $3.99/lb WYB3
uncured pepperoni $3.99
Hebrew National franks $3.49/package
Italian sausage $3.99
clearance bread $2.49
Total spent $156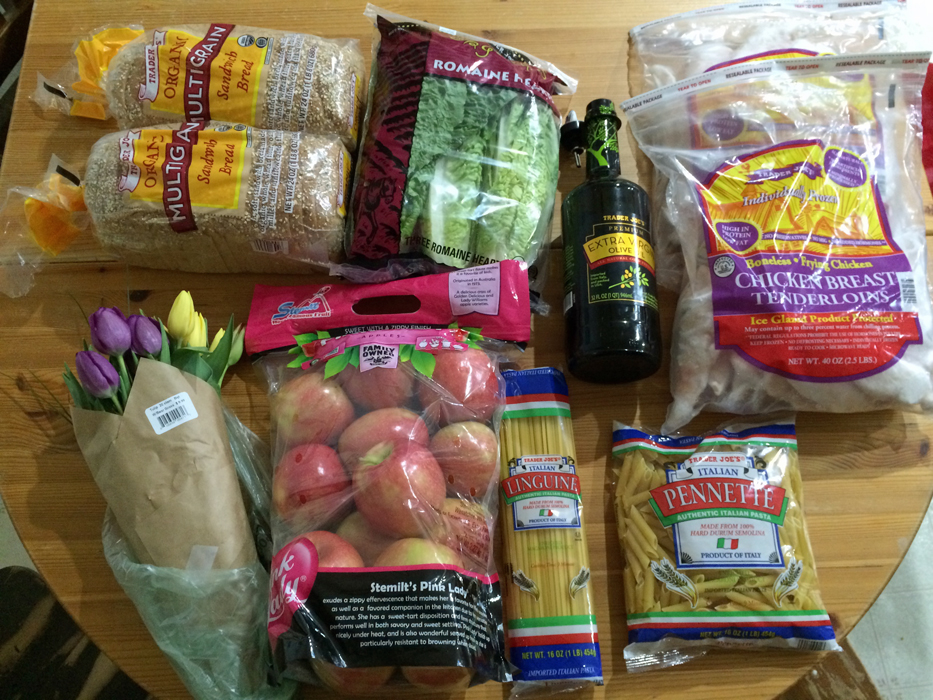 Trader Joe's
organic sandwich bread $2.99
olive oil $7.99
pasta $0.99
chicken tenders $7.49
mineral water $1.09 after crv
org romaine hearts $2.49
5# bag Pink Lady Apples $5.99
Total spent $44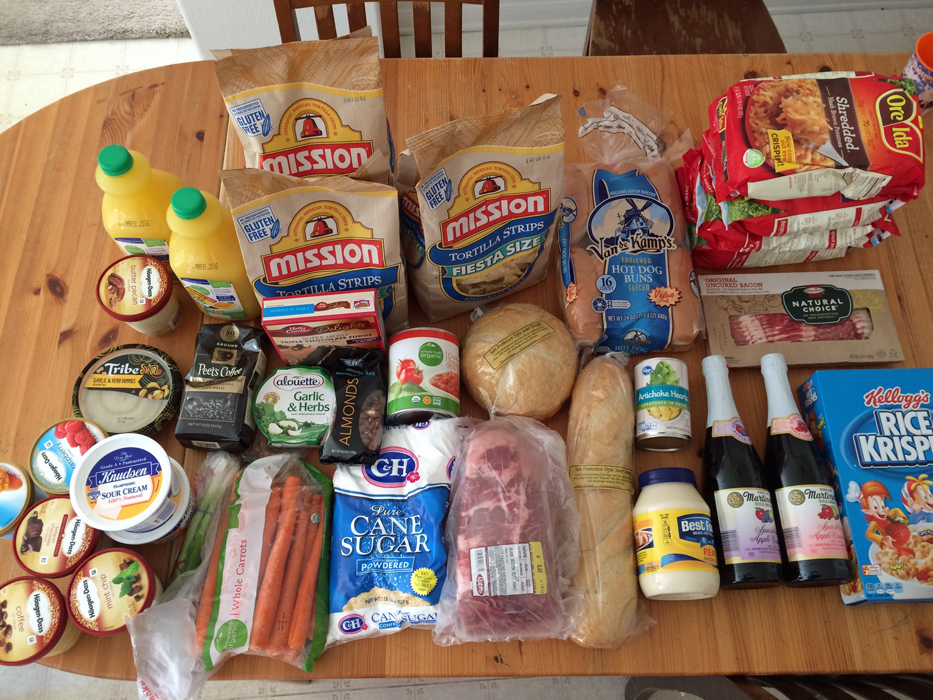 Ralphs
when I remembered that Easter was coming. Ahem.
mission chips on sale WYB3 $2.49
hot dog buns $2.49
frozen potatoes on sale $2.49
rice krispies $2.49 WYB3
haagen daaz ice cream $2.49 WYB3
sour cream $1.49
artichoke hearts $3.69
coffee $5.99 WYB3 + coupon
powdered sugar $2.69
cake mix $1
mayo $1.50 after sales and coupons
org baby carrots $1.49
green onions $0.99
almonds $3.99
martinelli's $2.60 after CRV
org OJ on clearance $2.49
diced tomatoes $2.29
pork roast $1.77/lb
uncured bacon $3.99 WYB3
hummus $1.75
spready cheese $2.50
clearance bread $1.99
Total spent $88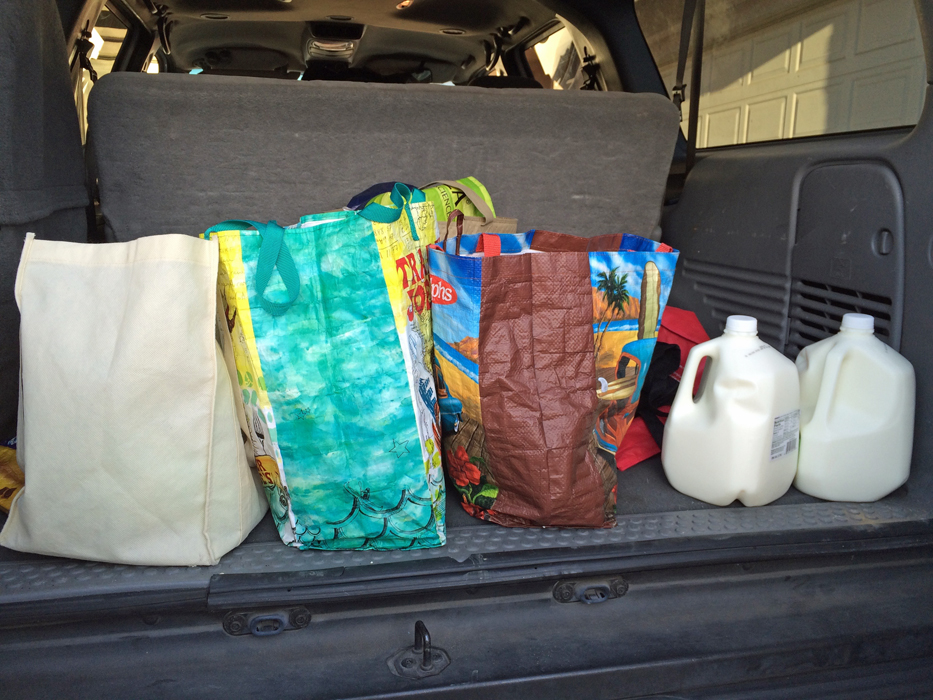 Sprouts
for better produce prices and protein powder for growing teen boys
cilantro $0.50
clementines 2# bag $1.98 each
xlarge avocados $1.25 each
jalapenos $0.99/lb
org tomatoes $1.68
mushrooms $2.49/package
onions $0.48/lb
organic canned tomatoes $2.79
org tomato paste $0.99
grass fed whey protein $19.49
milk $2.49
yogurt $3.99/big container
colby jack or mozzarella cheese $2.99/lb
corn tortillas $2.99
flour tortillas $2.39
sourdough bread $2.99
frozen raspberries $2.50
Total spent $76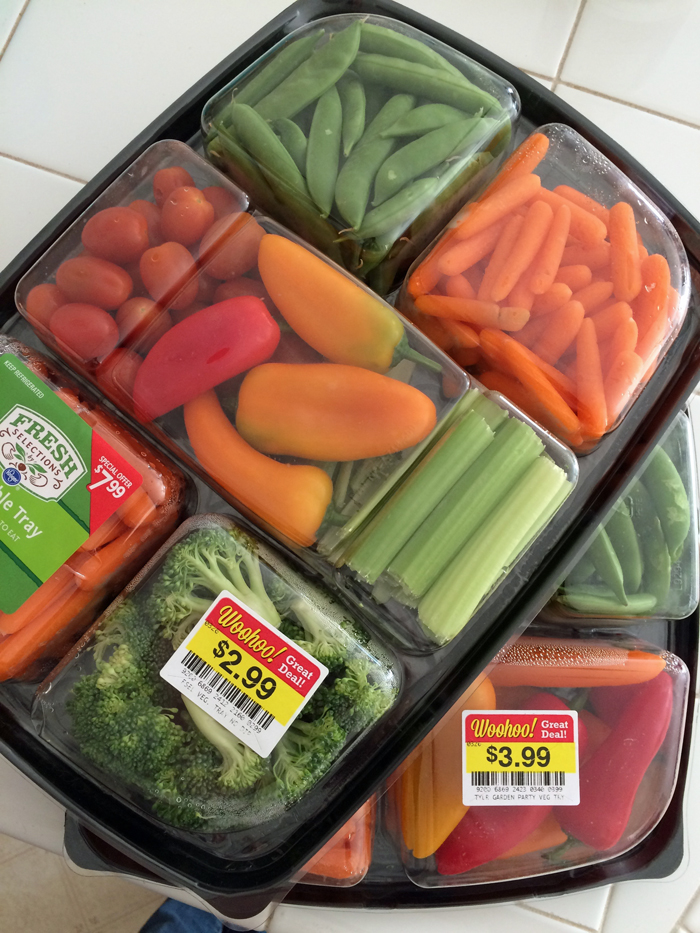 Ralphs
for things I forgot….twice. (Lumped two receipt here)
frozen green beans $0.99
eggs $4.69/18 pack
dried herbs $2.34 to $2.54
Tillamook cheese $7.99 after sale and coupon
bell pepper $1.49
zucchini $1.99/lb
cauliflower $0.99/ln
organic celery $2.29
org chicken broth $1.99
diced ham $2.79
bulk Italian sausage $3.99
horseradish $2.29
french bread for pizza night $1.59
clearance bread for Easter $0.99
clearance veggie trays $2.99 to $3.99
hummus $3.99
Total spent $59
Total spent this reporting period: $602
Total spent this month to date: $1206
Technically we went over our regular budget this month, but seeing as January and February were so far under, I'm not sweating it. I'm also going to start my April shopping next week since it's spring break and I'm going to be doing some freezer cooking. I haven't been to Costco in months!
So far, grocery spending looks like this for the year:
January $669
February $1092
March $1206
Total YTD: $2967
That averages out to $989/month, so I'm pretty pleased. I know that April may be higher. My kids are eating MORE not less, I'm wanting more fresh veg and protein so I can lose this stubborn weight I've gained, and our pantry is still pretty empty.
How is your grocery shopping going?