Want a peek into our grocery cart? Here's how I'm grocery shopping and feeding eight people on the cheap.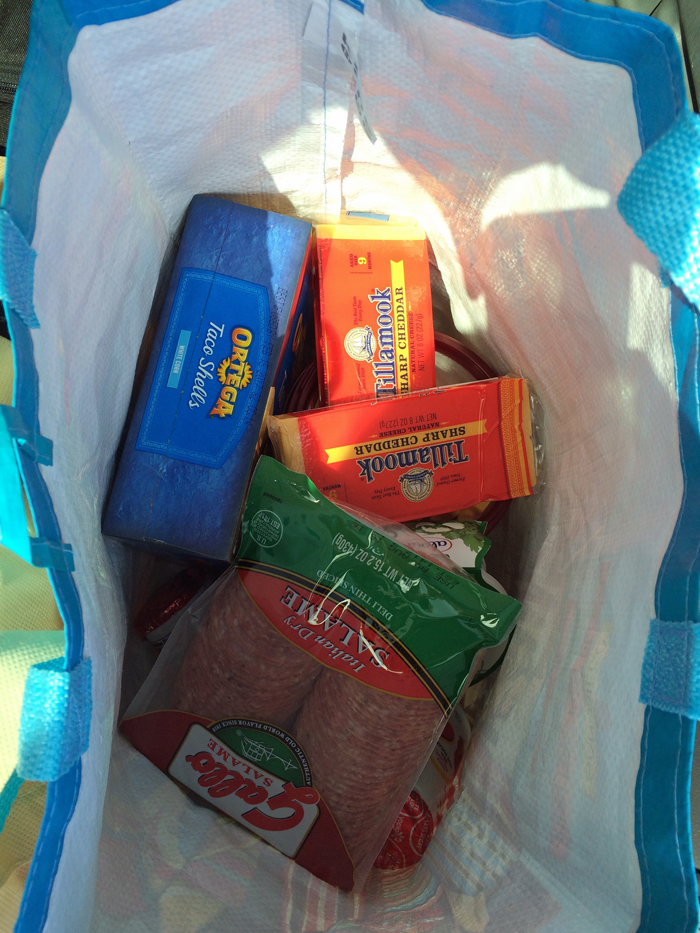 So, I'm ending this third month of shopping from week to week instead of stocking up. It's about to drive me crazy. Crazy, I tell ya. I'm thankful the end is in sight.
For those of you just tuning in, back in the fall we heard that our house was going to be fumigated for termites in the new year. When we did our Pantry Challenge in January, my main goal was to eat down our food storage so that less food was at risk and/or had to be bagged up for the fumigation process. (The food can become contaminated with the chemical they use.)
We've got our fumigation scheduled for the end of the month, but in the meantime, I've been shopping as needed instead of stocking my pantry as I normally would. Couple that with a very busy schedule and not-so-great health and we've had some very weird meals and shopping trips. 
All this to say, this isn't my norm. I have no other explanation for the random shopping that I'm about to report. I can't wait to get back to regular shopping, cooking, and freezing!
Grocery Geek
Grocer Geek is my weekly report of how I shopped for groceries, what deals I found, and my running total of how we're sticking to a budget for groceries.
Here's the rundown on my shopping this week. As you read, keep in mind who and how I'm shopping:
My grocery shopping profile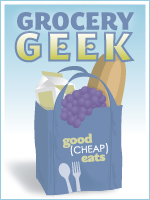 To update you on my grocery geekiness:
I'm feeding eight people, ages 53, 43, 18, 15, 13, 11, 9, and 7. Five of those people are males. They eat A LOT!
I'm shooting for a budget of $1200, per the USDA food cost reports the last time I added up for people of our demographics. I live in Southern California where produce is cheap, but meat and dairy are not.
I'm trying to feed us mostly unprocessed foods, with a few "healthier" convenience items thrown in and a junk food splurge* here and there.
I work at home and teach five of our kids, so I don't have as much time for fiddling in the kitchen as I would like.
I no longer use coupons on a regular basis, though I do love the coupons that Ralphs offers.
I have at least ten grocery stores within 5.5 miles of my house. It is easy (for better or for worse) to stop at several stores to get the best deals.
We mostly eat at home. My husband and college age son often pack lunch and breakfast to work, but sometime have lunch out. My husband and I enjoy a date once a week. FishPapa takes one child out to "dinner with dad" once a week. We eat out as a family on average once a week.
Obviously, your mileage may vary. But, I'm constantly amazed at how well we eat without spending a crazy amount of money.
Here's how the shopping went down this week: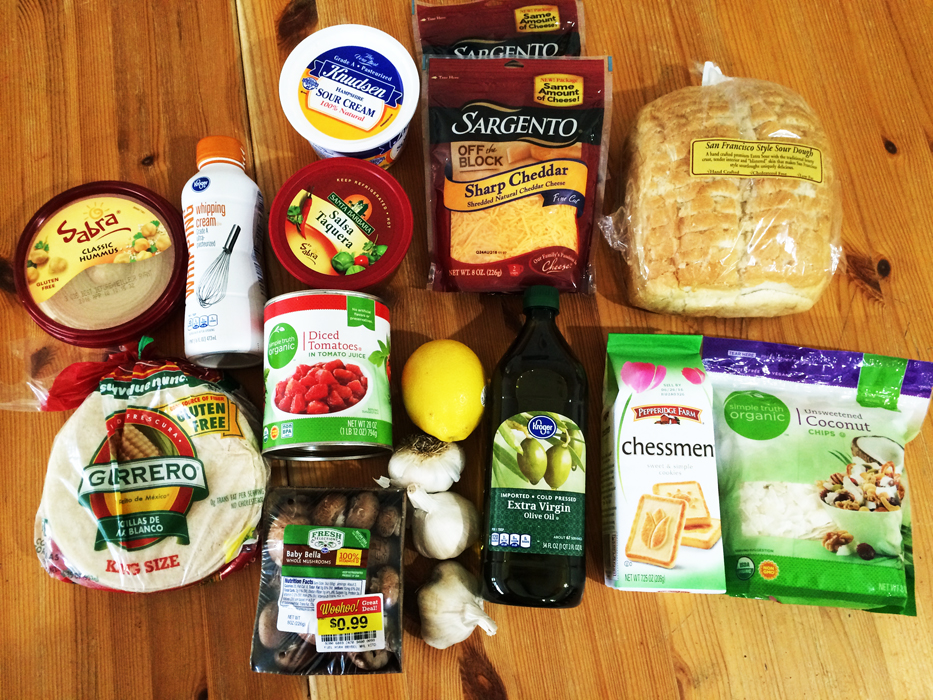 Ralphs 1
sorbet $1.99 

(for recipe testing)

whipping cream $3.49 

(for recipe testing)

cookies $1.99 (for recipe testing)
corn tortillas $2.29
shredded cheese $1.99
salsa $1.99
olive oil $8.99
sour cream $1.49
garlic $0.50
lemons $0.79 

(for recipe testing)

mushrooms $0.99
tomatoes $2.29
coconut chips $2.49
hummus $1.99
clearance bread $0.99
Total spent: $41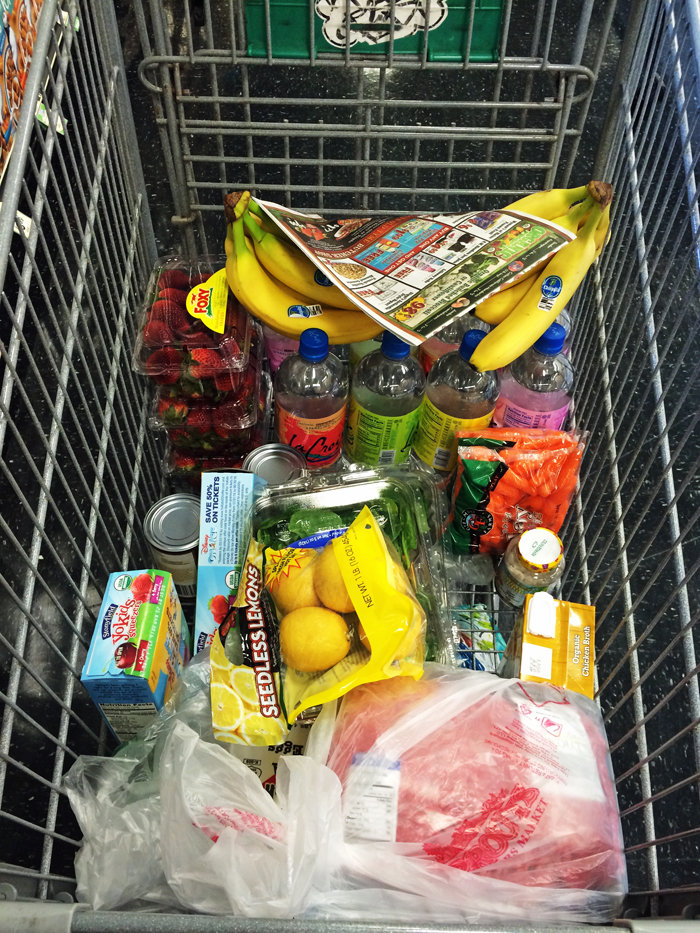 Sprouts
baby carrots $1.49
strawberries 3/$5
baby romaine $2.26
cucumbers $0.50
avocados $1.25
baby spinach $2.26
3# bag org apples $4.99
lemons $2.99
bananas $0.69/lb
canned garbanzos $1.78
organic broth $1.99
sparkling water $1.69
gogurts $3.99
eggs $4.39/18 pk
deli meats $10
italian sausage $3.35
ground beef $11.73
bread $3.50
Total spent: $90
Trader Joes
no picture, sorry
cereal $1.99 to $2.99
tomato sauce $1.49
org sandwich bread $2.99
bagels $1.99
frozen chicken tenders $7.49
string cheese $2.99
pasta $0.99
kefir $2.99
cashews $7.49
yogurt $3.59
Total spent: $56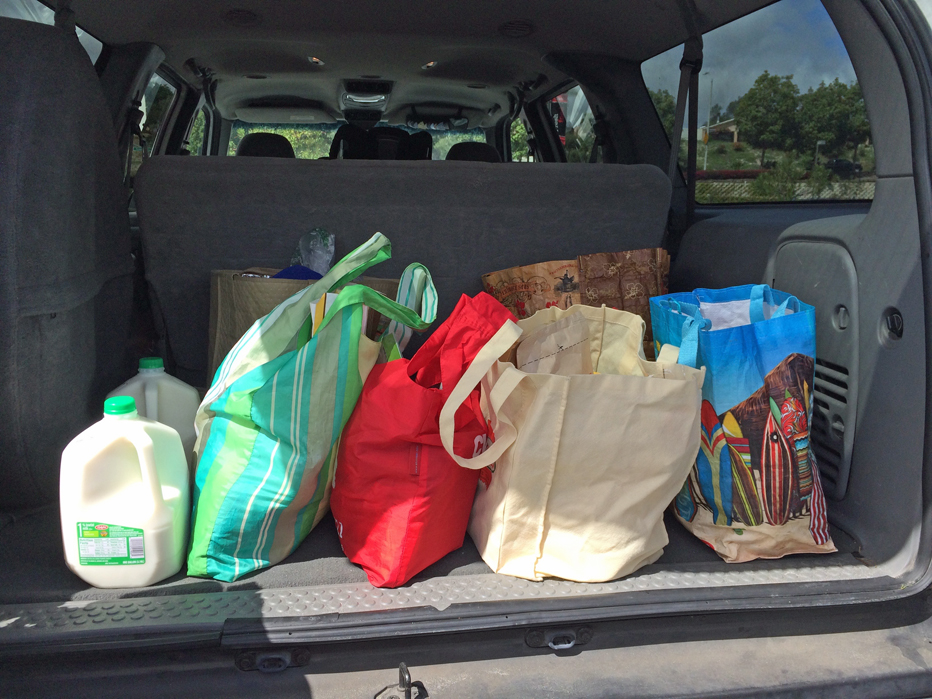 Ralphs 2
tortilla chips $2.99
hot dog buns $1.29
tortillas $1.99
English muffins $1.99
cheese $2.49/8 ounces
taco shells $1.39
crackers $1.99
org tomato sauce $1.49
yogurt  $0.65
milk $2.39
hot dogs $13.99/20 pack
salami $6.99
herb cheese $2.50
hummus $1.99
bread $1.59 to $1.99
Total spent: $82
Total spent this week: $269
Total spent in March: $604
That's not as great as I would like, but as I said, it's been a random, weird month so far. We've spent half our budget for March and have groceries to get us halfway through, so I'm guessing we will be fine. I'll just need to be careful when it's finally time to let loose.
How did YOUR grocery shopping go this week?