Want a peek into our grocery cart? Here's how I'm grocery shopping and feeding eight people on the cheap.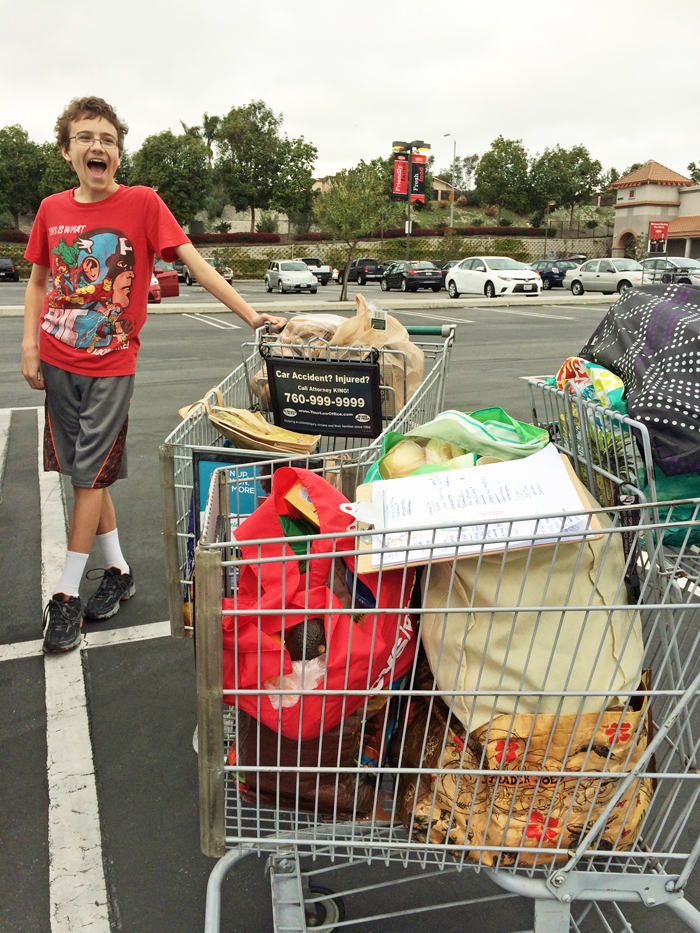 It was an amazingly uneventful week in the grocery department. I'm a little shocked, actually. Some weeks are filled with lots of little stops throughout the week. I guess I did pretty good shopping last weekend because I didn't need to go again until today.
That's what an endless pantry challenge will do for you, I guess. It will be several more weeks before our house gets tented for termites, so I'm not buying trying not to buy more than we need until the end of the month.
But, there've been a few good stock up opportunities that I just couldn't miss!

Grocery Geek
Grocer Geek is my weekly report of how I shopped for groceries, what deals I found, and my running total of how we're sticking to a budget for groceries.
Here's the rundown on my shopping this week. As you read, keep in mind who and how I'm shopping:
My grocery shopping profile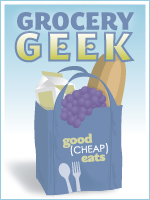 To update you on my grocery geekiness:
I'm feeding eight people, ages 53, 43, 18, 15, 13, 11, 9, and 7. Five of those people are males. They eat A LOT!
I'm shooting for a budget of $1200, per the USDA food cost reports the last time I added up for people of our demographics. I live in Southern California where produce is cheap, but meat and dairy are not.
I'm trying to feed us mostly unprocessed foods, with a few "healthier" convenience items thrown in and a junk food splurge* here and there.
I work at home and teach five of our kids, so I don't have as much time for fiddling in the kitchen as I would like.
I no longer use coupons on a regular basis, though I do love the coupons that Ralphs offers.
I have at least ten grocery stores within 5.5 miles of my house. It is easy (for better or for worse) to stop at several stores to get the best deals.
We mostly eat at home. My husband and college age son often pack lunch and breakfast to work, but sometime have lunch out. My husband and I enjoy a date once a week. FishPapa takes one child out to "dinner with dad" once a week. We eat out as a family on average once a week.
Obviously, your mileage may vary. But, I'm constantly amazed at how well we eat without spending a crazy amount of money.
Here's how the shopping went down this week: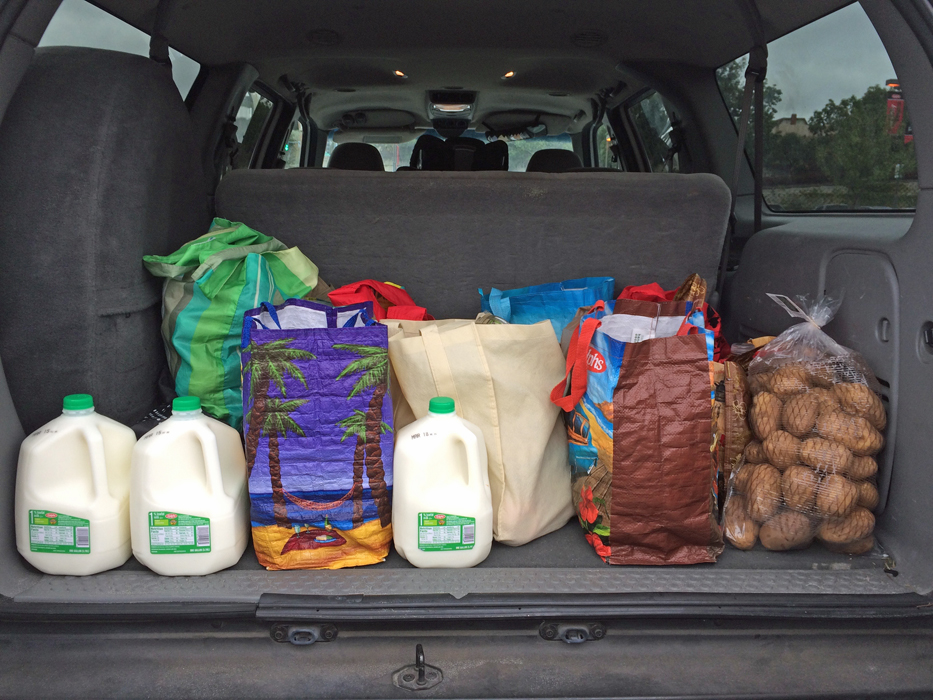 Ralphs
Last week I did my big shop at Trader Joe's. This week Ralphs got my attention. I headed there twice.
On Sunday afternoon, I went to replenish our milk, eggs, and salad fixings, but while I was there…. I found a great sale on flour. Organic flour. And even though I'm not supposed to buy stuff so I don't have to bag it for the termite tent, it was a price too good to pass up. You know how that goes, right?
I also found coffee at a really good price, so I bought extras of that.
For some reason, though, I forgot to take a picture. You'll have to imagine that there's a picture of this shopping trip, but there's not.
My kids also treated us to a wonderful 3-course dinner date at home on Sunday night, so I bougt some of their ingredients* for that. It was totally worth it. So fun!
pound cake $4.49*
beef broth $1.49
sour cream $2.49
whipping cream $2.59 (on clearance)
cheddar cheese $7.99/2#
starbucks coffee $4.89 

(on clearance)

eggs $4.29/18pack
tortillas $5.99/16
cheerios $1.49 to $2.49 after sales and coupons
taco shells $1.99
milk $0 to $2.29 after sales and coupons
spaghetti squash $0.99/lb
potatoes $3.99/10#
mushrooms $2.79
org spring mix $2.39 after coupons
org red peppers $1.99 each
bananas $0.69/lb
strawberries $2.48/#
cucumbers $0.99 each
org parsley $1.29
baby carrots $0 to $1.19 after coupons
fage $6.99
organic flour $2.49 (on clearance)
Dubliner cheese $4.99
kaiser rolls 

(on clearance)
Total spent: $135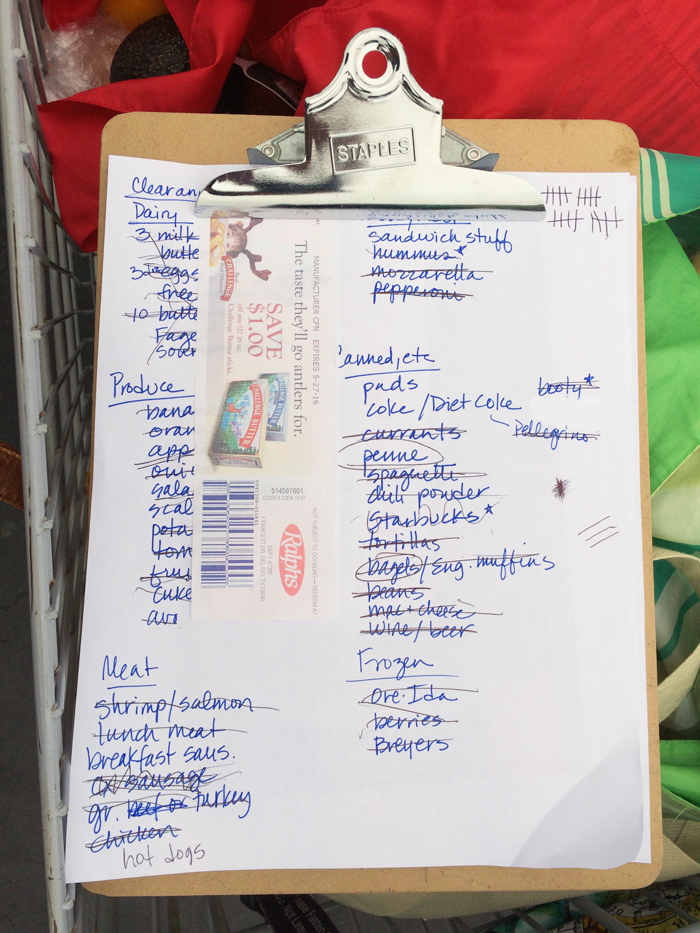 Ralphs again
I went back to Ralphs, thinking that all my coupons and sales (Save $5 when you buy 5 items) would payoff, but I'm skeptical about that now. I thought I was keeping track of all my WYB5 items and it looks like I didn't have even groups of five, so I missed out on some savings. Boo.
There were also quite a few things on my list that I didn't end up buying because the price wasn't right. I think I like Trader Joe's better. Hmmm….
frozen hashbrowns $2.39 after coupon
shredded mozzarella $7.99
ice cream $1.99 after sale and coupon
chili powder $4.99 (Costco has not had this for months)
canned beans $1.79/large can
tortillas $1.99 after sales
spaghetti $1.29
English muffins BOGO, $1.99 each
apple juice $2.99
crackers $1.99 after sale
sugar $1.99
natural sodas $3.00
milk $2.39
butter $1.99
greek yogurts free after coupons
sour cream $.79 after sale and coupon
Pirate's Booty $2.29
individual yogurts $0.70 each
Fage $3.49 for large tub on clearance
buttermilk $2.99
eggs $4.29/18pk
10# potatoes $3.99
cherry tomatoes $1.99
apples $1.99/lb
org red pepper $1.99
bananas $0.69/lb
org broccoli $1.49/lb
org green onions $1.29
org baby greens $2.39
oranges $0.99/lb
avocado $0.69
chicken breast $1.69/lb
bacon $3.99
salame $9.99
deli turkey $10.09
shrimp $6.74
hummus $1.99 after sales
pepperoni $5.99
rolls $1.99
clearance bread $0.99 to $1.79
MINUS $5 off produce
MINUS $5 off Order
Total spent $200
Total spent this week: $335
We have a ton of food at the moment but not everything that was on my list. Hopefully, we'll make it a decent ways through next week.
How did YOUR grocery shopping go this week?