Learn how to section a grapefruit so that you can enjoy the delicious sweet fruit in salads, desserts, and quick tasty snacks.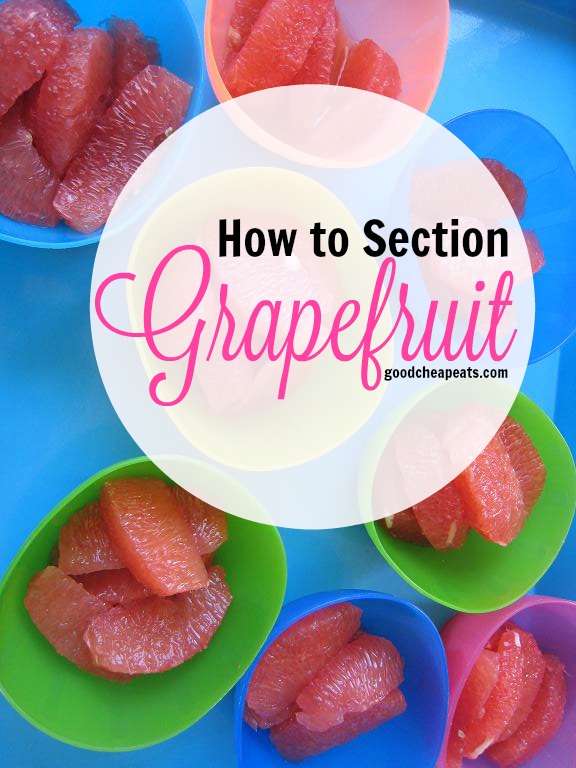 Years ago, I shared with you this pictorial on how to section grapefruit. I tell you, it's a game changer. Not only will you have grapefruit fit for a king, as my husband says, but you will also have folks in your household who now love grapefruit. Even the grapefruit haters, I promise.
Recently, I did a short, impromptu kitchen demo on how to cut grapefruit sections. I decided it was too good not to share here. Because even though my hair is in a messy bun, and I had no plan when I started filming, lots and lots of people have written to tell me that it has changed their life as concerns grapefruit.
And I want to change your life, too. 😉
Keep in mind this is on periscope where viewers can type in comments and the "scoper" can respond in real time. Unfortunately, the comments aren't showing on the replay, so sorry about that! Until you get the hang of the format, it can seem a little weird. Hang in there with me.
How to Section a Grapefruit
How can you serve grapefruit sections?
My kids love to eat them plain. In fact, I'm pretty sure that each child could eat an entire grapefruit in a sitting. They're that good. We eat them plain, but you could sprinkle them with sugar or drizzle with honey.
But, I also love to serve them in salads. They are a great winter salad topping. Toss the greens with a light, on the sweet side, vinaigrette. Layer on the grapefruit sections, sprinkle with some onion, chopped nuts, and maybe some crumbled blue cheese or feta. Party in your mouth! So good!
You can follow me on the periscope app @jessicagfisher where I'm scoping through my new cookbook throughout the month of Feburary. Find past scopes here.
And don't forget to subscribe to the Good Cheap Eats newsletter so you can get weekly updates, the inside scoop.