Want a peek into our grocery cart? Here's how I'm grocery shopping and feeding eight people on the cheap.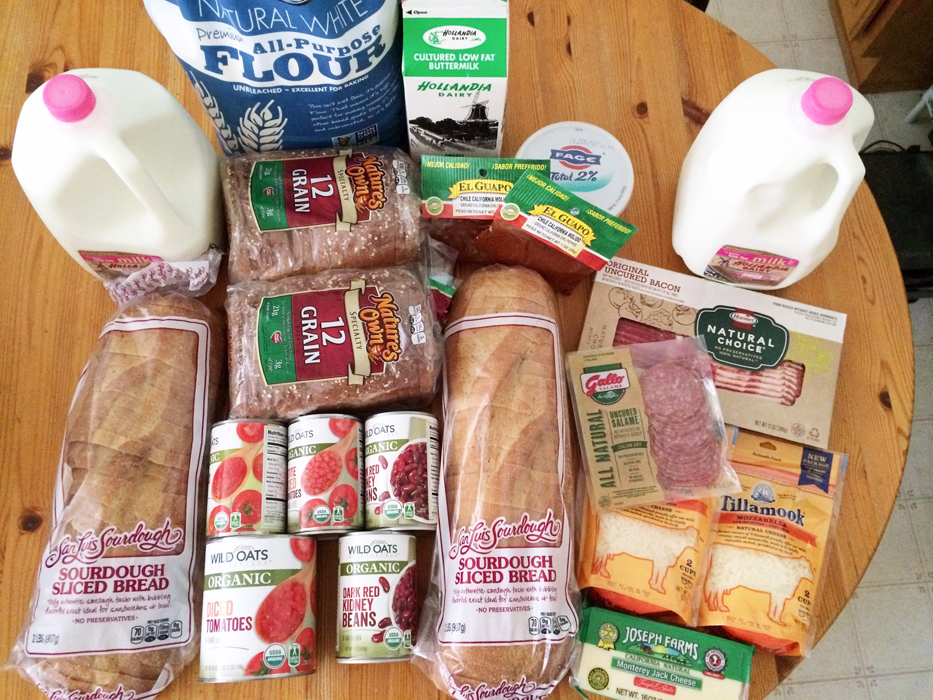 Well, it's been a doozy of a week. FishChick7 fell ill on Friday night. She was out of commission all day Saturday. Her brother fell on Sunday. Her sister on Monday night. Since then, we've been dropping like flies. I'm thankful that it's not the stomach flu, but it still stinks nonetheless.
I had a great meal plan on Sunday morning and did all the shopping for it, but meal times have been weird and sparse. There's always been one or two people (or more) who've completely lost their appetite thanks to this virus.
I guess I'm in good shape for next week's meal planning. Ha!
Grocery Geek
Grocer Geek is my weekly report of how I shopped for groceries, what deals I found, and my running total of how we're sticking to a budget for groceries.
Here's the rundown on my shopping this week. As you read, keep in mind who and how I'm shopping:
My grocery shopping profile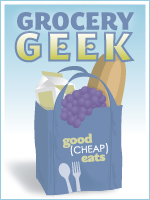 To update you on my grocery geekiness:
I'm feeding eight people, ages 52, 43, 18, 15, 13, 11, 9, and 7. Five of those people are males. They eat A LOT!
I'm shooting for a budget of $1200, per the USDA food cost reports the last time I added up for people of our demographics. I live in Southern California where produce is cheap, but meat and dairy are not.
I'm trying to feed us mostly unprocessed foods, with a few "healthier" convenience items thrown in and a junk food splurge* here and there.
I work at home and teach five kids, so I don't have as much time for fiddling in the kitchen as I would like.
I no longer use coupons on a regular basis, though I do love the coupons that Ralphs offers.
I have at least ten grocery stores within 5.5 miles of my house. It is easy (for better or for worse) to stop at several stores to get the best deals.
We mostly eat at home. My husband often packs lunch and breakfast to work, but sometimes has lunch out. We eat out for a date once a week. FishPapa takes one child out to "dinner with dad" once a week. We eat out as a family on average once a week.
Obviously, your mileage may vary. But, I'm constantly amazed at how well we eat without spending a crazy amount of money.
Here's how the shopping went down this week:
Walmart
The girls and I went to Walmart on Sunday and picked up the basics that I didn't want to haul to Costco for or pay too much for at Sprouts. I love it that Walmart carries the Wild Oats label so we can get organics for a little bit cheaper. They also have improved their meats and cheeses selection as well.
To hedge my bets at Walmart, I also use the free Walmart Savings Catcher app to get a better price (if possible) on anything I buy there. So far I have accumulated $7.36 credit from past purchases. If you shop at Walmart, download the app!
organic diced tomatoes $1.76

organic

kidney beans $0.92

organic tomato sauce $1.08

milk $2.88
buttermilk $2.47
yogurt $3.43
uncured salami $3.86
uncured bacon $4.48
rbst-free jack cheese $3.93

rbst-free 

mozzarella $2.98
chili powder $0.88
sandwich bread $2.82 to $3.98
10# bag of flour $5.98
Total spent: $60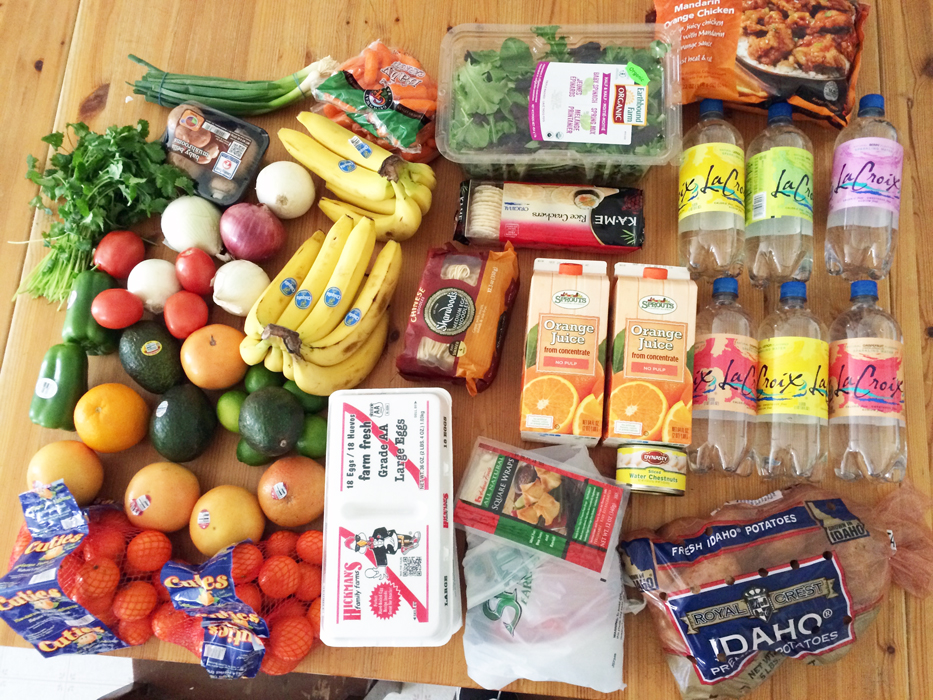 Sprouts
Our next stop was Sprouts where we get a lot of our produce and healthier items. Sometimes they have good meat sales, but their chicken is really bad quality so I won't buy it, no matter how low the price.
I've been buying the La Croix water bottles for my husband to take to work. They aren't cheap-cheap, but they're a nice way for me to pamper him and for him to keep hydrated on the job. He prefers the liter bottles, so let me know if you know a great place to stock up on them.
baby carrots $0.98
russet potatoes 5# $1.50
cilantro $0.33
2 # clementines $2.50
green bell peppers $0.77
green onions $0.33
XL avocados $1.25
wonton wrappers $1.99
limes $0.20 each
organic spring mix $5.99
grapefruit $0.33
red and white onions $1.29/lb (They've had cheaper brown onions, but the quality has been crap)
roma tomatoes $0.48/lb
oranges $0.68/lb
mushrooms $2.49
bananas $0.69/lb
rice crackers $2.49
egg noodles $3.99
water chestnuts $0.99
sparkling waters $1.49
18-ct eggs $4.39
orange juice $2.99
xtra lean ground beef $3.99/lb
orange chicken $7.49
Total spent: $93
Ralphs
FishPapa was home sick with us, but he was a trooper and ran FishBoy18 to the train while I slept in and then he stopped at Ralphs for juice for all us sickies. He also read my mind and stopped at the French bakery for baguette. Talk about Husband of the Year!
Since we didn't plan a juice stop, it was a pricey juice stop, but we stayed hydrated, so there's that!
gallon orange juice $3.99
organic apple juice $3.99
100% juice Ocean Sprays $3.79
Total spent: $20
Total spent this week $173
Total spent MTD: $498
So, that's our week, and the month to date. Seeing as we're almost halfway through a short month, we should be able to stay under budget. Particularly so, since we STILL won't be restocking the pantry. The termite tent might not happen until mid-late March, so we're running on minimum supplies until then.
And in all honestly, the fridge freezer still needs some work. There are random grains and baked goods that I need to deal with in there.
How did the grocery shopping go for YOU this week?
Don't forget to subscribe to the Good Cheap Eats newsletter so you can get weekly updates, the inside scoop.