Want a peek into our grocery cart? Here's how I'm grocery shopping and feeding eight people on the cheap.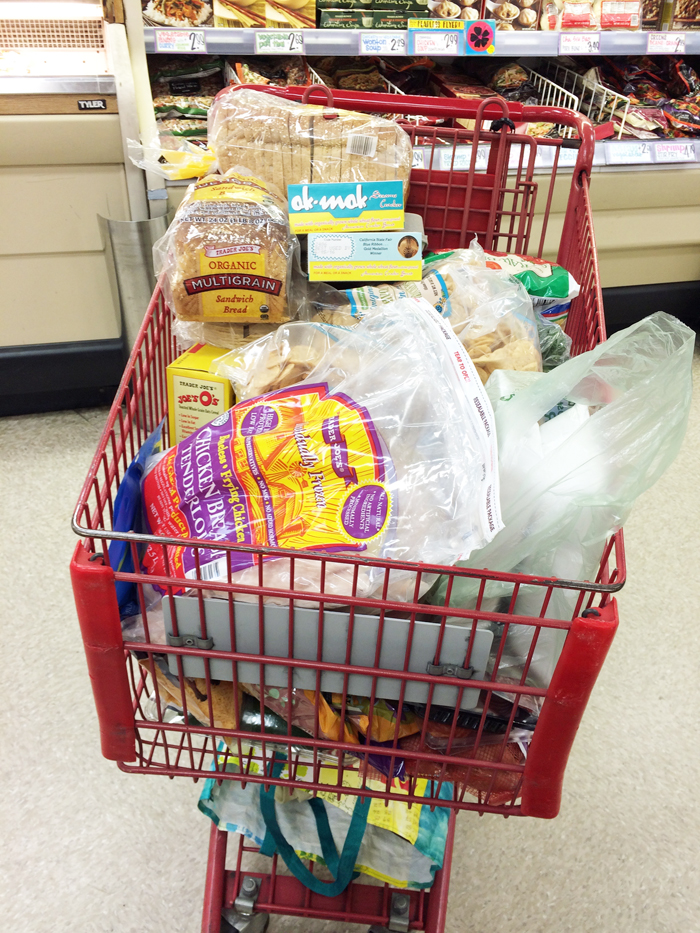 It's been a pretty crazy week. We've had contractors in and out of the house, the stomach flu, and a lack of cooking mojo on my part.
I put together a very detailed meal plan on Sunday and did all the shopping for it — and then promptly proceeded to disregard it/not be able to follow it for a number of reasons. We may be due for another pantry challenge just to deal with the randomness I've got going.
The plus side of the week: I have the termite tent scheduled! So, we have a few weeks to eat up what we have left and get ready for a few days away.
Grocery Geek
Grocer Geek is my weekly report of how I shopped for groceries, what deals I found, and my running total of how we're sticking to a budget for groceries.
Here's the rundown on my shopping this week. As you read, keep in mind who and how I'm shopping:
My grocery shopping profile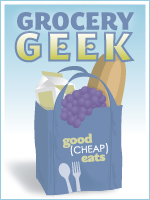 To update you on my grocery geekiness:
I'm feeding eight people, ages 52, 43, 18, 15, 13, 11, 9, and 7. Five of those people are males. They eat A LOT!
I'm shooting for a budget of $1200, per the USDA food cost reports the last time I added up for people of our demographics. I live in Southern California where produce is cheap, but meat and dairy are not.
I'm trying to feed us mostly unprocessed foods, with a few "healthier" convenience items thrown in and a junk food splurge*here and there.
I work at home and teach five kids, so I don't have as much time for fiddling in the kitchen as I would like.
I no longer use coupons on a regular basis, though I do love the coupons that Ralphs offers.
I have at least ten grocery stores within 5.5 miles of my house. It is easy (for better or for worse) to stop at several stores to get the best deals.
We mostly eat at home. My husband often packs lunch and breakfast to work, but sometimes has lunch out. We eat out for a date once a week. FishPapa takes one child out to "dinner with dad" once a week. We eat out as a family on average once a week.
Obviously, your mileage may vary. But, I'm constantly amazed at how well we eat without spending a crazy amount of money.
Here's how the shopping went down this week:
Trader Joe's
pictured above
I had my eldest (age 18) go with me to shop. He threw in a few extra purchases, but he also pushed, loaded, and unloaded, so I'm good with that.
Akmak $1.79
organic sandwich bread $2.99
frozen chicken tenders $7.49 – TJs is now carrying an organic version of their frozen chicken pieces but the price point was a little higher than I wanted to spend.
rice crackers $2.69
Italian sausage $3.99/lb
ground turkey $3.99/lb
roasted almonds $6.49
shredded cheddar $3.49
mozzarella $3.79
string cheese $2.99
ham $3.49
salami $4.49
pepperoni $2.99
zucchini $1.99
sweet potatoes $1.79
bagels $1.99 to $2.49/6
corn tortillas $0.99
sugar snap peas $2.49
broccoli $1.79
flour tortillas $2.29
frozen berries $1.99 to $2.79
kefir $2.99
sunflower oil $3.99
cereal $1.99 to $2.99
cliff bars $0.99
penne pasta $0.99
refried beans $0.99
eggs $2.49/dozen
sparkling water $1.99/4 packs
pickles $2.99
total spent at Trader Joe's: $161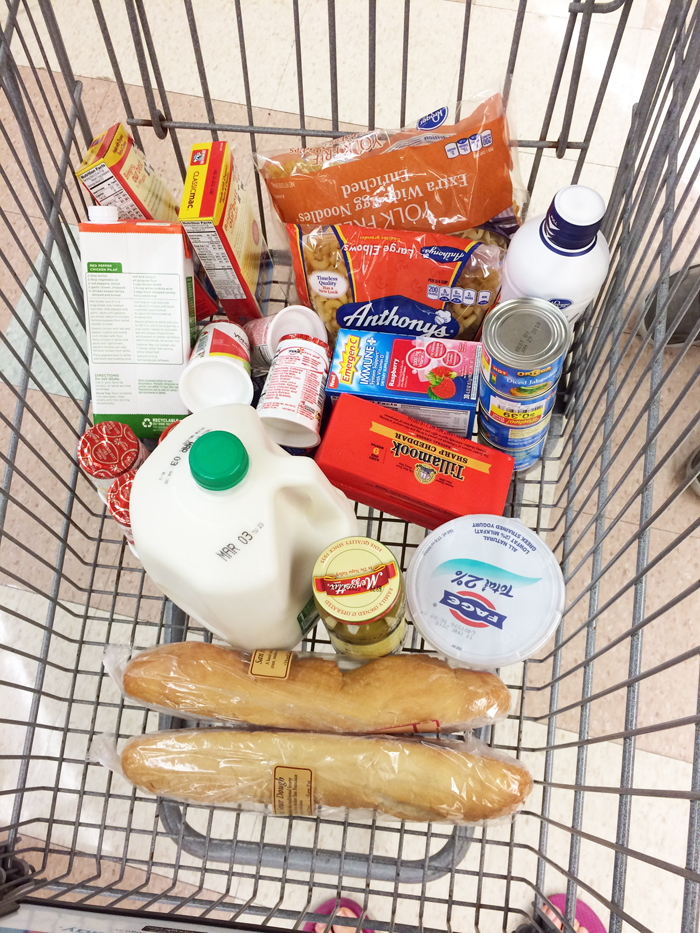 Ralphs
When the weather hits 86 and you can go to the beach, you pack a picnic dinner. So, I headed to Ralphs on Tuesday for easily packed food. It was pricier than eating at home, cheaper than eating out.
various sandwich fixings
rolls
chips
juice
Total spent: $42
I stopped at Ralphs again later in the week once the stomach flu hit the house. I picked up yogurts, bread, broth, and noodles for that purpose and a few other things since I was already there.
yogurt $0.60 each
milk $2.29
olives $6.49 – FishBoy18 was with me that time, too. Ha!
Tillamook cheese $10.99 after coupon
whipping cream $4.99
jalapenos on clearance! $0.39
macaroni $1.19
boxed mac and cheese $0.99
egg noodles $1.99
emergenc $10.99 after coupon
sourdough $1.99
Boursin $2.49 on clearance
butter $3.49
Total spent: $60
Total spent for the week: $263
Total spent this month so far: $761
So this whole "don't stock up because termites are gonna get fumigated" is working out well, in terms of my grocery spending. I've still got more than $400 left in the budget for the month, and 9 days to go. I think we'll be okay. Ha!
How did your grocery shopping go this week?