Want a peek into our grocery cart? Here's how I'm grocery shopping and feeding eight people on the cheap.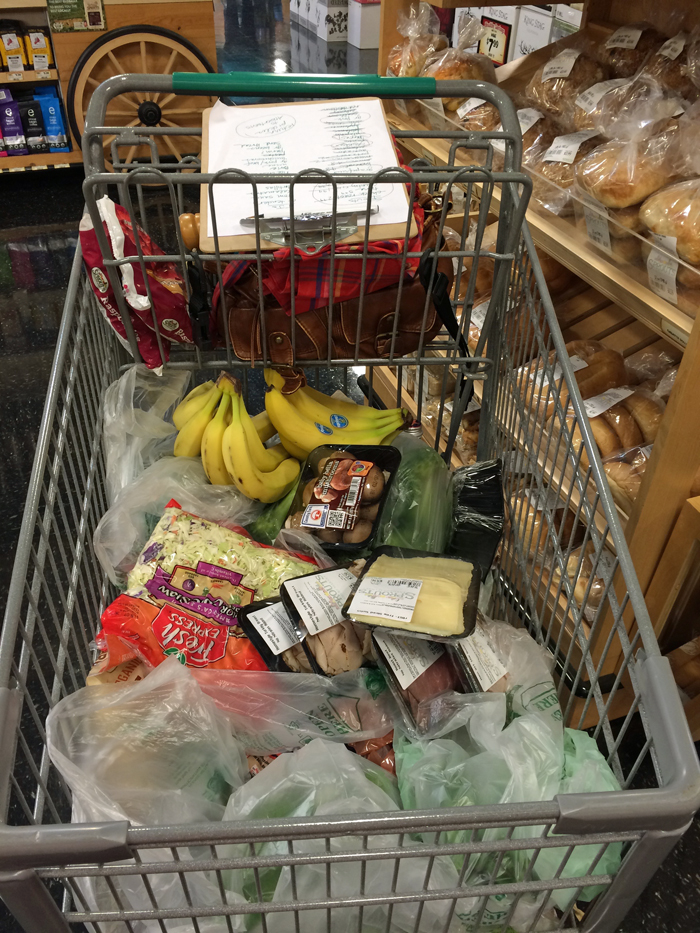 The week has gotten away from me, but, I've got a grocery geek update for you! We ate well, and there's still food left. My family has agreed to do food prep tomorrow so I can take the day off. Fingers crossed!
We still don't have a date for the termite tent, so I'm trying to eek along with buying what will get us through the next week and trying not to go overboard, but you know me. It's hard not to stock up on good deals or yummy things. I'm trying to resist though.
Grocery Geek
Here's the rundown on my shopping this week. As you read, keep in mind who and how I'm shopping:
My grocery shopping profile
To update you on my grocery geekiness:
I'm feeding eight people, ages 52, 43, 18, 15, 13, 11, 9, and 7. Five of those people are males. They eat A LOT!
I'm shooting for a budget of $1200, per the USDA food cost reports the last time I added up for people of our demographics. I live in Southern California where produce is cheap, but meat and dairy are not.
I'm trying to feed us mostly unprocessed foods, with a few "healthier" convenience items thrown in and a junk food splurge* here and there.
I work at home and teach six kids, so I don't have as much time for fiddling in the kitchen as I would like.
I no longer use coupons on a regular basis, though I do love the coupons that Ralphs offers.
I have at least ten grocery stores within 5.5 miles of my house. It is easy (for better or for worse) to stop at several stores to get the best deals.
We mostly eat at home. My husband often packs lunch and breakfast to work, but sometimes has lunch out. We eat out for a date once a week. FishPapa takes one child out to "dinner with dad" once a week. We eat out as a family on average once a week.
Obviously, your mileage may vary. But, I'm constantly amazed at how well we eat without spending a crazy amount of money.
Here's how the shopping went down this week:
Sprouts
cuties $1.98/2# bag
cilantro $0.50
cole slaw mix $1.49
org red delicious apples $0.48/lb
panko bread crumbs $2.99
assorted deli meats and cheese
mushrooms $2.29
bananas $0.69/lb
broccoli crowns $0.98/lb
XL avocados $1.50 each
jalapenos $0.99/lb
kiwi $3.98/2#pack
sparkling water $1.69/bottle
canned tomatoes $2.79
tomato sauce $1.49
red bell peppers $0.48 each
cucumbers $0.68 each
green onions $0.50
pork country strips $1.99/lb
penne $1.19/lb
potatoes $4.98
chuck roast $3.99/lb
onions $1.29/lb
organic celery $2.29
frozen raspberries $2.99/bag
assorted deli meats $17 total
pork sausage $3.99/lb
Total spent: $113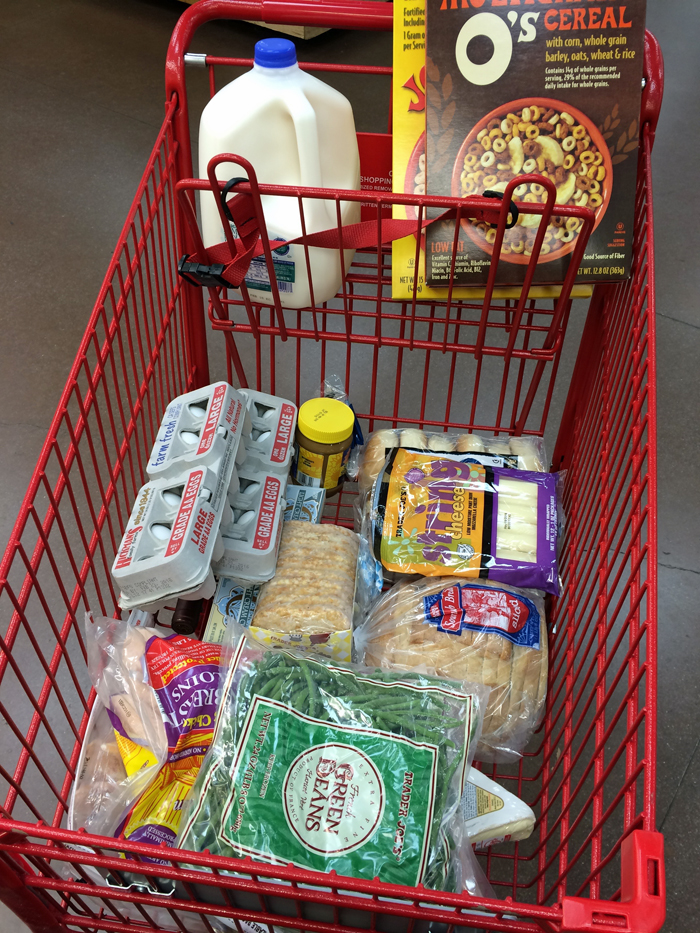 Trader Joe's
cereal $1.99 to $2.99
milk $2.99/gallon
string cheese $2.99
frozen green beans $1.99
chicken tenders $7.49
mahi mahi $8
eggs $2.49/dozen
sourdough bread $2.99
brie $5.19
hashbrowns $1.99
cream cheese $1.69
sunbutter $4.99
bagels $1.99 to $2.49
Total spent $66
Sprouts again
baby carrots $0.98 each
clementines $1.98/2# bag
kalamata olives $1.99
tomato sauce $2
milk $2.79
pasteurized eggs $5.49 (for mayo, mousse, etc)
parmesan cheese $2.80
pepperoni $1.44
ground pork $5.19
ground beef $8.88
tortillas $2.99
pita $4.99
Total spent: $44
Ralphs
I don't recommend grocery shopping on a Friday afternoon after you've been to see the tax lady. You might comfort shop. That's all I'm gonna say about that.
hot dog buns $2.29
salsa $3.49
cheese $4.99
tortilla chips $0.77 to $1.77 after sales and coupons
club soda $0.79
whipping cream $4.99
oreos FREE after coupon
sugar $2.99
canned beans $1.69 to $1.99
Ritz crackers $1.77
marshmallows $1.49
spaghetti squash $4.94
carrots $1.19 (these were supposed to have been free after coupon)
broccoli $3.37
canned tomatoes $1.99 to $2.79
chicken legs $2/49/lb
carne asada $4.77/lb
hot dogs $3.24
diced hams $2.99
brats $3.99
sushi $8.99
pepperoni $5.99
sourdough $0.99
Total spent $102
Total spent this week: $325
It's not a great total, considering that we're only 1/4th of the way into the month. However, I'm not buying in bulk like I normally would, trying not to fill the pantry up before we have to evacuate. I also need to point out that $125 of this was for recipe testing, to make sure that certain recipes are just right before I share them with you. So, I get a pass, right? 😉
How was your grocery shopping this week?