Want a peek into our grocery cart? Here's how I'm grocery shopping and feeding eight people on the cheap.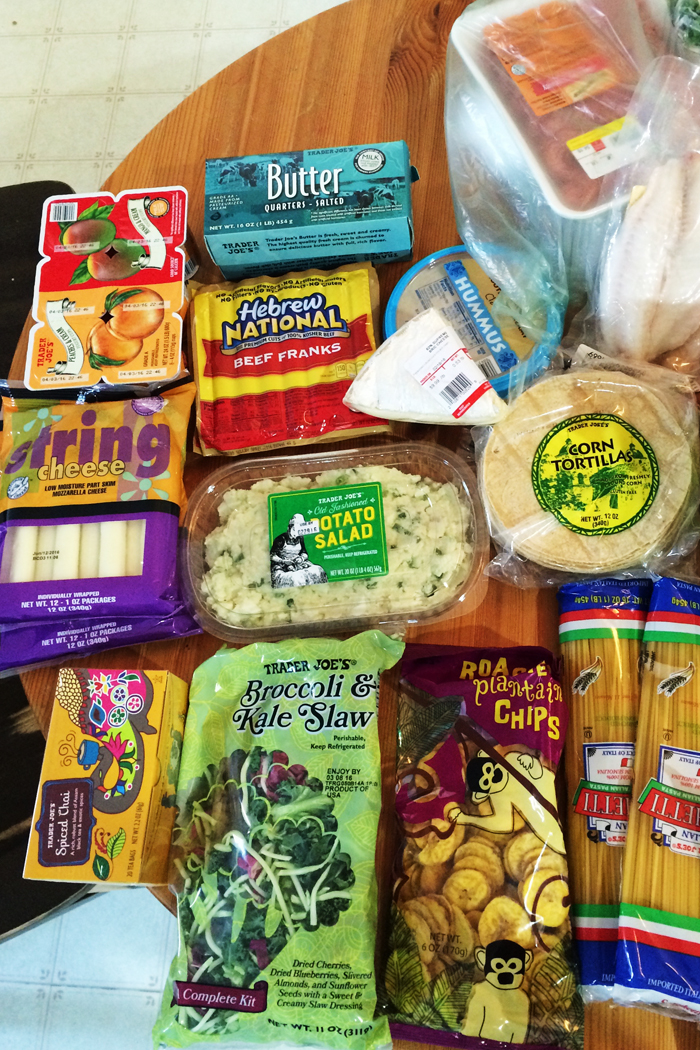 So, here we are at the end of February, and while it was a short(er) month, we didn't have the big bill that we do most Februarys when I'm restocking on the heels of a pantry challenge. In fact, we're under budget for the second month in a row!
Since we still have the termite tenting to do in mid/late March, I'm running on a shorter supply. I've not been to Costco, and I've not restocked on things that I normally keep on hand, rather just buying things as I think we need them.
Due to a backsliding thyroid, I'm not feeling that well, so I've bought a few shortcuts (TJs potato salad, store bread, etc) and even those items haven't sent the grocery spending through the roof. Kinda nice!
Grocery Geek
Grocer Geek is my weekly report of how I shopped for groceries, what deals I found, and my running total of how we're sticking to a budget for groceries.
Here's the rundown on my shopping this week. As you read, keep in mind who and how I'm shopping:
My grocery shopping profile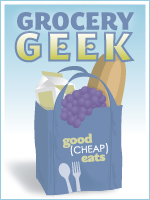 To update you on my grocery geekiness:
I'm feeding eight people, ages 53, 43, 18, 15, 13, 11, 9, and 7. Five of those people are males. They eat A LOT!
I'm shooting for a budget of $1200, per the USDA food cost reports the last time I added up for people of our demographics. I live in Southern California where produce is cheap, but meat and dairy are not.
I'm trying to feed us mostly unprocessed foods, with a few "healthier" convenience items thrown in and a junk food splurge* here and there.
I work at home and teach five of our kids, so I don't have as much time for fiddling in the kitchen as I would like.
I no longer use coupons on a regular basis, though I do love the coupons that Ralphs offers.
I have at least ten grocery stores within 5.5 miles of my house. It is easy (for better or for worse) to stop at several stores to get the best deals.
We mostly eat at home. My husband and college age son often pack lunch and breakfast to work, but sometime have lunch out. My husband and I enjoy a date once a week. FishPapa takes one child out to "dinner with dad" once a week. We eat out as a family on average once a week.
Obviously, your mileage may vary. But, I'm constantly amazed at how well we eat without spending a crazy amount of money.
Here's how the shopping went down this week: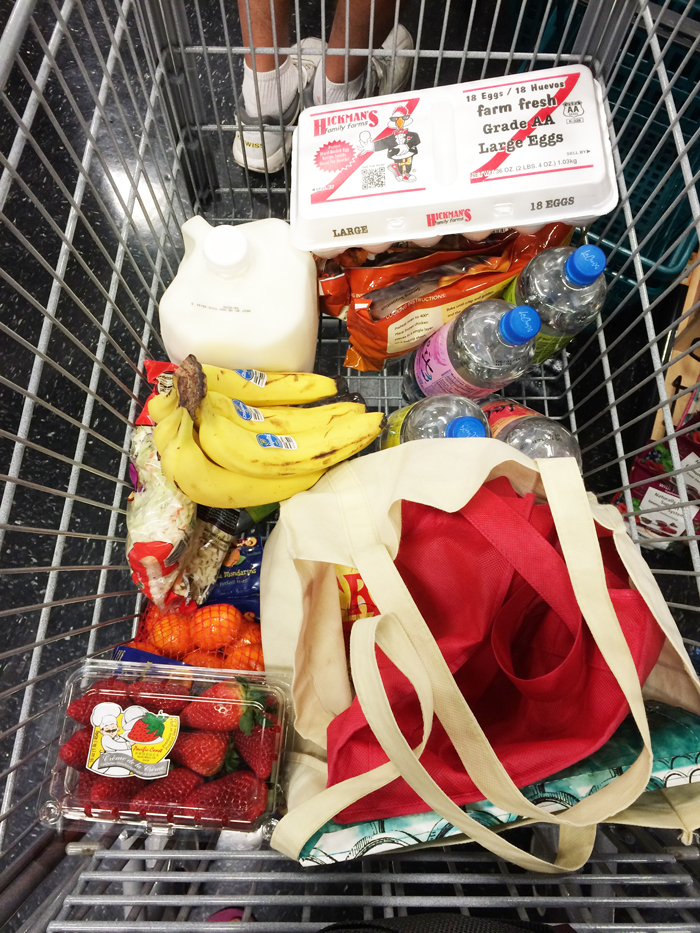 Sprouts
I had a big meal plan and shopping list ready to go on Sunday and then ended up not going to Trader Joe's like I had hoped. I made a quick stop at Sprouts to get us what we needed to get going on the week, including some frozen foods for Sunday night dinner. Yes, really. (They carry an Orange Chicken that tastes just like Panda without the risk of cross-contamination for my daughter with food allergies.
strawberries $3.98 (for a treat)
coleslaw $1.49
clementines $2.98/3#
bananas $0.69/lb
white rice $1.99
sparkling water $1.49 (for hubby's lunches)
milk $2.79
18-pack eggs $4.39
potstickers $3.99
Lings Orange Chicken $7.49/bag
Total spent: $50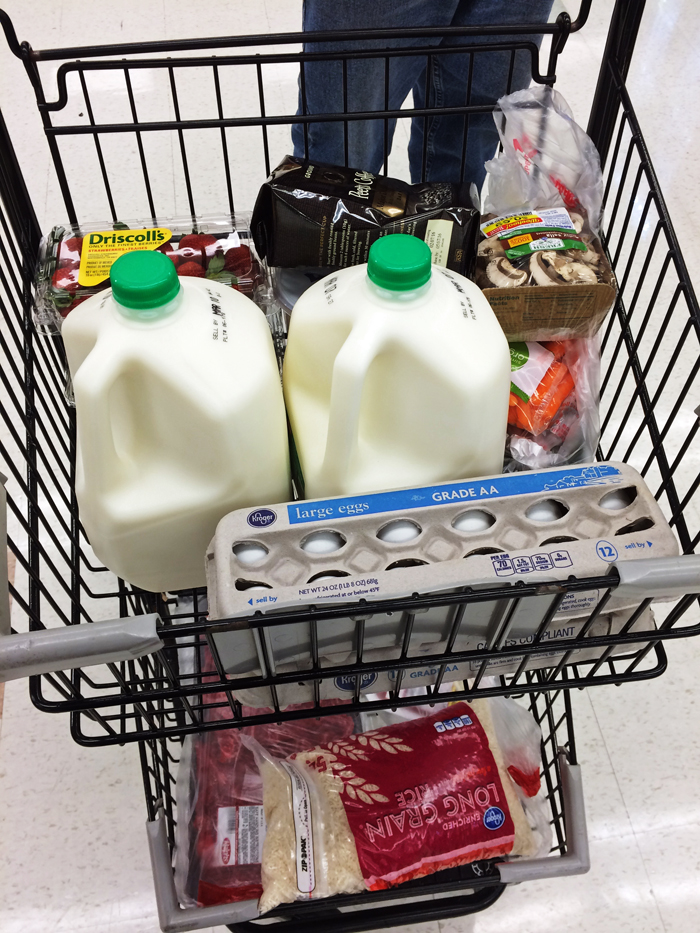 Ralphs
My kids don't know what to think with this endless pantry challenge. We run out of things constantly. They texted me on date night to buy milk. I didn't have my list for the week with me, so I just winged it at Ralphs.
milk $2.29
coffee $8.99 (we only like Peets and Starbucks, and there was no sale.)
eggs $2.99/dozen
rice $2.49
mushrooms on markdown $0.69
cucumbers $0.99 each
carrots $1.69
strawberries $2.48
large fage $6.99
ground pork $4.99/pound (for recipe testing)
carne asada $4.77/pound
Total spent $48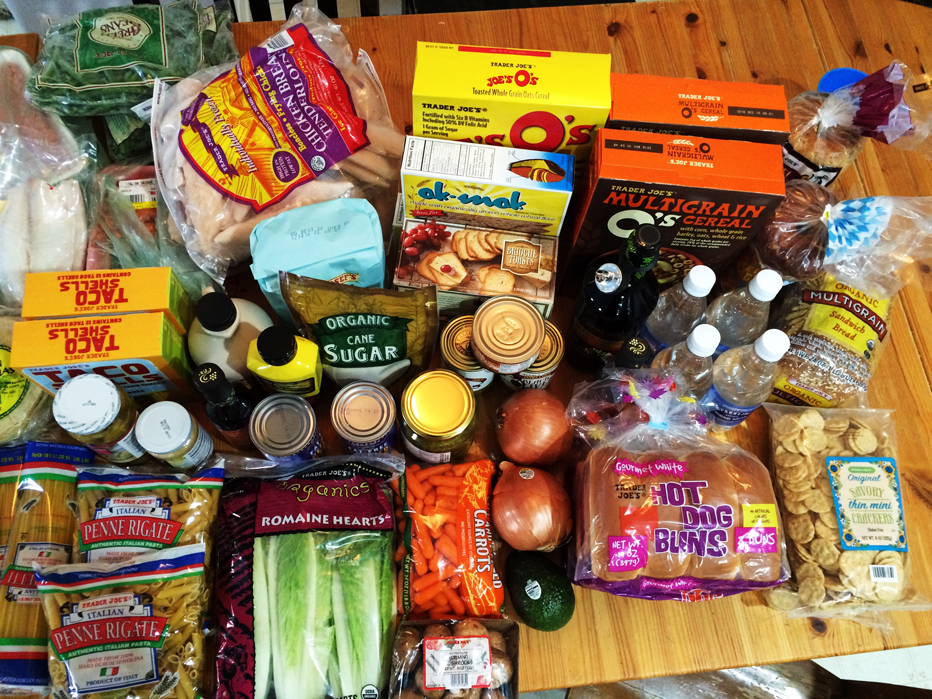 Trader Joe's
I didn't get to TJ's until Thursday afternoon so I shopped for the weekend and beyond and will start over with a new meal plan on Monday. I did buy some more convenient items than normal. I am really lagging these days and need a little more help on the home front.
frozen green beans $1.99
rice crackers $2.69
French toasts $1.99
Ak-mak $1.79
carrots $1.49/1.5#
tilapia $4.66
org romaine hearts $2.49
hot dog buns $1.99
mushrooms $1.79
cereal $1.99 to $2.99
sandwich bread $2.99
avocado $0.99
onions $0.59/ea
string cheese 

$2.99

hummus 

$2.99

hot dogs $3.99
brie $5.29
plantain chips $1.69
butter 

$2.99/#

yogurt multi-pack 

$2.99

potato salad $3.99
corn tortillas $0.99
kale salad $2.49
tea $2.49
frozen chicken tenders $7.49
hot Italian sausage $3.99/#
ground turkey $2.99/#
bagels $2.49
olive oil $7.99
red wine vinegar $1.99
olives $3.49
tomato paste $0.89
garlic $1.99
pasta $0.99
pickles $2.49
taco shells $1.99
canned crab $1.99
maple syrup $16.99 (yes, prob cheaper at Costco)
refried beans $0.99
mustard $1.69
flour 

$2.99

sugar $3.49
mineral water $1.99
Total spent: $191
Sprouts
I made a last stop at Sprouts for some salad fixings and fruits and veg. Sorry, no pic.
3# org apples $4.99
clementines $2.99/2#
org broccoli $1.49/#
org red bell pepper $2
red grapes $2.50/lb
baby greens $3.49/2 packs
garbanzo beans $0.89
feta cheese crumbles $3.70
parmesan cheese $7.83
Total spent: $42
Total spent this week: $331
Total spent in February: $1092
We didn't end as low as I would have hoped for the month, but seeing as I bought so many convenience items and a fair number of organics, I'm not going to be disappointed. We're still under budget by over $100, so that's not too shabby!
How did YOUR grocery budget fair in February?