This month we are eating down the pantry to save money and reduce food waste. Join me every day for the Pantry Challenge!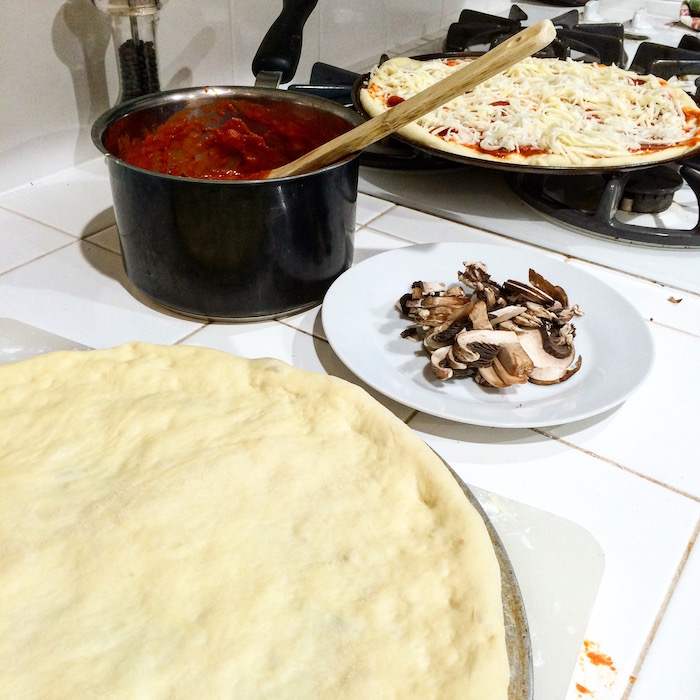 Sorry for not posting yesterday, all. It was FishPapa's birthday, and believe it or not, I don't have many pictures to show for it. Weird. Today was an office day, so I didn't make very photogenic food so not too many pics from today, either.
I do have this pizza photo from last night. I even periscoped a little demo of how I do pizza dough. You can find that here.
While I have been to the store, we're still using up random things, like seasoning mixes or sauces from the freezer to go with new stuff that I've had to purchase.
I'm really pleased with how our grocery bills added up for the month. Yay! This is probably the barest I've let the pantry and freezer ever get, so I know that restocking will be a bear.
I will post one last update tomorrow afternoon before returning to regular Good Cheap Eats blogging. I hope you'll hang until the end!
Friday's Pantry Challenge
Breakfast: Bagels and fruit
Lunch: Birthday Boy's choice of restaurant
Dinner: Pizza
Saturday's Pantry Challenge
Breakfast: Cereal
Lunch: Leftovers and BLTs
Dinner: Best Ever Pulled Pork on buns with sauce and seasoning from freezer
How's the challenge going for YOU?