This month we are eating down the pantry to save money and reduce food waste. Join me every day for the Pantry Challenge!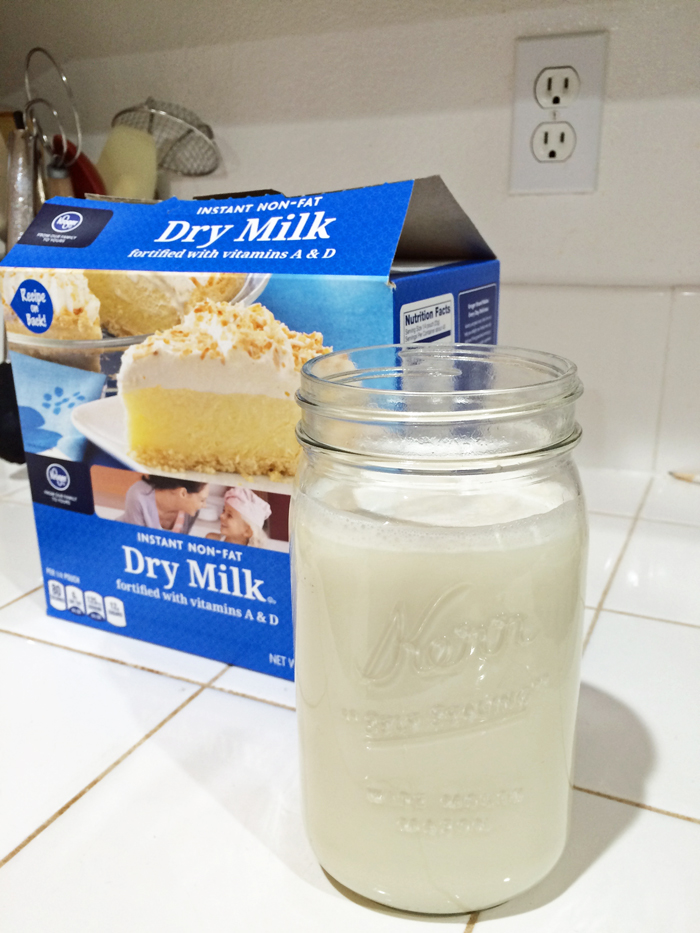 Wow! We are almost done. I'll wind up on Sunday in terms of daily updates, but lots of folks are going to continue their challenges into February. I've set up a page where you can continue to chat once the challenge is officially closed for me. Bookmark this page and feel free to start chatting there on Monday.
As I mentioned the other day, we're running low on lots o'things. But I am loathe to restock until after the tenting. We will simply be buying things on an as-needed basis until we are termite-free. So, I bought things this week. Haha! I think our grocery spending will still be pretty low for the month, but Mama needed reinforcements. Hubs and I went to Costco on date night and picked up a few things that really help us get through the days.
I'm still using up random things in the pantry. For instance:
Instead of fresh milk, I've been using dry powdered milk in baking.
I made a stir fry for lunch on Wednesday using the rice noodles in the cupboard. I even followed the sauce recipe on the box and it tasted just like Top Ramen. I'm not sure if that's a good thing or not — kids didn't really like it — but the sauce was just fish sauce, chicken broth, sugar, and soy sauce, so it wasn't as unhealthy as Top Ramen. (My kids have never had Top Ramen. Haha!)
I'm using flax seed meal as an occasional substitute for eggs in baking.
My meal planning is revolving around random condiments and ingredients in the pantry or freezer. For instance, tonight we're using the rice paper rounds for Summer Rolls and this weekend we'll use up the Fish Taco spice and the green salsa and masa in both Fish Tacos and Poblano Enchiladas.
Here's the update on Wednesday and Thursday.
Wednesday Pantry Challenge
Breakfast: Eggs, Leftover Potatoes, Leftover Baguette
Lunch: Chicken, Green Beans, and Rice Noodles with odd Top Ramenish Sauce
Dinner: Chicken Noodle Soup and Cornbread for kids; date night for parents; brownies for dessert
Thursday Pantry Challenge
Breakfast: Bagels and Fruit
Lunch: Grilled Cheese and Veggie Dippers and Homemade Buttermilk Dressing
Dinner: Summer Rolls
How's the Pantry Challenge going for YOU?