This month we are eating down the pantry to save money and reduce food waste. Join me every day for the Pantry Challenge!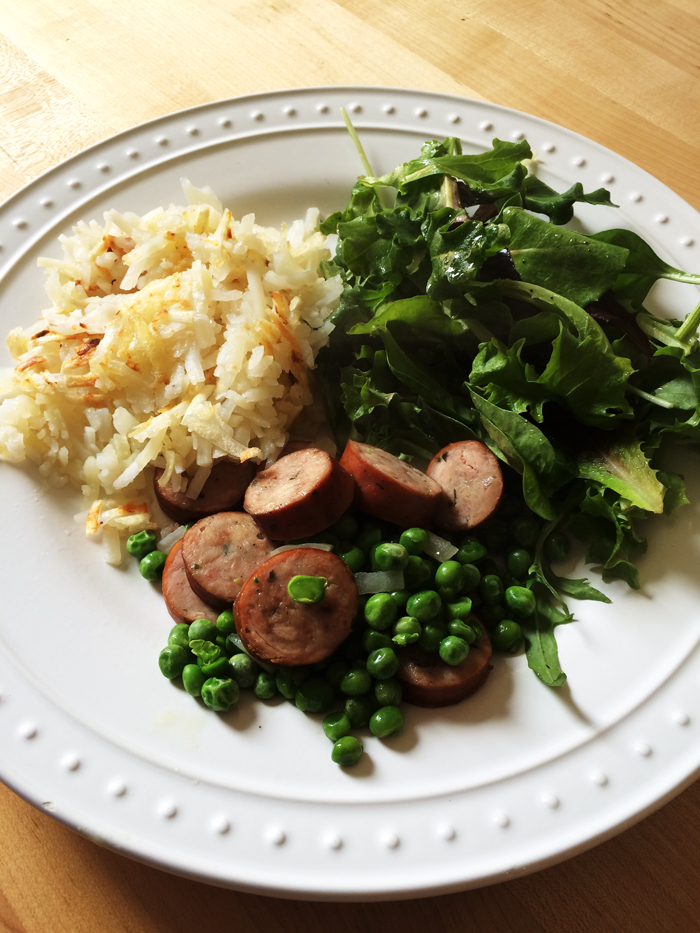 I hope you guys will forgive me that I haven't been able to respond to comments too much yet this week. Even though we've been doing Homeschool Lite this week, it seems like every moment has been spoken for and little of it is available for the computer. I hope to catch up this weekend!
Today was another wet and rainy day. Yay, El Nino! You are rocking awesome.
Breakfast: Granola-Yogurt-Berry Parfait, cereal/granola, eggs (basically fend for yourself)
There's some debate about the stale factor going on with some boxes of cereal. Several boxes (of the same kind) were open at the same time, so that's part of the problem. The humidity is probably another. Breakfast has been a fend-for-yourself affair, but seeing as most of the cereal and all the bread is gone, that practice will need to come to an end.
Lunch: Sausages, Peas, Hashbrowns, Salad
Somebody on Periscope asked me about our weirdest pantry challenge meal. This was probably it. Random meat and veg. The kids definitely raised eyebrows, but they also ate it with few complaints, so there's that.
We had a big talk about why we're eating everything up. They had lots of questions about getting the house tented, so it was interesting to say the least.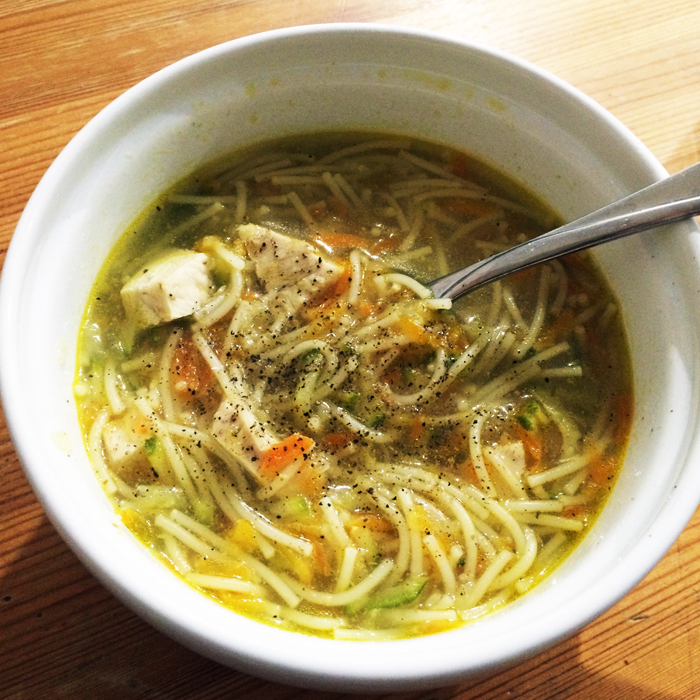 Dinner: Chicken Noodle Soup
I meant to make sourdough rolls, but I had a few minor fires to fight this afternoon, so the dough didn't get made. Tomorrow, alas. We still enjoyed the Chicken Noodle Soup – no leftovers, so it must have been okay. I used cut fideo instead of egg noodles and really liked its throwback to the old boxed mixes my mom used to buy.
It feels like this pantry challenge is going slowly. The fridge looks pretty bare, but we aren't making a dent in the freezer or canned stuff. I'm thinking that my new, post-challenge shopping habits should just focus on fresh vegetables. That seems to be what disappears first!
How did your Pantry Challenge go today?