Want a peek into our grocery cart? Here's how I'm grocery shopping and feeding eight people on the cheap.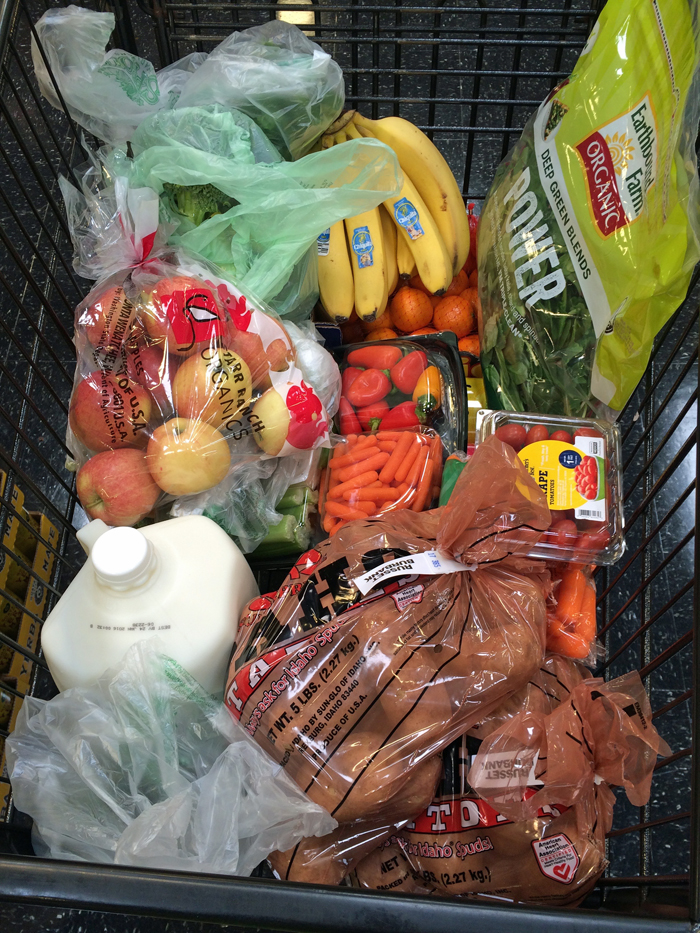 This pantry challenge and the shopping that I'm doing to supplement it are really showing me how I want my grocery shopping habits to trend post-Pantry Challenge. I really like stocking up and using fresh produce. That's really what we need and what adds color to the plate.
Sure, I'm using up a lot of starches and protein I already had, but honestly, I feel like it's clutter that I have to use up. Ask me again in 2 months, but I'm not sure I want to do as much of that kind of stocking up again.
Grocery Geek
Here's the rundown on my shopping this week. As you read, keep in mind who and how I'm shopping:
My grocery shopping profile
To update you on my grocery geekiness:
I'm feeding eight people, ages 52, 43, 18, 15, 13, 11, 9, and 7. Five of those people are males. They eat A LOT!
I'm shooting for a budget of $1200, per the USDA food cost reports the last time I added up for people of our demographics. I live in Southern California where produce is cheap, but meat and dairy are not.
I'm trying to feed us mostly unprocessed foods, with a few "healthier" convenience items thrown in and a junk food splurge* here and there.
I work at home and teach six kids, so I don't have as much time for fiddling in the kitchen as I would like.
I no longer use coupons on a regular basis, though I do love the coupons that Ralphs offers.
I have at least ten grocery stores within 5.5 miles of my house. It is easy (for better or for worse) to stop at several stores to get the best deals.
We mostly eat at home. My husband often packs lunch and breakfast to work, but sometimes has lunch out. We eat out for a date once a week. FishPapa takes one child out to "dinner with dad" once a week. We eat out as a family on average once a week.
Obviously, your mileage may vary. But, I'm constantly amazed at how well we eat without spending a crazy amount of money.
Here's how the shopping went down this week:
Walmart
I went to Walmart on Sunday morning for a few household items and picked up some grocery items that I knew I didn't want to pay more for at Sprouts (the second stop on my list). I ended up getting:
2 dozen eggs $4.36/dozen
mayonnaise $3.98
sandwich bread $2.82
flour $5.98/5# bag
coffee $7.48
pepperoni $2.98
Total spent: $41
(I may recoup some of this via the Walmart Savings Catcher app. I started using the app last fall, and so far have $6.26 credit. Not much, but still kinda like free money.)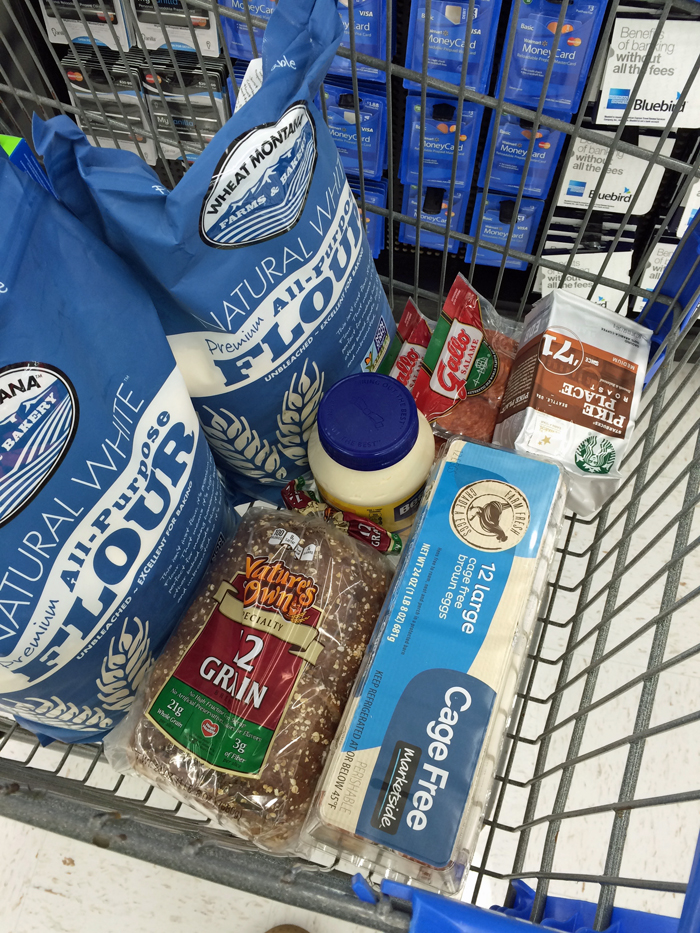 Sprouts
At Sprouts (pictured above) I loaded up on lots of fresh vegetables and milk to make sure we could go a few more days in that department. I think we're averaging 5 gallons of milk per week.
baby carrots $0.98
potatoes $2.49/5#
cilantro $0.50
cucumbers $0.68 ea
grape tomatoes $1.50
xl avocados $1.25
jalapenos $0.17
bell peppers $1.50
org broccoli $1.48/lb
org apples $4.99/3# bag
org power greens $3.98/large bag
veggie tray $4.99
mushrooms $1.99
bananas $0.69/lb
sparkling water $1.69
Total spent: $48
Trader Joe's
Midweek we ran out of milk, so we stopped in for three items. I'm not sure I've ever walked out of Trader Joe's with only three items!
2 gallons milk @$2.99 each
rice $1.99
Total spent: $9
Total spent this week: $98
Total spent this month: $231
Clearly things are trending well. We are due for more coffee, produce, and dairy, and we are running low on pasta and things that my fam counts as a regular food item. Things could get interesting!
How did YOU grocery geek out this week?