Want a peek into our grocery cart? Here's how I'm grocery shopping and feeding eight people on the cheap.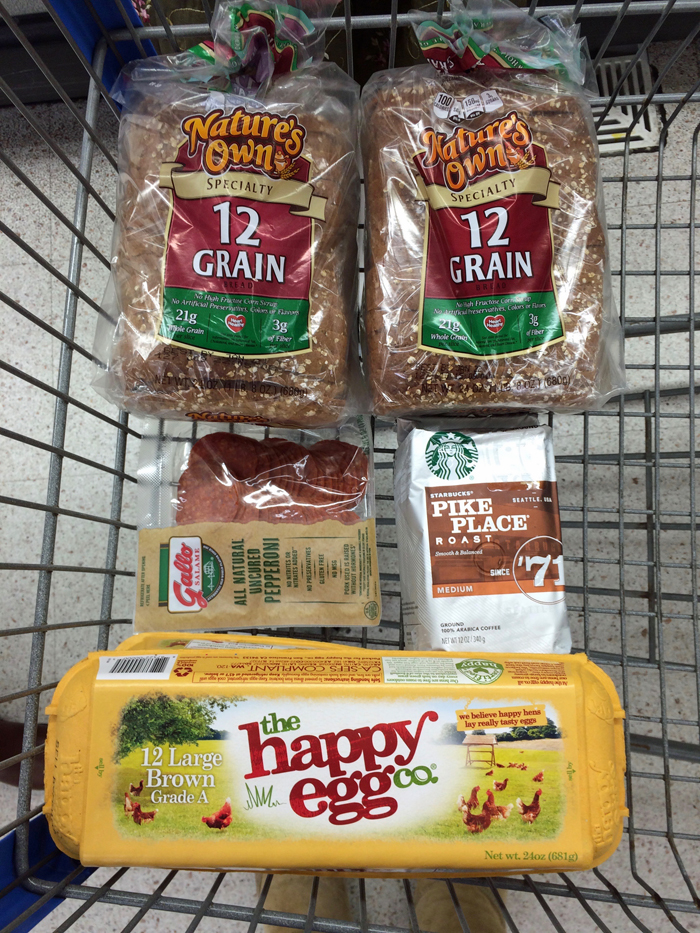 We're winding up our third full week of the Pantry Challenge. My log dates don't coincide with the dates on the calendar because I didn't start reporting our meals until the 4th, however, these grocery geek reports reflect all our purchases in January. And no, we didn't go over budget in December.
Our home has termites and will need to be fumigated in the next month or so, so this Pantry Challenge is doing double duty, to help us save money as well as save me from having to pack up a whole lot of food during the tenting. I figure the less we have on hand, the less I have to bag up.
The added benefit is that we'll get to start fresh on the other side of the tent and buy groceries that we really want to buy. It's amazing what grocery clutter can collect over time!
I'm feeling pretty good about our efforts so far this month. My grocery shopping has been basically what we need to round out what we already have or to save my mental health when the challenge gets tough.
Grocery Geek
Here's the rundown on my shopping this week. As you read, keep in mind who and how I'm shopping:
My grocery shopping profile
To update you on my grocery geekiness:
I'm feeding eight people, ages 52, 43, 18, 15, 13, 11, 9, and 7. Five of those people are males. They eat A LOT!
I'm shooting for a budget of $1200, per the USDA food cost reports the last time I added up for people of our demographics. I live in Southern California where produce is cheap, but meat and dairy are not.
I'm trying to feed us mostly unprocessed foods, with a few "healthier" convenience items thrown in and a junk food splurge* here and there.
I work at home and teach six kids, so I don't have as much time for fiddling in the kitchen as I would like.
I no longer use coupons on a regular basis, though I do love the coupons that Ralphs offers.
I have at least ten grocery stores within 5.5 miles of my house. It is easy (for better or for worse) to stop at several stores to get the best deals.
We mostly eat at home. My husband often packs lunch and breakfast to work, but sometimes has lunch out. We eat out for a date once a week. FishPapa takes one child out to "dinner with dad" once a week. We eat out as a family on average once a week.
Obviously, your mileage may vary. But, I'm constantly amazed at how well we eat without spending a crazy amount of money.
Here's how the shopping went down this week:
Walmart
For some reason it's much easier for me to buy just a few things at Walmart than at other places. Maybe because I don't really love being there; I just want to get out. So, since my grocery list (not including produce) was pretty small, that's where I headed for those hopefully cheaper basics.
coffee $7.48
sandwich bread $2.82
pepperoni $3.86
eggs $4.78
Total spent: $27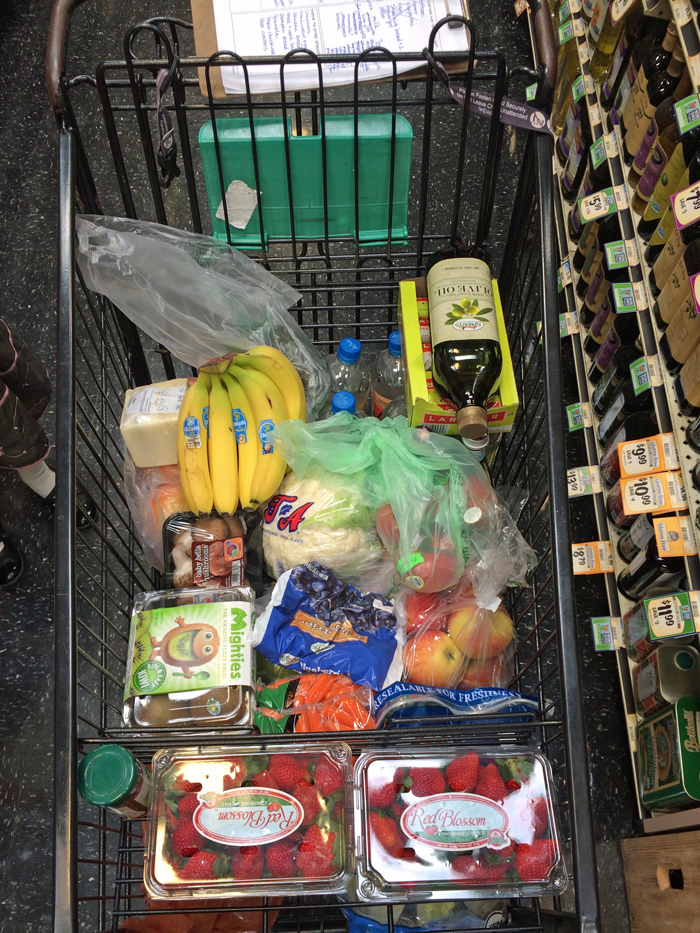 Sprouts
Sprouts is a great place for produce. Since that was the bulk of my list, I went there again this week to stock up:
baby carrots $0.88 each
strawberries $1.98 each
cucumbers $0.50 each
pears $0.98/lb
bananas $0.69/lb
olive oil $6.99
kiwi $3.98
org potatoes 5lb/$2.50
sparkling water $1.69
Larabars $1 each
frozen blueberries $2
org apples 3lb for $3.48
mushrooms $1.99
org tomatoes $1.98/lb (not sure why I paid this much. Huh.)
org romaine hearts 3/$2.99
cauliflower $0.98/lb
xlg avocados 

$0.98 each

jack cheese $1.99/lb
grapefruit $0.25 each
peppercorns on clearance $0.99
milk $2.99/gallon
Total spent: $88
Ralphs
We ended up needing two mid-week stops at Ralphs. I didn't anticipate going through as much bread, cheese, and milk.
mini bagels 

$2.49 dozen

sandwich bread 

$2.49 

cheese $1.88 each
Total spent: $9
Ralphs again
FishPapa made this stop for me. He wanted chocolate Larabars. They weren't on the list, but the guy is so good about sticking to the list 99.9% of the time, I am not complaining.
2 gallons milk $2.49 each
2 dozen eggs 

$2.49 each

Larabars $1 each
Total spent: $14
Total spent this week: $138
Total spent this month: $369
So, we're doing pretty well! We've spent less than 1/3 of what we normally spent in a month! I know that next week will be much more since we will be out of proteins by then, but I'm really pleased that we've done so well AND not resorted to extra take-out meals. Yay!
Did you grocery geek out this week?