Want a peek into our grocery cart? Here's how I'm grocery shopping and feeding eight people on the cheap.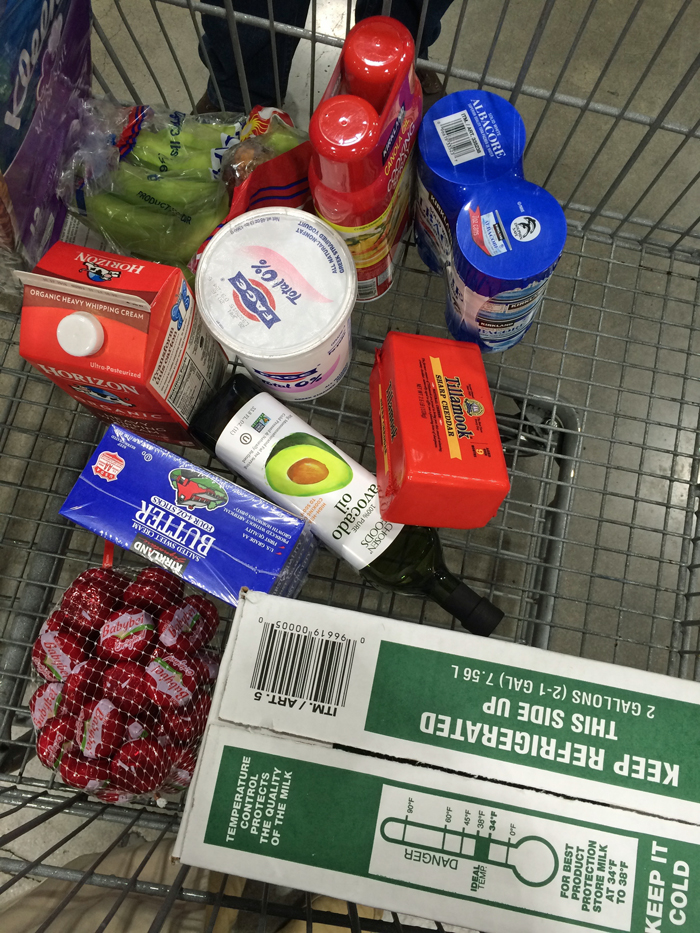 Since we're into the Pantry Challenge this month and trying to use up what we have — down to zero in the freezers, please — my grocery shopping was on an as-needed basis. This meant that I made a few more stops than normal, but each stop was fairly small.
I'm sure that we will spend much less than our usual budget this month, but I'm feeling skeptical that we can empty the freezers. Time will tell, eh? As I mentioned on Periscope earlier this week, part of the challenge is just avoiding temptations, right? Temptation for me is the grocery store!
Grocery Geek
Here's the rundown on my shopping this week. As you read, keep in mind who and how I'm shopping:
My grocery shopping profile
To update you on my grocery geekiness:
I'm feeding eight people, ages 52, 43, 18, 15, 13, 11, 9, and 7. Five of those people are males. They eat A LOT!
I'm shooting for a budget of $1200, per the USDA food cost reports the last time I added up for people of our demographics. I live in Southern California where produce is cheap, but meat and dairy are not.
I'm trying to feed us mostly unprocessed foods, with a few "healthier" convenience items thrown in and a junk food splurge* here and there.
I work at home and teach six kids, so I don't have as much time for fiddling in the kitchen as I would like.
I no longer use coupons on a regular basis, though I do love the coupons that Ralphs offers.
I have at least ten grocery stores within 5.5 miles of my house. It is easy (for better or for worse) to stop at several stores to get the best deals.
We mostly eat at home. My husband often packs lunch and breakfast to work, but sometimes has lunch out. We eat out for a date once a week. FishPapa takes one child out to "dinner with dad" once a week. We eat out as a family on average once a week.
Obviously, your mileage may vary. But, I'm constantly amazed at how well we eat without spending a crazy amount of money.
Here's how the shopping went down this week: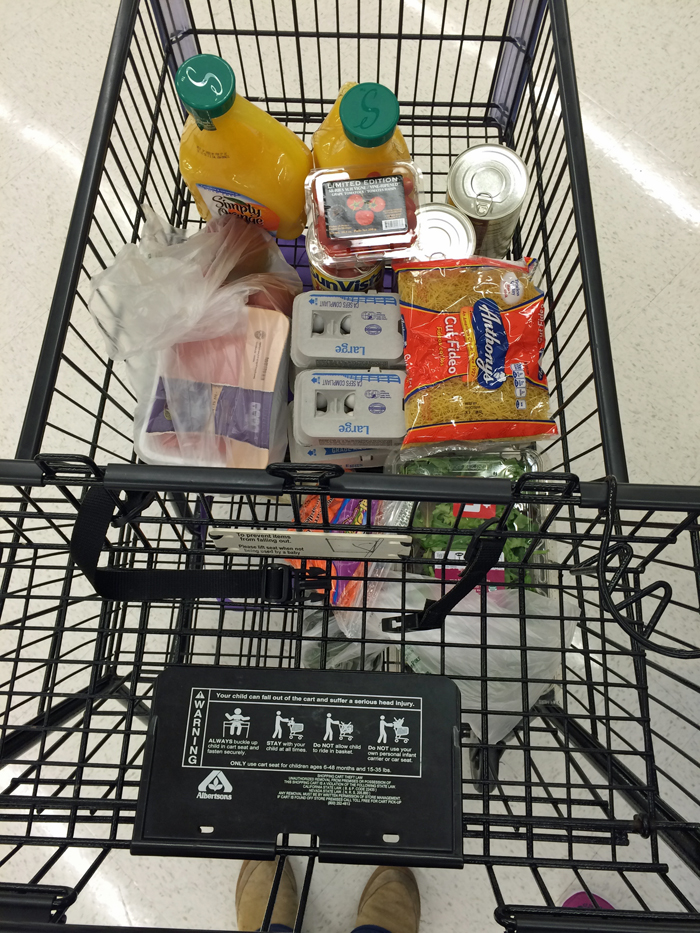 Albertsons
I had a gift card to Albertsons so I scanned their ads and found some great sales that complemented my pantry challenge meal plan. I've been super impressed with the quality of the fresh produce I bought. Total yum!
I mentioned in this scope that we always get sick during a pantry challenge, prompting me to go buy "sick foods". I decided to cut that one off at the pass and buy the sick foods now. If I'm prepared, we won't get sick, right? I loaded up on orange juice and noodles for chicken noodle soup. 😉
beans $.99/can
OJ $4.99/gallon
eggs $1.99/dozen (limit 4)
ground turkey $3.99/lb
fideo $2.69
organic baby greens $5
grape tomatoes $2.50
carrot chips $1.49
mangoes $0.69/each
avocado $0.99/each
pepperoni $4.49
Total spent: $52 FREE with gift card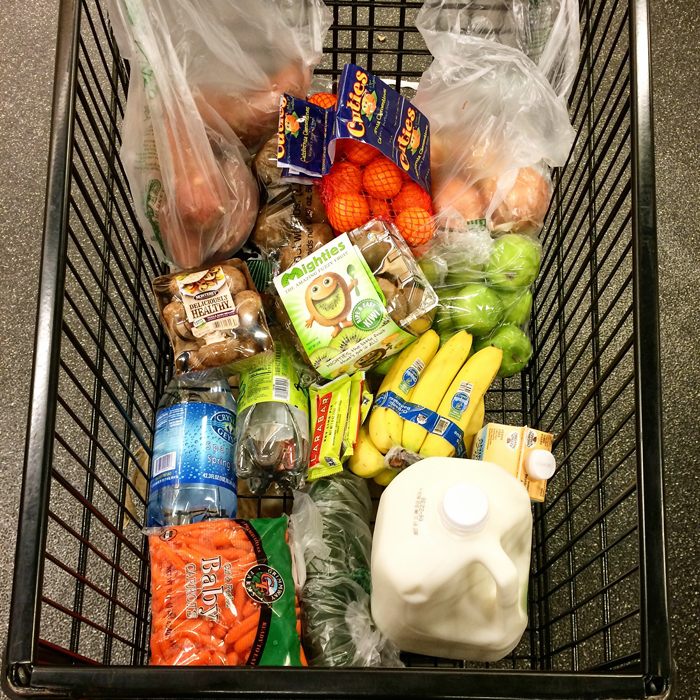 Sprouts
Sprouts has great prices on produce so one day when we ran out of milk, I headed there to get the milk and load up on produce.
carrots $0.88/lb
clementines $2.88/2lb bag
kiwi $3.88/2lb
organic apples $4.99/3lb
organic potatoes $2.50/lb
organic bananas $0.48/lb
sweet potatoes $0.88/lb
mushrooms $1.99
onions $0.77/lb
larabars $1.25 each (for FishPapa's lunches)
sparkling water $1.50 

(for FishPapa's lunches)

milk $2.99/gallon
cream $3.99/pint
Total spent: $51
Ralphs
(not pictured)
We go through a lot of milk, but don't have room in the fridge to stock it all at once. I stopped at Ralphs one day, just for milk. I turned a blind eye to everything else.
Total spent: $5
Costco
(pictured above)
That was a rough trip. So many sparklies! So many fun things to buy! I resisted and stuck to my list. That I left at home and had to have a child photograph and text to me. That's how willing I was to stick to my list. 😉
bananas $1.39
cooking spray $4.99 (I cannot live without this. I tried.)
babybel $10.99
yogurt $6.39
butter $9.99
canned tuna $14.89
avocado oil $9.49
milk $4.29/2 gallons
Tillamook $9.29/2.5 lbs
heavy cream $9.99
Total spent: $77
Total spent this week: $133
So, I think we're on track to save half our budget this month and HOPEFULLY empty out the freezers. I know I will need to buy a few things this next week so I'm trying not to feel guilty about taking two steps forward and one step back. At least that's how it feels when you shop during a Pantry Challenge. You know?
How's YOUR grocery geeking going?