Want a peek into our grocery cart? Here's how I'm grocery shopping and feeding eight people on the cheap.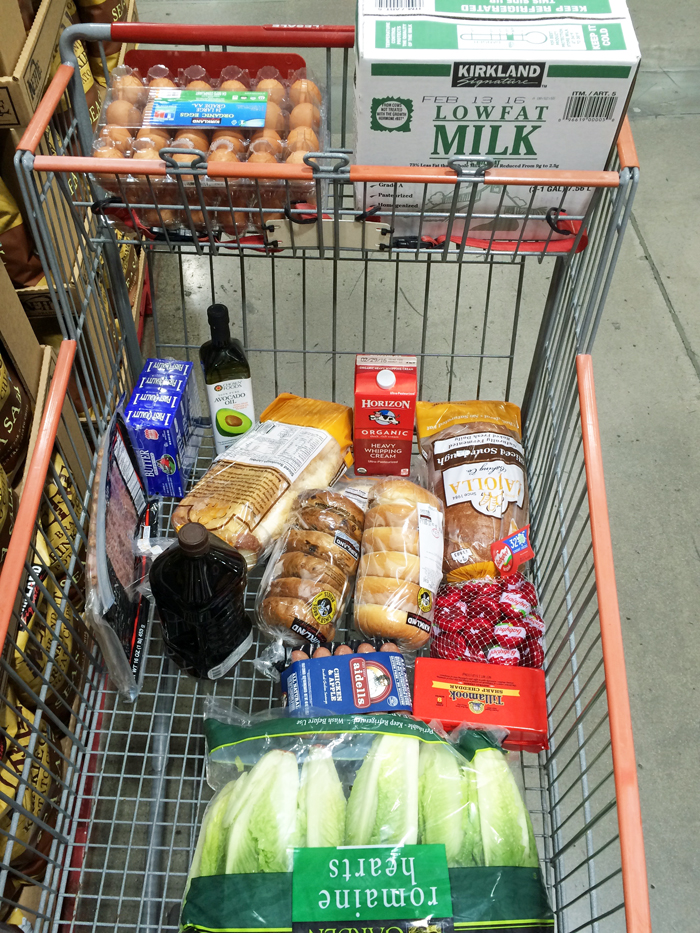 Okay, this was the final stretch, people. We ran out of proteins on Sunday night along with a lot of other things. While I might normally do a big stock up at this point, I did not this time. Because: termite tent is still in my future. So, I'm doing smallish shops and buying enough to get by for awhile. That's not normally how I roll, but whaddya gonna do?
I think we may spend more in the long run doing this, but not gonna know until we run the gauntlet, right?
Grocery Geek
Here's the rundown on my shopping this week. As you read, keep in mind who and how I'm shopping:
My grocery shopping profile
To update you on my grocery geekiness:
I'm feeding eight people, ages 52, 43, 18, 15, 13, 11, 9, and 7. Five of those people are males. They eat A LOT!
I'm shooting for a budget of $1200, per the USDA food cost reports the last time I added up for people of our demographics. I live in Southern California where produce is cheap, but meat and dairy are not.
I'm trying to feed us mostly unprocessed foods, with a few "healthier" convenience items thrown in and a junk food splurge* here and there.
I work at home and teach six kids, so I don't have as much time for fiddling in the kitchen as I would like.
I no longer use coupons on a regular basis, though I do love the coupons that Ralphs offers.
I have at least ten grocery stores within 5.5 miles of my house. It is easy (for better or for worse) to stop at several stores to get the best deals.
We mostly eat at home. My husband often packs lunch and breakfast to work, but sometimes has lunch out. We eat out for a date once a week. FishPapa takes one child out to "dinner with dad" once a week. We eat out as a family on average once a week.
Obviously, your mileage may vary. But, I'm constantly amazed at how well we eat without spending a crazy amount of money.
Here's how the shopping went down this week:
Trader Joe's
I went to Trader Joe's prior to our quick trip to Santa Barbara. My main purpose was to get travel snacks as well as food for when we got home. The cupboards were more than bare and I didn't know when we'd come home or what state I'd be in for grocery shopping. Good thing I went since FishBoy18 stayed home. He woulda been doing his own grocery shopping. Ha!
Unfortunately, I can't find my receipt, so I can't give you details. Paid with my ATM card, so I know what I spent. Ha!
Total spent: $71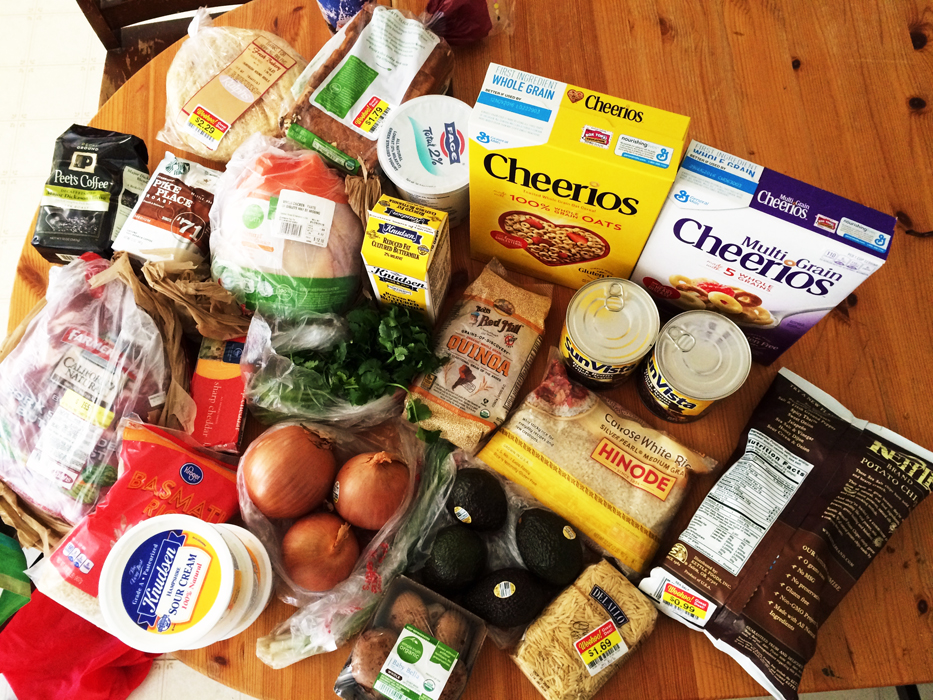 Ralphs
On Monday I went to Ralphs to pick up some proteins and basics. Since the cupboard was practically bare, I also gave myself permission to cruise the markdowns. The total gave me sticker shock; that's what quinoa and meat will do to you.
sour cream $2.49 each
coffee $6.99 to $7.99
cheerios $0.49 to $1.49 after sales and coupons
basmati rice $4.49
beans $1.69
calrose rice $2.19
cheese $1.88
orzo $1.69 on clearance
buttermilk $2.99
mushrooms $2.99
avocados $0.99 each
scallions 

$0.99

cilantro $0.69
onions 

$0.99/lb

fage $6.99
organic sandwich bread $1.79 on clearance
kettle chips 

$0.99 on clearance

quinoa $14.99 (I know)
pork roast $15.52 ($1.99/lb)
whole chicken $12.18
sourdough boule $2.29 on clearance
Total spent: $104
Costco
pictured above
Hubs and I headed to Costco on date night for gas and groceries. How romantic! It's the most painless way to shop at Costco. He drops me off at the door and goes to get gas. By the time he's done waiting in line, I'm basically done shopping. I don't have to carry heavy packages, and he doesn't have to text me to ask me what kind or where is it located. Win-win.
milk $4.29/2 gallons
eggs $7.29/2 dozen
avocado oil $9.49
olive oil $14.89
Tillamook cheddar $9.29
butter $9.99/4 lbs
babybel $10.99
chicken sausage $13.89
organic heavy cream $9.99
romaine $2.99/6 heads
bacon $10.99
sourdough $3.69
bagels $4.99/dozen
Total spent: $118
Albertsons
Late Friday I cruised by Albertsons for mozzarella cheese that I forgot to get at Costco.
Total spent: $7
Total spent this week: $300
Total spent in January: $669
So, not too shabby, right? Normally we'd be spending $1200 for the month, so using up what we already had on hand definitely shaved some off. I'd call this pantry challenge a success!
How did YOUR grocery shopping go?