Want a peek into our grocery cart? Here's how I'm grocery shopping and feeding eight people on the cheap.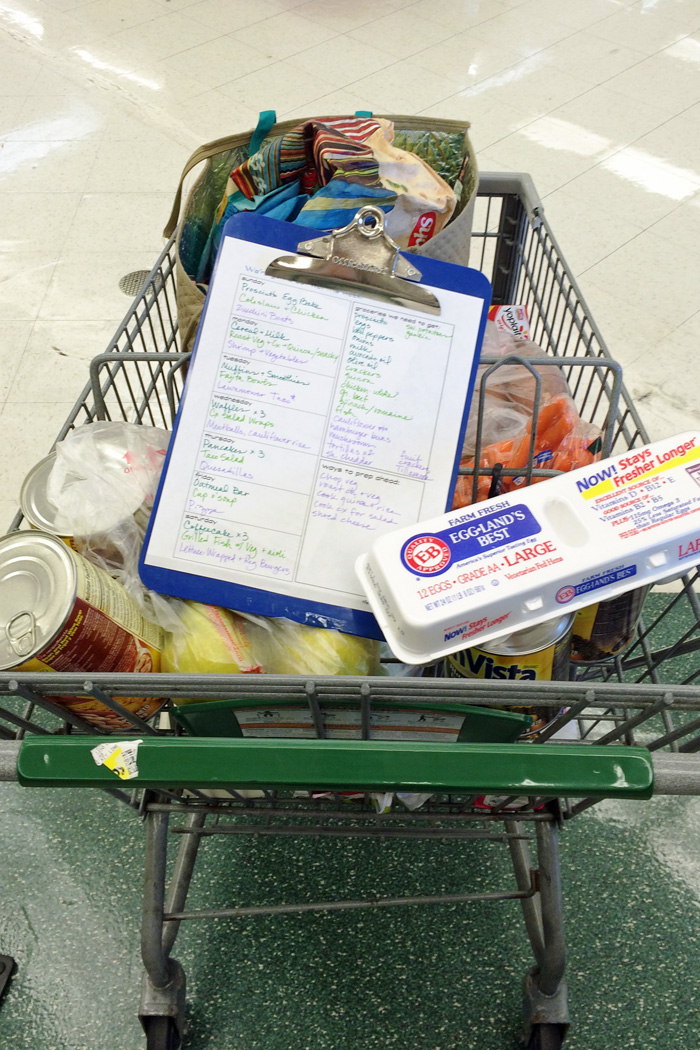 This was a hard week for me, health-wise, so bear with me if I didn't get great pictures. We survived. I didn't follow my meal plan worth a darn, but we didn't eat take-out except on Sunday night, when I think I should have a night off anyway. Ha!
I feel like we've been indulgent this week but since the freezer's full and I think we're mostly shopped for Christmas, I'm not gonna worry about it.
Grocery Geek
Here's the rundown on my shopping this week. As you read, keep in mind who and how I'm shopping:
My grocery shopping profile
To update you on my grocery geekiness:
I'm feeding eight people, ages 52, 43, 18, 15, 13, 11, 9, and 7. Five of those people are males. They eat A LOT!
I'm shooting for a budget of $1200, per the USDA food cost reports the last time I added up for people of our demographics. I live in Southern California where produce is cheap, but meat and dairy are not.
I'm trying to feed us mostly unprocessed foods, with a few "healthier" convenience items thrown in and a junk food splurge* here and there.
I work at home and teach six kids, so I don't have as much time for fiddling in the kitchen as I would like.
I no longer use coupons on a regular basis, though I do love the coupons that Ralphs offers.
I have at least ten grocery stores within 5.5 miles of my house. It is easy (for better or for worse) to stop at several stores to get the best deals.
We mostly eat at home. My husband often packs lunch and breakfast to work, but sometimes has lunch out. We eat out for a date once a week. FishPapa takes one child out to "dinner with dad" once a week. We eat out as a family on average once a week.
Obviously, your mileage may vary. But, I'm constantly amazed at how well we eat without spending a crazy amount of money.
Here's how the shopping went down this week: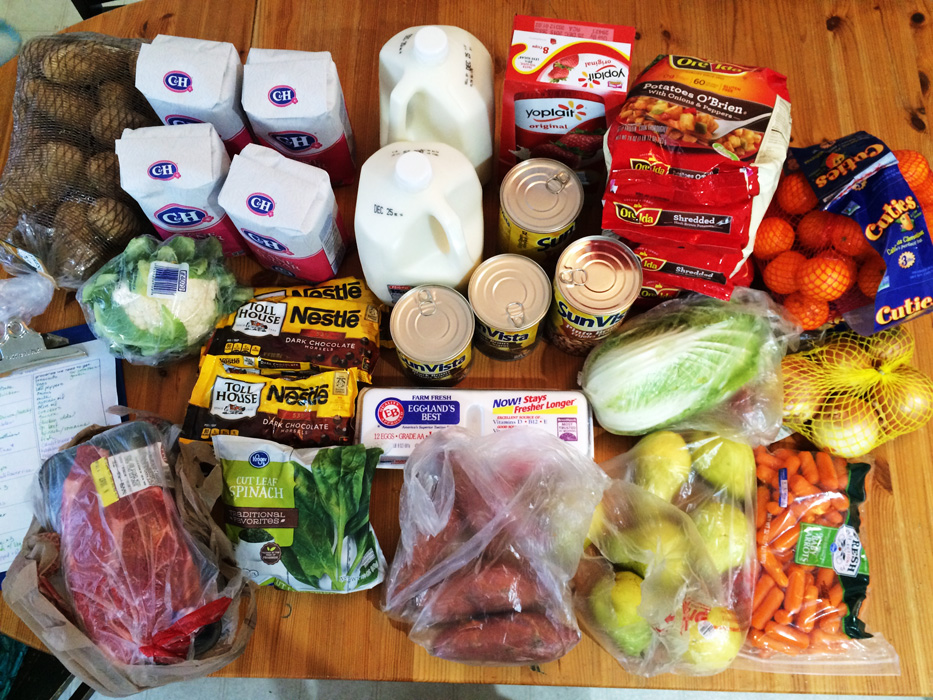 Ralphs
I headed to Ralphs early on Sunday morning. By myself. Yay! Here's what I filled my sweet little cart with.
chocolate chips – I got the dark and bittersweet since they are soy-free – $1.88/bag
frozen potatoes – $1.99 when you buy 4
canned beans – $1.79 to 1.99 for really big cans
frozen spinach $0.99
yogurt fridge pack $4.99
milk $2.49/gallon
chile powder $0.69
sugar $0.99 to $1.49 after coupons and specials
eggs $4.79/per freaking dozen
onions $1.50
cabbage $1.29/lb
clementines $2.99
cauliflower – a small fortune – it was unmarked otherwise I wouldn't have bought it.
sweet potatoes $1.69/pound
baby carrots $1.99/2 pounds
potatoes $3.99/10pound bag
pears $0.99/pound
chuck roast $3.77/pound
MINUS $5 off $15 produce
MINUS $5 off $50 purchase
MINUS random $1 coupon
Total Spent $82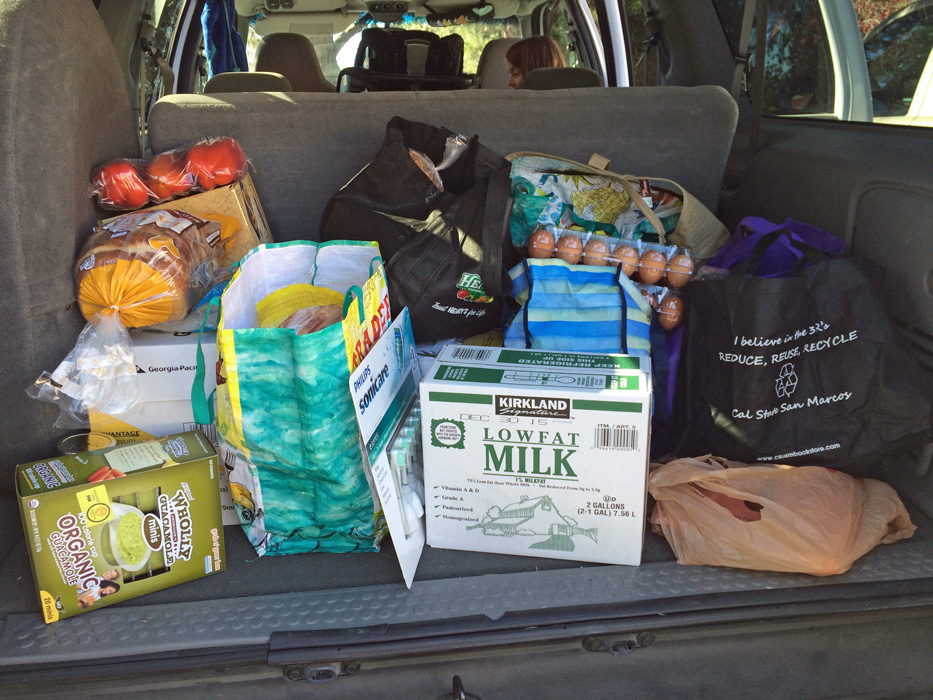 Costco
Later that day, yes, Sunday, the girls and I went to Costco. We got there when they opened so it wasn't so bad. Except for the sticker shock.
organic eggs $3.50/dozen
bananas $1.39
organic spinach $3.49
ritz crackers $6.49 after coupon
rice crackers $7.99
pomegranate juice $6.19 after coupon
avocado oil $9.49
organic chicken stock $10.99/6 cartons
Tillamook cheddar $8.99
jam $6.59
sliced sourdough $3.69
uncured bacon $15.99 (WAY too much. Shouldn't have bought, but it's for Christmas)
goat cheese $6.99/2 large logs
asiago cheese $8.99/ginormous wedge
potstickers $10.69 – my saving grace one night this week
tortillas $3.69
bell peppers $5.79/6-pack
bagels $4.99/dozen
butter $10.99/4 pounds
guacamole packs $10.99
olive oil $14.89
mahi mahi $19.99
mozzarella cheese $11.39
ground beef $20.35/6+ pounds
Total Spent $250
Trader Joe's
Sorry! No picture! Hubs went for me and I was too tired when he got back to do more than put it away. He bought multiple packages of all these things.
frozen chicken tenders $7.49
mushrooms $1.79
kefir $2.99
pepperoni $2.99
salami $2.99
brie $4.31
eggs $2.79
rice $2.99
Total Spent $65
Target
I ran to Target for the coffee deal. I had to jump a few hoops but after Cartwheel coupons, store rebates, and Starbucks rebate, the coffee was $1.99/package.
Total Spent $6
Total spent this week $403
Total spent this month to date $815
So, it's adding up, but we've got $1200 budgeted for the month. We should be fine. There are incidentals I need to buy, like I'm running out of flour and we have company coming this weekend and next, but I think we're in good shape. No one will be going hungry!
How's your grocery geeking going?