This is my Grocery Geek report for the second week of December. I was able to shop once and eat all week. Yay!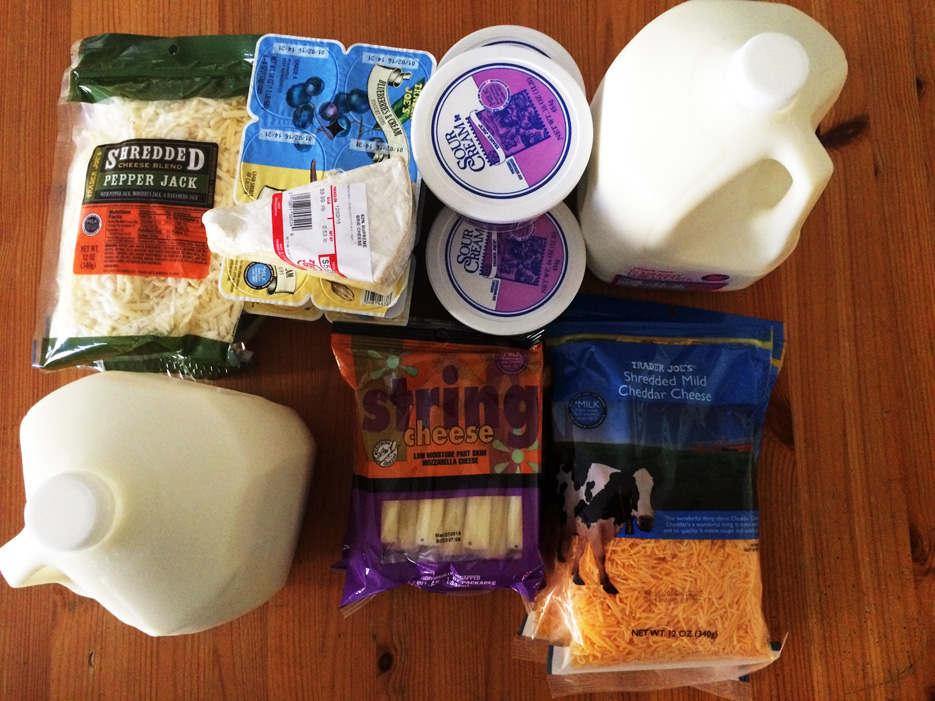 I didn't really think I could do it. Shop for the whole week without multiple trips to the store. Not only would that take amazing feats of organization, planning, and shopping, but it would also take ninja refrigerator skills to get food for our crew of 8 to fit into our one side-by-side refrigerator. Couple that with the fact that I was doing freezer cooking this week, and really the odds were stacked against me.
But, lo and behold. Miracles are possible, even grocery shopping ones.
I'm thrilled to report in this week's Grocery Geek report that I only went to one store and we had enough food! This morning I did ask FishBoy18 to get us some milk (we ran out Thursday) and some mozzarella cheese for pizza night. When I asked how much I owed him, he said it was on him since he planned on drinking most of the milk. Ha! So that grocery trip doesn't even count, does it? 😉
I actually scoped my meal planning this week on the Periscope app. You can watch the replay here. I had no real hope of staying out of the stores, but yay! It happened.
Grocery Geek!
Here's the rundown on my shopping this week. As you read, keep in mind who and how I'm shopping:
My grocery shopping profile
To update you on my grocery geekiness:
I'm feeding eight people, ages 52, 43, 18, 15, 13, 11, 9, and 7. Five of those people are males. They eat A LOT!
I'm shooting for a budget of $1200, per the USDA food cost reports the last time I added up for people of our demographics. I live in Southern California where produce is cheap, but meat and dairy are not.
I'm trying to feed us mostly unprocessed foods, with a few "healthier" convenience items thrown in and a junk food splurge* here and there.
I work at home and teach six kids, so I don't have as much time for fiddling in the kitchen as I would like.
I no longer use coupons on a regular basis, though I do love the coupons that Ralphs offers.
I have at least ten grocery stores within 5.5 miles of my house. It is easy (for better or for worse) to stop at several stores to get the best deals.
We mostly eat at home. My husband often packs lunch and breakfast to work, but sometimes has lunch out. We eat out for a date once a week. FishPapa takes one child out to "dinner with dad" once a week. We eat out as a family on average once a week.
Obviously, your mileage may vary. But, I'm constantly amazed at how well we eat without spending a crazy amount of money.
Here's how the shopping went down this week: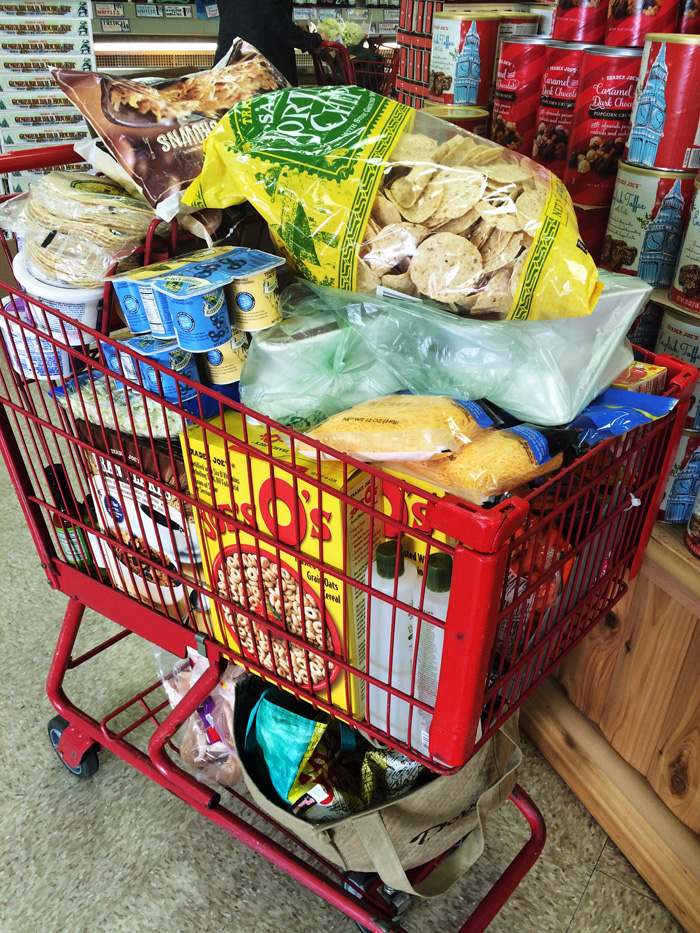 Trader Joe's
I love Trader Joe's because they guarantee that they won't put junk in their store brand stuff. Plus, they have chicken and ground turkey that we really like. I won't buy those things anywhere else! Whenever we are out of those two items, Trader Joe's has to go on the list.
This week I decided that I would make it work as best I could at TJ's even though some things were cheaper elsewhere. I've kinda learned that if I went to Costco for cheaper milk, I'd spend more than the savings throwing other stuff in the cart!
Here's what I bought:
tortilla chips – $3.29/bag
frozen shredded hashbrowns – $1.69/bag
9 pounds ground turkey for lunches and freezer cooking – $32 total
6-pack yogurts – $2.99 each
assorted teas – $1.99 each
shredded cheddar – $3.49/bag
corn tortillas – $0.99/dozen
sour cream – $1.69/pint
milk – $2.99/gallon
shredded pepper jack – $3.99/bag
Brie cheese – $5.29 (my little splurge)
string cheese $2.99
baby carrots $1.49/1.5-pound bag
onions – $0.59/each
organic green bell peppers $2.49/2
organic red bell peppers $2.99/2
cereal – $1.99/box
dried mango – $2.99
organic cucumbers – $2.49/box
almonds – $6.49/pound
shredded cabbage – $1.29
broccoli – $1.79
organic romaine hearts – $2.49/3
mushrooms – $1.79/8 ounces
hatch valley salsa – $2.79
zucchini – $1.99/1.5 pounds
chicken tenders – $7.49/bag
sunflower seed butter – $4.99/jar (we have a peanut allergy)
beans – $0.79 – $0.99 (could have gone to another store for dried: but another store!)
oat bran – $2.79
pickles – $2.49
fig butter – $2.29 (for when company comes next week)
chicken broth – $1.99
mustard $1.29 to $1.69
hot pepper sauce $2.29
Total spent this week $227
And THAT is with making extra meals to stash in the freezer. Did you just hear angels sing? I was able to feed my family really well (breakfast, lunch, dinner and snacks) plus make 9 extra meals for the freezer. I'm beyond happy.
Going into next week, I know that I need to go to Costco. We are out of enough best-price-at-Costco things that it will make it worth it. I also have some great coupons to use at Ralphs and they've got a killer price on beef roasts this week ($3.77) so it will be a two-stop week, but I'm inspired to plan really well so that next week can be as simple.
Total spent this month to date $412
Our budget is $1200 for the month, so it's looking like we'll do okay! We've still got Christmas and New Year's plus some company coming. But, I've got a lot of Christmas dinner already on hand. So, we'll see. My freezer cannot hold much more, so we should be good.
How are YOU grocery geeking out?