Talk about your quick dinner ideas! Enter to win a copy of my latest cookbook, Good Cheap Eats Dinner in 30 Minutes or Less!
This giveaway is now closed. Congrats to the winners: sandybeach_16@, rmtz96@, and jhales_finance@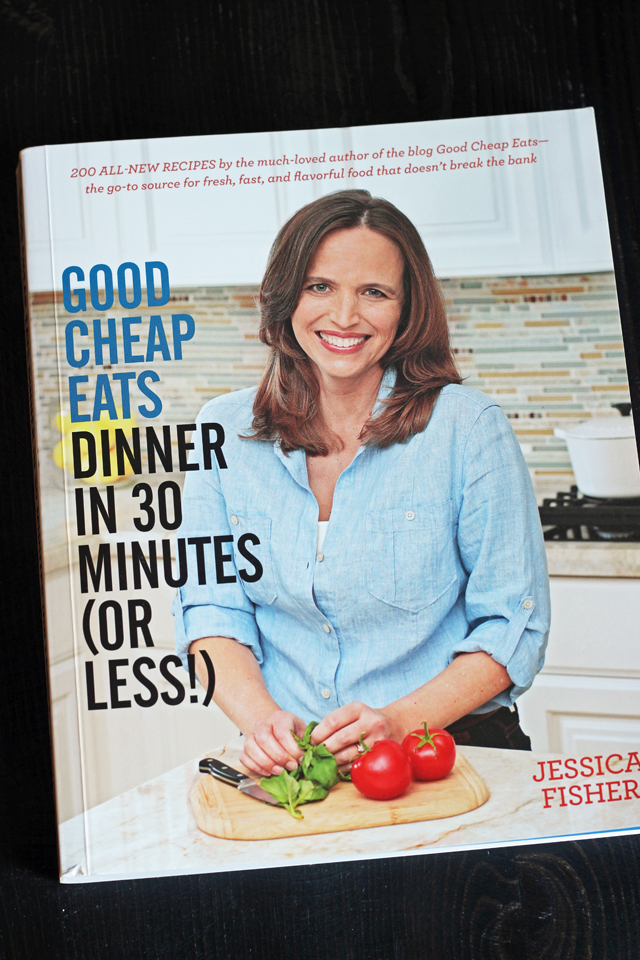 In case you didn't know, writing a cookbook involves a lot of blood, sweat, and tears. Each of my books — there are four to date — has taken the majority of a year of my life. My family can attest to that.
They can also attest to the fact that more often than not, they've eaten really well. If I do say so myself. And I do.
The latest book in the collection, Good Cheap Eats Dinner in 30 Minutes or Less, is dedicated not only to saving money on good home cooking, but also to doing it without a lot of hassle. My focus when recipe testing was to see how quickly I could prepare a meal if I had the right ingredients on hand.
Some recipes take as few as ten minutes! Come on! If that isn't a quick dinner idea, I don't know what is!
This month we've been chatting about Quick Dinner Ideas in this 31-day series. Before we get too far into the series, I wanted to offer a little goodie!
Win a Copy of Good Cheap Eats Dinner in 30 Minutes or Less
Three Good Cheap Eats readers will each win a copy of my new cookbook!
Thank you so much for being so encouraging to my own personal good cheap eating! I want to return the favor, even if in a small way.
If you already bought the book, THANK YOU. If you had a minute to write a review, thank you even more! And don't be afraid to enter this giveaway even if you've got a book on hand. They make great kids for Christmas, kids at college, and newlyweds.
To Enter
Fill out the form below for your chance to win. Please only one entry per person. Duplicates will be deleted.
This promotion is open until Sunday, October 25, 2015 at 8 pm PST and is limited to US residents, 18 years or older. One entry per person. Friends and family of Jessica Fisher are ineligible for entry. Please enter only once. The winners will be chosen randomly. This post will be updated with the beginning of the winner's email address. The prize for this promotion is provided by the Harvard Common Press I will not be held responsible for unclaimed or undelivered prizes.