Get the meal plan that works on your terms with this Month of Meals digital plan.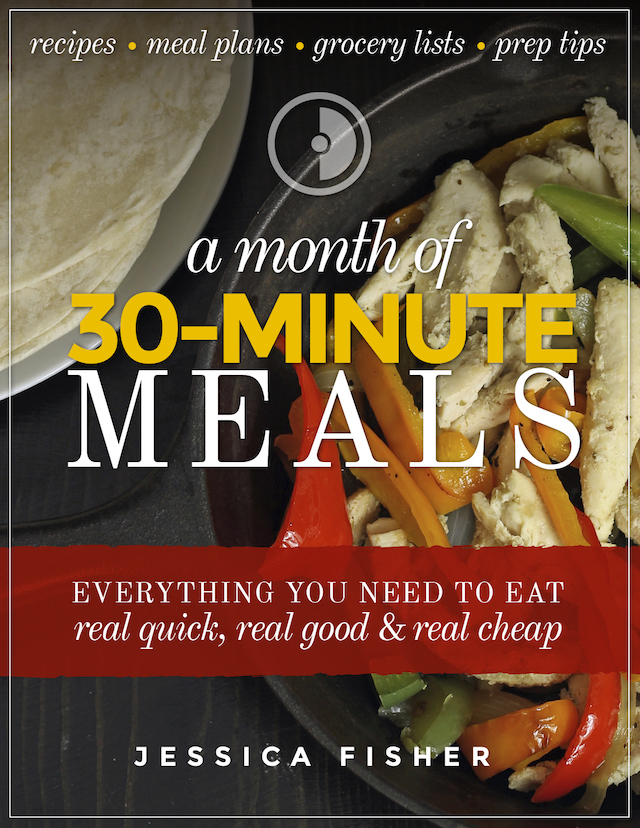 Since March I've been developing a new series of meal plans, and I'm so excited to tell you about it! The first one is finally ready and it's super fun!
What if I told you you could make dinner super duper quickly?
What if it involved no processed foods?
What if it tasted delicious, your kids loved it, and you lost ten pounds?!
Okay, I can't promise the weight loss. But, I can promise all those other things. Month of Meals is designed to help you feed your family well without a lot of hassle.

Here's what you'll get in each Month of Meals:
30 recipes selected around a theme. All are budget- and family-friendly. The recipes are included in the book so you won't have to be clicking around to find them. It's all in the document. This month's theme is 30-minute meals. I've got allergy-friendly and make-ahead plans in the works so stay tuned!
color photos – So you know what you're making!
4 weeks of meal plans – organized so that recipes build on one another wherever possible.
5 grocery lists – 1 for each of the four weeks as well as one for the entire month so you can shop in advance, taking advantage of sale pricing and knowing that you really will use up that whole jar of sundries tomatoes.
side-dish suggestions – five bonus recipes and links to others to help you make dinners quick and easy.
homemade alternative ideas – substitutions for commercially made items
weekly prep tips – list of things that can be made in advance and guidance to stretch your dollar as well as your kitchen time.
leftover alerts – "catch all meals" plus ideas for what to make with little bits of leftovers so you don't waste anything.
The first Month of Meals is here!
But, it will only be available through the end of July, then it's off the shelf. So, get it while you can.
The plan costs $9, but after you make your purchase, you'll receive a coupon code to get $3 off your next purchase in the FishMama shop. 😉
A peek at the recipes included: Chicken and Biscuit Pizza (pictured), Easy Chicken Fajitas, Quick Meat Sauce, Tomato-Brie Pasta, Ham and Cheese Salad, Antipasto Pasta Salad, Cilantro Chicken Rice Bowls, and Pulled Chicken Sliders. You can also see the table of contents over here.
If you've enjoyed the other meal plans I've developed, I'm pretty sure you'll love these. Stay tuned for regular Month of Meals!