Want a peek into our grocery cart? Here's how I'm grocery shopping and feeding eight people on the cheap.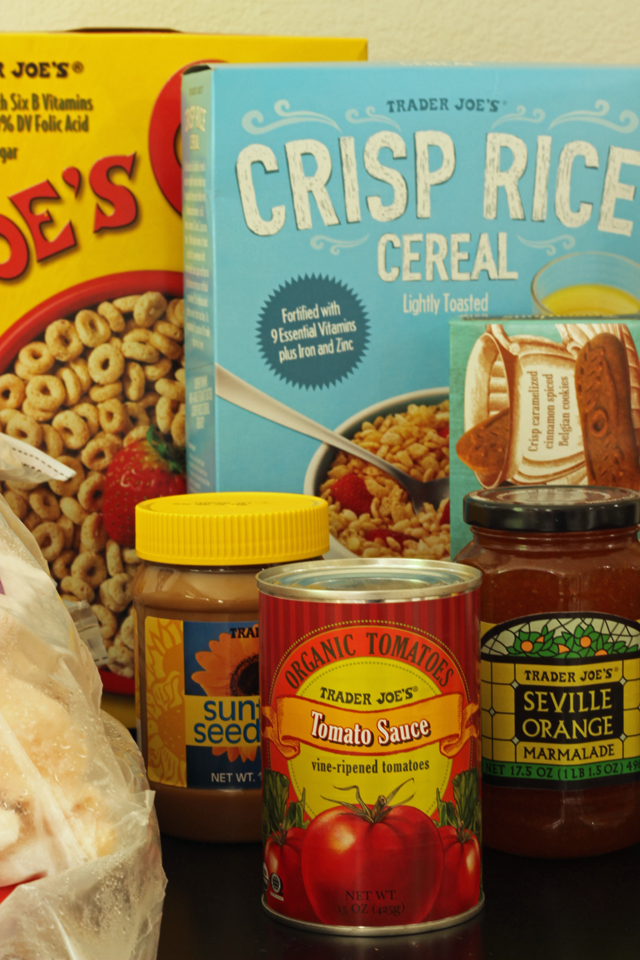 This week has been a double birthday/freezer cooking/knee surgery kind of week! Two kids planned all the meals for their special days. I tested out this month's freezer cooking plan. And FishPapa has knee surgery tomorrow am.
That last thing has nothing to do with my grocery shopping — except that I might return something to Costco while he's in surgery — but man, it does do a touch to my stress level. Whew. Your prayers are appreciated.
As for grocery shopping, I made three stops this week to accommodate all the above, hitting Costco, Trader Joe's, and Ralphs.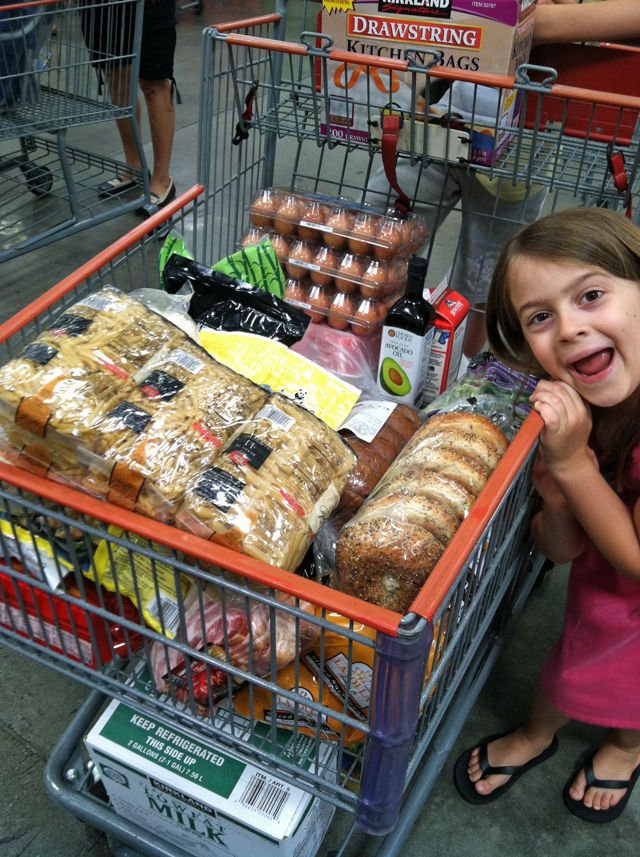 Costco
I dread going to Costco, but it's necessary to appease my tight-fistedness. There are some great deals to be had there, among other reasons to shop at Costco. This week I took FOUR KIDS with me. The younger ones. Aiyiyi. That was a mite stressful. I usually take one of the boys who can lift, but this time we were on our way home from someplace else. With gas at $3.49+/gallon, every mile matters.
My girl IS a cute photo bomber, though.
Here's what I got:
2 gallons milk $4.79
applesauce pouches $9.69
black olives $8.99 for 8
pineapple $9.69 for 8
sparkling juice $13.49/case
sourdough bread $3.69
bagels $5.49/dozen
butter $8.99/4 pounds
2.5# Tillamook cheddar $9.89
frozen wontons $7.19
potstickers $10.69
big bag frozen sockeye salmon $29.79
bag frozen mahi mani $19.99
shredded mozzarella $10.99
uncured bacon $10.59
organic pasta $8.49
organic sugar $7.99
baby carrots $4.49/5#
ginormous hunk of romano cheese $13.38
olive oil $15.99
avocado oil $9.79
heavy cream $9.99/half gallon
large deli turkey breast $14.72
organic eggs $6.99/2 pounds
kale salad $4.49
4# strawberries $5.99
ground beef $3.79/lb
Total spent $347.30
not all items pictured
Trader Joe's
On date night, FishPapa and I cruised through Trader Joe's for a few meats for my freezer cooking plan as well as a few other things. My regular TJ's remodeled one aisle, supposedly to be in line with all the other locations, but I call BULL. It isn't remotely like the one across town. That one aisle is driving me crazy.
In other Joe's news, I swear by their frozen chicken tenders. They are consistently excellent, even when they sit in the Crock-pot for too long. On the other hand, I tried Sprouts' chicken tenders last week; they were on sale — and also disgusting. Super tough even though I was really careful not to overcook them. I had had trouble with their chicken breasts awhile back and was curious if the tenders would fare better. They did not. I took the second package back to the store the very same day. I want my five dollars.
Here's what I bought at TJ's, in addition to the wonderful frozen chicken tenders.
shredded hash browns $1.69
chocolate cookies $2.79
speculoos cookies $3.98
chicken tenders $7.99/2.5#
tater tots $2.29
ground turkey $2.99/lb
cereal $1.99
pepperoni $2.99
sunbutter $4.99
marmalade $3.49
tomato sauce $1.49
organic romaine hearts $2.49
rice vinegar $1.99
sesame oil $2.69
organic cucumbers $2.49
Total spent $84.39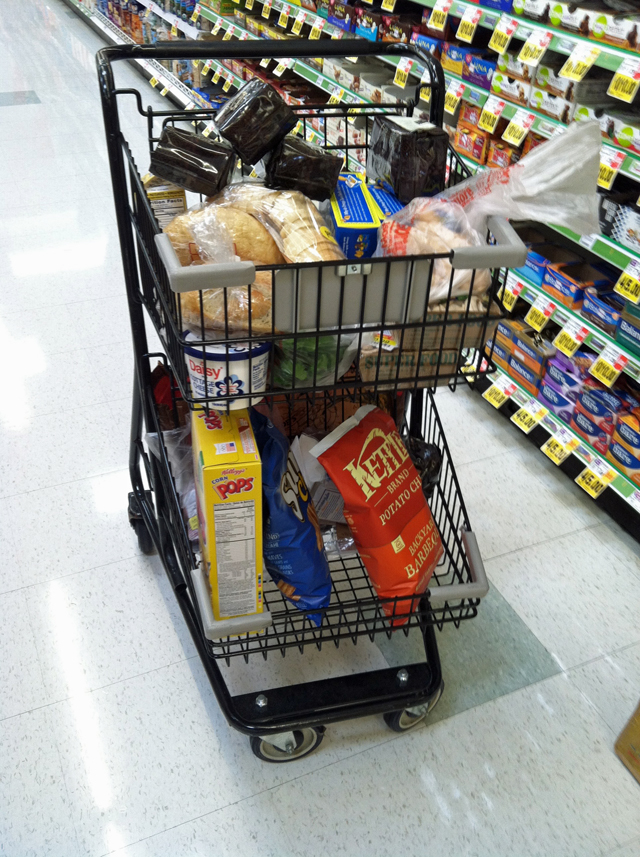 Ralphs
I rounded out my freezer cooking shopping and had the boys pick out birthday meals at Ralphs. Since Ralphs has sales and manager specials, I can get my deal-finder fix. This week we found some great markdowns.
Corn Pops (bday breakfast) $3.99
flour $3.19
sun chips $3.29
Peets coffee $6.99
taco shells $0.99 markdown
cottage cheese $2.49
buttermilk $2.99
cilantro $0.59
green onions $0.99
jalapeños $0.49
ginger root $1.73
mushrooms $0.99 markdown
kettle chips $3.49
larabar $0.85 with coupon
tri-tip $5.99/pound (bday dinner – cheaper than going out)
deli roast beef $6.35
markdown bread $0.99 to $1.99
bagels $3
ice cream cones $3.29
horseradish $3.69
shrimp $13.99
spread cheese $3
sushi $6.99
Total spent $122.72
Obviously the bulk of this month's budget was spent this week. Birthdays and freezer cooking are reasonable reasons. I am going out of town next week so I'll need to make sure there's easy food in the house. We're already on our last gallon of milk. Sigh.
But I think we're doing okay for a wild and crazy household. 🙂
Total spent this week $554.41
Total spent this month to date: $815.37