Want a peek into our grocery cart? Here's how I'm grocery shopping and feeding eight people on the cheap.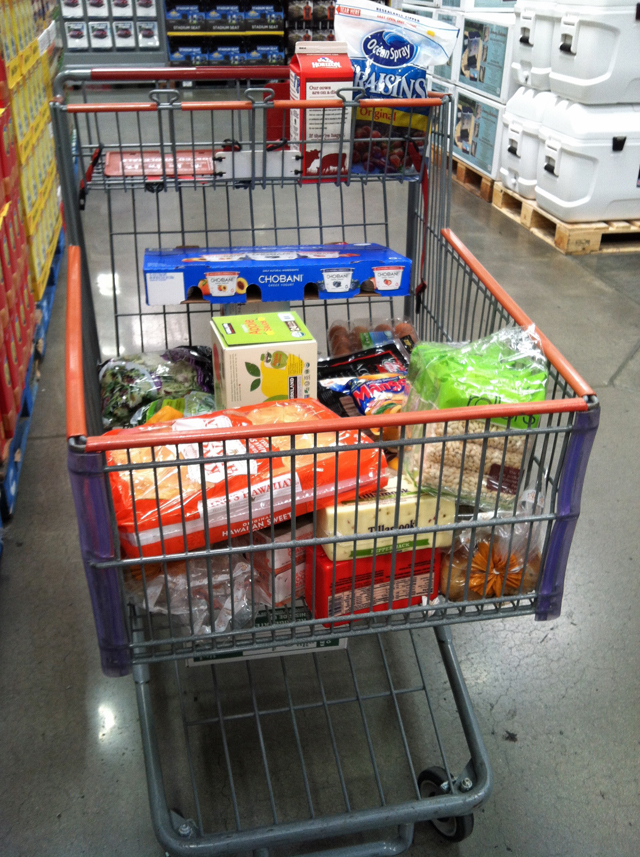 The week has felt like a vacation, sort of, with FishPapa home recuperating from surgery. He's doing well, by the way. Thanks for your kind words and prayers. It's not been "easy", but so far, so good. I am reminded this week how much his work days add to the rhythm of life. When he's home, we all shift into vacation mode. When my sister is here, all the moreso.
This all means that I didn't do a ton of grocery shopping, cooking, cleaning, or organizing this week. Oops.
I did make a few stops this week, though. Here's the rundown on my shopping this week. As you read, keep in mind who and how I'm shopping:
My grocery shopping profile
To update you on my grocery geekiness:
I'm feeding eight people, ages 52, 42, 18, 14, 13, 11, 8, and 6. Five of those people are males. They eat A LOT!
I'm shooting for a budget of $1200, per the USDA food cost reports the last time I added up for people of our demographics. I live in Southern California where produce is cheap, but meat and dairy are not.
I'm trying to feed us mostly unprocessed foods, with a few "healthier" convenience items thrown in and a junk food splurge* here and there.
I work at home and teach six kids, so I don't have as much time for fiddling in the kitchen as I would like.
I no longer use coupons on a regular basis, though I do love the coupons that Ralphs offers.
I have at least ten grocery stores within 5.5 miles of my house. It is easy (for better or for worse) to stop at several stores to get the best deals.
We mostly eat at home. My husband often packs lunch and breakfast to work, but sometimes has lunch out. We eat out for a date once a week. FishPapa takes one child out to "dinner with dad" once a week. We eat out as a family on average once a week.
Obviously, your mileage may vary. But, I'm constantly amazed at how well we eat without spending a crazy amount of money.
Here's how the shopping went down this week:
Trader Joe's
I made a quick weekend stop at Trader Joe's for a few things. Sorry, no pic.
Fage $3.59
pineapple juice $2.99
cereal $1.99 to $2.69
milk $3.29
cookies $2.79
bread $1.99
Total Spent $21.52
Walmart
We ran out of milk. Nuf said.
Total spent $5.70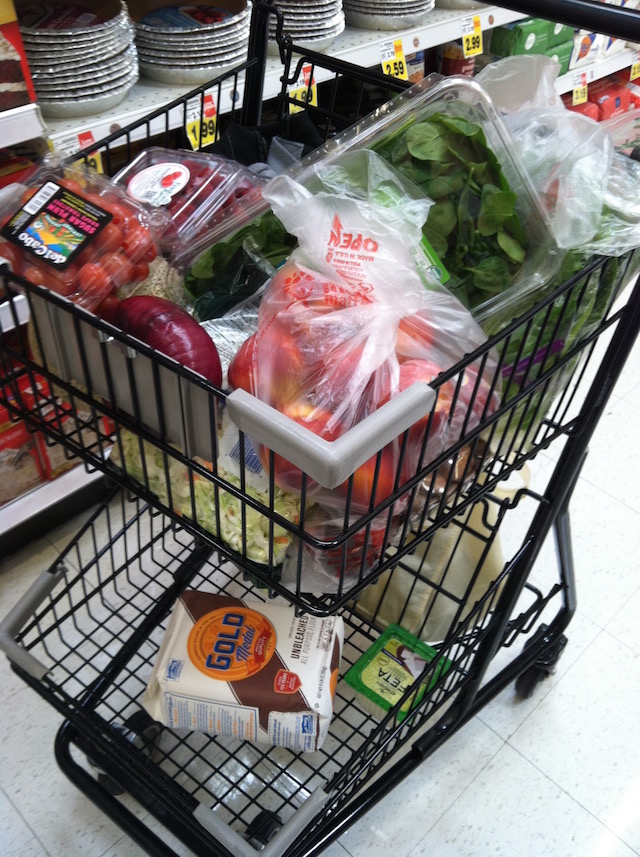 Ralphs
Ralphs tends to be my place where I enjoy shopping. It's the fact that they offer sales and markdowns which Costco and Trader Joe's do not. I went there Monday morning after yoga, simply on the hunt for fresh produce. Ralphs doesn't have the greatest prices or quality on produce, but for some reason, that's where I wanted to go.
flour $3.19
nectarines $1.28/lb
organic grape tomatoes $3.99
raspberries $1.28/package
coleslaw $1.25/bag
red onions $1.29/lb
organic baby spinach $5.49
organic romaine $1.99
avocado $0.99/each
sweet onion $1.59/lb
melon $0.99 each
mushrooms $2.99
limes $0.39 each
feta cheese $5.99
Total Spent $32.95
I went back to Ralphs to get a few snacks, and honestly, it wasn't the wisest stop, but there we are.
chips $1.25/bag
avocado $0.99/each
hot sauce $2.99
Total spent $7.47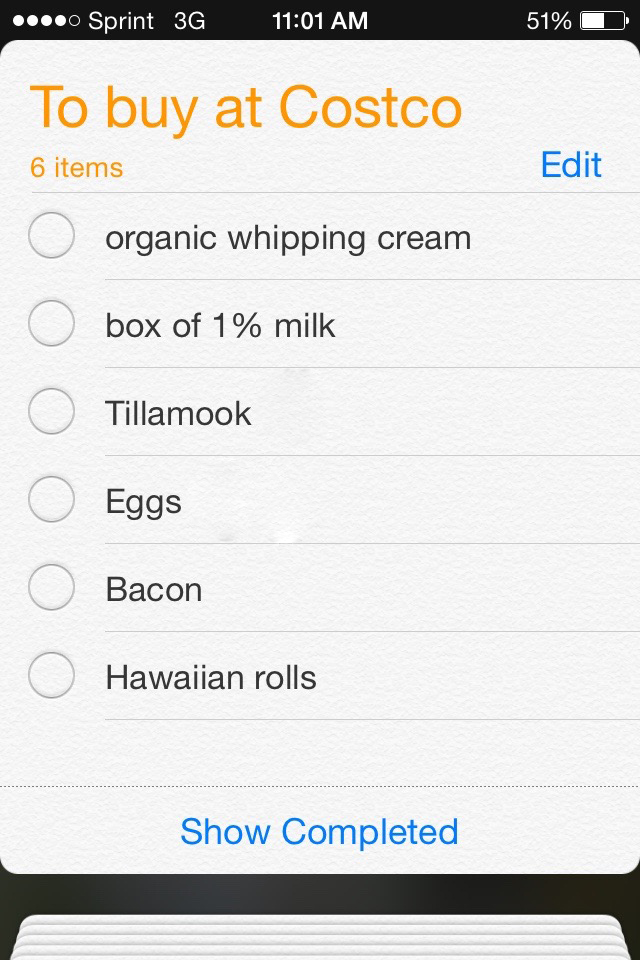 Costco
I had a broken-into package of bacon to take back to Costco, so I did my final stop for the week there, getting a few things to make the weekend easier. I only had six things on my list, but in my mind, I knew there would be more since we've got a busy weekend ahead. FishPapa and I are taking some kids to a conference, while my sister and my adult son watch the other kids. Easy meals are the name of the game.
milk $4.79/2 gallons
bread $3.69
eggs $6.99/2 dozen
rice rollers $6.99
flour tortillas $3.49/2 dozen
English muffins $6.79/4 packs
applesauce $9.69/dozen
sushi $9.99
heavy cream $9.99
Hawaiian rolls $3.89
dried mango $12.39
turkey breast $3.99/pound
Tillamook $8.99 to $9.89
Craisins $5.89
bacon $10.59
pre-cooked bacon $7.99
kale salad $4.49
snap peas $5.49/2 pounds
frozen organic popsicles $7.49
greek yogurt $9.99
Total spent $163.84
Total spent this week $231.48
(Minus $5 to return chicken to Sprouts last week and the $11 to return the bacon this week to Costco.)
Total spent this month to date $1046.85
So, it's getting tight, isn't it? We are closing in on our monthly budget, but we had two birthdays, two sets of company, and a knee surgery, so I'm not going to stress it. Also, the freezer is full. We were under last month, so it will all even out.
How's your grocery geeking going?