Want a peek into our grocery cart? Here's how I'm grocery shopping and feeding eight people on the cheap.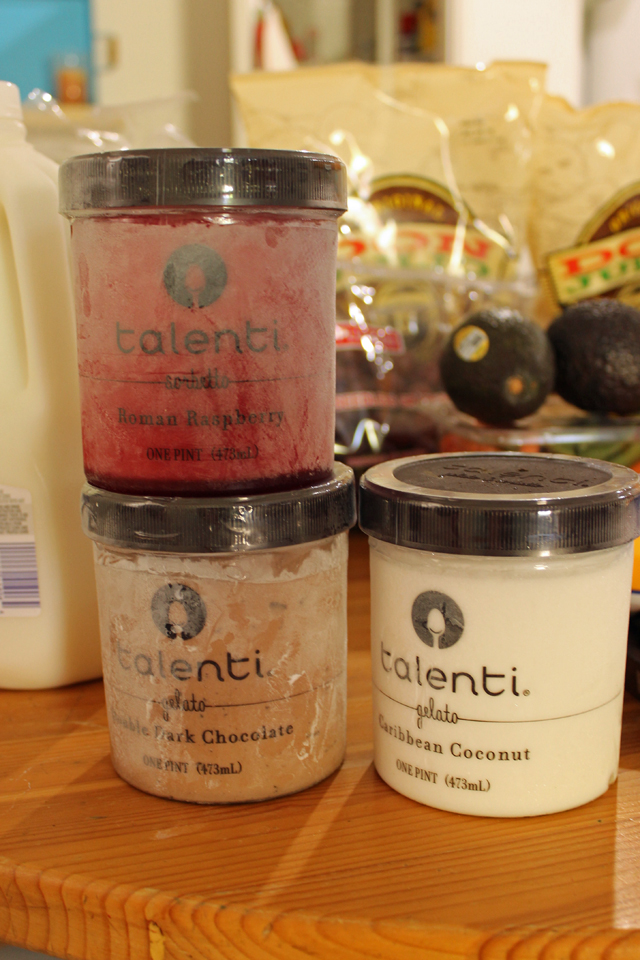 Earlier this week you would have thought we were doing a pantry challenge. The cupboards did not get refilled, and there's been quite a lot of white space in the fridge and freezer.
I've been tired of playing Refrigerator Jenga and thought getting a second fridge might make things easier. The more I thought about it, though, I realized that the new ubiquitous stainless steel style doesn't really go with our retro turn of the century cabinets. White is better for this house. So, then, I need to manage my one fridge better. This means, not buying more than it can hold.
We'll see how long this lasts, though. FishBoy17 sat down with me at the table while I was meal planning yesterday and asked, "Can we buy some food?"
Apparently, someone noticed the white space.
I had hoped to keep my grocery runs down to two this week, but his request and the advent of my parents coming for all of Sunday and eating Whole 30 meant I needed to make another run. I still can't bear to do my shopping at only one store and pay higher prices, so I made two more shops. I have freezer cooking to do next week, so I'm really trying to keep the groceries to a minimum.
But, when the kid asks for more vegetables, you can't really refuse, can you?
Here's the rundown on my shopping this week. As you read, keep in mind who and how I'm shopping:
My grocery shopping profile
To update you on my grocery geekiness:
I'm feeding eight people, ages 52, 42, 17, 14, 12, 10, 8, and 6. Five of those people are males. They eat A LOT!
I'm shooting for a budget of $1200, per the USDA food cost reports the last time I added up for people of our demographics. I live in Southern California where produce is cheap, but meat and dairy are not.
I'm trying to feed us mostly unprocessed foods, with a few "healthier" convenience items thrown in and a junk food splurge* here and there.
I work at home and teach six kids, so I don't have as much time for fiddling in the kitchen as I would like.
I no longer use coupons on a regular basis, though I do love the coupons that Ralphs offers.
I have at least ten grocery stores within 5.5 miles of my house. It is easy (for better or for worse) to stop at several stores to get the best deals.
We mostly eat at home. My husband often packs lunch and breakfast to work, but sometimes has lunch out. We eat out for a date once a week. FishPapa takes one child out to "dinner with dad" once a week. We eat out as a family on average once a week.
Obviously, your mileage may vary. But, I'm constantly amazed at how well we eat without spending a crazy amount of money.
Here's how the shopping went down this week:
Trader Joe's
At the start of the week, I thought I could just make one shop, so I did a fairly sizable stock up at Trader Joe's. Last year at this time, it was my weekly one-stop shop, but since they changed their baker, I haven't wanted to buy much in the way of sandwich bread. The new kind just isn't that good. And their produce is a little hit or miss when it comes to pricing.
tater tots $2.29
frozen green beans $1.99
nectarines $2.29
frozen chicken tenderloins $7.99/2.50 pounds
sandwich bread $1.99
chai tea $2.49
eggs $1.99/dozen
organic peppers $3.99
shredded cabbage $1.29
carrots $0.79
broccoli slaw $1.69
organic snap peas $3.29
mushrooms $1.79
basmati rice $3.29
organic romaine hearts $2.49
cereal $1.99
black beans $0.89
organic spinach $1.99
organic grape tomatoes $2.99
light cream cheese $1.69
lemon $0.39
pepperoni $2.99
string cheese $3.99
organic pickles $2.99
organic tomato sauce $1.49
couscous $1.99
organic pinto beans $1.19 (they don't sell conventional)
gold potatoes $2.29/3#
cashews $6.99
avocados $2.99/4
milk $3.29/gallon
milk $1.99/half gallon (FishPapa takes this size to work)
Total spent at Trader Joe's: $121.75
Sprouts
I meant to go to Sprouts only once this week, but I forgot my phone and therefore my list at home on Wednesday night (Double Ad Day). They didn't have both ads available, so I shopped from last week's ad and figured I could come back later for the new ad stuff.
You will notice that I've transitioned away from buying all organics. I'm kinda conflicted about that, actually. I've heard from well-researched people that there isn't a huge difference, so I kinda don't know what to do. I bought four of the dirty dozen: grapes, strawberries, nectarines, and peaches because their sale prices were pretty amazing. Really not sure how to operate on this issue right now.
mangoes 3/$1
bananas $0.69/pound
strawberries $0.98
peaches $0.88/pound
nectarines $0.88/pound
blueberries $0.98/pound
organic salad greens $2.50 (apparently TJ's would be the cheaper place for this)
grapes $0.98
red banana $0.45 for two — we wanted to try them
Total spent at Sprouts: $23.01
Ralphs
After my son asked for food, I took him grocery shopping with me. He likes to go when I go to Ralphs because they have such a great clearance section at the location south of our house. The north location has a great deli, coffee, wine selection, but I knew he'd enjoy browsing the clearance for protein bars. He was in luck! He found their Simple Truth bars marked down to 39 cents each!
Also, we stocked up on a few summer sale items, because we're really trying to enjoy our summer days and have a treat every once in awhile.
tortilla chips $1.25
mayonnaise $3.49 – I still make homemade, but it's nice to have a jar on hand for big salads, etc.
cottage cheese $2.49
milk $2.55
Talenti gelato 3/$10
Peets coffee $8.99 – good coffee is a must at our house. ;0
sweet onions $0.99/pound
grapes $0.99/pound
mushrooms $2.99
marked down veggie dippers $1.39
avocados $0.99 each – 50 cent coupon
Bai5 drink – free after coupon
marshmallows $2.99
nutrition bars $0.39 each
clearance bread and rolls $1.49 to $1.99 each
chocolate bars $4
I rely on Ralphs' digital coupons, so I had extra value off these items, like $4 off a $40 purchase, etc.
Total spent at Ralphs: $58.49
Sprouts again
I went back to Sprouts to get the other things that were on sale for this current week.
strawberries $0.98/pkg
broccoli crowns $0.98/lb
cilantro 3/$1
tomatoes $0.98/lb
green onions 3/$1
italian squash $0.98/lb
napa cabbage $0.88/lb
organic green bell peppers $1.25 each
organic red bell peppers $2 each
organic celery stalk $1.99
organic cucumbers $0.99 each
organic fruit spread $3
pork tenderloin $2.99/pound
chicken tenders $2.99/pound
Total spent at Sprouts: $57.71
So, the week wasn't horrible in terms of expenses. I will do a big shop next week to prep our freezer meals for the month — Get details about Freezer Cooking Days and join me! — but I'm optimistic that we'll be at or under budget again this month.
Total spending for the week: $260.96
I'm honestly surprised at how much this all ADDED UP. Seriously, there was nothing too crazy in the mix. Full price on the coffee; the tea and jam were splurges. The chips, pickles, s'mores, and ice cream were not necessity, but the bulk of these shops was produce — and not all organics.
My husband and I have talked about how we can go meatless more often. My eldest is not crazy about that prospect, but I'm hoping that we can find meatless protein sources that will work for him (like quinoa and eggs). We shall see, eh?
It definitely is a battle to eat well and spend less than the list price.
How's your grocery geeking going?