After a lot of shopping last week, I shifted down a gear for groceries this week.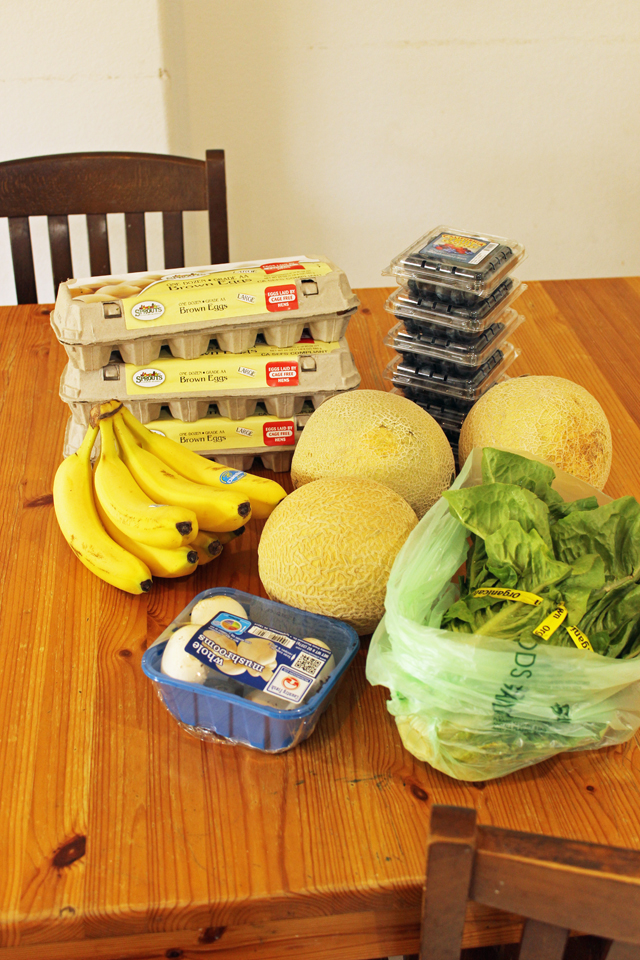 That? Is $20.65 worth of groceries. I read the fine print on Sprouts' weekly ad. The great prices on berries and melon are good only for the weekend. Ever been snookered on a 72-hour sale and miss the good stuff? I was not about to let that happen this week.
I restrained myself a lot while grocery shopping this week. You know how some people really like to go clothes shopping? Yeah, that's not me. Food shopping on the other hand, is hard for me to resist. The above groceries: eggs, berries, melons, lettuce, bananas, and mushrooms, were all that was on my list for Sprouts. I had to put at least two things back that weren't on my list.
Grocery mania is what I have, I think. But, I didn't go so crazy this week. Check it out:
Keep in mind who and how I'm shopping:
My grocery shopping profile
To update you on my grocery geekiness:
I'm feeding eight people, ages 52, 42, 17, 14, 12, 10, 8, and 6. Five of those people are males. They eat A LOT!
I'm shooting for a budget of $1200, per the USDA food cost reports the last time I added up for people of our demographics. I live in Southern California where produce is cheap, but meat and dairy are not.
I'm trying to feed us mostly unprocessed foods, with a few "healthier" convenience items thrown in and a junk food splurge* here and there.
I work at home and teach six kids, so I don't have as much time for fiddling in the kitchen as I would like.
I no longer use coupons on a regular basis, though I do love the coupons that Ralphs offers.
I have at least ten grocery stores within 5.5 miles of my house. It is easy (for better or for worse) to stop at several stores to get the best deals.
We mostly eat at home. My husband often packs lunch and breakfast to work, but sometimes has lunch out. We eat out for a date once a week. FishPapa takes one child out to dinner with dad once a week. We eat out as a family on average once a week.
Obviously, your mileage may vary. But, I'm constantly amazed at how well we eat without spending a crazy amount of money.
Here's how my grocery shopping went this week:
May Week 2 Grocery Shopping
Ralphs
The sales at Ralphs end on Tuesday nights. Last week when I went there, they didn't have the pork butt I wanted. Their pork roasts were on sale for 50% off. I went back Tuesday night and got a nice one for pulled pork this weekend. I picked up just a few basics while I was there:
milk $2.55
tomatoes $0.76 (99 cents/pound)
cilantro $0.59
pork butt $15.78 (1.99/pound)
Total spent at Ralphs = $19.68
Grocery Outlet
I've been on the hunt for Nabisco Chocolate Wafers (affiliate link). Those suckers are incredibly hard to find any time that isn't Christmas time. They go great in ice box cakes, though. I was hoping that Grocery Outlet would have them, so when I was in the neighborhood, I stopped. No luck!
But, I did find some other good deals while I was there. I confess, I didn't "need" these things, but they were SUCH good deals on fun food, I chose not to pass them up.
Aidells salami $1.99/package
organic honey grahams $0.99/box (These are over $4 elsewhere; conventional are at least $2.50. I would have stocked up but the sell-by date is 6/5/15.)
organic chocolate bunnies $1.49
Rondele $1.99
Total spent at Grocery Outlet = $9.93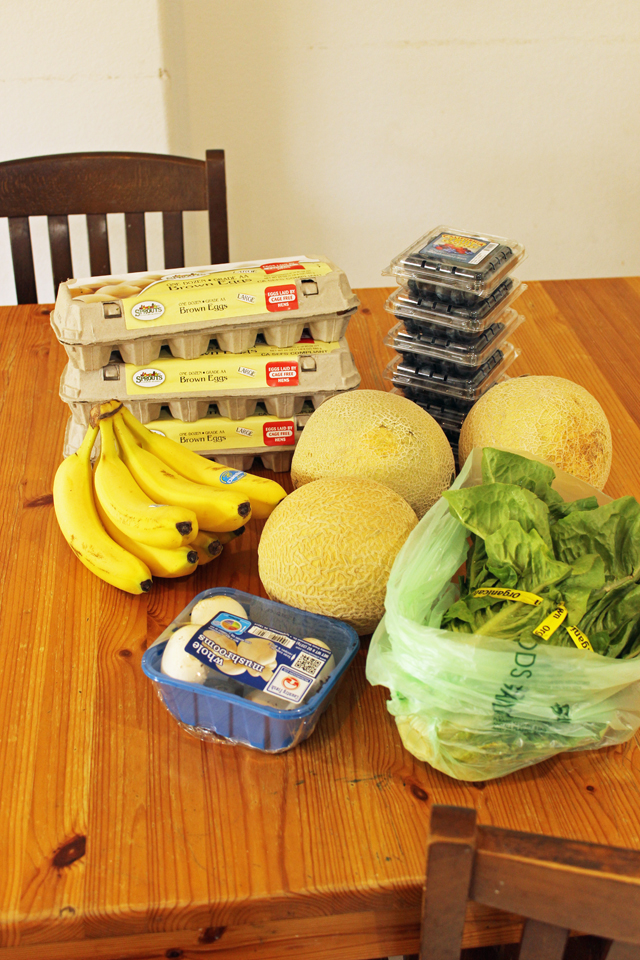 Sprouts
I had marked my calendar for the 72-hour sale so I didn't miss it.
melons $0.88 each
blueberries $0.88 each
cage-free eggs $2.50/dozen
organic romaine $1.69
bananas $0.69/pound
mushrooms $1.69
Total spent at Sprouts = $20.65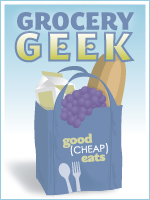 Obviously, this is a lot less shopping than last week. We've been enjoying freezer meals for lunches and my meal plan from last week worked out really well. There's still a fair amount of good stuff left in the fridge and freezers, though not a ton of proteins, something that my teen boys really require. (I've read that extra protein helps kids' self-control, so I'm cool with that.
Total spent this week = $50.26
Total spent so far this month = $521.56
I'll be sharing next week's meal plan in the newsletter again this weekend. Sign up here if you haven't already.